THE READING ROOM: Music Books that Bear Witness to Black History
Posted On February 20, 2020
---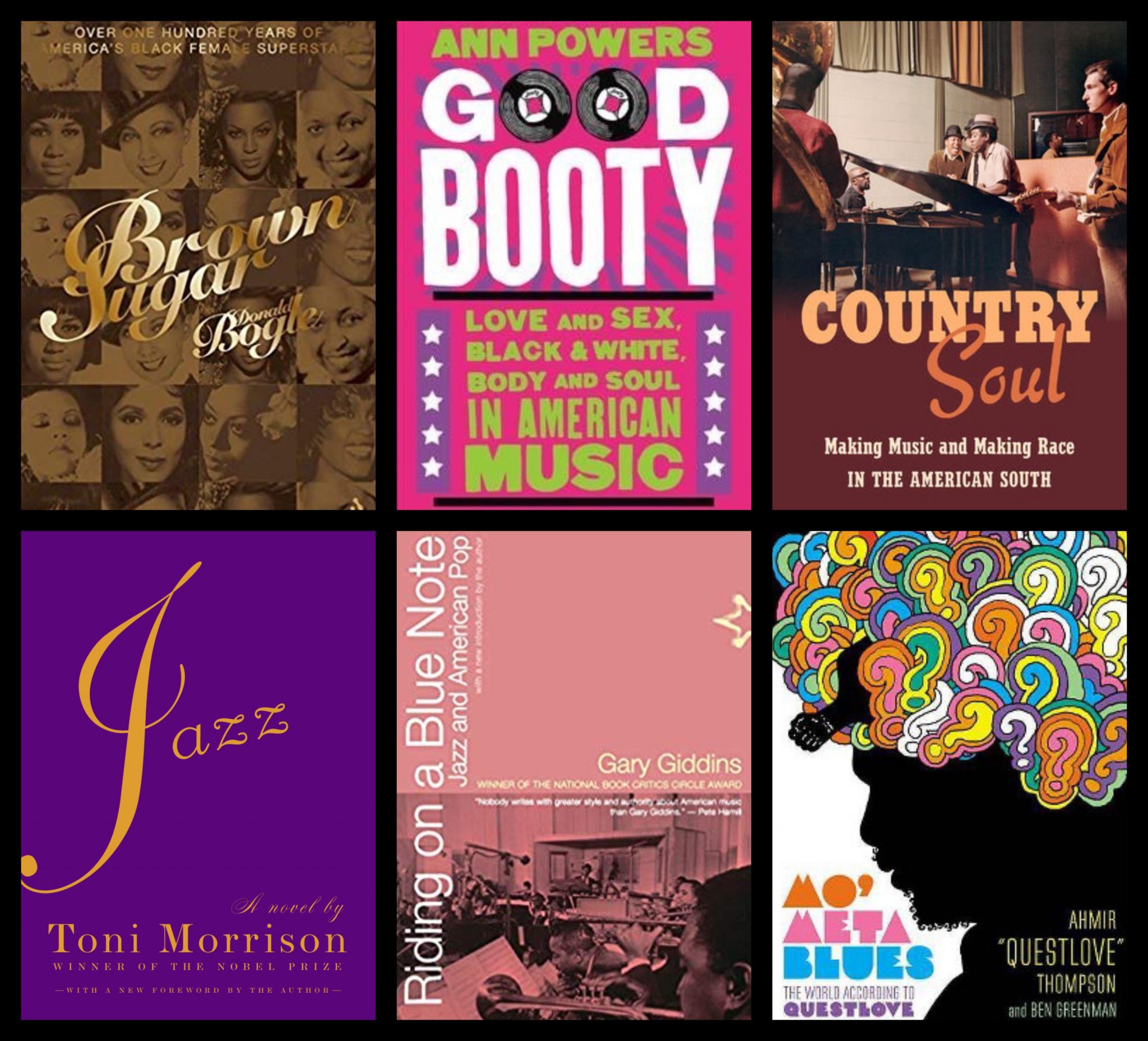 In a 1979 essay, "Of the Sorrow Songs: The Cross of Redemption," James Baldwin challenges a pernicious view that separates music — he's writing about jazz in this essay — from its cultural context and its social roots. It's all too easy, he points out, for white audiences to divorce the evolution of jazz from the auction block and simply to characterize the music quaintly as "improvisation." Rather, he observes, the questions at the very heart of jazz are "Who am I?" "And what am I doing here?" Baldwin's own novels and stories flow rhythmically with a jazz structure; stories such as "Sonny's Blues" — whose main character is a jazz musician — and novels such as If Beale Street Could Talk and Go Tell It on the Mountain illustrate the inextricable bonds of history and music. As he observes in the essay, "Life comes out of music, and music comes out of life: without trusting the first, it is impossible to create the second." He concludes the essay by emphasizing the sorrow and the redemption in the dense cloak that envelops music and history:
"Music is our witness, and our ally. The 'beat' is the confession which recognizes, changes, and conquers time. Then, history becomes a garment we can wear and share, and not a cloak in which to hide; and time becomes a friend."
During Black History Month, Baldwin's words offer a good starting point for reflections about on blues, soul, gospel, jazz, and hip-hop, and the ways the music shapes our history and the ways it continues to evolve and mark our culture. Many good books explore this history, and the list that follows, in many ways, only offers highlights and places to start reading during this month of celebrating black history and black music. Since the list is long, I have placed asterisks by those titles that provide thoughtful overviews or explorations of the topic.
Hanif Abdurraqib, They Can't Kill Us Until They Kill Us: Essays (Two Dollar Radio)
Hanif Abdurraqib, Go Ahead in the Rain: Notes to a Tribe Called Quest (Texas)
Amy Absher, The Black Musician and the White City: Race and Music in Chicago, 1900-1967 (Michigan)
Chris Albertson, Bessie (Stein & Day)
* James Baldwin, Go Tell It on the Mountain (Dell)
Wallace Best, Langston's Salvation: American Religion and the Bard of Harlem (NYU)
*Donald Bogle, Brown Sugar: Eighty Years of America's Black Female Superstars (Harmony)
Edward Brooks, The Bessie Smith Companion (Da Capo)
Mellonee V. Burnim and Portia K. Maultsby, eds. African American Music: An Introduction (Routledge)
Jerry Butler, Only the Strong Survive: Memoirs of a Soul Survivor (Indiana)
Veronica Chambers, ed. Queen Bey: A Celebration of the Power and Creativity of Beyoncé Knowles-Carter (St. Martin's)
Ray Charles and David Ritz, Brother Ray: Ray Charles' Own Story (Da Capo)
Samuel Charters, The Bluesmakers (Da Capo)
John Chilton, Billie's Blues: The Billie Holiday Story (Stein & Day)
Aaron Cohen, Aretha Franklin's "Amazing Grace" (Bloomsbury)
* Aaron Cohen, Move on Up: Chicago Soul Music and Black Cultural Power (Chicago)
* Nadine Cohodas, Spinning Blues into Gold: The Chess Brothers and the Legendary Chess Records (St. Martin's)
John Coltrane, John Coltrane Speaks (Sunship)
James Cone, The Spirituals and the Blues: An Interpretation (Orbis)
Linda Dahl, Stormy Weather: The Music and Lives of a Century of Jazz Women (Pantheon)
* Angela Y. Davis, Blues Legacies and Black Feminism (Vintage)
Miles Davis, Miles: The Autobiography (Simon & Schuster)
Sammy Davis Jr. Yes, I Can: The Story of Sammy Davis Jr. (FSG)
* Michael Eric Dyson, Jay-Z: Made in America (St. Martin's)
Gerald Lyn Early, One Nation Under a Groove: Motown and American Culture (Michigan)
* Ralph Ellison, Shadow and Act (Vintage)
Ralph Ellison, The Selected Letters of Ralph Ellison (Random House)
Samuel A. Floyd, The Power of Black Music: Interpreting Its History from Africa to the United States (Oxford)
Nelson George, The Death of Rhythm and Blues (Pantheon)
Nelson George, The Hippest Trip in America: "Soul Train" and the Evolution of Culture and Style (William Morrow)
* Gary Giddins, Riding on a Blue Note: Jazz and American Pop (Da Capo)
Peter Guralnick, Sweet Soul Music: Rhythm and Blues and the Southern Dream of Freedom (Harper and Row)
Marybeth Hamilton, In Search of the Blues (Basic)
Michael Haralambos, Soul Music: The Birth of a Sound in Black America (Da Capo)
* Billie Holiday, Lady Sings the Blues (Penguin)
* Charles Hughes, Country Soul: Making Music and Making Race in the American South (UNC)
Langston Hughes, Not without Laughter (Dover)
Zora Neale Hurston, Their Eyes Were Watching God (Harper & Row)
Jay-Z, Decoded (Spiegel & Grau)
Jerma A. Jackson, Singing in My Soul Black Gospel Music in a Secular Age (UNC)
Hettie Jones, Big Sister Fallin', Mama: Five Women in Black Music (Viking)
Leroi Jones [Amiri Baraka], Black Music (Quill)
* Leroi Jones [Amiri Baraka], Blues People: Negro Music in White America (Harper Perennial)
Herb Kent and David Smallwood, The Cool Gent: The Nine Lives of Radio Legend Herb Kent (Lawrence Hill Books)
Chakha Khan, Chakha! Through the Fire (Rodale)
Greg Kot, I'll Take You There: Mavis Staples, the Staples Singers, and the March Up Freedom's Highway (Scribner)
Emily J. Lordi, Donny Hathaway Live (Bloomsbury)
Robert Marovich, A City Called Heaven: Chicago and the Birth of Gospel Music (Illinois)
Todd Mayfield, with Travis Atria, Traveling Soul: The Life of Curtis Mayfield (Chicago Review Press)
Charles Mingus, Beneath the Underdog (Penguin)
Toni Morrison, Sula (Vintage)
* Toni Morrison, Jazz (Vintage)
Otis Moss III, Blue Note Preaching in a Post-Soul World (WJK)
* Albert Murray, Collected Essays & Memoirs: The Omni-Americans; South to a Very Old Place; The Hero and the Blues; Stomping the Blues; Other Writings (Library of America)
Marc Myers, Why Jazz Happened (California)
Mark Anthony Neal, What Music Said: Black Popular Music and Black Public Culture (Routledge)
* Ann Powers, Good Booty: Love and Sex, Black and White, Body and Soul in American Music (Dey St. Books)
Prince, The Beautiful Ones (Spiegel & Grau)
Robert Pruter, Chicago Soul (Illinois)
Questlove, Mo' Meta Blues: The World According to Questlove (Grand Central)
Guthrie P. Ramsey, Jr. Race Music: Black Cultures from Bebop to Hip-Hop (California)
David Ritz, Respect: The Life of Aretha Franklin (Little, Brown)
Joel Rudinow, Soul Music: Tracking the Spiritual Roots of Pop from Plato to Motown (Michigan)
Nina Simone, I Put a Spell on You: The Autobiography of Nina Simone (Da Capo)
R.J. Smith, The One: The Life and Music of James Brown (Gotham)
Suzanne E. Smith, Dancing in the Street: Motown and the Cultural Politics of Detroit (Harvard)
* Eileen Southern, The Music of Black Americans: A History. 2nd ed. (Norton)
Randy Taraborrelli, Becoming Beyoncé: The Untold Story (Grand Central)
Gayle Wald, It's Been Beautiful: Soul! And Black Power Television (Duke)
Gayle Wald, Shout, Sister, Shout!: The Untold Story of Rock-and-Roll Trailblazer Sister Rosetta Tharpe (Beacon)
Craig Werner, Higher Ground: Stevie Wonder, Aretha Franklin, Curtis Mayfield, and the Rise and Fall of American Soul (Crown)
---