THE READING ROOM: Jacksonville's Turn in the Southern Rock Spotlight
---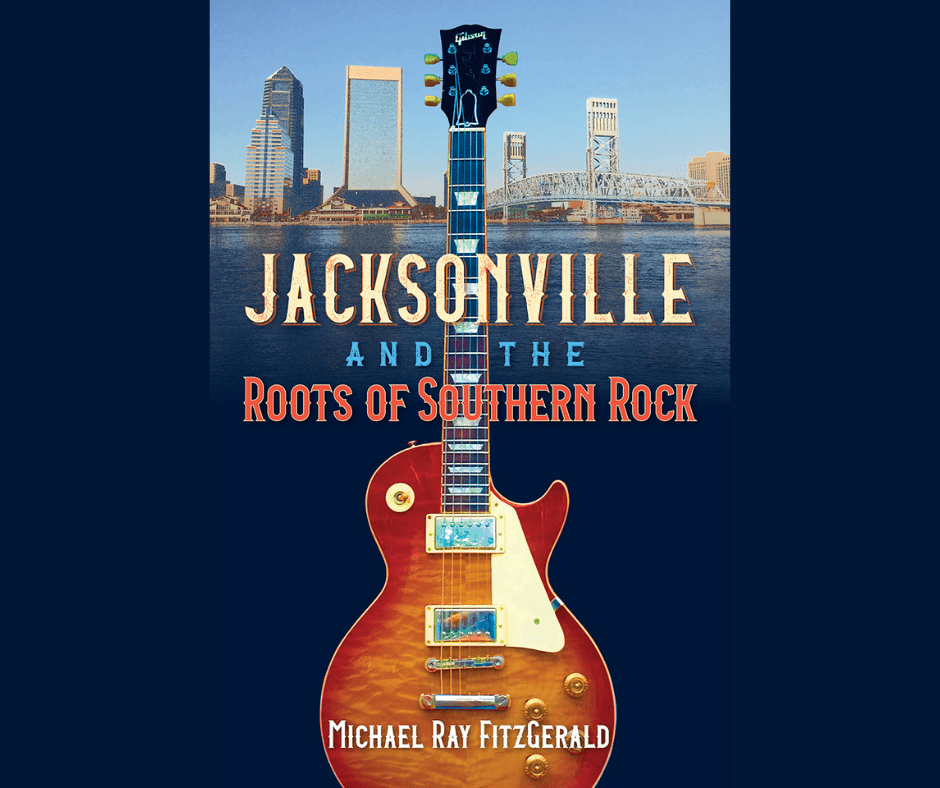 A few years ago, musician Marty Jourard, a Gainesville, Florida, native, made the case in Music Everywhere: The Rock and Roll Roots of a Southern Town (ND review) that Gainesville was the crossroads of rock and roll. In the mid- and late '60s, a number of musicians, some of them Gainesville natives, turned the college town into a kind of ground zero for launching some of rock's hottest bands.
Many of the artists gravitated toward Lipham Music, where they gathered to try out guitars, trading chords and licks and evolving musically in their work. Tom Petty, Stephen Stills, Bernie Leadon, and Don Felder each went on to make their own marks on rock music, and Petty's style continues to influence numerous guitarists and songwriters even though it's been almost four years since his untimely death.
How did one central Florida town put produce such a wealth of rock royalty? At least one explanation, writes Jourard, is that Gainesville is "diverse, geographically isolated, Southern, yet liberal and relatively progressive in politics, with a long tradition of supporting music. It's a city with equal parts higher education and hedonistic behavior with a general lack of artifice. … But there is another reason, often referred to as the 'X' factor. Sometimes a place just happens naturally of its own accord. Gainesville has brought a lot of musicians to the world, and Gainesville continues to nurture the musical spirit of those who live and play music there. It's the hippie city and retains the best of that era."
Not even two hours away, another rock scene was evolving in Jacksonville. The scene in this north Florida town, whose largest industry was the US Navy, seemed even farther removed, though, from the college-town vibe of Gainesville. As media historian Michael Ray Fitzgerald recalls in his enjoyable book that's part memoir and part music history, Jacksonville and the Roots of Southern Rock (Florida), "being a rock musician in Jacksonville had its hazards. … Packs of rednecks cruised around town in 'muscle cars,' looking for long-hairs to terrorize. There was one area where you could be left alone: Riverside, Jacksonville's answer to Greenwich Village, where rents were low and people were open-minded."
After moving to Jacksonville in 1968 from California, Fitzgerald picks up a Gibson SG Standard, though he's not yet proficient enough to "deserve it," as his newfound friend and eventual bandmate Paul Glass tells him. Fitzgerald's own deal with the devil at the crossroads is that he'd let Glass borrow his guitar and Glass would let Fitzgerald meet Glass' bandmates in his band called Doomsday Refreshment Committee, which included future .38 Special guitarist Jeff Carlisi. Glass and Fitzgerald hang out together and go to clubs to see local and regional bands. As part of his "instruction in guitar lore," Glass takes Fitzgerald to see a band called the Second Coming, which features Dickey Betts on guitar. As Fitzgerald writes, "If Clapton was God, as the saying went, then Betts was Jesus — he could play Clapton's solo on 'Crossroads' note for note." One night in March of 1969, the two friends hitchhike to one of Betts' gigs, and are outraged when their guitar hero stands off to the side as a guitarist who "looked like the Cowardly Lion" takes all the solos. That leonine picker, of course, turns out to be Duane Allman, who in a few short months will head off with his brother, and Betts and Berry Oakley, to Macon, Georgia, to record at Capricorn Studios.
As Fitzgerald points out, once the Second Coming left town, that band's fans started following a band called the One Percent, which would later be known as Lynyrd Skynyrd. "Many more Jacksonville bands," Fitzgerald writes, "such as Blackfoot, Cowboy, .38 Special, Johnny Van Zant, Molly Hatchet, and others, would soon following the trail blazed by" the Allman Brothers.
Fitzgerald devotes chapters to each of these bands, offering a thumbnail sketch of each band's origin and development and its contributions to Southern rock. Some of the stories — such as the history of The Allman Brothers — are very familiar, and to diehard Southern rockers all the chapters of this book will seem like well-trod ground. But Fitzgerald provides sketches of bands that deserve more coverage in the larger history of rock and roll, such as Cowboy — Tommy Talton and Scott Boyer — which itself deserves a book of its very own; the song "Please Be with Me" is one of rock's most emotionally moving songs.
At the center of his book, of course, is Fitzgerald's own attempt to come to terms with Southern rock. There are as many definitions of Southern rock as there are fans of the music. Wisely, Fitzgerald avers that, "Ultimately the term 'southern rock' defies attempts at a logical definition. In the final analysis, all that can be said is that southern rock, like today's country music, has no discernible sound or musical character; it can primarily be recognized by its subject matter, which has to do with the provincial men — and occasionally women — of the so-called heartland: the common man, the workingman, in short, the folk. Another popular theme of southern rock is rambling, a theme taken from blues. 'Rambling' is more than just a taste for unfettered travel: It has much to do with sexual conquest and the rejection of middle-class morals such as marriage and monogamy — and how well-suited the traveling musician's life is to these endeavors. … Much like country music, southern rock's most salient feature may be its inherent — and incessant — maleness."
Fitzgerald avoids calling Jacksonville the home or the birthplace of Southern rock, for many Southern towns — Gainesville, Macon, Miami, Spartanburg, Atlanta — can make that claim. He simply points out that Jacksonville "surely was a motherlode" of Southern rock. Rickey Medlocke, former lead vocalist and guitarist of Blackfoot, offers his thoughts on the reasons Jacksonville played the role it did, in an interview with writer Colin Escott that Fitzgerald quotes: "The only answer I can come up with — and I've thought about this — [is that] Jacksonville was a transient town. There [were naval bases], shipyards, an Anheuser-Busch brewery, and a lot of other industries that attracted a transient workforce. They came from everywhere. They brought their families. Then, all of a sudden, in the 1960s, there was a rock-music scene: teen clubs, bars. It just grew."
Jacksonville and the Roots of Southern Rock offers entertaining glimpses into the development of a music scene and music style and provides yet another take on why this music flourished as it did in its time and place, and perhaps why those first notes of Lynyrd Skynyrd's "Free Bird" still have Southern boys reaching for their lighters even today.
---