THE READING ROOM: How Buddy Emmons' Steel Guitar Changed Country Music
Posted On September 15, 2022
---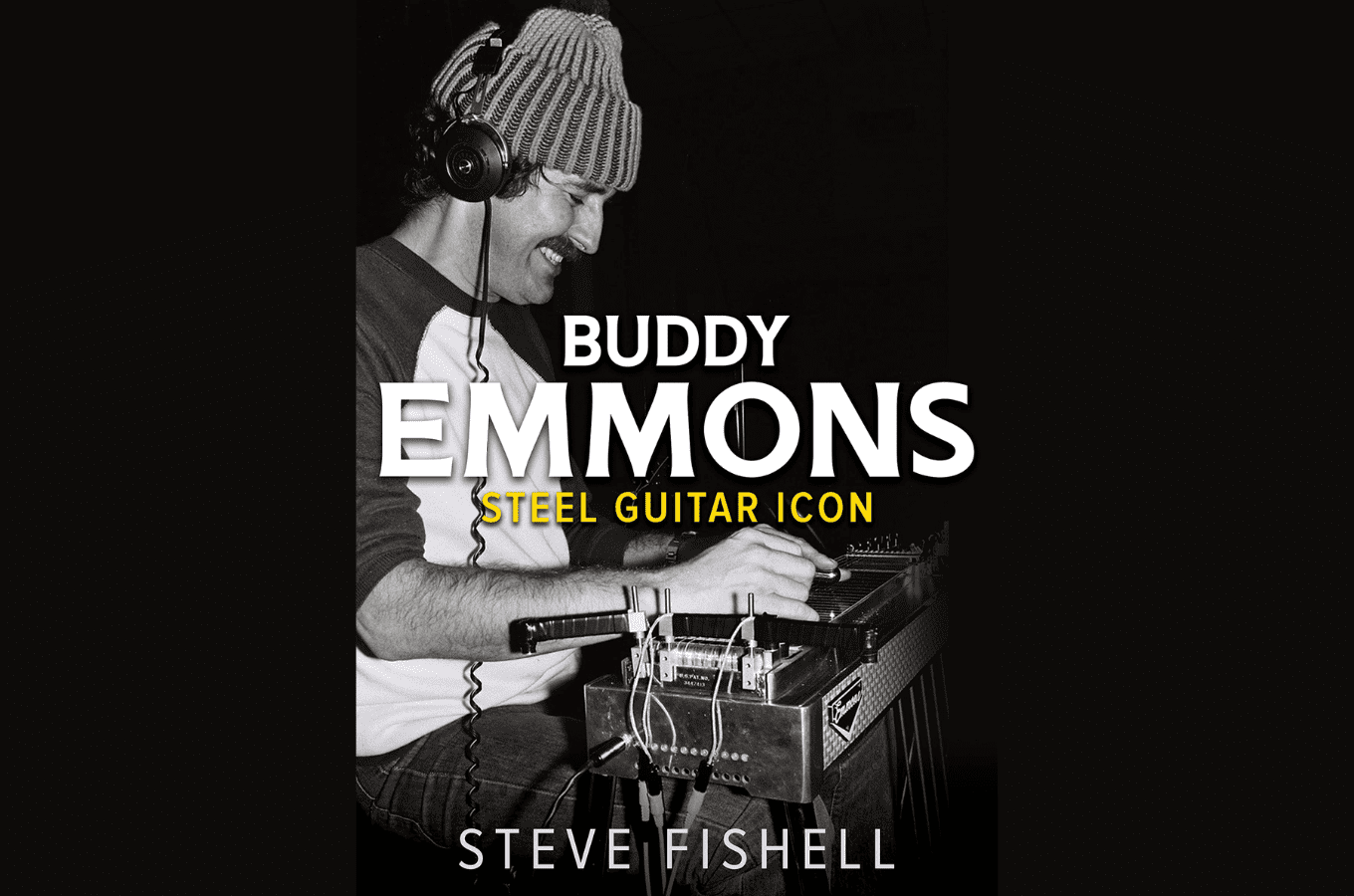 Every now and then, the author of a book is a perfect match for the subject, and that's the case as innovative producer and pedal steel guitarist Steve Fishell provides a biography of and loving tribute to a true pioneer on the instrument, Buddy Emmons, in Buddy Emmons: Steel Guitar Icon (Illinois).
It's not the first time Fishell has celebrated Emmons, who died in 2015. In 2013, he produced the album The Big E: A Salute to Steel Guitarist Buddy Emmons, on which various artists including Vince Gill, Chris Stapleton, Jay Dee Maness, and Greg Leisz, among others, honored Emmons and how he changed country music with his innovations on the pedal steel guitar. Taken together, the album and the biography serve as a reminder of just how brilliant and ceaselessly inventive Emmons was, not just as a player but also as a man always seeking to tinker with and improve the pedal steel guitar, to eke new sounds out of it, and to build instruments that would help him make the sounds he heard in his head.
Drawing on interviews with Emmons, his friends, and fellow musicians — including Ray Price, Little Jimmy Dickens, Willie Nelson, Judy Collins, Brenda Lee, and Duane Eddy — as well as weaving in sections from Emmons' own unfinished memoir, Fishell traces Emmons' life from the time he started playing steel guitar at age 11. His first professional gig at 15 was with the Choctaw Cowboys, and later he toured with Little Jimmy Dickens, Ernest Tubb and the Texas Troubadours, and Ray Price's Cherokee Cowboys. In 1969, Emmons made his way to Los Angeles, where he played sessions with Judy Collins, Ray Charles, John Sebastian, and Linda Ronstadt, among many others.
When Emmons was only 20, he and steel guitarist Shot Jackson founded Sho-Bud Steel Guitars, and a year later Emmons introduced the Sho-Bud split-pedal sound on Ernest Tubb's "Half a Mind." As much as Emmons contributed to these bands, he also had a flourishing solo career, recording four steel guitar instrumentals under his own name when he was 19. Other solo albums include Steel Guitar Jazz (1963), Emmons Guitar (1969), and One for the Road (1982). Though he retired in 2000, Emmons continued to make some studio appearances and was putting together a tribute album for his wife, Peggy, when she died in 2007.
In the book, Brenda Lee recalls Buddy Emmons from a recording session in 1958 for her song "Little Jonah (Rock on Your Steel Guitar)": "I remember, even as a little girl, the magic and the sounds that he could make and how his fingers flew over that instrument. Almost like a singer … it was almost like an extension of somewhere in his body, not something that he sat there and played … It was like he transcended the instrument, like you didn't see it, you heard it. It was him. I think Buddy Emmons made the steel guitar sexy."
Emmons' oneness with his instrument provided him the creative freedom to explore other musical styles, which he did with relish when he joined Tubb's Texas Troubadours in 1958, when he was 21. As Fishell points out, the two hours that the band performed before Tubb joined them at his Midnite Jamboree "proved an ideal vehicle for Buddy's jazzy swing instrumentals and song arrangements." Emmons changed Ernest Tubb's sound after the release of Tubb's hit "Half a Mind." As Emmons recalls it, producer Owen Bradley suggested to Tubb that Emmons play the song's intro; Bradley and Tubb liked it so much they asked Emmons to play the solo in the middle of the song. According to Fishell, "the recording marked a sea change for Tubb and the pedal steel guitar, telegraphing the end of the electric guitar's reign as the dominant lead instrument in E.T.'s music. His imaginative split-pedal intro and solo licks were like nothing anyone had heard before."
Recalls Emmons: "I had broken the Ernest Tubb 'sound' barrier and introduced the split-pedal sound in the same song. It was a big record for E.T.; everyone was talking about the steel guitar intro."
As Fishell observes, Emmons is at home in other musical styles, lending a signature sound to a song such as Judy Collins' version of "Someday Soon." "From Buddy's fetching intro to closing high-note chimes, 'Someday Soon' offers a three-minute-and-forty-three-second master class in supportive instrumental accompaniment. Emmons and [James] Burton — through their note choices — eloquently dialogue with Collins' soaring vocal. 'They are some of the tastiest licks in any song that I've heard,' beamed Judy Collins about Buddy's playing. 'They are classic, they are seamless; they fit the song like a glove."
Fishell tells a captivating story in radiant prose, a reminder of how brilliant and influential Emmons' playing, writing, and inventiveness were. Emmons' "nuanced mastery of music's emotional language and his virtuosity are legendary. They remain the benchmark by which all other pedal steel players measure themselves … Emmons was that rare genius whose right brain's creative talents matched his left brain's critical thinking. He could play solos so achingly beautiful that listeners wept, then shift gears and imagine unparalleled improvements to the instrument's pitch-bending system."
Buddy Emmons: Steel Guitar Icon is a book that's been waiting for someone like Fishell to write, and it's required reading for anyone interested in the history of the country music in general and the history of the steel guitar in particular.
---