The Pleasures of Following Patti Smith on Instagram
---
Patti Smith is a singer-songwriter, performer, poet, and philosopher. Did you know she is also a photographer?
Since March of this year, Smith has been posting photographs, many taken by herself, along with others meaningful to her and upon which she provides keen and lovely commentary, on her official Instagram site, @thisispattismith. Her photographs are a mix of swift incidentals that catch her eye as she travels, moments from stages and hotel rooms and foreign streets around the world, images of people she cares for and whose art she admires, and what matters to her. For those of us who have been loving her music for decades, reading her poetry and memoirs with passionate pleasure, and are familiar with her visual art including decades of pictures from her Polaroid Land 250 camera, thisispattismith is a warm and welcome window into her world. If you're familiar only with her music, check out what Smith can do with a lens to go along with her words.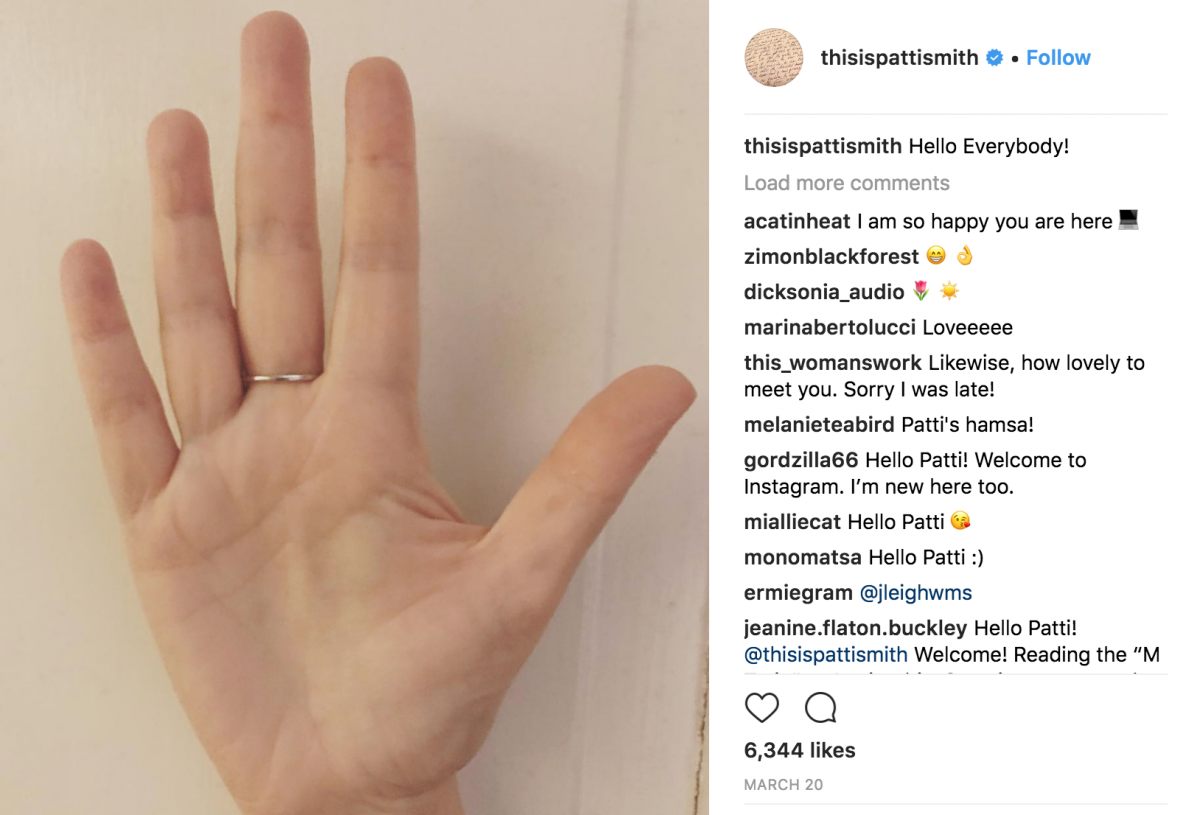 Her initial greeting on Instagram was this friendly salute; her Insta profile includes only one line of text: "People Have the Power," the title of the epic song she wrote with husband Fred "Sonic" Smith in 1988, and a link to the Care2 1000 Cities petition campaign to reject fossil fuels. A following built quickly. Smith's 124 public posts, to date, go out to 103,000 followers.
From last season's endless winter, she encouraged us with the image of a snow-covered backyard city pine in a pot, and the caption "Spring is within us all, and we shall bloom." She shared an Instagram message from her daughter, Jesse Paris Smith, about March for Our Lives, and photographs of the two marching in New York City. Paris Smith's account, @michiganmanhattan, names the two places she grew up with Smith, brother Jackson, and their Detroit-based father. She and her mother perform together, from intimate City Winery NYC shows to large concert halls and, notably, an evening at the Morgan Library celebrating Emily Dickinson's poetry.
Smith loves the words of others. Her timeline is full of tributes to favorite writers who inspire her: Jorge Luis Borges, Walt Whitman, Nikolai Gogol, Roberto Bolano, Charles Baudelaire, Samuel Beckett, Bobert Walser, Mikhail Bulgakov. She celebrates friends: a joyous Ken Regan image of Smith and Dylan for Bob Dylan's birthday on May 24th; a Kate Simon photograph of Smith and Neil Young on the eve of their appearance at the Light Up the Blues Festival for autism awareness; a Lynn Goldsmith portrait of Bruce Springsteen joining Smith onstage for their song "Because the Night" at the Beacon Theater premiere of the film Horses. She sends out light to loved ones who have passed: a stoic, thinking, handsome Sam Shepard; a sepia image of her smiling mother Beverly in a tidy buttoned blouse, standing in front of a tailor's shop, for Mother's Day. Smith's selfies are a delight for their spontaneous pleasure in the settings in which she chooses to capture her own face, or often a part of it. Pictures from her childhood are special — my favorite is a May Day post of a smiling little Patti on her tricycle in Germantown, Pennsylvania in 1951, which Smith describes as "one image of pure happiness." She shares her Polaroids as well as phone photos, and happily photographs her audiences from the stage, thanking them. Her political posts are conscientious and true and important — wise words for a worn world.
Above all, attention should be paid to what Smith sees accompanied by what she says. An image of the observation tower in Brighton Beach engenders in her mind this beautiful coda: "The fog lifted just long enough to view the ghostly remains of the old Brighton pleasure pier. Then it returned, thick unrelenting cloud, from sky to ground, producing a whiteness akin to the monstrous back of Moby Dick."
I hope that Smith will one day produce a print book of her thoughts and pictures together. This is just an intimation of how wonderful her posts are — don't read what I say about them, go over to Instagram yourself and follow her.
images here © and via @thisispattismith on Instagram
---