The Piedmont Brothers Band and Their Less Traveled Road
Posted On October 8, 2014
---
Music knows no borders; it recognizes no boundaries. It cannot be contained by "genre-fication" or market manipulations. It is limitless when it is allowed to go where it will out of the love for the direct experience, soul to soul. It heals, soothes, and creates a kind of magic. Music is our ultimate mystery. When the experience of it flows, it transcends and validates our humanity and our deepest longings. When there is faith behind the longings, there is healing as well. The Piedmont Brothers band represent the best of this truth. Their story has touched so many lives, traveled so many places, and zeroes in on the soul of what makes music among our most connecting forces. It is hard to confine to a single article. It defies a definition, but demands to be told. While they could easily be described as a country-rock band, they give witness to what seems like a cosmic miracle. There was no plan, per se. There are no agents, no publicity firms or industry savvy moguls pushing them toward the right demographic. It's more about faith and love. They are about the music and how it brings us all together when there is a true love of the form and the desire to celebrate together.
At the center of this cross-cultural, cross-generational, and international congregation of true country music believers are a pair of artistic and spiritual blood brothers and journeymen — Ron Martin of Eden, North Carolina and Marco Zanzi of Varese, Italy. Their story defines how the love of music and its makers defies the limitations of time and space; they jammed together in the sonic realm of sense and spirit years before they ever met.
In their short history, the band has gathered musical forces from two continents, Italy and several states in the U.S. Due to their expertise as country-rock artists, they have garnered the respect of former members of Poco, The Flying Burrito Brothers, Firefall, The Stone Canyon Band(of Rick Nelson fame) The Byrds and The Dillards through Will The Circle Be Unbroken compilations all done remote with the help of computer software. With five albums in release since 2008 they have forged a loyal international following staging reunions in Italy, North Carolina and Colorado in recent years.
If Ron Martin and Marco Zanzi are not brothers by nature, they share a kingship in the common bond of their love for American music and in the similarities of their homelands. They also share a natural talent for the easy sound of the music. They live in the Piedmont regions of their respective countries, thus, their band and brand name.
Ron Martin is from a border town. He is a native of Eden, North Carolina in the Piedmont region of North Carolina along the Virginia borderline near the Appalachians where there is an earthy connection to the music of the region; its unique form of blues, folk, country and Appalachian mountain music. Martin is a life-long acoustic multi-instrumentalist. He is also a fine vocalist. He is an avid life-long Byrds fan. His bands have included local success stories like The Wampus Cats and Shiloh. He is a retired pharmacist by day and an accomplished singer-songwriter and guitar picker the rest of the time. On his personal signature song, "Border Town," a tale of spiritual renewal and homecoming, the kinship to Chris Hillman and Desert Rose Band is clear. He says he wrote the song thinking of the Desert Rose Band, but it is so original one has to wonder if Mr. Hillman has taken notice and thought of laying down some tracks of his own for this song. From the photographs, he looks simply like he's been raised on the stages of acoustic country and bluegrass circuits. His voice during our recent phone conversation betrays his years of living with boyish enthusiasm and talk of dreams coming true during his second half of life. His love of guitar goes back to early childhood. "My grandfather owned a Gibson Double-O. I begged him to let me play it." He laughed. "He said I could only play it if I learned how to play it. How was I going to do that!?" But it was the Christmas of 1965 that his parents gifted him with an nearly impossible-to-play Sears Silvertone with case and amp. "By junior high I was ready for Liverpool!" Martin joked. He absorbed it all, the music of his era, especially country rock and the music of his time and place like Marty Robbins, Johnny Cash.
Although Italy may be known more for its opera than bluegrass or country-rock no one told Marco Zanzi, a native of the Piedmont region of Varese, Italy on the Swizterland border near the foothills of the majestic Alps. Born in the late 50's to a musical family, his mother, a pianist and music teacher and his brother, a member of a local rock and roll band; Zanzi, at once absorbed the American music that internationally soared through the 60's from the early folk movement to folk rock and its gradual transformation into country rock inovated by iconic acts like Poco, The Flying Burrito Brothers and New Riders of the Purple Sage. He felt a special affinity for The Nitty Gritty Dirt Band's landmark, Will The Circle Be Unbroken, which bridged generations of country musicians bringing veteran country artists like Roy Acuff, Mother Maybelle Carter and Doc Watson to the country rock fans of the day. He learned to excel on five-string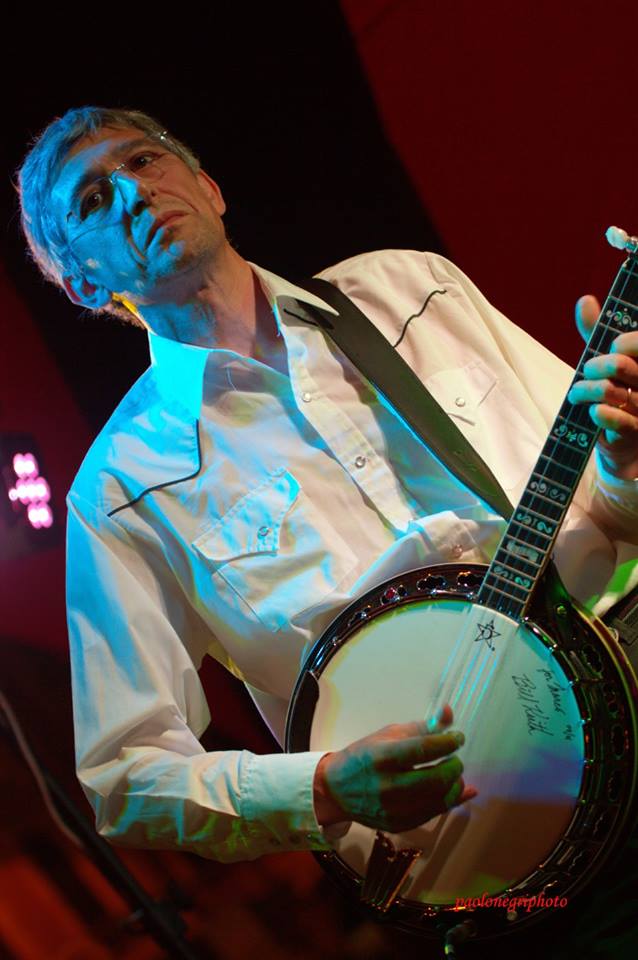 banjo. Like his American counterpart, he was raised an avid Byrds fan. It may be a bit of a stretch for the American mind to wrap around, but Marco has lived and breathed country, bluegrass, folk and rock from his homeland in Italy. He's also excelled in playing the music with breakthrough bands like Steamboat Willie. Although, songs written recently to his wife, Gabriella, hold a certain Italian romanticism, his instrumental ability on guitar and five-string banjo is pure Americana. He has done the lion's share of arranging, engineering and production on many of the PBB tracks, showing a fresh vision and originality that keeps the music of the band vital and real. He's probably one of the only country musicians who can say he has played for the pope in Rome, which quite clearly comes from his regional advantage.
In 2003, at the dawn of the new millennium and the breakthrough technology of the Internet Zanzi and Martin met through the website, Byrdmaniax. They exchanged their knowledge and passion for the music. Their close bond formed through the Internet. Soon compact disc exchange would lead to mp3 exchanges. By 2007, it was inevitable that one of these two brothers would make the journey across the sea. And so it was. At Martin's behest, Zanti traveled to North Carolina for Merlefest. The live meeting resulted in a confirmation of the musical chemistry the two held in common. That led to the birth of their first album Bordertown, in 2008 followed by Party Lights.
In 2012, their third album simply titled, 111, proved a kind of country-rock reunion mecca inspired by The Nitty Gritty Dirt Band's landmark, Will the Circle Be Unbroken. The sessions completed across the American and European continents with the help of WAV files and, brings together Richie Furay of Poco & Buffalo Springfield, Rick Roberts of Firefall & The Flying Burrito Brothers, Herb Pedersen of The Dillards & The Desert Rose Band, Pat Shanahan of Rick Nelson and the Stone Canyon Band and Jock Bartley of Firefall and Gram Parson's Fallin' Angels. The 14 song collection is remarkable in that it includes classic songs of the country rock era including Gene Clark's "Full Circle," "Sin City," and the classic Louvin' Brothers song, "The Christian Life" featuring Louvin worthy vocal exchanges between Richie Furay and Herb Pedersen, alongside originals by Ron Martin. It all flows together seamlessly as though Martin called back all of the lost celebration of those early days with his original material. This congregation of musicians have resurrected and breathed new life into the best work of the surviving veterans of the day. Gram Parsons and Gene Clark must have been smiling down during these sessions. The music certainly carries his spirit. But, the source of the music comes through every note, each nuanced and craftily carved arrangement. It sings with the celebration of soul that is universal to any genre of music.
The latest album, 2012's Back to the Country, is a continuation of 111 with more original and faithful recreations. It even gives Richie Furay the chance to reinvent his Poco classic, "And Settlin' Down" in a bluegrass vein. They have also found time to complete a live album and DVD of Ron Martin's reunion with the band in concert in Milan, Italy in 2011. Their international band includes Mike Gallivan(Colorado) on bass, Franco Svanoni (Italy) on drums , Anna Satta (Italy) on fiddle, Stefano Van Rossi(Italy)upright bass, guitars, persucssion and brass, Francesco De Chiaro(Italy) mandolin, flutes and pipes, Manual Corato(Italy) on guitars and keyboards, Francesco Fruigiuele on bass and guitars, Kathrine Walcyzwk on vocals and Joseph Torguson(USA0 on pedal steel.
Like a thorny rose, life has its way of working some pain into the mix of the magic. All along, Ron Thomas has had to deal with the ongoing challenge of Lyposarcoma, a form of cancer which requires ongoing treatment that he has dealt with since 2003. But, his attitude has remained one of gratitude. Today he says that the miracle is that he has lived through the last decade seeing dreams come true that he never imagined would happen. He said the main goal of the band is to 'love each other and make music together.' That love extends to their audience as well.
In another one of those strange twists of fate in this remarkable story, Marco Zanzi has been battling pancreatic cancer. After being declared cancer free, he was recently told there is a reoccurrence of the disease. This puts on hold future reunions and recordings. There is a Christmas album in the making, which may wait until next year with the return to good health of both brothers, Ron and Marco. But isn't it so much like a family to sing together, pray together and even suffer through illness together. As interviews were held with bass player Mike Gallivan and Ron Martin, the concern in their voice for their brother Marco was clear. It shows that the term brother in the band name isn't just for effect. It's real and heart felt. Beyond being great musicians, they are also great friends and mates along the musical life journey. They continue to plan ahead and listen to the move of the muse that remains deep in their spirits and in the common thread of a musical tapestry they never suspected possible in their lifetime.
---