The People Sing: Voices of 'A People's History'
Posted On September 13, 2017
---
In the Fall 2016/Speak Up! issue of No Depression in print, singer-songwriter Allison Moorer wrote about her experience performing with other artists as part of the Voices of A People's History — a show concocted of musicians and poets, moved by Howard Zinn's book by the same name. She wrote of what it felt like to join her fellow workers, to spend even just one evening focusing on what music can do for people. And last night in Nashville, Tennessee, to help kick off a week of festivities at the annual Americana Music Festival, Moorer gathered another such group for a show called The People Sing.
The lineup was remarkable on its own, including Blind Boys of Alabama, Otis Taylor, Billy Bragg, Joe Henry, Patterson Hood and Mike Cooley, Rhiannon Giddens, Gretchen Peters, Hayes Carll, Valerie June, Moorer and her sister Shelby Lynne, and the list went on. But there was more to this show than just a list of impressive names. The music was arresting.
It began with the Blind Boys, who delivered a soulful, stirring rendition of "Amazing Grace," with its many verses and four-part harmonies. When they offered up the line "I was blind but now I see," the song delved deeper. For this group of sightless singers, the vision they were singing about was clearly greater than what one might see with their eyes. And with the chills that left on our necks, we spun into the rest of the show.
Valerie June's a capella "I Think It's Going to Rain Today," with its many-note runs and nuanced modulations was a vocal feat. Shelby Lynne tackled "People Get Ready" a capella, too, with a voice so big you don't know where she keeps it. For a moment, the audience clapped along but this crowd couldn't stay on the beat to save its life. Lynne was undeterred, telling them, "There's nothing like an effort," then finished the song beautifully on her own. She came back later to deliver chills with "The Scarlet Tide," with Moorer and Elizabeth Cook (Cook teamed up with Kelsey Waldon earlier for a Hazel & Alice cover, and Moorer gave a beautiful solo performance of "A Change Is Gonna Come"). Billy Bragg unleashed "There Is Power in a Union," with fist in air and his trademark fighting energy, then came back out with Joe Henry for a soulful turn on Woody Guthrie's "Ramblin' Around." Gretchen Peters made everyone feel okay again with her version of Paul Simon's "American Tune."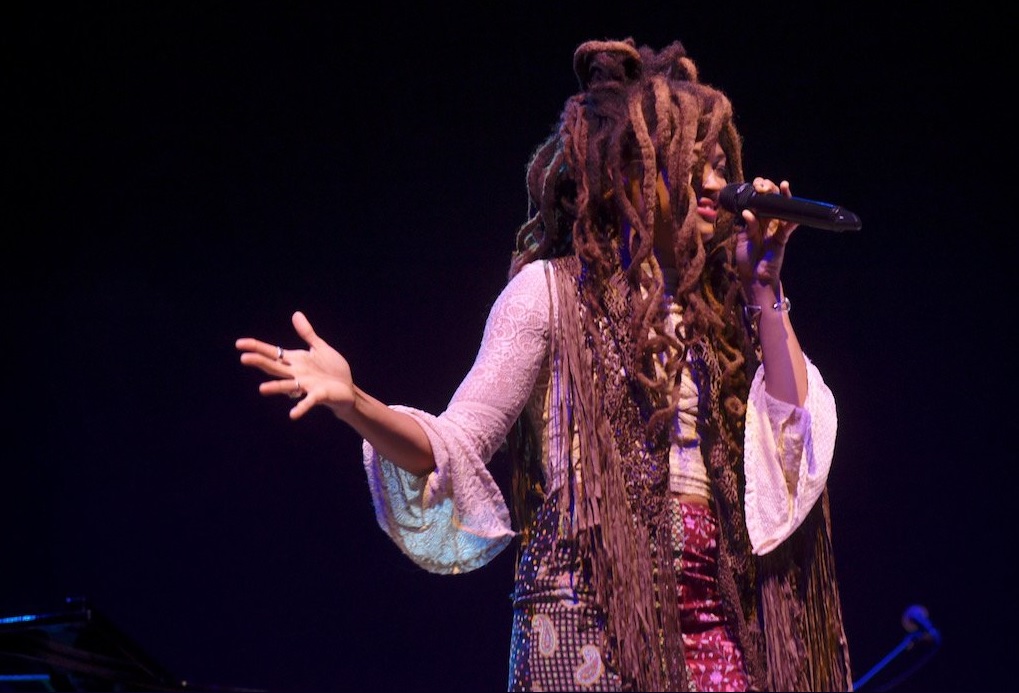 Then came powerhouse vocalist Rhiannon Giddens, backed by Henry, for her version of "Mal Hombre," the classic tune from Lydia Mendoza. Giddens noted that the song has been on her mind since November, and let a brief silence hang for the audience to figure out what she was talking about. Then she ripped into it with the kind of artful power that few other roots musicians possess. The audience would porobably have been fine if she'd only sung it through, but Giddens is accustomed to cluing her crowd into what the song she's singing means. There is a utility to folk music, after all, and if you don't know what the song is saying, you're missing out on at least half of what it can do. Giddens has a gift for sharing her knowledge without sounding professorial or preachy, and each time she offered more translation, the audience was welcomed deeper into the song. On an evening when artists were there to share the voice of the people, it was a perfect performance, and a show-stealer.
Speaking of which, the whole lineup — and Langhorne Slim, who wasn't on the bill but showed up for the finale — gathered at the end for a group version of "This Land Is Your Land." Thankfully, this time, the crowd found the beat, and clapped and sang along loudly.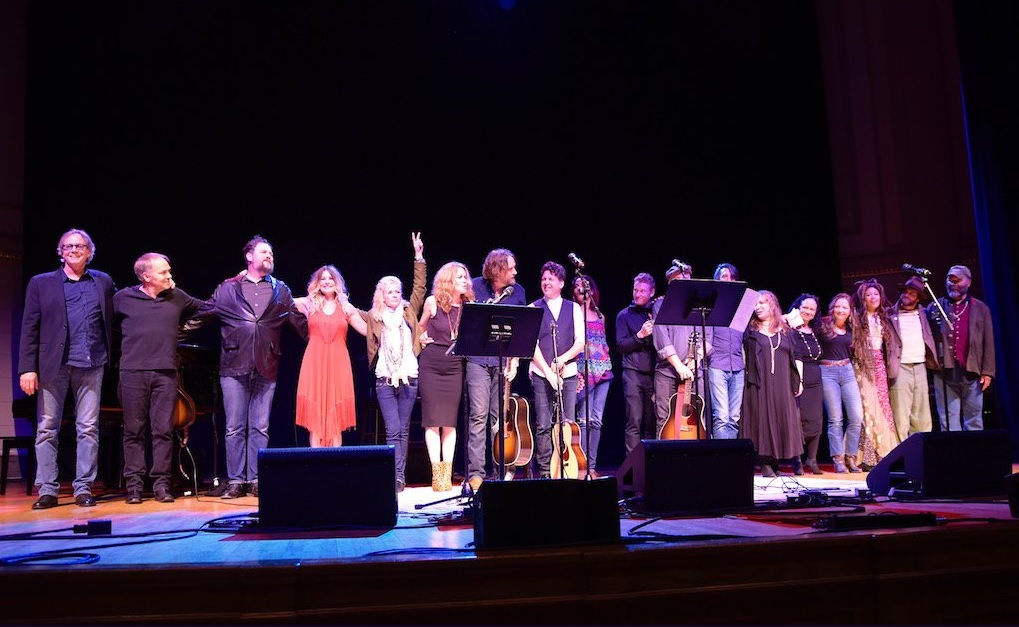 ---