THE NEW NORMAL: Plant Seeds of Music Builds a Practice Community During the Pandemic
Posted On October 2, 2020
---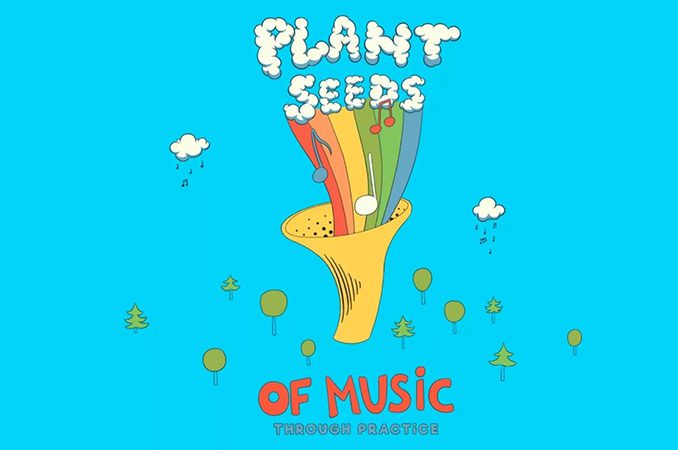 EDITOR'S NOTE: "The New Normal" is an occasional series of stories that look into how the coronavirus has affected artists, listeners, and the music business. Find other stories in the series here.
Nobody asked for a summer like 2020, but fiddle player Phoebe Hunt found a way to make the most of it. In conjunction with 75 traditional-style musicians, Hunt launched an online community called Plant Seeds of Music, a free alternative to the music workshops often found at summer music festivals. The project was designed for people at all levels of expertise, no matter what instrument they play.
The summer portion of Plant Seeds of Music had a simple mission: providing a free digital community where roots musicians can share their practice tips for players at all levels. Artists like Béla Fleck, Abigail Washburn, Brittany Haas, Sierra Hull, and Molly Tuttle filmed short videos describing their approaches to practicing that were posted on Plant Seeds of Music's website and YouTube channel, with 81 students committing to using them in a 30-day practice challenge spurred on by Hunt in a private Facebook group. The topics ranged from how to use a metronome to meditation as a means to improve one's playing, and the videos were intended for all musicians, no matter their instrument or proficiency level. For fall, Hunt developed a fall curriculum of 11 classes, with over 100 students signed up last month.
In addition to banding together around music, Hunt hopes the community that has formed around Plant Seeds of Music can bring about social change. Through the summer, Plant Seeds of Music ran raffles for instruments donated by artists and other members of the traditional music community, and they're working on more ways to raise money to donate to causes the community will choose.
Hunt describes herself as an "attaché" to the students in the program: "I like approaching life from the place of the student. There's humility in that. Like, if I can be a student, then I can grow. But if I think I'm the teacher always, or like I have all the answers, then there's a limiting aspect on what you can grow. That's a yoga philosophy. All these great teachers that I've studied from, they talk about having the mind of a student. Instead of being a teacher, I'm actually just a student along with all the people that are studying."
Questions and Answers
While she takes that student mindset, Hunt also has plenty of experience developing musical curricula. She has attended violin and fiddle camps since she was six years old and has been the director of the Big Sur Fiddle Camp since 2016. Hunt's experiences at similar camps inspired her to transition from classical violin to traditional fiddle when she was 23.
In a typical camp, students learn several songs a day in their classes. These classes lead to recitals, concerts by the instructors, and, best of all, informal late-night jams after a full day of getting loose on your instrument.
"It's like when you're learning a new language, you have to be completely immersed in it in order to learn a language. You have so many neurons firing, so many new things and so stimulating, and your connection to your instrument becomes more and more fluid just from playing it all day," Hunt says.
When Hunt first envisioned the Plant Seeds of Music project in March, she focused on two questions: Can there be authentic musical connection through the internet? And then, to the artists she invited to contribute: What is your practice?
For the first question, Hunt has been "stewing" the answer over since she gave a TEDx talk on planting the seeds of music three years ago. She knew that community was the key ingredient, but wasn't sure on how to build it.
Hunt's initial idea was an app that would allow artists to book school performances along their tour routes. Hunt had already assembled a team to build it, but by March it was clear that idea would need to be shelved amid the pandemic.
Instead, Hunt turned to her artistic community to build bridges across the internet.
"I asked all my friends, 'What are you practicing?' I wanted the question to be really broad and open for them. I realized that a lot of music dabblers might not realize that even really advanced musicians are still practicing. And so I thought if we had super advanced musicians all sharing what they're practicing, it might inspire people who think, 'Oh, well, I'm not really good enough. I just have this guitar in my room, but I'm not really playing it.'"
Some musicians spoke about practices adjacent to their music, such as yoga, meditation, and breath work. Others chose to focus on fundamental skills, such as Béla Fleck and Abigail Washburn's approaches to using a metronome.
That video in particular was a pleasant surprise to student Jay Edelman. "They each approach the metronome in very different ways. Who would have thought!"
Edelman describes himself as a guitarist "with varying levels of practice and motivation over the years." He says any opportunities for guidance from professional musicians, including through Plant Seeds of Music, greatly increase his motivation.
Learning Curves
When we spoke in early July, Hunt was putting the final touches on the community's second weekly Friday night jam, another aspect of the Plant Seeds of Music project. After conducting a survey of the summer program members, she found that one of the things students missed most about their summer workshops is jamming. Hunt's digital alternative is to choose songs in advance and make a Spotify playlist so students can practice them ahead of time. During a jam session on Zoom, she plays each song at midtempo herself while others join in with their microphones turned off.
Naturally, the details of running an online community are quite different from Hunt's normal routine as a touring musician. In April, Hunt released Neither One of Us is Wrong, an album of campfire-style songs intended for her roving musical collective to jam along to at performance after-parties. But the album evolved into something more — a meditation on human vulnerabilities and navigating the fears that keep us isolated from each other.
Hunt loves to unite people from seemingly disparate factions. Her previous album, Shanti's Shadow, incorporates elements of classical Indian music, which Hunt has studied, into Appalachian folk traditions. Her protest song "Marching On" was inspired by participants in the Standing Rock protests, and she works with war veterans through the Reveille Songwriting Retreat, held online this year Oct. 23-30.
In a similar way, Plant Seeds of Music brings novice and master musicians together in the same virtual space. And Hunt is adapting to, even enjoying, some of the challenges that have come with these lifestyle changes.
"When I'm touring, most of the day is spent in the van. It becomes this routine of finding a lunch place, going to the venue, do a sound check, check into the hotel, get back to the venue in time for the gig, play the gig, pack up, go back to the hotel, do it again the next day," she says. "For this, I'm at home and dedicated to doing something I thought could help other people."
That dedication keeps her days just as busy as touring once did, she says. "The project definitely keeps me away from being bored and I wake up and get to work. I work 10-12 hours a day on computer stuff, delegating, running a business, and meeting new people. So it's a whole different set of skills, but it's equally difficult work."
That sense of routine has been helpful to Plant Seeds of Music students as well. Musician Kim Ware, for example, was very active in the Atlanta rock and folk scenes before moving back home to a small North Carolina town during the pandemic. Life in a new town left Ware feeling isolated from her musical community. When she learned that Colorado's Song School was canceled for the summer, she was especially disappointed. But the school sent a link out to the Plant Seeds of Music program, which has helped her find the community she needed.
"It's more important than ever to have communities like this," says Ware. "I felt like I needed a whole new routine for my new life — I can see things like this being really helpful as I think we all need something to ground us and make us more accountable at the moment."
Sprouting in the Fall 
As Plant Seeds of Music's Summer of Practice moves into fall, Hunt plans to create a more structured experience by offering live Zoom classes with 10 students each rather than the self-paced practice videos. The Fall Academy offerings — which, according to a press release, cost "less than the price of individual lessons" — include a banjo class with BB Bowness, Béla Fleck, and Tony Trischka; a class on soloing with Dominick Leslie, Sierra Hull, and Jake Jolliff; a fiddle class with Hunt, Alex Hargreaves, and Brittany Haas; and a singing class with Rachael Price and Lindsey Lou, among others. The classes began the last week of September and run until early December.
Additionally, Hunt has created a beginner's ukulele curriculum, Ukulele Sprouts, and licensed it to the Nashville School of Traditional Country Music. There are now over 50 students in the Nashville area studying the curriculum.
She's also been busy creating a workbook, picking key tips from the videos for students to use as a basis for journaling, so students can create a physical component to their digital practice. And most importantly, Hunt plans to continue to build bridges. She's very aware that the 75 artists who contributed to Plant Seeds of Music in the summer are predominantly white.
"I have been touring for 15 years and this circle is full of incredibly talented peers that are some of the greatest musicians I've ever met, but it's also primarily white people. I'm a brown-skinned girl, but I'm in a circle that resonates with the privileged class and I'm doing my very best to acknowledge that through this project. I have a blind spot and want to do the work of reaching out to artists that are outside of my immediate circle. But I'm a little nervous, too. Hopefully this can help transform our circle into a more diverse circle. Everyone in our circle is open-minded and wants equality. But it's easier said than done."
The bridges built through Plant Seeds of Music have already helped connect all kinds of people during some of humanity's most isolating times. Twelve-year-old singer-songwriter Gabriella Rose, for example, uses the videos as a path to her future. "I love watching how the different practice routines lead to inspiration, like sprouting new branches on a tree," she says.
For Brian Alley, banjo player in the Portland bluegrass band Never Come Down, the community and tools enable him to connect to the masters of the craft. "I'm always blown away by the accessibility of virtuosic musicians in our genre," he says. "It's really a one-of-a-kind artform."
Fellow participant Amy Guiang, a self-proclaimed "lifelong musician," attests to the connection Hunt has helped build through Planting Seeds of Music. "I feel like there's still a music community out there of which I am a part. Since we all are dearly missing the music camps and music festivals that fill our summer every year, it's great to still feel connected to a bigger community."
Hunt hopes to cultivate that sense of routine among the community's participants. "My goal with this project is to approach learning music like planting the seeds of music within us. All of us have those seeds. And it's just about growing them. And you do that through dedication and practice through time, through study. Everyone can do it."
---