THE NEW NORMAL: Amid Coronavirus Closures, Museums Take Their Missions Online
---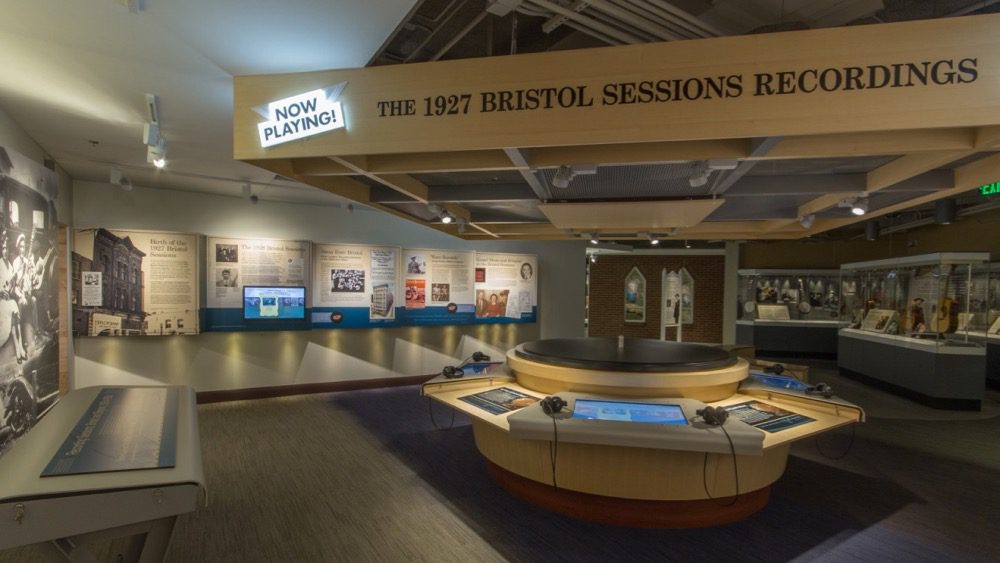 While the Birthplace of Country Music Museum sits empty amid statewide closures to reduce the spread of COVID-19, exhibits and other offerings have shifted online. (Photo by Neil Staples)
EDITOR'S NOTE: "The New Normal" is an occasional series of stories that look into how the coronavirus has affected artists, listeners, and the music business. 
With their real-world doors shut amid coronavirus-related precautions, many music museums and heritage organizations have turned their focus to virtual resources in an effort to maintain both their missions and audiences.
"The primary focus of our mission is community — our immediate community, and our wider community," says Rene Rodgers, head curator of the Birthplace of Country Music Museum in Bristol, Virginia. "Finding a way to keep them engaged, to provide resources, to provide some respite from everything that they're facing right now, we view that as a very important part of our mission."
They're not alone. "That's what a museum should be doing, especially in times of crisis," says Michael Sticka, president of The Grammy Museum in Los Angeles. "Continuing to deliver music, content, and art is critically important to our mission."
The Grammy Museum, Sticka notes, was one of the first in Los Angeles to make the decision to temporarily lock its doors. "Within a 48- to 72-hour period, we created the concept of our digital museum, and what it was going to look like," he says. The digital museum, at the Grammy Museum's website, includes exhibits from their archives (currently up: Ravi Shankar, Ella Fitzgerald, and Amy Winehouse, among others); mini lessons (featuring artists like Godsmack and Jerry Cortez of Tower of Power); and conversations with artists including Webb Wilder and Jim Lauderdale.
That content is aimed at bringing music fans together — and includes fun complementary material such as daily playlists curated by the museum's own employees. "Few things can let you peer into the personality of someone better than their music choices," Sticka says. "I've gotten to know my team even better during this time; ironic, because I haven't seen anybody for almost 60 days now."
The museum's audience has been responding positively, Sticka reports: "Web traffic and social engagement have gone up significantly, and it's a direct correlation to our digital initiatives and moving our mission online."
The Country Music Hall of Fame and Museum in Nashville has made the shift from physical to virtual programming as well.
"After some creative thought and an acknowledgement of our responsibility in this crisis, we developed opportunities for interaction between music makers and fans online," says Ali Tonn, senior director of education and public programs. "Instead of traveling to Nashville, whether from across the ocean or down the block, those eager to join us for a visit are coming to us digitally. To bring the museum experience to an online audience, we have focused on educational programs and interviews and performances from our collection."
In mid-April, the museum launched two programs — Songwriter Sessions and Words & Music at Home — and so far more than 15,000 people have participated in the weekly programs, Tonn says. In the Songwriter Sessions, accomplished songwriters (like Eric Paslay and Brandy Clark) share stories and songs and answer audience questions. And Words & Music at Home teaches participants how to write their own lyrics, put them to music, and share with the community.
"Even though buildings like the museum are currently closed, country artists and songwriters continue to create songs and make music," Tonn points out. "It is our job at the museum, inasmuch as we can, to use the means we have of connecting those who make music with those who find sustenance in listening to music."
The Birthplace of Country Music has also taken the opportunity to amplify existing online information.
"We have a ton of great content we continue to share," says Marketing Specialist Charlene Tipton Baker. The nonprofit organization, a Smithsonian affiliate, comprises the Birthplace of Country Music Museum, the annual Bristol Rhythm & Roots Reunion music festival (at the moment, still planned for Sept. 11-13), and WBCM Radio Bristol.
Baker points to a handful of videos on the Birthplace of Country Music YouTube channel uploaded "specifically for virtual visitors," she says. Those videos include titles like "Hillbilly and Early Commercial Country Music" and "Technology and the 1927 Bristol Sessions," which showcases the famed sessions that produced early recordings of artists like Jimmie Rodgers and The Carter Family, key to the BCM mission. Supporting contemporary artists is also part of the mission, and BCM's YouTube channel also presents videos of artists who have performed at the museum, on Radio Bristol, and at the Rhythm & Roots festival.
BCM's educational mission for youngsters has become even more important now, Rodgers says. Via its website, the organization has long offered student activities such as coloring sheets, a class to build banjos from supplies found around the home, and quizzes that pose questions like "How many grooves go onto a record?" A number of schoolteachers, many from distant locations, have expressed appreciation for the resources, Rodgers says, and are now using them for online and remote learning initiatives.
BCM's coordination of both fresh and existing programming online — and a deeper digital approach to engagement — isn't going away anytime soon. "Anything we're creating right now is evergreen," Rodgers says. "It's stuff we can share later down the line and it's still going to be impactful to our audiences."
The Grammy Museum likewise plans to continue to invest in digital initiatives, even when it can open its doors again. "It's allowed us to scale our mission in a way that we wouldn't have done just yet," Sticka says. "[These] digital initiatives aren't temporary."
Here's a look at how some other music museums are continuing their missions online:
American Banjo Museum
Oklahoma City, Oklahoma
americanbanjomuseum.com
The American Banjo Museum houses more than 400 instruments, recordings, ephemera, and memorabilia, all related to the banjo. The museum's new virtual programming includes daily concerts, interviews, and artifact tours via its Facebook page.
Bluegrass Music Hall of Fame and Museum
Owensboro, Kentucky
www.bluegrasshall.org
In partnership with the Kentucky Department of Tourism, the Bluegrass Music Hall of Fame and Museum explores the roots and foundation of bluegrass music in the state and offers free lessons for mandolin, guitar, and more — with those lessons now available remotely, via pre-recorded video lessons. Executive Director Chris Joslin also hosts a new virtual tour at the organization's website.
Delta Blues Museum
Clarksdale, Mississippi
deltabluesmuseum.org
Established in 1979 by the Carnegie Public Library Board of Trustees, the Delta Blues Museum is Mississippi's oldest music museum. A free virtual tour, which follows the footsteps of blues legend Muddy Waters, is now available at the museum's website.
Rock & Roll Hall of Fame
Cleveland, Ohio
rockhall.com
The Rock Hall was among the first music museums to tout its online assets and a wealth of already existing resources, not the least of which is a virtual tour of artifacts and exhibits housed onsite. Choose from three tours: "Women Who Rock," "Play It Loud: The Instruments of Rock & Roll Highlights," and "Staff Picks." The museum's Rock Hall EDU program offers free educational materials and family activities; they've also opened a treasure trove of 34 years' worth of Hall of Fame induction ceremonies. Staff members have created a few streaming playlists as well, with themes like "mindfulness" and a "Feel-Good (Much-Needed) Distraction Mix."
---