THE LONG HAUL: A Dispatch from Fiddle Camp
Posted On August 11, 2021
---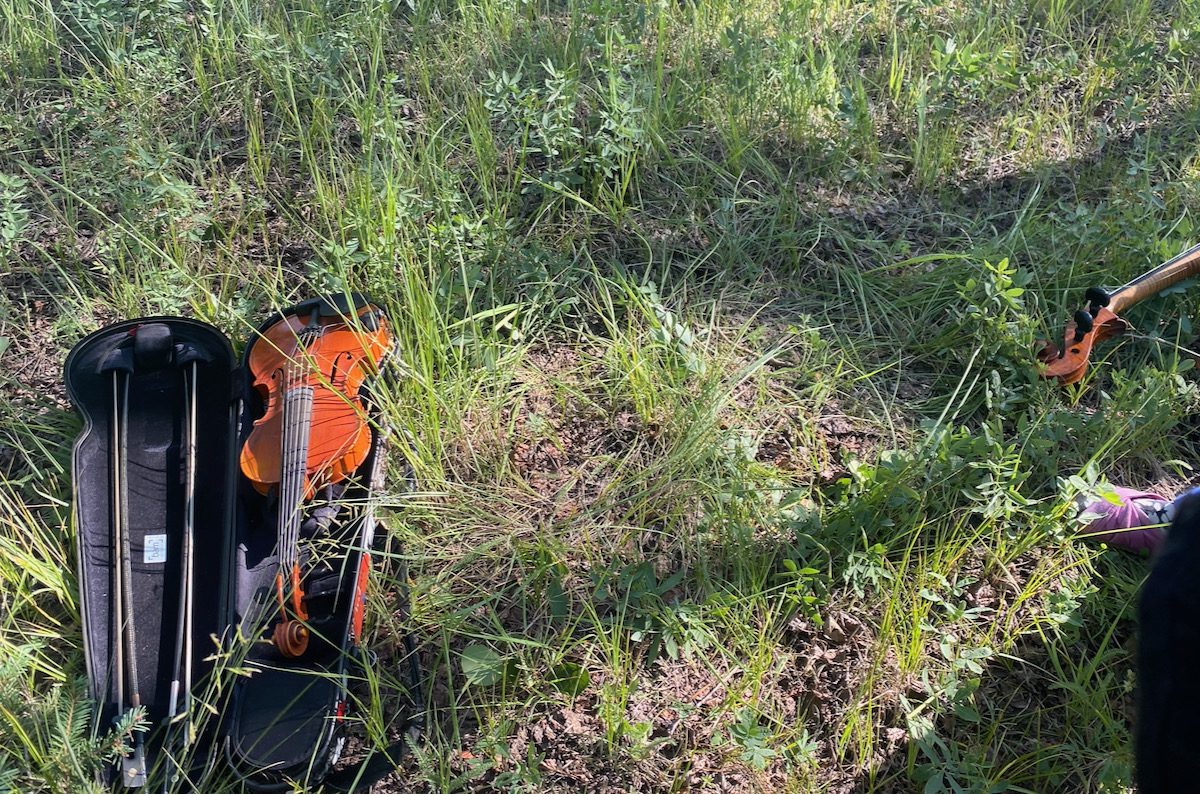 Work in progress at Rocky Mountain Fiddle Camp (photo by Rachel Baiman)
Have you ever been to fiddle camp? I'm not talking about high school orchestra camp, with its scratchy uniforms and mandated practice hours. I'm talking about hide out in the woods, laugh until you cry, stay up all night playing tunes, write your first song, make out in the woods, swing your partner round and round fiddle camp.
I was lucky to find some of these camps early on, thanks to my amazing mom, who recognized my one-track mind for music, and must have had a thirst, or at least a willingness, for adventure. I tried to go every summer, starting with the Mark O'Connor camp in Tennessee and the Rocky Mountain Fiddle Camp in Colorado, the year I turned 14. Having grown up in Chicago listening to hip-hop and rap at public school with my friends but secretly practicing my fiddle tunes at night, these weeks of my life were nothing short of surreal. Immersed in a world of fellow music obsessors, I found that I was not alone in my need to learn every possible way to create with my instrument. But even more than that, I found my community and, with it, so much joy.
There is often a certain disconnect involved with music education. When we teach kids classical music, we hand them Suzuki books full of baroque music, made for social dancing in the 16th and 17th centuries, so far removed from their psyche that any explanation of it simply warrants an "uh-huh, ok" and dead eyes. As a kid, I sat there with my allegros, plowing through every note with determination to get it "right," with no concept of what that might sound like, or why one might want to listen to this music, anyway. The songs brought me no joy, made me feel nothing in particular, although I enjoyed finding my way around the instrument.
At the same time, I started learning simple fiddle tunes from my violin teacher, who was really a fiddle player from Missouri. On Saturdays, I would head to the local farmers market, a 12-year-old girl sitting in a circle of gray-haired men picking out tunes and learning to improvise to Grateful Dead and Bob Dylan songs. This music made more sense to me, but I still felt like a complete social stranger, having nothing in common with these old men except a desire to create music.
But at camp, I found my people. I danced to the same music I played. I talked about school and parents and homework with the same people I jammed with. I stayed up late into the night with other teenagers, singing songs and trying to improvise solos, high on lack of oxygen and camp crushes and the knowledge that I wasn't alone in my passion for this. I observed seemingly impossible people: professionals who played music beyond my wildest imagination, and made a living doing it. The teachers at these camps were my ultimate heroes: well dressed, confident, and cool with actual paid gigs under their belts, making me feel real emotions with their music, and full of patience for my endless questions. I thought, if I could ever be a teacher at fiddle camp, I will have achieved my career dreams, I will have made it. And then I bawled my eyes out on every drive home, headed back to my "normal" life, convinced that such dreams were unattainable.
And now, here I am, back at Rocky Mountain Fiddle Camp, writing this essay as the campers give their end-of-week concert, waiting for my class to go on in an hour or two. It's not my first time teaching at a camp, but I feel suddenly overwhelmed with gratitude for this space and these places. What I didn't know as a kid was the way that becoming a professional musician wears on this magic: the endless self-promotion, the intense travel, the way you become numb to the specialness of art, out of fatigue and overwhelm and repetition.
I always figured that these camps were in service to the students. But it has been for me, as a teacher, just as affirming and rejuvenating. Days and nights of pure and unaffected and uninterrupted joy in music — after a long year of thinking constantly about the music business, canceling and rebooking and re-canceling gigs, unable to join in physical community with my fellow musicians — was just what the doctor ordered. I hope you can find your way to one of these sacred places one day, no matter your age or experience level. These camps are for anyone who wants a week of pure magic.
---