THE LONG HAUL: The Job Skills You Gain as a Touring Musician
---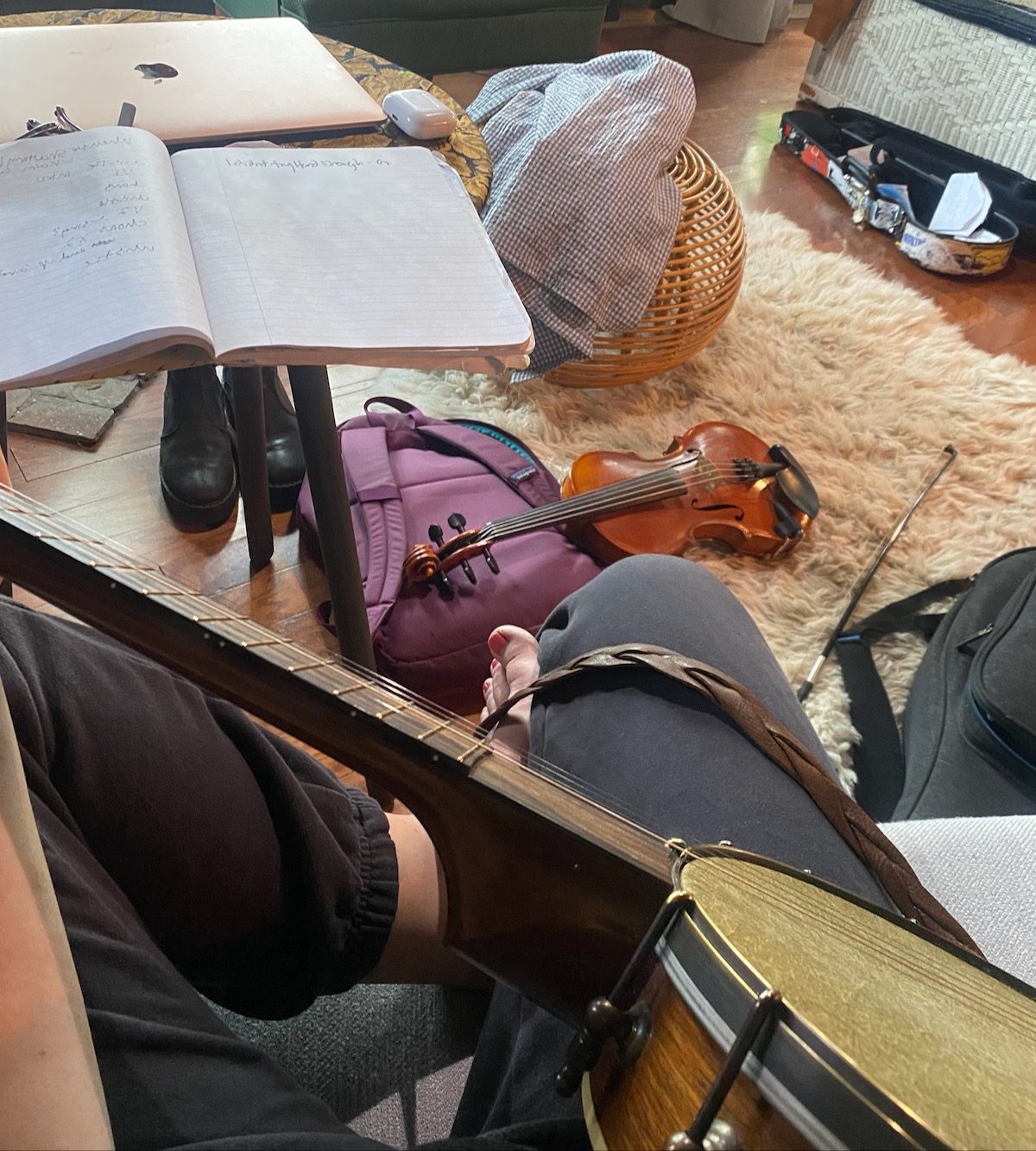 Multitasking and project management are skills a songwriter has in spades. (Photo via Rachel Baiman)
As I enter my 30s in full force it has come to my attention that I am increasingly ineligible for employment outside of the music industry. When I graduated from university, I subscribed heavily to the myth sold to my generation that a bachelor's degree would open the door to a good, steady job. Of course, I never actually applied for or was offered any good, steady jobs, but I assumed that I could always get one if I needed to.
At 22, that may have been the case. I was young, and nobody could have expected me to have much experience. As one of my favorite songwriters, Joe Pug, might say, "These days, I'm not so sure." On the rare occasions where I do have to submit a resume, for grants or whatnot, I notice my job experience looking more and more one-dimensional. "Freelance," says every line … "self-employed," "does not follow directions," "has no experience in a real job," "does not respond well to authority," "is a complete wildcard!"
At the beginning of the pandemic, deep into my no-shows-happening depression, I remember applying for a job with a voter's rights nonprofit that looked really rewarding. I asked my little sister, who is famously more mature than I am, to look at my resume and give me some pointers. She leaned over my shoulder, staring at my computer screen. "Wait," she said, "this is your resume? It's like a shitty Google Doc, not even formatted!"
It makes sense that an employer might not appreciate my lack of job experience, corporate workplace etiquette, wardrobe, tattoos, or complete absence of workplace references. However, I would like to make the case that being a self-employed touring musician actually provides some heavy job experience for the corporate world.
I'm not sure why I feel compelled to make this case, except to assuage my own fears, but here is just a starter list of jobs I think being a touring musician could qualify one for. Please consider this my resume and feel free to use it as yours if you are also this person.
Travel agent
Let me just say that we, the touring musicians of the world, could write a small book on traveling cheap in the US, UK, and Australia. Most musicians trade this knowledge like insider stock tips. Now, if you want to travel glamorously, we might not be your people. But in terms of experience getting from one place to another, we are literally professionals. In 2021, I rebooked every single one of the 45+ flights I purchased 2-3 times due to cancellations, delays, and COVID cases. I have navigated airport closures, flight disappearances, bird strikes, van rentals, and the grumpiest of flight attendants. Furthermore, I can hack a baggage allowance like a pro. I just got a four-piece band from Nashville to LA with all of our gear (one banjo, one bass, three guitars, five suitcases, two pedalboards, one fiddle, one cymbal case, merch, and three backpacks) and the total baggage fee was $75.
Project manager
One thing that independent musicians have had to get good at is making dreams happen: Starting with nothing and ending with something. Many people don't realize that with today's new record label model, you usually have to present a finished album to a label before they sign you, at least for the first release. To make this happen, you need to raise money, find the right team members, learn a lot of new skills on YouTube and Reddit, create a timeline, stick to a budget, and produce a product that will earn you a living. Perseverance and grit are paramount. If you don't keep your project moving, if you can't manage personalities, if you don't stick to your timeline, you will be quickly out of money and without a record.
Event planner
The trick to making an experience feel effortless to an attendee is putting in a whole lot of effort. When something goes wrong at a show, it makes me realize how many different people have to do their jobs perfectly to make a show the beautiful experience that we all want. The touring musician's job is to keep tabs on all of these moving parts and ensure that somebody, if not they themselves, is keeping up with each aspect. It starts with the booking: Decisions must be made about ticket price, timing, venue, opening acts, and food and lodging for the band. Then you have to make sure that the show is marketed well so that people buy tickets. On the day of the show, everyone needs to arrive on time so that you have ample time for load in, sound check, and dinner (dinner is VERY important!). The sound engineer must be competent, the lighting engineer must be competent, you need the right house music, the opener shouldn't play too long, the merch has to be set out in the correct place for good sales … and the list goes on!
I could talk about many other jobs that touring will prepare you for, but I think you get the idea. As the economy moves more and more toward self-employment, I hope that employers will take the numerous hats that folks wear when running their own businesses into consideration when they encounter an "unconventional" resume.
---