The Bottle Rockets power Marshall Crenshaw's pop to close out Twangfest 17 in St. Louis
---
St. Louis' Bottle Rockets put the power into Marshall Crenshaw's legendary power-pop Saturday night (June 8, 2013) to close the most successful edition of Twangfest in the 17-year run of the roots-rock festival.
Night 4 of the KDHX-sponsored festival featured a generous portion of accessible alt-country, rock and power pop, first from opening act Dolly Varden, then for an hourlong set by the Bottle Rockets and finally a 90-minute set by Crenshaw, backed by the Bottle Rockets.
The show at Blueberry Hill's Duck Room was sold out, the third sell-out of the four night festival and the first three-night sell-out in its history.
Crenshaw played an acoustic set solo Saturday afternoon at a private house concert for Twangfest's record-number 70 four-day-pass purchasers, as did the Bottle Rockets. When they played together at night, Crenshaw mixed new and recent songs with classics from his 30-plus-year career.
The partnership between the sophisticated singer-songwriter and the blue-collar Midwestern rockers, urged by their mutual agent, is an inspired one. Crenshaw's music, all jangly on recordings, takes on some serious grit thanks to the bedrock rhythms laid down by drummer Mark Ortmann and bassist Keith Voegele, and the powerful guitar work of Brian Henneman and John Horton. Add Crenshaw's own playing and his intricate and beautiful melodies, and the music takes on a power that is at once both Bottle Rockets and Marshall Crenshaw.
Crenshaw opened with "Stranger and Stranger," one of two new songs from his current vinyl-only EP series of releases, each of which has a new song on the A-side with a cover song and a live, rare or reimagined catalog tune on the flip side. By the time the band nailed their fourth song, the classic "Cynical Girl," the musicians were in a groove and stayed there for the rest of the show.
With Voegele providing harmonies, Crenshaw moved easily through his catalog, from the relatively recent "Live and Learn" from the Jaggedland CD to a song Crenshaw said "lies at the bottom of the oldies barrel," "Something's Gonna Happen," featuring Henneman and Voegele on background vocals
Crenshaw took a midset detour for a couple of covers – "I need a break from me," he said. The first was Richard Thompson's "Valerie," featuring Crenshaw and Henneman playing thrilling twin lead guitar with Horton on electric dobro.
That was followed by "Crying, Waiting, Hoping" by Buddy Holly, one of Crenshaw's heroes, whom Crenshaw played in the 1987 film La Bamba. (Buddy Holly "was an out-of-the-box thinker, which is why I still dig him," Crenshaw said during the house concert.)
The main set closed with the classic "Someday Someway," but the music rolled on in a first encore of "Mary Anne" and "Whenever You're on My Mind." A surprise two-song second encore after some fans had gone home featured Chuck Berry's "Nadine" – "I had to do it, folks," Crenshaw said from the stage where Berry still performs once a month. The night closed with Crenshaw singing lead on "one of my favorite Bottle Rockets songs" – "Kit Kat Clock."
For their own set, the Bottle Rockets and Henneman were as relaxed as I've ever seen them. Coming off a tour with Crenshaw that included 21 sets in 10 days, Henneman was a genial emcee, and the band was confident enough playing in its hometown to bring out three new songs, including the often-performed "Big Lots of Love" dedicated to Henneman's wife but also the local debut of "Monday" and "I Don't Want to Know."
The band's catalog is so deep after eight albums of original material that it cannot play everything, especially in a short support set. But they hit numerous career stops, including "Get Down River," which Festus-native Henneman wrote after the 1993 floods here and dedicated to folks dealing again with high water this week.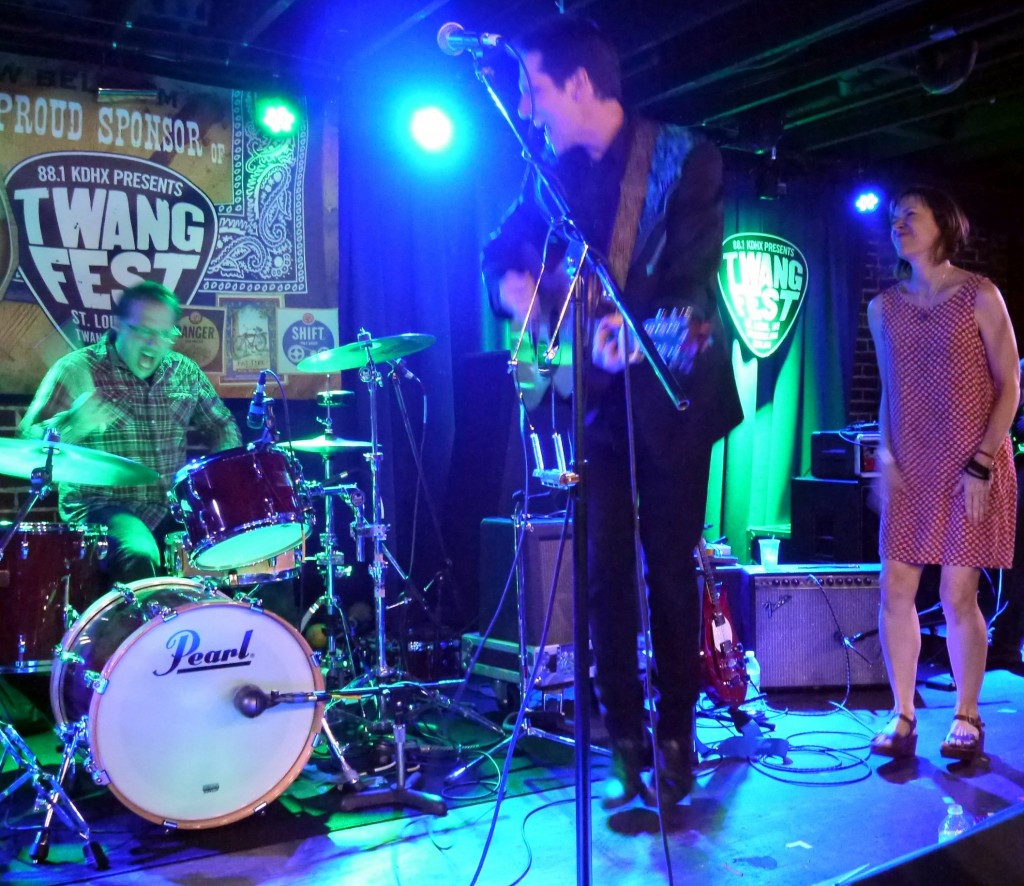 The "woulda been, coulda been, shoulda been" hits, as Henneman called them, rolled on with "I'll Be Coming Around," "Thousand Dollar Car," "Indianapolis," "Radar Gun" and "Welfare Music," barreling to the finish with "The Long Way" from the band's most recent studio CD, "Lean Forward."
Opening the night was the veteran Chicago-based band Dolly Varden, featuring the husband-and-wife team of Steve Dawson and Diane Christiansen. Their set suffered from a sound mix that made the vocals sound shrill, but the energy the five-piece band brought to the stage helped compensate.
Dawson was an active front man, jumping in place and setting the pace for his bandmates. Highlights of their set included the rocking "California Zephyr," "The Thing You Love Is Killing You" with Christiansen on lead vocal, and Dawson's autobiographical "Del Mar, 1976."
Dolly Varden closed with the beautiful ballad "Mayfly," which includes what could be the final tagline for Twangfest 17: "We are lucky, and I must not forget.
Photos by Barry Gilbert
TOP (from left): John Horton, Mark Ortmann, Marshall Crenshaw, Brian Henneman and Keith Vogele
Dolly Varden (Steve Dawson and Diane Christiansen)
This post was originally created for my blog, The Roots Cellar.
Marshall Crenshaw's set list:
Stranger and Stranger
Passing Through
There She Goes Again
Cynical Girl
Live and Learn
Calling Out for Love
I Don't See You Laughing Now
Television Lights
Who Do You Dream Of
Valarie (Richard Thompson)
Crying, Waiting, Hoping (Buddy Holly)
Stormy River
Better Back Off
Something's Gonna Happen
Someday, Someway
Encore 1
Mary Anne
Whenever You're On My Mind
Encore 2
Nadine (Chuck Berry)
Kit Kat Clock (The Bottle Rockets)
The Bottle Rockets' set list:
Monday
Every Kinda Everything
Lucky Break
24 Hours a Day
Get Down River
Happy Anniversary
Hard Times
I Don't Want to Know
Big Lots of Love
I'll Be Comin' Around
Thousand Dollar Car
Indianapolis
Radar Gun
Welfare Music
The Long Way
Dolly Varden's set list:
Done (Done)
Saskatchewan to Chicago
California Zephyr
The Thing You Love Is Killing You
Obsidian
Del Mar, 1976
The Dumbest Magnets
Why Why Why
Thank You
The Last Mistake
Mayfly
---