Tami Neilson Goes Feral for Statement-Making 'Kingmaker'
---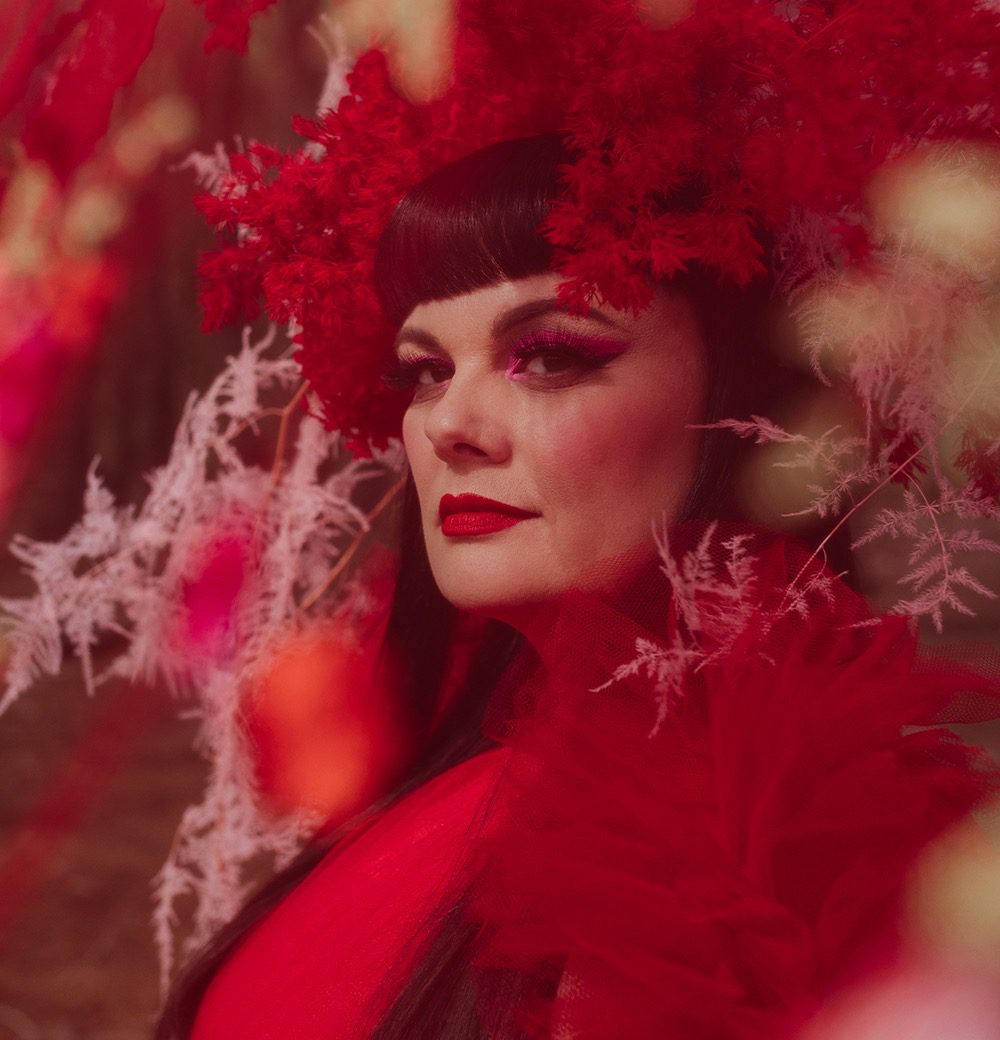 Photo by Sophia Bayly
To be "feral," from the Latin word fera, meaning wild animal, is to be untamed, to escape domesticity. Though it may sound extreme, this is the state of being singer-songwriter Tami Neilson aspired to amid recording Kingmaker, out this Friday on Outside Music. She even bought custom "feral" nameplate necklaces for herself and her composer, Victoria Kelly, to wear in the studio.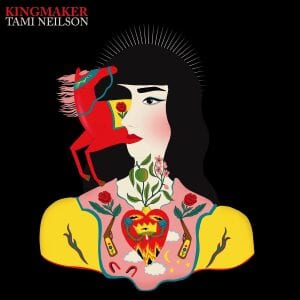 "It's to walk outside the boundaries of civilization, and to have that level of freedom of not caring about adhering to those expectations and those protocols and behavioral patterns … that society and our culture puts on us. That is a level of freedom I can't even imagine," Neilson says. "Maybe I'll hit it when I'm 90. It's pretty hard to undo 40 years of it in a short amount of time, but maybe I'll spend the next 40 years undoing it."
It is this undoing that's explored on Kingmaker, Neilson's statement-making album about feminism and subverting traditions. Kingmaker is a satisfying middle finger to the patriarchy that has never felt timelier as reproductive rights are under ruthless attack. "It's something to keep striving toward. I felt like with this album, that was kind of our true north, having that word ['feral'] around our necks," she says. "Anytime we kind of faltered on something, it was our compass."
Shedding Light
Neilson uses the sheer explosiveness of her voice to speak to themes of oppression and abuse of power in the music industry and beyond. Mining her personal experiences and those of loved ones proved rich, complex material through which to express the rage and frustration built up over a decades-spanning career that began when Neilson was just a kid. She got her start in a family band, touring with her parents and brothers, opening for acts like Kitty Wells and Johnny Cash and eventually breaking out on her own and moving from her native Canada to New Zealand, now her home of 20 years.
Kingmaker was conceived during the pandemic, inspired in part by a reckoning in New Zealand's small but mighty music scene after a deluge of artists came forward to tell their harrowing stories of sexual assault and harassment to investigative journalist and founder of #MeTooNZ Alison Mau. "The perpetrators were men that we all know, that we have all worked with," Neilson says. "All of the ugliness is bubbling to the surface, which is painful, but it's dragging it into the light where it can't survive, hopefully. Or it's being talked about, it's being challenged."
As Neilson began writing songs about the world around her, she was simultaneously working on a live performance project, a show called "The F-Word: Songs of Feminism in Country Music." A remote collaboration with Dr. Jada Watson — a professor of musicology at Ottawa University and founder of SongData Project, a research endeavor that uses data to examine representation in the music industry — the show chronicles the history of women in country music, from Mother Maybelle Carter all the way to Mickey Guyton, and was intended to be performed at arts festivals. The show is a hybrid of academic lecture and storytelling, and involved Neilson performing songs of the women discussed in the show. "It's almost like a live documentary," she says. "It's a unique format."
Though pandemic lockdowns kept Neilson and Watson from meeting in-person (until recently), Neilson was able to perform the show a handful of times at festivals around New Zealand, and she plans to keep it going as soon as logistics allow. Plus, a true friendship blossomed between her and Watson, eventually leading Watson to pen the thought-provoking liner notes for Kingmaker that connect Neilson's new batch of songs and Watson's findings around the lack of representation of women and BIPOC artists on country radio.
"She's doing the lord's work, man," Neilson says of Watson. "It's very confronting and very sobering when you see those statistics in black and white. We've all experienced them personally, but it kind of feels like something intangible that you can't explain to the average person. I mean, yes, everybody listens to the music — but those liner notes are one of my favorite parts of the album!"
Like the songs themselves, Kingmaker's liner notes examine a history of misogyny and inequality from the dawn of humanity. Watson captures the disillusionment in Neilson's lyrics and the insatiable desire for change, from the album's Old West standoff title track to the bleak tale-as-old-as-time "Green Peaches," which tells a story of survival not unlike those of the artists who came forward in Neilson's own community.
He says listen up honey, I'll take care of the money
And he picks up the cheque for their steaks
In the back of his car he says, 'I'll make you a star
Girl, don't gotta worry 'bout a thing'
And she thinks of the years and the tears
Spent wishing for the day someone would say those words
And she softly cries, he puts his hand on her thigh and says,
'Ain't no one like ya in this whole wide world'
 Hey, you gotta know when to pick em
Before they're too grown to see
Green peaches, steal 'em right off the tree
"For me it is very personal, and for most women I know it's very personal, to sing about inequality and sexism and misogyny and imbalance of power, lack of opportunity," Neilson says. "Those things are all our lived daily experiences, women in the music industry, or BIPOC people in the music industry. Unfortunately, the onus falls on us and it makes people uncomfortable and it's exhausting, but as long as those problems exist, I'm gonna keep singing about my personal experiences. The work is a long way from being done."
Family Ties
Neilson weaves her own background into songs like "I Can Forget," a starry-eyed ballad of grief that began as an instrumental melody found on her late father's old work tapes. "When my dad died, I said … 'I don't want you to worry about your songs. I will be your voice and none of your music will go to waste,'" she remembers. "There're a lot of things you think, 'I'll never be able to do that again,' but to be able to co-write a song with him was really special."
"The Grudge" follows a familial thread from her grandfather to her mother to herself and, finally, to her own children (two little boys who sing backup vocals on the album), vowing to break the mold of hanging onto hurt and prejudice. The schoolyard handclap number "Careless Woman" and the raucous "Mama's Talkin'" are feminist anthems encouraging women to take up space. The latter deviates from the twang of the rest of the album with its Cramps-like punk rock arrangement. "I felt like the attitude and the swagger of the song sonically needed to match," Neilson says. "I wanted the music to be as defiant as the lyrics were."
That defiance courses through Kingmaker, especially on the album's beating heart, "King of Country Music." Though her time on the road with her father and brothers is something she remembers fondly, those memories proved a useful tool in probing gender roles in music. The verses recount both the hardships and rewards of that time, the scrappy resourcefulness and the lessons learned. But it's the chorus that reverberates:
Could the king of country music be the daughter, not the son?
It is a rhetorical question Neilson poses to her listeners and to an industry that still hasn't changed, one that transcends daughters and sons. What Neilson is really asking is, "Could the king of country music be a woman and not a man?" The sweet sound of her sons singing harmony adds a particular sense of irony. "You're training your children with every song. With everything that we put into our children's lives, it's shaping them," she says. "Kids aren't born with misogyny or racism or sexism, they're taught it through our culture and our society. So it's a beautiful thing to hear their little voices singing about equality."
Despite the heaviness that comes with writing songs about injustice and pain, creating Kingmaker was a joyful journey for Neilson. She assembled a formidable team of women to bring the visuals of the album to life, from the music videos to the album art, all while faced with the challenges of seemingly endless lockdowns in New Zealand. Maria Francesca Melis' bold illustrations and Sophia Bayly's stunning photography, plus Watson's writing, give Kingmaker a powerful polish. "I think that really contributes to the overall feeling of the album and the energy of it," Neilson adds.
A dreamy country-western duet with Willie Nelson, "Beyond the Stars," didn't hurt either. The song was recorded remotely, but the duo recently had the opportunity to perform it together at Nelson's Luck Reunion in Texas. A moment two years in the making after being postponed, Neilson says she'll remember it until the day she dies. "I still wake up every morning and look at my phone to see if the song still exists in this world or if I just dreamt it all," she says with a laugh. "It wasn't just a dream!"
The song acts as a respite from the labor of fighting for change Neilson undertakes with Kingmaker, labor that sadly doesn't end here. But she is ready to keep using her voice and her songs to craft a better future for the next generation. She even has a head start.
After all, in New Zealand it is already tomorrow.
Kingmaker is out July 15 on Outside Music.
---