SPOTLIGHT: The Mastersons Campaign for Love and Kindness in 2020
---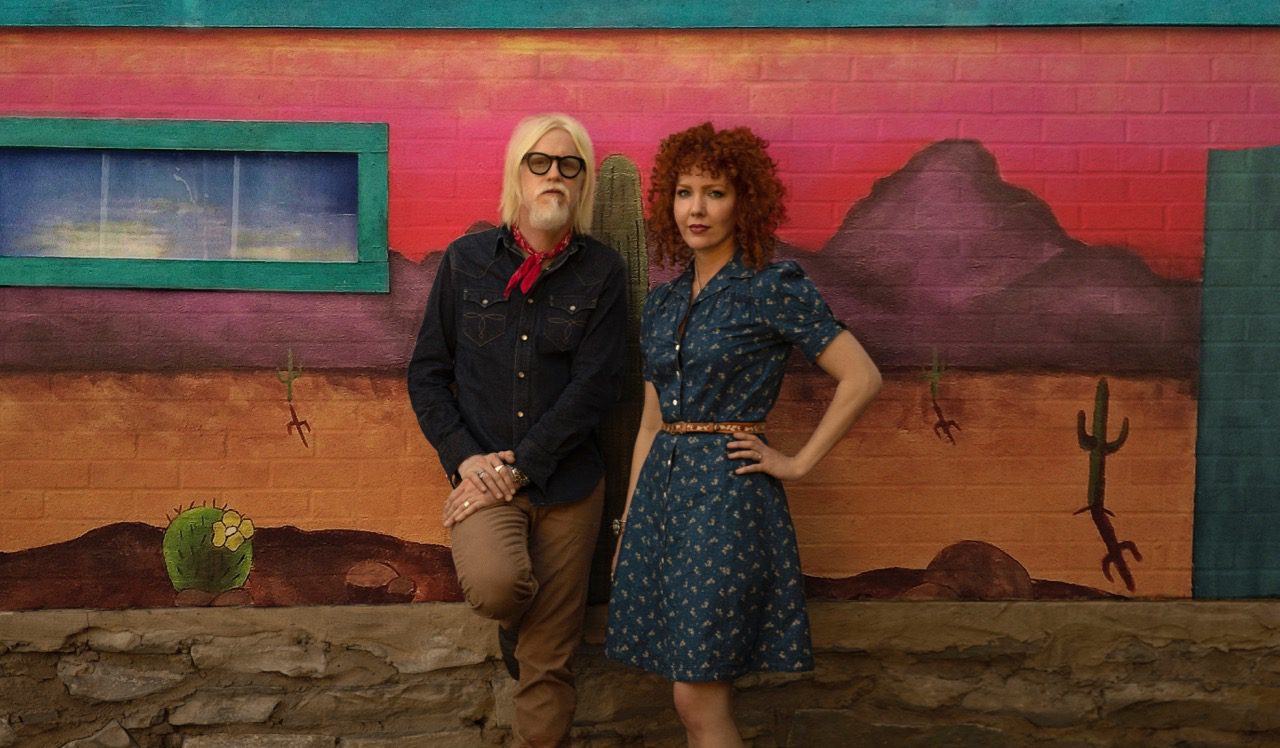 Photo by Curtis Wayne Millard
EDITOR'S NOTE: The Mastersons are No Depression's Spotlight band for March 2020. Their new album, No Time for Love Songs, comes out Friday, and we'll be hearing more from them all month long.
The Mastersons aren't afraid to get political in their songs, to call out the injustices they see in the world. But the unofficial motto of their new album is love and kindness (there are even T-shirts!) because that, they say, is what's going to get us through this mess.
On No Time for Love Songs, married duo Chris Masterson and Eleanor Whitmore advocate coming together to solve problems. If we remember what we have in common — the desire for clean air, good jobs, food on the table, and leaving the world a little better than we found it — maybe our differences won't seem so insurmountable. As The Mastersons sing on the title track, in their signature harmony:
We might not see eye to eye
But I'll love you just the same
Let's stick together instead of trying to place the blame.
It's a lovely sentiment, but The Mastersons don't let us off the hook with it. The song — and many on this album — also demands action: "Try to find a better way for you and me." They acknowledge the frustration of today's climate of division and implore us not to look away.
"It's so easy to just want to check out and think that your vote doesn't count," Masterson says. "Everyone's being mean to each other on social media, it's so easy to just dive into something else and find some other way to distract oneself. And now is not the time for that. Now is the time when we need all hands on deck. Even if we have differing beliefs from one another, it will still make — whether it's our city or our neighborhood or our country and our world — a better place if everyone was just paying attention and doing what they could. There's a cumulative thing that happens, and I'm confident in that."
On No Time for Love Songs, out Friday on Red House Records, and across their previous three albums, The Mastersons speak their minds plainly, commenting on the world as they see it and on solutions as they envision them. Which is one of several reasons they're a great fit to play and sing alongside Steve Earle as part of Steve Earle & The Dukes.
"Working in proximity to someone like Steve, you really learn how to find your voice and try to be impeccable with your word and figure out what you believe in," Masterson says. "He's been nothing but encouraging."
Speaking up, of course, can come at a cost to artists, but Whitmore says it's well worth doing.
"I've watched people storm out of [Earle's] shows and our shows when saying something or speaking up," she says. "If they want to walk out, that's their prerogative. A lot people say 'shut up and sing,' and I think art and activism have gone hand in hand for centuries, so I think that's a really naïve thing to say."
That said, The Mastersons prefer to steer clear of preaching to the choir, preferring instead to look for common ground and build their case through empathy.
"It costs a lot of money to go to a show," Masterson observes. "People are working hard, and when I see a couple at a show, I think, 'Man, they've got a sitter, probably, and taken an Uber and bought dinner and some tickets and now they're buying merch.' I do want to be able to sing to everybody and not have a message that's so polarizing that it detracts from other people potentially enjoying the show."
Whitmore adds: "It's a tricky balance to be like, 'The world's on fire, wake up!' But you don't want to polarize people either."
"My best case," Masterson says, "is if I can give someone pause, show that I'm not a dick. … I might not change someone's vote, but I think we can all figure out how to be a little nicer to each other."
A Good Pile of Songs
With their own music, Steve Earle's schedule, and plenty of side work, The Mastersons spend most of their time on the road. But for the past three years the Texas natives have called Los Angeles home, and a laid-back California vibe wafts through No Time for Love Songs.
"I think we've slowed down, in a good way, a little bit," Masterson says. "Even though we made this record pretty quick, it felt pretty relaxed."
They recorded the songs over the course of about three weeks at Hollywood's Sunset Sound, "a studio that just oozes character and vibe and history in every nook and cranny of the place," he says. In its 50-plus years of history, it has recorded Disney movie soundtracks and songs for Bob Dylan, The Rolling Stones, Sam Cooke, Janis Joplin, Van Halen, Paul McCartney, Elliott Smith, and many more. At the controls, as well as at the piano, for The Mastersons was producer Shooter Jennings, who has known Masterson and Whitmore for about a decade and had recently brought them in to play on Tanya Tucker's Grammy-winning While I'm Living. The Mastersons wanted to work with him on their own album because they felt his wide-ranging storehouse of influences fits well with their multi-genre music.
"He's got a lot of crayons in his box," Masterson says. "He just has so many different touchstones and reference points. He was [working with] Tanya Tucker by day and making a Marilyn Manson record by night. I dig that."
No Time for Love Songs continues The Mastersons' line of country harmonies pepped up by pop sensibilities. "We've always tried to ride the ridge of our Southern roots and our love for British pop melodies," Whitmore says. Adds Masterson, with a chuckle: "I've always said I love Ray Price and Ray Davies equally."
That kind of spread doesn't lend itself well to genre, necessarily, and that's okay with The Mastersons. "It's weird to think about creating art and putting it in a shoebox — 'Americana' or 'outlaw country' or this or that — before you've ever even recorded note one," Masterson says. "I think really you should just get a good pile of songs and go make the best and most fearless art you can, and then whatever people decide to call it after the fact is cool. Working with someone like Shooter that doesn't have those boundaries is another reason it was great to have him."
Woven in among the social commentary songs on No Time for Love Songs are reflections on a different theme: grief.
In the past few years, Masterson lost his father, and Masterson and Whitmore were also profoundly saddened by the loss of several close friends, including Austin musician Chris Porter, who died in a traffic accident on the way to a gig, and Austin-based bass player George Reiff, who produced The Mastersons' Transient Lullaby and died of cancer in 2017. Late last year, their Dukes bandmate Kelley Looney also passed away.
While politics and personal loss might not seem like themes that fit together, The Mastersons see parallels. When politics get you down, your friends and loved ones are often who you turn to, and it hurts when they're not there to keep the love and kindness coming.
When Porter died, just a few weeks before the 2016 election, Whitmore found herself imagining what he would think about things. "I kept thinking about him making jokes and trying to bring light to the situation," she says. It's a way of preserving someone's spirit that shows up in "The Last Laugh":
You're here then you're gone
It doesn't feel real
So hard to go on
Man this wasn't the deal
But I can hear you laughin'.
"We had this pile of somewhat political-leaning songs and then you had the loss, and when you start to look at the record or a project as a whole, and how they fit together, I think that no one equips you to deal with loss, but by acknowledging and cataloging it you can be grateful for what we have right now," Masterson says. "A lot of those people that we lost were some of our closest confidants, where those are the people I want to text right now when I see something on the news and things just seem batshit crazy. I would love to text George or Chris Porter, 'Man, did you see this …,' so I feel their loss in a few different ways."
Whether it's grieving a loved one or the loss of civility among strangers, The Mastersons urge us to keep our eyes open amid the pain, to open up instead of shutting down, and to look for a better path ahead.
"It's all around us, and we're not unique, we all feel this," Masterson says of both kinds of grief. "I feel grateful that we're able to process it in song. I think it helps, and hopefully when you put something like that out into the world it helps someone else. That's the best-case scenario with a piece of art."
---