SPOTLIGHT: Raye Zaragoza Finds Her Own Way Through Womanhood
---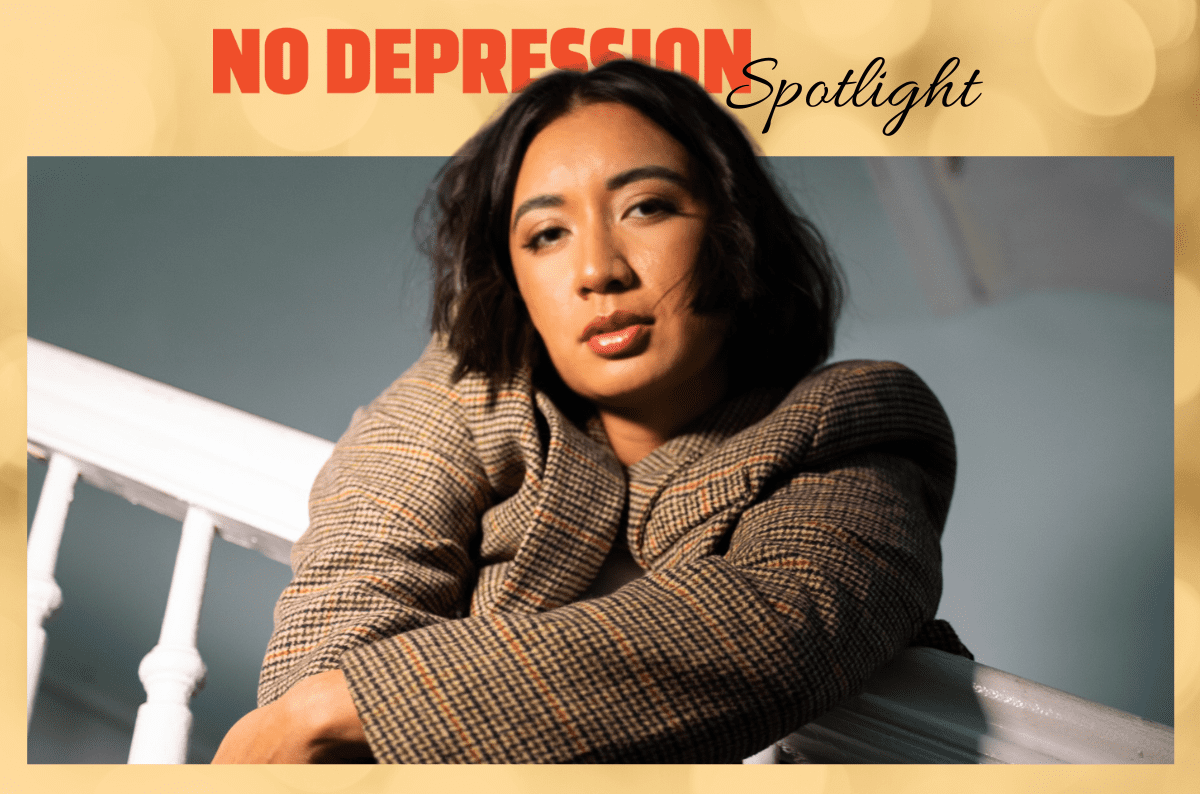 Photo by Alice Plati
EDITOR'S NOTE: Raye Zaragoza is No Depression's Spotlight artist for August 2023. Learn more about her and her new album, Hold That Spirit (out Aug. 11 on Rebel River Records), all month long.
"We have to always be extraordinary, but somehow we're always doing it wrong," goes a line in Barbie, the hotly anticipated summer blockbuster that opened in theaters just weeks before Raye Zaragoza is set to release her third album, Hold That Spirit. A timely parallel to the themes in the film, Zaragoza's latest grapples with how impossible it can feel to be a woman, taking on her struggles with anxiety, independence, pressure, and body image, among others.
"They say that having it all for women is having a family and a career, but what if you want something else or what if you want something similar or just a little bit different?" she wonders. "We need to just take all that noise out and pave our own paths."
Zaragoza's path took an unexpected turn last year when, just before turning 30, she broke off her engagement and repurposed her wedding savings as funding for Hold That Spirit. Money for a white dress was traded in for producers, catering for studio time, a venue for video shoots and visuals. Though Zaragoza can reflect on the poetic nature of the exchange now, in the moment it was a choice made out of necessity. She had a full album of songs ready to go, but no money to record it, a common obstacle for independent artists who often foot the bill for these costs themselves. With nothing left to lose, Zaragoza invested in herself.
"My engagement post on Instagram was my highest likes, most attention I've gotten ever on social media. More than any single I've released, any song, any album, any political commentary, anything I've ever done, that was my number one post," she says of the since-deleted content. "And that is just so sad."
Investment in women is, cruelly, still something of a radical idea, especially without something like a registry, baby shower, or engagement to qualify it. The mostly arbitrary timelines placed on milestones like marriage or starting a family are unbearably stifling. But as much as there persists a conditioning of women from a young age for such traditional pursuits, the backlash to it all can be just as toxic. It creates no less of a pressure cooker to replace "marriage and kids by 30," with "find yourself," "love and accept your body," and "be a 'girlboss.'" Oh, and don't forget to do it all with a smile.
All are demands imposed upon women by cultural, societal, and even corporate entities, and finding your way through the muck is the challenge of a lifetime. For Zaragoza, it has meant pushing back against everything the world taught her she was supposed to be since her first modeling job at 11 months old. "My childhood was super cool and weird and eclectic and strange and traumatic at times," she says. "But I wouldn't trade it for the world."
Born and raised in a 9/11 evacuation zone — a memory she still recalls — in lower Manhattan, sharing a 400-square-foot studio apartment above a firehouse with her parents and two siblings, she grew up fast. She rode the subway by herself to the many dance, acting, voice, and competitive gymnastics classes in which her parents enrolled her. "They just wanted us to be excellent, they wanted us to achieve something," she remembers. "Some of that was a little difficult as a kid. I felt like I was already being held to a pretty high standard." Add to that the impossible beauty ideal of the 1990s — waif-thin, tall, white — and Zaragoza, of Indigenous, Latina, and Asian descent, was already sprinting to catch up.
Her young adulthood was consumed by a concept of "health" created by the wellness industry — diet culture repackaged as something more virtuous. "I literally don't remember a year of my life because I was in such a deep obsessive spiral and I think I was almost gaslighting myself," she says. Her hair fell out, she stopped getting a period. This fraught relationship with her body and self-worth was only demystified a few years ago when she learned about orthorexia, an obsession with health and food, and finally began the slow road to recovery and understanding.
In this sense, Hold That Spirit is a protest album against the unrealistic standards to which women are held. It doesn't just deal with the dissolution of her romantic relationship, it is also documenting Zaragoza's breakup with a past version of herself, one whose ideas of self-love and self-care were actually hurting her and holding her back. "This album is kind of all about me throwing my hands in the air and being like, 'I'm not gonna follow any of these rules anymore,'" she says. "I just don't think it's worth being quiet about it anymore because we need to normalize these conversations and not have it be so taboo."
That means talking openly about things like money, a tumultuous partnership, and her eating disorder. "I decided I'm gonna talk about it because what has helped me in my recovery is to listen to other people's stories," she says. "So, if I can be a story that inspires someone to get help then that's all I can do. I can only speak on my experience."
What came out of her healing is the biggest thing Zaragoza has ever done: a truly vulnerable, but sonically powerful record, created almost entirely by women collaborators. An acoustic artist at heart, Zaragoza expands here with big pop sounds, stacked harmonies, and hints of gospel, all sung in her low, rich belt. The songs on Hold That Spirit build to cinematic heights, proudly taking up space. The album artwork was shot in Death Valley, resulting in stunning images of Zaragoza posing in bold shades of poppy and cerulean, contrasted against the stark white sand dunes.
"Being Indigenous, the daughter of an immigrant, growing up in a big city in the United States" was the inspiration for the imagery, she says, an homage to things that don't normally go together, but somehow make perfect sense. "I think it's taken until my adulthood to know that all those things can exist at once and that's all a part of who I am. They're not dissonant things."
Quiet Moments
Inside and out, Hold That Spirit is an artistic feat and a crucial exclamation point on the end of a rollercoaster few years. The reckoning of all Zaragoza has endured can be heard in songs like the buzzing title track and "Strong Woman," or the euphoric "Joy Revolution" and "Not a Monster." But it's the quiet moments that are particularly profound. The barebones fantasy of post-pandemic freedom, "When This Shit Is Over (Lockdown Demo)," may seem like a love song to a partner on its surface, but on closer listens unfolds as a promise Zaragoza is making to herself:
Oh I've been thinking about the things I cared about before
And all those worries just don't seem so big anymore
When this shit is over do you want to fall in love with me? 
She sings about all the things she dreams of doing once the world opens again — traveling, living in a house by the beach — all the while not realizing that she doesn't need anyone but herself to make it happen.
"We don't do things alone as women as often … and I think in the pandemic I was just waiting for someone to save me," she says. "What did I do? I found someone and then I decided to go a different path and now I'm saving myself." She now lives in California, close to the ocean, and is taking herself on a trip to Hawaii this year.
This song and a handful of others on the album were written before her broken engagement but are still somehow prescient. "Bittersweet" is a breakup song that gorgeously articulates the way an ending is also a beginning:
I knew it in my bones
The day would come when I'd break your heart
It's not that I don't care
But some things must end
For something else to start
Isn't it bittersweet
When to love is to leave?
A blessing, a curse, a high that can hurt
Sometimes to grow is to grieve
Zaragoza co-wrote it with fellow artists AG and Connie Lim (aka MILCK), and even played it for her then-partner, convinced it wasn't autobiographical. "I always feel like my music is a couple steps ahead of me, and my songs and my artist-self are more in touch with reality than my human-self is. Sometimes I can't really tell what I'm writing about until months later. It's a running joke in my friend circle that I have songs that tell the future," she says, able to laugh at it now. "Good to pay attention to what you're singing about because it could come true."
She has been propelled into her next chapter by that sharp intuition and an ever-deepening spirituality and connection to her Indigenous roots that began with childhood trips to New York City's American Indian Community House, where she learned the dances, stories, and songs of her Akimel O'otham ancestors. She has also found sustenance in her community of friends and fellow Indigenous artists like Black Belt Eagle Scout, William Prince, Aysanabee, Samantha Crain, and Quinn Christopherson.
"What's really fun about being an Indigenous artist in this scene of music is that we all know each other, we're all rooting for each other, we all look out for each other. We're family," she says. "I'm connected to all these people and it's so cool to get to see them shine."
As it turns out, falling out of love with someone led Zaragoza to fall in love with herself in a whole new way.
"I know you're scared / But you won't be scared alone," she sings in the dreamy piano anthem "Still Here," written with Hayley MacLean. Intended as a tribute to her heritage, it also feels like a reminder to keep going, and to keep doing the hard things. What's waiting on the other side is always worth it.
---