SPOTLIGHT: Langhorne Slim on Slowing Down and Finding Sweetness in Solitude
Posted On January 6, 2021
---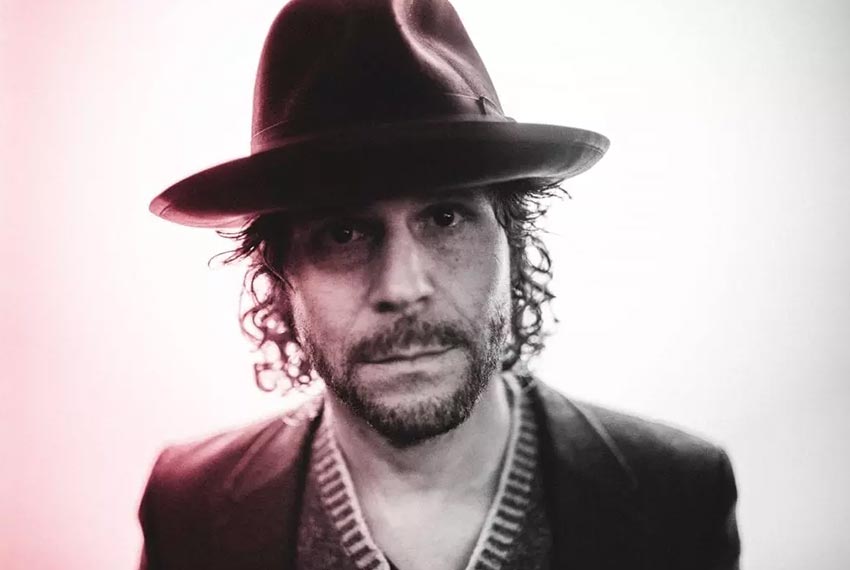 Photo by Harvey Robinson
EDITOR'S NOTE: Langhorne Slim is No Depression's Spotlight artist for January 2021. Look for more about him and his upcoming album, Strawberry Mansion (out Jan. 29), all month long.
Langhorne Slim didn't set out to make a pandemic record. Actually, he didn't set out to make a record at all.
After a yearlong songwriting drought, finally getting sober, and being hunkered down at home like much of the rest of the world, something happened. "I don't like to talk about this stuff like I understand it, because there're spirit elements of creativity that I don't understand in my human brain," he says. "But the process for me is just to be present when a song comes along, and being at home and being sober and feeling some things kind of cracking open and not being able to hit the road at every whim — which is something I've done most of my life — a lot of those whims became songs."
And those songs became his seventh full-length album, Strawberry Mansion, a deeply introspective, stripped-down set of songs perfectly suited to this collective experience we're in, whether he likes it or not.
A Forced Step Away
Slim, whose real name is Sean Scolnick, officially celebrated one year of sobriety in December. But in 2019, he found himself living in Los Angeles banging his head against a wall, obsessing over a different record he'd been trying to finish there, a sequel to 2017's Lost at Last Vol. 1.
"I needed to step away," he says. "You feel like it's passion that's driving you but you're really energetically suffocating something, and that's what was happening." On top of the creative struggle, he was a self-described "dead man walking," hooked on prescription meds and thinking the problem would fix itself once he got back home to Nashville. But as the old saying goes, we bring ourselves wherever we go, and Slim brought himself — "the good, the bad, and all the in-between" — back to Nashville. Quickly realizing how dangerous it was to try and get clean on his own, Slim enlisted the help of his loved ones and surrendered to a program.
"I just succumbed to the fact that there are places that can help and that I needed help. It was really hard to get to that point, and it was super freeing to get to that point."
Early in 2020, with the music industry on pause, Slim took the suggestion of a friend to begin writing a song a day. The songs didn't have to be good. They didn't have to be anything. It was simply an exercise to get himself stimulated and writing again.
"Everything had gone off the table," he says. "Whatever the pressures are that one feels, the projected ones or the perceived ones, I wasn't feeling them creatively or professionally because of the state of the world. So I was able to write and play like I did when I was a kid and I was just learning, which was just because it felt good."
Grabbing one of his guitars and allowing something to take shape proved fruitful; the songs came to him quickly and in waves. Astonished by this sudden jolt of creativity, Slim was able to heal himself in a totally unexpected way, even during a time that has been especially brutal for those confronting mental health issues. "For me the timing of [this pandemic] seemed kind of cosmic," he says. "I knew I needed to slow my ass down, simplify my life. And left to my own devices, I doubt I would have."
The result was a collection of raw, honest tunes about loneliness, retreating inside, anxiety, and fear. But because it's Langhorne Slim, there is sweetness in the solitude, a light at the end of the tunnel of anxiety, and, most notably, hope. "For one reason or another I am a forever optimist," he says. "I can certainly be skeptical, but I do tend to feel some hope even in despair."
Slim channeled his own feelings of despair and self-doubt, and the fear he had about losing the songwriter part of himself to sobriety, into one of Strawberry Mansion's most unsettling songs, "Panic Attack." Written "in the shit of the experience," a jittery Slim sings about the chaos of filling out paperwork and trying to get through to an actual person when all you need is a little relief:
I called a health care professional
Wanna speak to someone confidentially
Don't know just how I'm feelin'
But I'm feelin' feelings exponentially
Calm voice started asking questions
Said ma'am I was hoping for advice
I'm feelin' lots of feelings
Not a single one of them feels nice
She said, do you ever think about dying?
I said no but sometimes I lie
The song, which Slim describes as an old kind of punk song, continues with him cutting his own hair, feeling like his skin is crawling and the walls are caving in. You feel like you're right there with him in the room, and all you want to do is steady him and tell him it'll be okay. You might imagine it was tough to crystallize such a moment into a song, but like much of Strawberry Mansion, it poured out of him. And of course, it ends on a hopeful note:
To my friends in the same position
I wish there was a cure
But I know that life's worth living
It's the only thing worth living for
Good Company
Despite the theme of loneliness that comes through on songs like "Lonesome Times," "Summer Days," and "High-Class," Slim wasn't actually feeling that lonely last year. Perhaps because he put a lot of effort into being in touch with his friends and family, but also because he had found some comfort in just being alone with himself.
"I know that if one is seeking to find themselves in this life, it's not on the road, it's not in a relationship, in this person or that person," he says. "Which is an exciting realization when it sinks down into the soul and the heart, but it's terrifying as well. And there's lonely little connotations to that."
Another way through the madness for Slim came by posting videos of the songs he'd just written to his Instagram. No fancy production, just bare-bones acoustic performances of fresh cuts filmed by a friend. Though the double-edged sword of technology is something Slim wrestles with in his lyrics (you hear it especially on the gently twangy standout "Alright to Hide" in which he sings about digging a grave for his computer), he also found a cathartic release in letting these songs free into the world.
"The beauty of having a way to [share] something to the people that follow and connect with what I do during this time was profound," he says. "It's very immediate, but very real."
Still, he hasn't ruled out a future where all he answers to is a landline. It's a romantic notion, but one we could all strive for when we come out of this pandemic. "With the social media stuff, if we're just showing each other what we're eating for breakfast every day, you know, I'm not sure I want to see what Neil Young is eating for breakfast every day — I kinda do, actually, with Neil I do," he says, laughing. "There's so much more beauty in some mystery and in the shadows that should live there for every viewer or listener, I think."
By the time his record label, Dualtone, came calling last year, Slim had a slew of songs at the ready, and the feeling about the best way to package them was mutual. "[Dualtone and my manager] were really encouraging me to do it in a raw, fast way and that was aligned with the spirit of how the songs were written. They weren't overthought," he says.
Recorded at his friend Paul DeFiglia's Daylight Sound studio just up the road from where he lives in Nashville, Strawberry Mansion features mainly Slim on guitar and drums, with DeFiglia playing bass and keys, and Mat "Twain" Davidson adding pedal steel, fiddle, banjo, and more, plus some subtly placed backing vocals.
Songs like the uplifting "Mighty Soul" and "Sing My Song" may bring a tear to your eye, especially if you imagine them in Slim's signature infectious live performance style. In these and so many other songs on this record, Slim sings of not letting yourself disappear in the midst of struggle. He sings about the fascinating dynamic of letting go even as we're all trying to stay as connected as ever. But mostly his message is patience — with ourselves, with each other, and with the world.
Practicing Patience
Like so many musicians, Slim looks forward to the day he'll be able to get back on the road, but for now, he is relishing in the discomfort of this forced stop, and in the practice of being patient.
"It's been really gratifying as a whole to sit through some of those urges and to be a little more still and a little more quiet than I've been in my whole life," he says. He is also, like so many of us, finding peace in the unexpected. "I remember my Grandma Mae, she was an extremely sensitive human being, deeply sensitive. And I've learned the apple doesn't fall too far from the tree in ways I didn't recognize as a kid," he says. "She was like, 'There's enough noise and negativity and violence in the world.' Her version of a peaceful thing to watch was like Auntie Mame, or she loved show tunes, musicals. I get that more now. It's good to watch something that can make me feel good, particularly in these times."
The songs on Strawberry Mansion are certainly open to interpretation, and they're never so on the nose that they don't transcend this present catastrophe. But however unintentionally, they speak undeniably to 2020.
"I had felt beaten and broken and down and out, and then made some steps to feel a little bit better right before the pandemic. And it would be impossible not to bring that along with it," Slim says.
But still, you can always count on Slim to come through with the silver lining: "You could feel like you're done for, but ya ain't. Until ya are, ya ain't."
---