SPOTLIGHT: Jeremy Ivey on Finding the Little Victories
---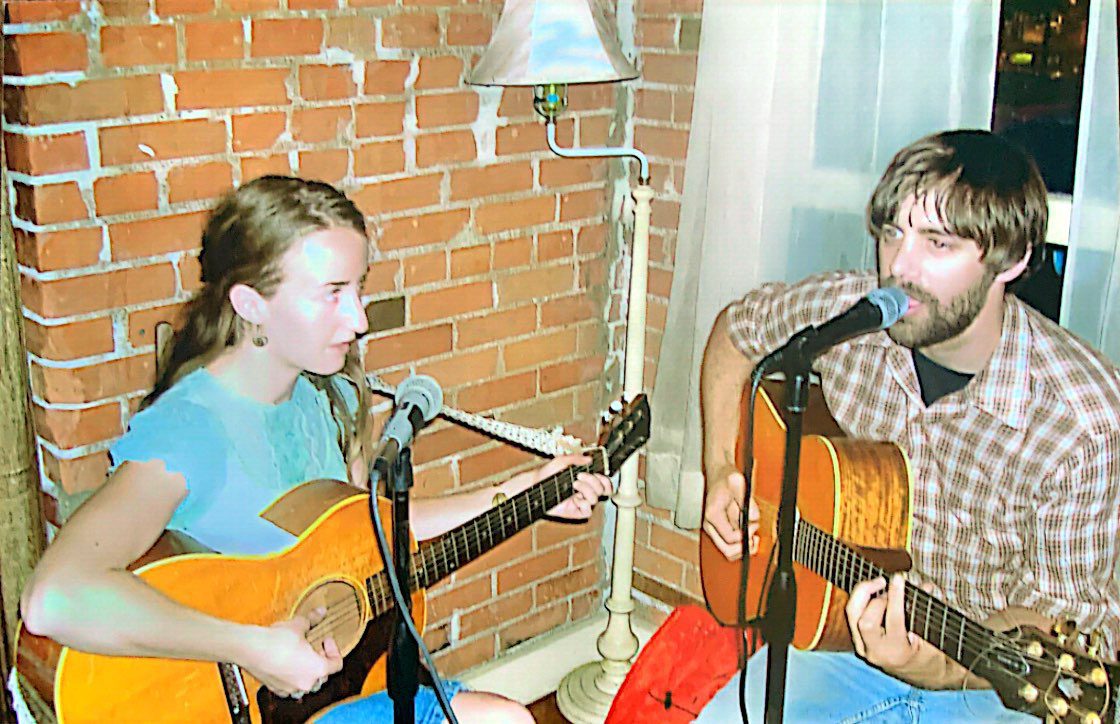 Jeremy Ivey and Margo Price in a coffee shop in Boulder, Colorado, called Burnt Toast in 2005. "We used to play for for tips," Ivey remembers. (Courtesy of Jeremy Ivey)
EDITOR'S NOTE: Jeremy Ivey is No Depression's Spotlight artist for March 2022. Learn more about him and his new album, Invisible Pictures (out now), in our interview and in this video.
I've been listening to Charley Patton on a cheap turntable singing "Rattlesnake Blues." The sky is so murky today it's almost like a swamp. Drops of green mud falling in the streets like alligator blood, but busy people just walk around the puddles. Busy people clog up the highway while their cars cough cyanide into heaven's lungs. There's money to be made, there's debts to be paid and nobody can blame the hustler for the hustle. As soon as a worldwide pandemic slowly starts to dissipate, here comes a major war on the horizon. It's almost as if humans can't find one short moment of contentment before immediately turning back into the beast of greed and violence they are at the core, "like a rattlesnake in the middle of its curl."
I'm not saying that all people are garbage, not at all. Hell, I don't like what that implies about yours truly. But you have to admit that to foreign eyes, I mean to an alien race, that only sees the overall picture, we don't necessarily look like a loving, selfless, empathetic species, do we?
I don't know, I'm not the answer dealer and this ain't a damn TED talk. I'm a song builder. I write little deleted scenes from unfilmed movies and put them to music. I can find more hope in a question than I ever could in an answer.
I was a little unwanted crack baby born in Texas. I never met my real dad, but I gather he was a piece of shit probably not worth meeting. I was always attracted to what most people thought was ugly. I had a little yellow stuffed monkey that I named Bear. I drug it all over the place until it looked like a warzone leper, its stuffing falling out, its yellow fur dirty and darkened. To me it was beautiful, to me it was perfect.
I used to throw rocks at Jehovah's Witnesses when I was 5 or 6. It's not something I'm proud of, it wasn't a very nice thing to do. I guess I just didn't like the idea of somebody pushing their religion on other people. The irony of the situation was that I myself was having religion pushed on me every Wednesday and Sunday of every week of every year of my life until it was legal for me to run. I did run.
I lived in a tent in Colorado for six months and worked at a coffee shop until I could afford an apartment. I spent endless nights playing guitar by myself and listening to music. I must have played "Blood on the Tracks" a million times. This was my religion; playing my guitar and absorbing music.
I lived off 7-Eleven food and I surfed couches. I bounced around the country playing unpaid gigs and writing. I lived in an old Greyhound bus, I lived on the street and slept in the park. I lived in a drugged-out basement. I lived in a motel for a while. Everything that I owned could fit in my 1991 Honda Accord.
I married a Waffle House waitress when I was 21 and we moved back to Dallas, Texas, for a while. She wasn't much on encouraging my musical development and after a while we realized that we may have jumped the gun on getting married. She also was sleeping with a pilot behind my back and when she got pregnant and tried to convince me it was my child, I was out. "My baby's got a heart like a piece of railroad steel."
I kept writing and playing and soaking up all the good records I could find. I ran again, this time to Nashville. I wasn't trying to get anywhere, just trying to get away from somewhere.
To make a very long story short, I met my soulmate, Margo Price. I found that we both shared a distain for false people making hack art for a buck; we joined in doing the opposite. We wrote and wrote and played where we could, getting and losing day jobs, renting the cheapest places we could find. We got married and had twin boys. One of them was born with a heart ailment and passed away 11 days after birth. We were devastated and defeated. Everything felt impossible. We had spent 13-plus years of trying to chip away at the mountain of BS between us and any kind of success. Our band broke up and Margo made a solo record that finally cut through.
So, what's the big deal? Everything worked out fine. Our dream came true. What do I have to bitch about? There are so many people in the world with much harder lives, much more harrowing stories of greater loss and struggle who never got any reward for their hard work.
We have a nice house and two healthy kids. We don't have to work jobs that we hate anymore and we can do what we love. If only happiness was something you could maintain over time.
Am I happy? Overall, I'd say so, but I still have to fight my restless spirit every day and strain to find it. I don't think that big victories in your life can bring you happiness if little ones don't. There's still war and disease and countries divided. There's still vapid music being made and praised and there's still false people making hack art for a buck. In contrast, as the winter ground softens and the bees start courting the pretty little tulips by the road, I think today's little victory is only a glance away.
---