SPOTLIGHT: Bright Eyes' Return Navigates Hope, Uncertainty, and Everything Along the Way
Posted On August 14, 2020
---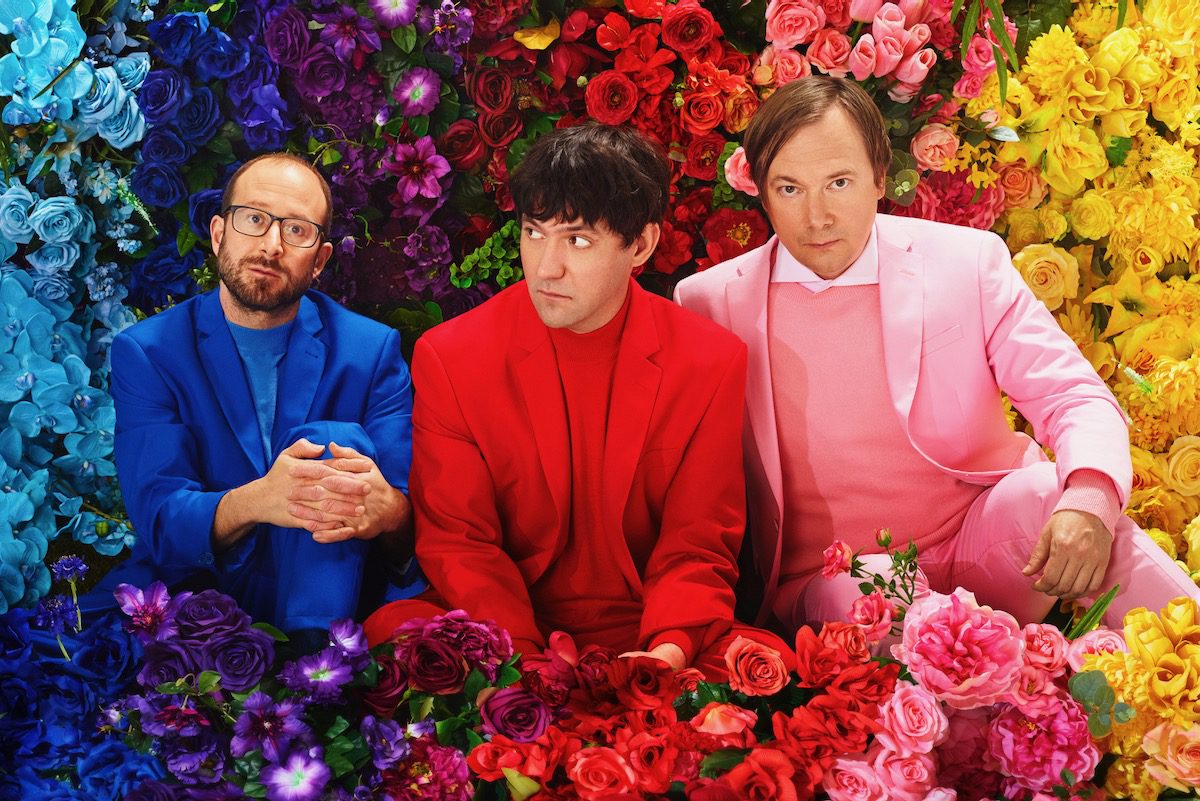 Photo by Danny Cohen
EDITOR'S NOTE: Bright Eyes is No Depression's Spotlight band for August 2020. Look for more about the band and their new album, Down in the Weeds, Where the World Once Was, out Aug. 21, all month long.
Bright Eyes' new record, Down in the Weeds, Where the World Once Was, doesn't open quite like fans might expect. On "Pageturner's Rag," there are a few seconds of jarring digital sounds, followed by footsteps. Voices fill a room and a lone pianist plucks some keys in the background. In the midst of a growing ragtime soundtrack, frontman Conor Oberst's ex-wife, Corina Figueroa-Escamilla, makes an appearance, as does his mother, Nancy. Though she doesn't sing, the latter shares a thought that lays the foundation for what's to come on the album: "Think about how much people need, what they need right now to feel like there's something to look forward to."
As the track ends, an ominous piano chord rings out and fades away. Instead of silence, though, listeners are greeted with a frightening burst of laughter as the opening track wraps.
Mystery and a sense of unsettledness mark the return of Bright Eyes nearly a decade since their last studio album, The People's Key. As striking as the opening track is, though, Oberst considers the first sung lyrics the proper start to the LP.
"Got to keep on going like it ain't the end," he sings on "Dance and Sing." "Got to change like your life is depending on it."
"I was adamant that those would be the first words you really hear," he admits in an interview, pointing toward the presence of hope found in the lyrics. But as happens too often in life, hope doesn't always persist on Down in the Weeds as it eventually dissipates into a state of uncertainty. The final lyrics on the record's closing track, "Comet Song," capture this: "She doesn't know yet what a comet does / You're approaching even as you disappear."
As set as Oberst was on the opening lyrics of Down in the Weeds, he was equally sure how he wanted to leave his listeners. "Those are the last lyrics you hear, and I knew those had to be the bookend. And then, it was up to us to fill in the rest."
"The rest," as Oberst puts it, seeks to address his mother's statement in the opening track. What do people need right now to feel like there's something to look forward to?
A New, Old Collaboration
Before Oberst ever put his mother's voice onto a Bright Eyes track, he was contemplating what it meant to have something to look forward to for himself. Near the end of 2017, during a Christmas party in Los Angeles, Oberst asked Bright Eyes multi-instrumentalist Nate Walcott what he thought about getting the band back together. The conversation resulted in the two crowded together in a bathroom, calling fellow bandmate Mike Mogis — who was in Nebraska, Christmas shopping — to see what he thought of the idea. With an immediate positive response, Bright Eyes were officially back together.
"It just feels like over the course of the last ten years since we made a record, we've all been doing our own things," Mogis admitted when Down in the Weeds was first announced, "and as satisfying as a lot of those things have been, for me there's a part of my identity as a guitar player, a pedal steel player, a member of this band that has sort of disappeared, and I missed it."
Mogis and Oberst have known each other for a long time. Mogis co-founded Saddle Creek Records with Oberst's brother, Justin, in 1993 in Nebraska, and the label became the flagship for all things Bright Eyes for much of their career. Mogis has been playing with Oberst and Bright Eyes since 1998's Letting Off the Happiness.
"Getting back together after so long, it felt both nostalgic and comfortable," Mogis says, "but it also felt new and exciting."
Slumming around the same music scene in Omaha all those years ago, Walcott eventually met Oberst and joined Bright Eyes on tour in support of 2002's Lifted or The Story Is in the Soil, Keep Your Ear to the Ground. Mogis and Walcott were named official members of the band as they entered the studio to record 2007's Cassadaga.
"All three of us have strong friendships that never went away," Oberst says. "It really felt nice to be working with these two again. I've collaborated with so many people and there's always something to learn from any experience, but the three of us have such a long history and a kind of deep friendship personally and musically, it feels most like home to make music together."
When the news of the release of Down in the Weeds came out, Oberst couldn't quite put his finger on why it took so long for the three friends to come together again, nor could he really pinpoint why this was the right time for a new Bright Eyes album.
"It was just something we wanted to do for ourselves," he admitted earlier this year. "It was just like, what are we going to do? Let's do the thing we do best. Let's make a record."
A Unique Interpretation
Though fans may speculate that the band reunited, at least in part, to put out a musical treatise addressing the current president and his administration, Oberst says that's not the case.
"There's very little that is overtly political on this record," he asserts. "I've been asked, 'Why don't you write your 'President Talks to God' about Trump?' or that kind of thing. My honest answer is that I despise that man and everything he stands for so much that he doesn't even deserve a fucking song written by me about him. I don't want to do him the honor of memorializing him. That's how little I regard him."
For anyone who listens closely to Down in the Weeds, Where the World Once Was, though, there are definite nods to what's happening in the world. On "Persona Non Grata," Oberst seems to take aim at the hypocrisy of evangelical support of the president, singing, "There's a line out the church where your homelessness works / Where your stain glass and crimson meets Ezekiel's visions / Saw a valley of bones where no man shall be saved." Then, on "Mariana Trench," a more focused direction is taken: "Look out for the plainclothes / Look out for what the wiretap knows / Look out on the ever-widening money trail and where it goes."
"When I'm writing a song, I'm coming at it from wherever I'm at in my life at the time, whatever I'm experiencing," Oberst explains. "You can't separate that from the backdrop of the times you're living in. There will always be undercurrents of all these things in the songs, even if it's not blatant."
Walcott's quick to add, "Having a different experience in life changes how you absorb the music, too. That's a beautiful quality about writing songs and making music. Your music can change and adapt, all depending on the listener's experience."
Looking Forward
The guys got together at their studio in Nebraska in early 2018 to begin demoing Down in the Weeds. Unlike other Bright Eyes albums, when Oberst would bring near-finished songs to Mogis and Walcott, this time around they had a totally collaborative relationship from the beginning.
"Nate would give me a piece of music that he had made and then I'd sit with it and try to come up with vocal melodies and words," Oberst says. "I just tend to write folk songs, so it was a nice challenge to try to find the songs that I connect with and that I could write a melody, while feeling like I wasn't trying to impersonate someone else."
Oberst still found himself bringing some of his folk songs to the table, but he never wanted them to remain as-is. "I'd turn those over to Nate and ask him to do chord substitutions. 'Dance and Sing,' that version I sent him was pretty straightforward, kind of a Woody Guthrie style, and then he made some sophisticated jazz school updates to the chords, and all of a sudden it had more of this Louis Armstrong feel to it, this jazz standard that I could've never gotten to because I just don't know those chords."
After a year of demoing, the band spent 2019 making the actual recordings with the musicians, and then mastered it the first week of February 2020. Then they were ready to hit the road for a worldwide tour, unaware of the new reality that awaited them and the rest of the world.
"Our first show was going to be in Japan in mid-March," Oberst recalls. "We were a couple weeks away and then everything started happening. That show got canceled, but we were still unsure of what it meant. Maybe [the coronavirus] was just something happening in Asia? Maybe we could still do the US tour? Then, everything got canceled. … We were going to be on tour for like a year and a half. And then it all just evaporated, and now it's this weird feeling of, well, what do I do?"
The answer, or many answers, to that question show up all over Down in the Weeds. As soon as one finds hope in the opening lyrics, it's not long before lament covers the listening experience. On "Forced Convalescence," Oberst calmly sings, "I'm not afraid of the future / Have to suffer and repeat," soon adding, "In a daze, in the doorway / I stood crying for what was." Then, on "To Death's Heart (In Three Parts)," darkness completely takes over: "There's nowhere to go / All these same fears / Year after year / All the old ones reappear / Only difference is you're not here."
Oberst's mother's words ring throughout Down in the Weeds: "Think about how much people need."
Whether it's in the middle of a global crisis or a personal struggle, sometimes what people need is the opportunity to traverse their own emotional spectrum. Yes, hope is on that journey, but so is sorrow, loss, despair, and uncertainty. For Oberst, he's less concerned about giving the listener something to look forward to from his perspective, and more interested in the listener figuring out what they need in their own time and their own place.
"What you hear is the best interpretation of the song," he says. "Even more than what I could tell you about it. I believe it's all in the ear of the listener."
---