SPOTLIGHT: Amy Speace and the Battles Within
Posted On September 11, 2019
---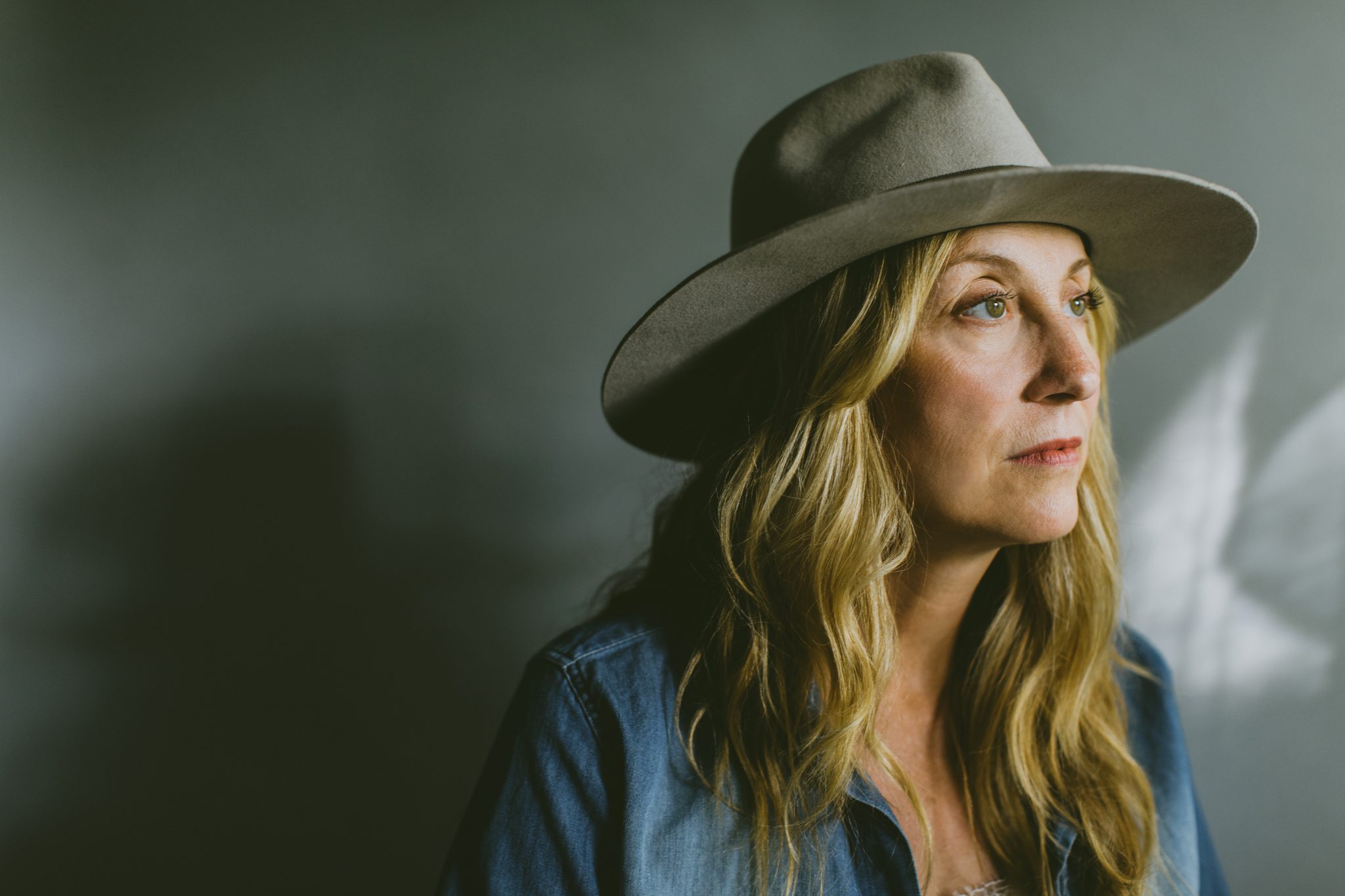 Photo by Laura Schneider
---
"Someone once said to me if you want to write about the war, write about the soldier," says singer-songwriter Amy Speace from her Nashville home. On Speace's eighth solo album, Me and the Ghost of Charlemagne, she writes about all kinds of soldiers and therefore all kinds of wars. Sometimes the soldiers are the women protesting the oil pipeline at Standing Rock, sometimes it's a fan who asked her to write about his childhood and Abilene, and sometimes the soldier is Speace herself having an abortion at age 25.
An English major turned Shakespearean actor and playwright, Speace didn't write her first song until she was 28. She'd grown up steeped in poetry, thanks to her grandmother quoting Emily Dickinson so much that Speace longed to be a spinster poet in a dark house. A voracious reader and self-described "Shakespeare nerd," Speace found a home acting in the National Shakespeare Company. As an actor, she honed her powers of observation and empathy.
"I loved the process of inhabiting someone else's psychological space and seeing what choices they're making with what the playwright wrote and how that would affect how I physically moved through the world because the character isn't me," Speace says.
This was excellent training for Speace's songwriting and her quest to make the personal universal. She started small, performing in clubs and self-releasing a couple albums. She hadn't planned on a career in music until Judy Collins saw her perform in a folk club and offered her a deal on her Wildflower Records label. Songs for Bright Street made people take notice of Speace's songwriting range and prowess.
Speace has never been at a loss for material, but the past few years have gifted her with even more experiences to share. She got sober five years ago, and, at 50, had her first child. She was 49 and pregnant while writing and recording Me and the Ghost of Charlemagne, which helped her access emotions more directly: "I had time when I was nine months pregnant to be with these songs and be emotionally present. I was hormonally crazy. That's why we did it so spare, to capture just me." The production, by Speace's longtime collaborator Neilson Hubbard, focuses on acoustic guitar, piano, and of course Speace's voice, which has developed more power and a well-deployed lilt over the years. This yields a special soulfulness to songs like "Both Feet on the Ground," in which Speace vows to stay sober and grounded as she waits to meet her son.
In addition to the pregnancy hormones, Speace dealt with anxiety during the making of this album — the anxiety that IVF wouldn't work, the anxiety that motherhood would mean ending her career, the anxiety that there wasn't a lot of peer support for pregnant women her age. "Having a baby is a huge life change for anybody," she says, "but there's something about a baby when you already have a life set in stone and you're on the verge of menopause. Into this new clarity of sobriety comes a child that was never in my life goals."
Even searching the internet for "geriatric pregnancy" only yielded stories of 35-year-old expectant mothers, causing Speace to start the Menopausal Mommy blog that she is developing into a book. "I started it when I was pregnant because I had insomnia, so I was up at 3 a.m., and I was trying to write songs but every song was coming out like a lullaby. Then I just started writing. I wrote [the blog], it continued up to his birth, and I'm still writing it. It became bigger than just being about his birth. It became about being a mother at this age, about being an artist."
Speace's pregnancy brought back memories of an earlier pregnancy, one she terminated when she was 25. Early into the pregnancy and in the throes of alcoholism, she knew she couldn't be a mother. But writing about the abortion, even all these years later, was difficult for Speace, who considers herself a political person but not a political songwriter. Her friend and fellow singer-songwriter Mary Gauthier advised her just to go back to the day of the procedure, which yielded "Ginger Ale and Lorna Doones." Over slow, finger-picked guitar and sparse violin, Speace remembers walking through the protesters at the clinic where she had the procedure. "No one gets here on a good day," she sings, channeling the fluorescent lights and the waiting room full of women who don't meet each other's eyes. Raised Catholic, Speace initially felt shame, which was exacerbated by the protesters. But it soon transformed into gratitude for the clinic's presence. "I've never in my life seen a Lorna Doone cookie except for that day, and when I see them in the store I think about that clinic. Instead of being ashamed of it, I'm grateful that the clinic existed and that I could get there and they were so matter-of-fact about it."
Speace identifies as a "cultural Catholic," raised in an Irish Catholic family full of priests and nuns, though she rejects the church's anti-feminist stance. "There was this period of time when I just walked away from it, angry feminist, and just considered myself an atheist. I think I was just lazy and I didn't feel like looking into anything else. I was also an arrogant intellectual," she laughs. In "Grace of God," Speace recalls her struggle to accept a presence she's hesitant to call a higher power. Her sobriety aligned with a newfound vipassana meditation practice, which allowed her to rethink her idea of God. "My life was falling apart and I needed to get sober. Through the help of the other people who were guiding me I was able to fire my old God and create a new one. It totally lined up with being aware of coincidence, and being grateful for serendipity in a way that didn't make it feel like serendipity was just an accident."
On "Grace of God" she sings: "You gotta keep dragging yourself through this shit," a line that seems like a perfect distillation of so many of her songs, a rugged survival borne of curiosity about what's on the other side. Me and the Ghost of Charlemagne ends with "Kindness," a tender list of blessings sung over a simple piano melody. Speace is singing not only to her son, but to herself, and to all the other soldiers.
---
Amy Speace is No Depression's Spotlight artist for September 2019. Look for more from Amy, and her new album, Me and the Ghost of Charlemagne, all month long. To comment on this or any No Depression story, please drop us a line at letters@nodepression.com.
---