'Soul'd Out' Collection Celebrates Landmark 1972 Wattstax Concert
Posted On February 22, 2023
---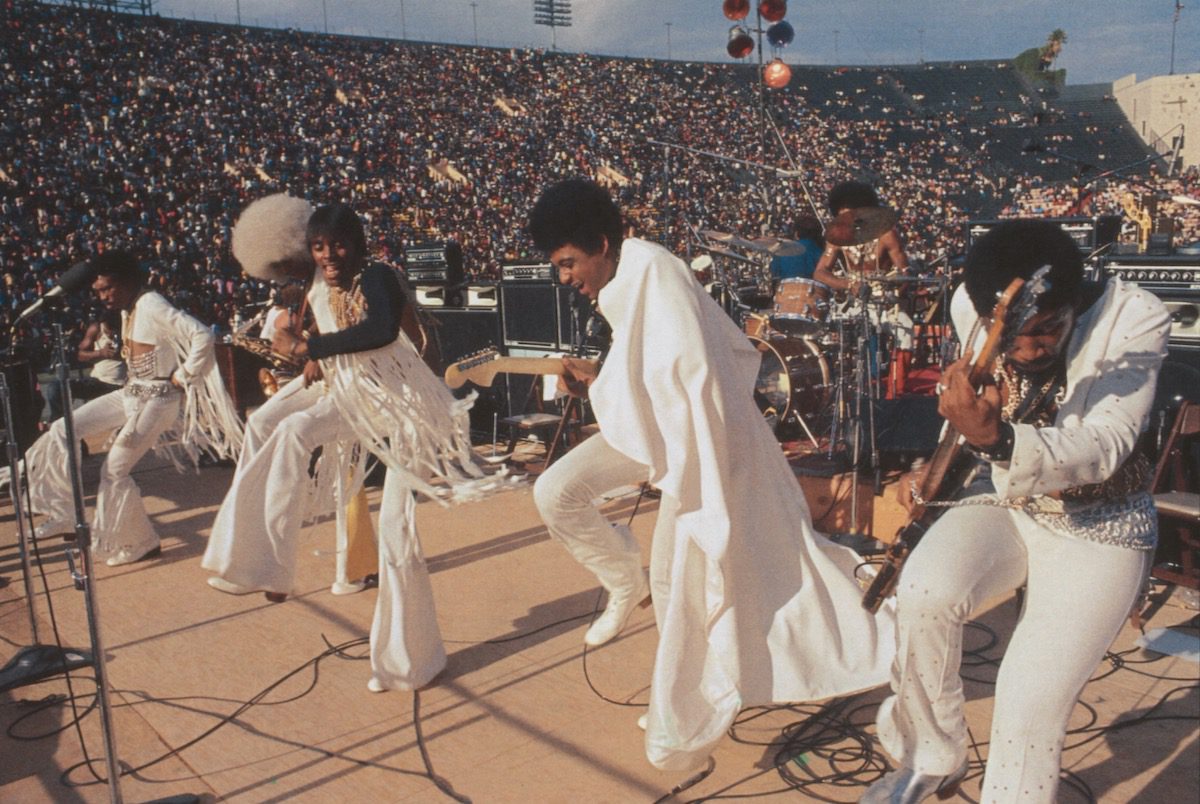 The Bar-Kays at Wattstax (photo via Craft Recordings/Stax Records)
Featuring the entire Stax Records roster of soul, blues, and gospel artists, the Wattstax concert on Aug. 20, 1972, was no mere label showcase. Organized in commemoration of the 1965 riots in Watts, California, instigated by police brutality and longstanding systemic inequality, it was a celebration of Black pride and a call for a more just society.
The Rev. Jesse Jackson, emcee for the event, took the stage shortly after 3 p.m. for his introductory remarks. Inside a Los Angeles Coliseum packed with more than 100,000 primarily Black men and women, he made the day's mission statement clear with the call-and-refrain of "I Am Somebody":
"I am … (I am!)
Somebody … (somebody!)
I may be poor … (I may be poor!)
But I am … (but I am!)
Somebody … (somebody!)
I may be on welfare … (I may be on welfare!)
But I am … (but I am!)
Somebody … (somebody!)
I may be unskilled … (I may be unskilled!)
But I am … (But I am!)
Somebody … (somebody!)
I am … (I am!)
Black … (Black!)
Beautiful … (beautiful!)
Proud … (proud!)
And must be respected … (and must be respected!)"
From the opening strains of Dale Warren's orchestral piece "Salvation Symphony" to singer Jimmy Jones and Jesse Jackson joining Isaac Hayes' band for a closer of the Pete Seeger staple "If I Had a Hammer," the audience was treated to an extravaganza of hit singles and spectacular sets.
In 1973, Wattstax the documentary premiered. The film featured highlights from the Wattstax show, comedic commentary from Richard Pryor, and musical portions recorded after the fact to include artists who either had their slot bumped due to overruns or couldn't make it to Watts for the concert. To accompany it, Stax issued two LPs of highlights, The Living Word and The Living Word II. In 2003, Hayes' full Wattstax set was released and subsequent Living Word reissues featured additional bonus tracks. But if you weren't actually at the Wattstax show, chances are you've never heard the full seven hours of music. Until now.
On Friday, Stax and Craft Recordings are releasing Soul'd Out: The Complete Wattstax Concert and Soul'd Out: The Complete Wattstax Collection. The former is a 6-CD compilation of the entire Aug. 20 show, while the latter features the concert plus all club show performances recorded for the documentary. A remastered version of the documentary will be screened this Saturday at Alamo Drafthouse theaters.
With these releases, listeners can finally experience the entirety of an event that is thought to be the second-largest gathering of Black Americans, behind only the 1963 March on Washington. This release is an exciting moment for the Stax artists who performed and the people involved in bringing it to fruition.
"I've been lobbying for the full thing to be released for years," says Rob Bowman, who penned the liner notes for Soul'd Out, wrote the acclaimed Stax history Soulsville U.S.A., and won a Grammy in 1996 for his liner notes on a 10-CD Stax compilation. "As a kid, I saw the documentary and it's an extraordinarily well-made film. Hearing all the pieces in order as it's happening, you can sense how special a moment it is. … This is African American performers singing in front of their community."
"It is extremely important to me to be around to see the reception for this and know that audiences are going to hear this, experience this and feel what the energy was like," enthuses David Porter, the legendary composer who co-wrote hits "Soul Man" and "Hold On, I'm Comin'" with Hayes and who performed at Wattstax as a solo artist. "With so many of our cohorts that are no longer here, it's such a great, great feeling to know it's out. There's no way to really give it its due until you hear the entirety of it. It amplifies the power and credibility of what this genre of music does for people around the world."
Watts and Stax Before Wattstax
The roots of Wattstax go back much further than 1972 and pre-date the 1965 Watts riots by a few days. At that time, Stax was an ascendant regional label in Memphis started by Jim Stewart and his sister Estelle Axton with a roster that included Otis Redding, Wilson Pickett, Sam & Dave, Booker T and the MGs, and the father-daughter team of Rufus and Carla Thomas. Various combinations of these acts traveled in a grouping called the Stax/Volt Revue.
One such revue made its way to Los Angeles in 1965. Carla Thomas remembers it well, both for the show itself and for the events that transpired soon after.
"In 1965, Magnificent Montague, who was one of the first DJs to play our music, made a deal with Ms. Axton to bring the revue with Wilson, my dad, the MGs, the Mar-Keys, and me to Los Angeles," she recalls. "At the show a friend came in with this 16-year-old girl who won a talent show singing [Thomas's hit] 'Gee Whiz.' After the show, she invited me to have dinner with her family, and after we finished, she said, 'Let me take you somewhere you've never gone.' And it was Watts."
At the time of Thomas' visit, Watts was a powder keg ready to blow. California's Proposition 14, passed in 1964, repealed measures designed to eliminate residential segregation. This created and exacerbated a climate of middle-class white families relocating to newer homes in the suburbs and a forced ghettoization of Black families into overpriced, lower-quality homes in the Los Angeles neighborhood. This disparity translated to lesser economic and educational opportunities for Watts residents. Then there was the issue of policing, and the contentious relationship between the minority population in the community and the Los Angeles Police Department.
Thomas continues: "She took me to a place in Watts where her cousin was teaching passive resistance against the same type of violence that ended up happening. When I got back to my hotel, I hugged and thanked her and said, 'I know a lot about L.A. now.'"
Shortly after Thomas returned home, the situation in Watts exploded. On Aug. 11, 1965, 21-year-old Marquette Frye was arrested for drunk driving. During the course of his arrest, police lost control of the situation and Frye was assaulted by the arresting officers in view of crowds of local residents. A riot broke out and over the next five days, 34 people died, 1,032 were injured, and there were 4,000 arrests and $40 million in property damage. It was, at that time, the largest urban rebellion to happen in the United States.
"We went back to Memphis and Booker stayed to look at studios (in L.A.)," Thomas recalls. "That was a Monday, and Wednesday was the Watts riot. I couldn't believe it, I'd only just been there!"
Having toured pre-riot Watts and meeting several of the people leading the nonviolent resistance efforts bonded Thomas to the city. It made her the natural choice to lead the celebratory parade of Stax talent, local musicians, and artists that immediately preceded Wattstax.
"In 1972, they [concert organizers] asked me to lead the parade," she says. "My connection to Watts made it more important to me than anyone else there, because I was the only person from Stax who had been there before.
"Watts had really built itself up education-wise and had so many people interested in the arts; it wasn't just a place where people rioted," Thomas adds. "When you can't feel like you've been treated with the same respect, you don't know what will happen. We were there to show respect to each other and to really help rebuild what was torn down."
While Watts was attempting a rebirth 1972, Stax Records was thriving after its own second coming. In the last half of the 1960s, Stax had a stable of gritty Southern soul talent and a distribution deal with Atlantic Records. In 1967, Atlantic ended its arrangement with Stax and claimed the masters of recordings by Redding, the Thomases, and Booker T and the MGs for itself. Stax then suffered an even heavier loss when Redding, its biggest star, died in a plane crash the same year.
Under the stewardship of Al Bell, who had moved from marketing executive to label co-owner, Stax started over. Isaac Hayes moved from songwriter and producer for others to solo star with a triptych of chart-topping albums: 1969 LP Hot Buttered Soul and the one-two punch of the iconic soundtrack to Shaft and Black Moses in 1971. The Staple Singers moved from gospel to the secular realm, scoring hits with "I'll Take You There" and "Respect Yourself." Carla Thomas, who scored Stax's first hit with "Gee Whiz," released "I Like What You're Doing to Me." Another singer from Stax's early days, William Bell, penned Albert King's epic blues song "Born Under a Bad Sign" and found success with his own "I Forgot to Be Your Lover" and "Private Number." Stax had more than found a way forward; it was thriving again.
By the time 1972 rolled around, Al Bell was looking to raise Stax's fortunes even higher and make it a successful multimedia company and major presence in the Black community. Wattstax presented the opportunity to bring Bell's goals to fruition.
"In the context of Stax and Al Bell's ever-expanding vision, Wattstax had multiple agendas," explains Bowman. "It was a community gesture and charitable event, with tickets only a dollar. Motown had the two coasts covered easily. Stax was funky, down-home soul, primarily down South and on the East Coast. This had the effect of helping Al establish Stax on the West Coast. He was also looking for Stax films to get into the business, which is why you had [film producer] David Wolper there.
"Stax in 1972 is a completely different company, and this is absolutely its high-water mark as a label in terms of being the biggest thing it ever did," he continues. "Stax is never stronger, never has more impact than it did in August 1972. After this, Al Bell signs the disastrous distribution deal with CBS Records and by fall 1973, it's all downhill."
'Like a Religious Ceremony'
Wattstax was the biggest endeavor undertaken by Stax Records. As participants arrived at the Los Angeles Coliseum, the scale and importance of the show was immediately apparent.
"I came in the day before for the parade we participated in and there was this feeling of, 'Wow, whatever happens with the show is going to be different in a positive sense,'" recalls Porter. "I got there and saw there's more than 100,000 people in the Coliseum, and it made me wonder what kind of spirit the day was going to be."
"It was the first time most of us had done a major concert in California," notes William Bell, who performed and was on and around the stage all day to assist in emcee duties. "It was a six-hour day in the hot sun for me, but it was exciting being young and having the chance to be in front of that many people was rewarding."
Any concerns about crowd response and engagement in the stadium were immediately put to rest. The sustained enthusiasm served as a notice to the performers of just how big Stax had become and the significant cultural imprint its musicians were making.
"It was a spiritual awakening. It was rewarding, because we didn't realize the impact we were having with our recordings. We didn't know they knew who we were," says Bell. "We really came into our own at Wattstax; we were regionalized before that."
Porter remembers stepping onstage as "one of the most profound moments of my life."
"It was the most amazing kind of feeling, this appreciation for music that speaks to the Black experience," he recalls. "It was like a religious ceremony, with this spirituality of cause."
Between the full day at the Coliseum and the club show recorded afterward for the soundtrack and film, nearly three dozen acts performed at Wattstax. People in the audience had a wide range of favorite individuals and moments, and participants did, too.
"All the acts were fantastic, everybody was on point, but I was most fascinated by Rance Allen," Porter says. "He was a spiritual act, singing gospel, and the audience didn't really know him. But Rance and his brother hit the stage and opened the eyes of everyone. It was something, seeing how he connected like that."
Bell picks Rufus Thomas as one of his favorites. "Of course, he was like a surrogate father to me. I'd known him almost my entire life growing up in Memphis, and his [performance] was great and showed the impact he had," says Bell. "There was the expected adulation for Isaac Hayes. But the Bar-Kays, Rance Allen — if you look at the crowd reaction they got, it was amazing. It was a shot in the arm for us all."
Between her role in the parade, prepping for her time onstage, and singing, Carla Thomas was unable to catch many performances that day. It wasn't until afterward, via the Wattstax documentary, that she managed to see footage of her father's captivating stage show and crowd management. The Los Angeles Rams football team had offered the Coliseum to Stax for the show, but the label had to take out a bond to preserve the on-field turf the team used for games. During Rufus' set, fans rushed the field to dance to his indelible "Do the Funky Chicken." It fell upon him to coax the audience off the field and back to their seats, which he did through a combination of jokey banter and teasing admonitions.
"My dad, his segment I think is very dynamic. In his early years he was a minstrel, broadcaster, did tap dance, and you see all of that in his footage," she says. "It was a turning point of the show. So many people ran out of the stands, and he got them to go back."
The Wattstax Legacy
Wattstax, its performers, and the movement that inspired the event continue to endure.
Stax Records effectively ended after filing for bankruptcy in the mid-1970s, a decision prompted by disastrous financial deals and a steep decline in record sales due to an acrimonious and financially draining relationship with its distributor company, CBS Records. After serving as a reissue label through most of the 1990s and early 2000s, Stax a returned to releasing new material. It released Ben Harper and Charlie Musselwhite's Grammy-winning 2013 LP Get Up! and is the imprint for Nathaniel Rateliff and the Night Sweats.
In 2021, Carla Thomas received the Americana Inspiration Award at the Americana Awards and Honors Show. At the show, she performed with Valerie June on her Grammy-nominated track "Call Me a Fool." She's currently planning a trip to London to participate in a soul music seminar and performance called "Take Me to the River."
The first Southern soul record released by Stax was William Bell's 1961 single "You Don't Miss Your Water." Bell made a celebrated return to Stax in 2016 with his critically acclaimed This is Where I Live, which was nominated for a Best Americana Album Grammy in 2017 . Bruce Springsteen covered Bell's "I Forgot to Be Your Lover" and "Any Other Way" on his latest record. Bell is releasing a new album, One Day Closer to Home, this spring, and he credits his continued career to the experiences he had as part of the Stax family.
"At my age, just being relevant is rewarding," says Bell. "Kudos to Jim Stewart and Estelle Axton. They created Stax during the segregation years and came into the Black community and let Black kids, myself included, in to learn a craft and record their songs. Later, with Wattstax, Al Bell understood the impact we could have. It's wonderful to keep that legacy alive and keep the younger generation aware of who we are."
David Porter was inducted into the Songwriters Hall of Fame in 2005 with Isaac Hayes and lately has been revisiting his Stax years. Last summer he released Chapter 1 … Back in the Day, a collection of material penned but unreleased during the '60s and 1970s. To bring it to life, he recruited musicians from his past and young Memphis singers on his Made in Memphis label. At present, Porter is planning the release of the second installment in this series and is in the process of recording chapter three. Porter sees this as a full-circle moment that allows him to continue spreading the life-affirming music and community difference-making that he saw firsthand since becoming the first staffer hired by Stax more than 60 years ago.
"I would put Wattstax at the cornerstone of music as a unifying force," he says. "Going into different communities because of the situation we were in as a country, and spreading love, universality, and purpose. Music is a unifying force for our country and a tranquilizer for many people."
---