Songwriters to the Center for 30A Festival's Tenth Year
Posted On January 25, 2019
---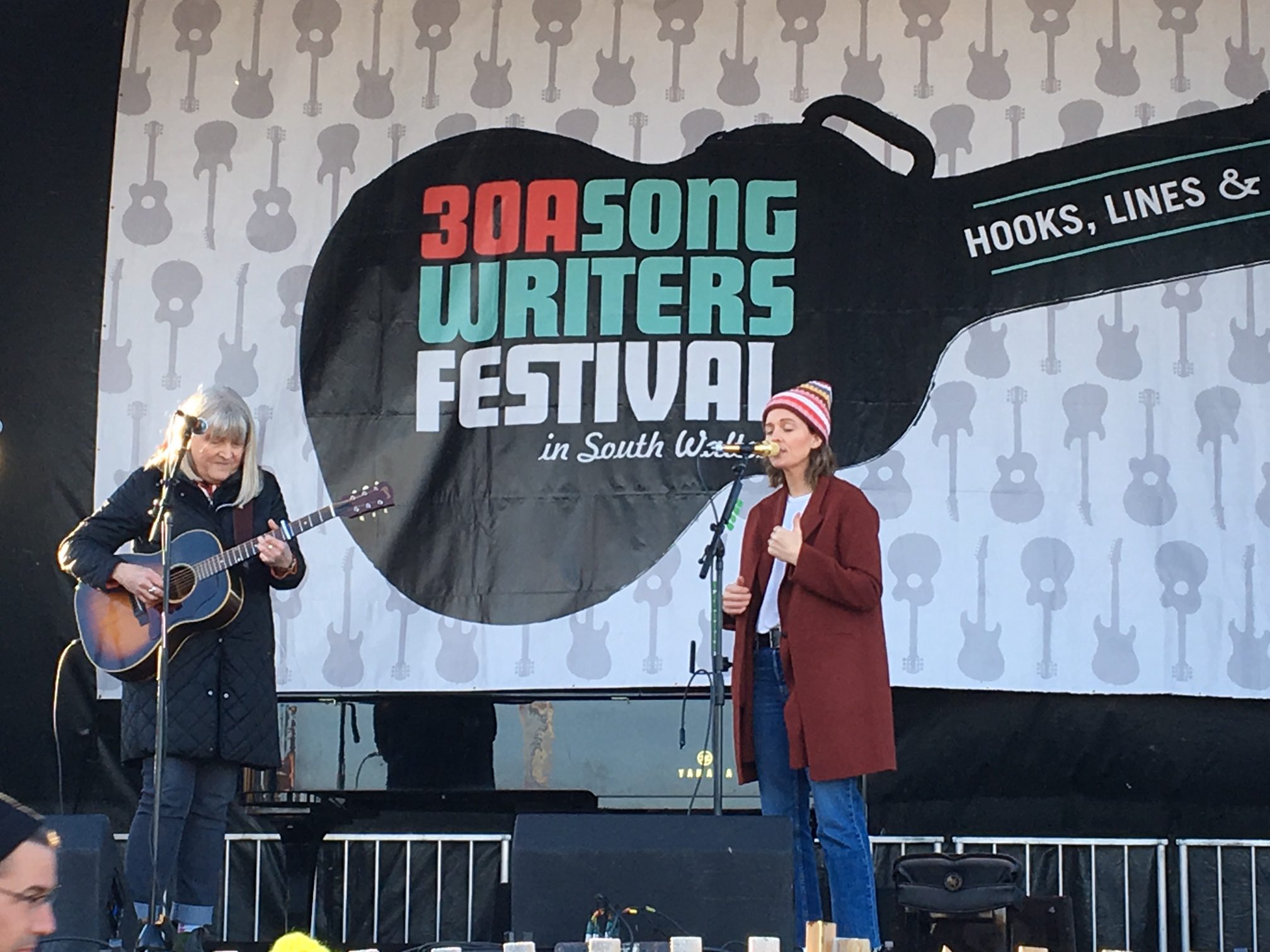 Kim Richey, left, and Brandi Carlile sing together on Richey's "A Place Called Home" at the 30A Songwriters Festival on Florida's Panhandle. (Photo by Kim Ruehl)
You'd be hard-pressed to name a music festival where songwriting wasn't a cornerstone of the entire event. Yet for the past ten years an arts council in a county of small beach towns along the Florida Panhandle has been throwing a festival focused entirely on the art and craft of great songwriting. And perhaps the best thing about the 30A Songwriters Festival (called simply "Songwriters" by locals) is that it seems to recognize that some people who write great songs are quite famous, but not every great songwriter is a household name.
That's why, for its tenth year, Songwriters welcomed artists as variant as Carly Burruss, Carlene Carter, Brandi Carlile, and many more.
The setup at Songwriters is quite unconventional for a music festival. A handful of beach towns along County Road 30A host songwriters-in-the-round and the occasional solo artist on stages inside bars and restaurants, on patios and lawns. A main stage on the edge of what's basically an outdoor shopping mall hosts the big-name acts beginning around noon and culminating with a headliner set around 3 p.m. Before and after main stage performances, everyone scatters along the highway to cozy up with a whiskey cocktail, some crab bisque, a fish sandwich, and some song-swap action featuring an array of legends, newcomers, and behind-the-scenes Nashville pros.
There's no specific genre covered at Songwriters, though it is heavy on folksingers and roots artists. There's also acoustic Christian pop, R&B, rock and roll, oldies, and more — literally hundreds of artists over the course of four days. There is so much on offer at Songwriters that no two people can possibly experience the same festival unless they go everywhere together. There's so much happening that I swung through the entire weekend without catching even a single song from two of my personal favorite songwriters: Patty Griffin and Darrell Scott.
My experience this year began on Friday evening in a little tent in the middle of a field at the center of a huge condo complex.
The War and Treaty threw down a happy hour set that had a packed crowd on its feet within a couple of songs. Hands were up and shaking. There were a lot of white people dancing, thrusting their whiskey cocktails into the air, whistling and hooting and hollering like a Sunday revival. The horn section was on point, and Michael and Tanya Trotter were giving at least one hundred percent from the second they took the stage until the moment they left. I could have ended my festival there. It doesn't get much better than that. But I pressed on to the next venue.
Songwriting legend Kim Richey was performing in the round with Songwriter Hall of Famer Gretchen Peters and relative newcomer Courtney Marie Andrews. Andrews has a power-hose voice that reminds me of a young Joan Baez, and I was infinitely more impressed with her set this night than I was with her 2018 May Your Kindness Remain album.
The music in this set was stunning, the songwriting unmatchable. But perhaps the most remarkable part of the experience was watching these three women listen to one another. This is something that the 30A Songwriters Festival does, which is unavailable at almost any other festival I've been to, except maybe Folk Alliance. Songwriters places us, the audience, in a room with musicians for whom nothing else matters but the song. It was as though the title of the festival challenged the artists to center songwriting in every performance, which left exactly no room for ego and frills.
So many festivals provide a huge lineup, which requires artists to compete for audience attention by giving a "memorable" performance, bringing their best jokes, gimmicks, and showmanship. But at the Songwriters Festival, it's all about the songs. Artists and audience adjust to that focus, and I saw this happen time and time again: A beautiful set from TOWNE behind a seafood restaurant. A patio performance at a beachfront bar from Hayes Carll, who shared stellar songs (some particularly topical in the best possible way) from his new album, What It Is. Mighty mainstage sets from Rosanne Cash and Jason Isbell, both of whom spent time talking about songwriting — Cash even offering the younger folks some advice about copyright licensing.
Birds of Chicago delivered an exquisite set in a boathouse, moving through their exquisite Love in Wartime album. They shared a new song from Allison Russell's forthcoming Smithsonian Folkways collaboration with Amythyst Kiah, Rhiannon Giddens, and Layla McCalla, Songs of Our Native Daughters.
Sierra Hull talked in "The Backyard of Love," under a canopy of the most amazing tree branches, about how her songwriting has evolved over the years, and how conscious she is of learning along the way. Then she lit into a handful of emotionally arresting tunes from an album she's getting ready to release this year.
Perhaps the starkest example was on the final day, during the final main stage performance — Brandi Carlile, who came to this event solo. She's just been nominated for the most Grammy awards of any woman artist this year, for an album (By the Way, I Forgive You) that was in the top three of almost every year-end list of note last year. But she chose instead to open her set with "Follow," from her 2005 self-titled debut. After a couple of other obscure deep-cut tunes, she looked out into the audience and spotted her songwriting hero, Kim Richey, and invited Richey onstage for a song. The pair launched into an unrehearsed but beautifully harmonized version of Richey's classic, "A Place Called Home" (also from 2005), which Carlile noted was a cherished companion during those early years on the road when she was paying her dues and becoming acquainted with the life of a touring musician.
So taken was she with Richey, Carlile spent time explaining a vocal technique she learned from listening to Richey's music, and how she's tried to make it her own over the course of her six studio albums.
Granted, Brandi Carlile is a natural performer who has a casual onstage persona anyway, but it was a testament to the focus of the festival that she chose to perform alone and spend time talking about songwriting and vocal technique from the main stage.
30A Songwriters Festival is a weekend full of songwriters, and everyone is sharing and learning. Those who aren't there to share and learn, meanwhile, get a glimpse behind the curtain at the mindfulness and dedication that goes into bringing great songs into the world. Here's hoping this little local arts council and its array of tiny beach towns keeps bringing all this goodness together for many more years to come.
---