---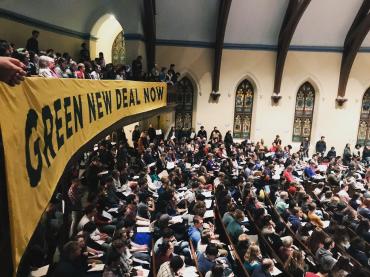 Last Sunday, I woke up at 6:30 a.m., threw a change of clothes and four granola bars into my backpack, and took an Uber to a train station north of Boston. The morning was cold and dark. I walked around the mostly deserted station for a minute, and then saw the group I was looking for – about 30 people, mostly millennials, with a few teenagers and older adults. I didn't know anyone there, but together we were about to embark on a whirlwind two-day journey to Washington, DC, and back. We were the Boston contingent of a group of 1,000 activists organized by the Sunrise Movement, a youth-led organization working toward climate justice. This was going to be Sunrise's biggest action yet.
The group had organized this day of action after a number of smaller actions nationwide, focused on demanding that our elected representatives take bold and immediate action on climate change. This pressure had been ramping up in the wake of the recent United Nations Intergovernmental Panel on Climate Change report, which stated that we have 12 years to completely transform the global economy toward renewable energy or face worldwide catastrophe.
Several months earlier, I read the New York Times article about the IPCC report from the back of my band's tour van. We were somewhere in Ohio, I think, or maybe it was Iowa. It was late afternoon, golden hour, my favorite time of day. The farmland stretched out for miles around us. I read that if we don't contain global warming to 1.5 degrees Celsius, we will face mass famine, devastation of coastal communities worldwide, the death of vital ecosystems, more fatal heatwaves and extreme storms, and the creation of millions of refugees whose homes will be destroyed. This will happen as soon as 2040, when I'll be 46 years old. We stopped at a gas station. I stood in the parking lot, looking out across the fields, and started crying. I thought about the world that climate catastrophe will bring about, and realized that I didn't know if I could justify bringing children into that world. I decided that if I do choose to have children, I want to be able to look them in the eyes and say that I did what I could to make a better world for them. So when I read that the Sunrise Movement was mobilizing people to go to DC to demand action, I decided to go with them.
After a 10-hour drive, crammed tightly into a few 15-passenger vans, we arrived in DC. We joined 800 people who'd come from all over the country, and we all crammed into a large church for a training session, where we heard some rousing speeches and went over every detail of what would happen at the action the next day. The first part of the day would consist of meetings, where we broke into small groups and met with 50 members of Congress to encourage them to sign on to Rep.-elect Alexandria Ocasio-Cortez's proposal for a Select Committee on a Green New Deal. (Essentially, it's a plan to tackle climate change at the true scale and scope that is necessary, while creating millions of good jobs in renewable energy and focusing on rebuilding marginalized communities.) The second part of the day would consist of sit-ins at major Democrats' offices, where we'd split into larger groups of a few hundred people to peacefully protest.
I was excited, but overwhelmed. It did feel good to be taking action on an issue that mattered to me, but I was unsure of my place in it all. Many people in the group were experienced activists or had worked on political campaigns, whereas I'd never been involved in direct action at this scale before. Ironically, though, a space for my skillset appeared right as I was starting to wonder why I'd come: As the training was wrapping up, someone said "meet in this corner if you're interested in leading songs during the action." Naturally, I was.
A group of us learned some songs and chants that the Sunrise folks sing at their actions — a handful of simple, repetitive songs with lyrics about uplifting the collective power of people fighting together. I wasn't sure what role the songs would play in the next day's actions, but I soon found out.
The next morning, after breaking into small groups and meeting with the representatives, my group of a few hundred youth activists filled the hallway surrounding the office of Rep. Jim McGovern, a high-ranking Democrat. He came out to address us, and eventually declared his support for the Green New Deal, to much celebration and applause. We left the building and were walking back to a nearby park. I assumed my role in the day was over, but it wasn't yet.
A group at Nancy Pelosi's office had engaged in peaceful civil disobedience — in the absence of a statement of support from Pelosi, many had chosen to stay until they were arrested. We found ourselves outside the door where these activists were being brought out by the police, one by one. Another group of Sunrise activists was across the street cheering them on, and there was even a small brass band playing in their support. When a police officer told the band they had to stop playing, I realized the time had come. People were breaking into song.
In the absence of the official song leaders, I ended up leading many of my fellow activists in the songs we'd learned the night before. Some were classic protest songs ("Which Side Are You On"), some were raucous (we replaced the lyrics of "When the Saints Go Marching In" with "When the Dems All Grow A Spine") and some were more somber. "We are standing for our futures / We are healing what is wrong / We are standing for our futures / And together we are strong." Kinda cheesy. But I felt it.
We kept singing for a long time, as the people who'd been arrested were brought outside one by one and eventually bused away. We didn't stop until everyone was gone. "Courage, my friend / You do not walk alone / We will walk with you / And sing your spirit home."
I wasn't planning on writing clichés about "the power of music." But it wasn't until we started singing that I really felt a connection to my fellow activists, or felt the weight of the legacy of what I was doing that day. Most meaningful change in this country has been primarily the result of grassroots activism. Politicians enact change because we demand it of them. My parents, both musicians, were arrested protesting a nuclear power plant in the 1980s. It felt good, in a pretty deep way, to be continuing that legacy, and to help everyone connect simultaneously to our message by singing together.
*      *      *      *      *      *      *      *      *      *      *      *
Your subscription helps keep independent roots music coverage alive! Subscribe to No Depression now and join a community of roots music fans from around the world.
---