Roots Music Photos of the Year, with a Nod to the Grammys
Posted On December 11, 2018
---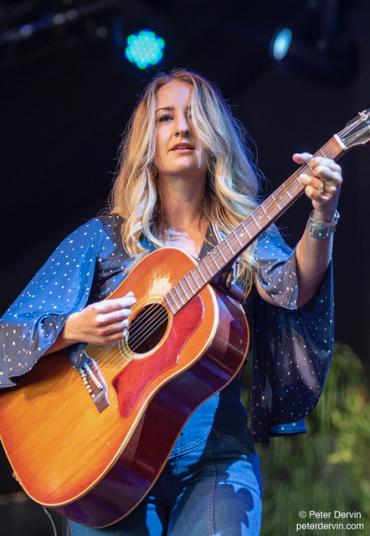 There are 84 Grammy categories, eight of which (numbers 45 to 52) are dedicated to "American Roots" music. That number does not include the four categories devoted to country music. Not an altogether bad thing, especially given that the marketplace is dominated by younger demographics who seem to view music as a fashion accessory or fodder for Twitter gossip.
Crossovers: Brandi Carlile, Margo Price, Kacey Musgraves, and Willie Nelson
However, this year roots artists and their recordings have crossed over into mainstream categories, most notably Brandi Carlile, who garnered nominations in the three major general categories: Record, Album and Song of the Year, as well as three more in the American Roots categories. From being "crowned" Queen of Cayamo in February to the Fall's AmericanaFest, Carlile seemed to be everywhere in 2018: appearing with John Prine and Margo Price, among others, as well as touring with Brandy Clark. It was a very full year. One that has been richly, and justly, rewarded with those six nominations. Plus it did not hurt that President Obama named "The Joke" as one of his favorite songs of the year.
There are two other crossovers of note: Margo Price (Best New Artist), even though she did not release an album this year, and Kacey Musgraves for Album of the Year in both the general and country categories.
Willie Nelson got two nominations, for two different albums, one in Traditional Pop Vocal and the other for American Roots album.
John Prine, Chris Stapleton, Lee Ann Womack, Bettye LaVette, and Loretta Lynn
Three-time AmericanaFest Artist of the Year and winner of three previous Grammys, John Prine has three nominations this year: One for Americana Album and two for American Roots song.
Three country artists who also are firmly planted in the Americana genre were also nominated: Loretta Lynn (one), Lee Ann Womack (one), and Chris Stapleton (two).
R&B legend Bettye LaVette's album of Dylan songs is nominated in the Americana Album category.
Blues, Folk, and Bluegrass
The American Roots category also includes traditional blues, where Ben Harper and Charlie Musselwhite, Memphis legend Cedric Burnside, and a 2018 AmericanaFest Lifetime Achievement honoree, Buddy Guy, were among the nominees. Fantastic Negrito's album was nominated in the Contemporary Blues category.
In the folk category, the nominees for best album were Joan Baez, Dom Flemons, Mary Gauthier, Punch Brothers, and Iron & Wine.
For bluegrass, I want to highlight The Traveling McCourys.
The Significance
The reason I mention all these artists by name is that all of them are featured in this year's column devoted to the best photos of the year — all taken by No Depression photographers. This is significant because no other music magazine — regardless of genre — features as many photographs taken by staff photographers. Those other publications generally get their photos from subscription services. What you see here is unique.
Along with the artists noted above, this year-end review also includes previous Grammy winners, AMA winners, and legends such as Rhiannon Giddens, Bob Weir, Jason Isbell, Rosanne Cash, Robert Plant, Amanda Shires, George Clinton, Bobby Rush, Alison Krauss, Tyler Childers, and Jerry Douglas, just to name a few. It also includes several who will undoubtedly be so honored in the future: Valerie June, Elizabeth Cook, Whitney Rose, Erin Rae, Aaron Lee Tasjan, The War and Treaty, Ruby Boots, and many, many more. Also look for the biggest Grammy omission from this year: Kamasi Washington.
You can read Stacy Chandler's ND roundup of all the roots-music-related Grammy nominations here.
ND Photographers
Many thanks to the photographers who continue to grace this column with their best work. They include: Boom Baker, Chad Cochran, Peter Dervin, Kirk Stauffer, C. Elliott, Carol Graham, Brenda Rosser, Chris Griffy, Todd Gunsher, Larry John Fowler, Kevin Smith, Mark J. Smith, Steve Ford, Steve Mack, Pierre Eriksson, and John Rominger.
Now, the pièce de résistance, the photos themselves. A true feast your eyes. The Grammy nominees are in the first portion of the slideshow below.
---