ROOTS IN THE ARCHIVE: Folklife Center's Challenge Encourages New Creations from Old Recordings
---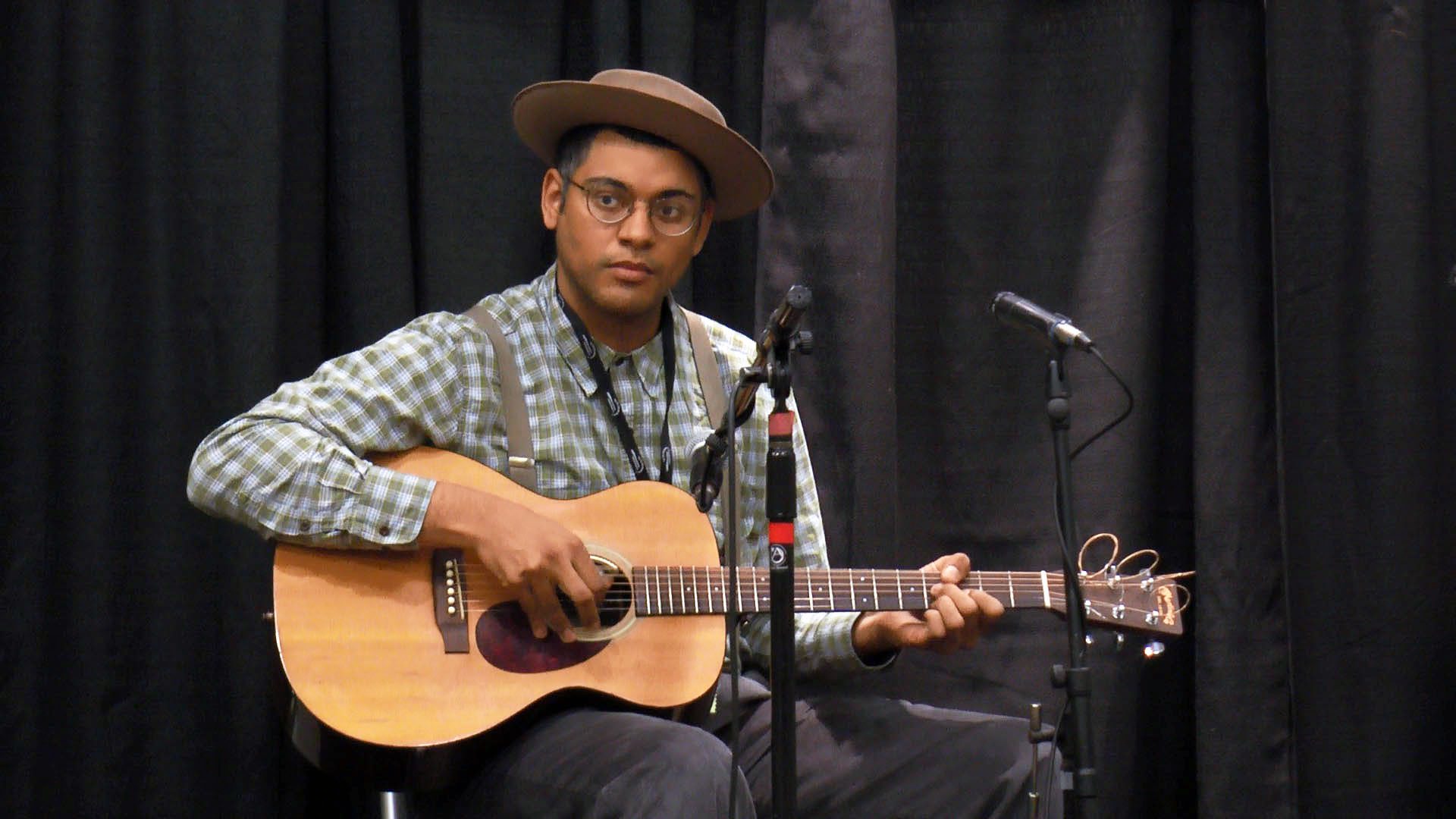 Dom Flemons participates in the American Folklife Center's Lomax Challenge at Folk Alliance International in February 2015. (Photo by Stephen Winick)
At the American Folklife Center in the Library of Congress, we take care of an archive that contains roots music recordings in all formats. Our oldest recordings are probably the earliest ethnographic recordings of any kind, wax cylinders of Native American songs from 1890. Our most recent are digital audio and video files made earlier this year. Mostly in this column I'll write about some of the great old materials we have, but this time let's look at some of our more recent recordings, and then I'll tell you about a way you can get involved.
The archive is a living link to the past and also a source of inspiration for future creativity. Those are some of our core values, and we love it when contemporary artists cover or use materials from the archive. This has been happening spontaneously for a long, long time. For example, one of the most famous pieces of American classical music, the "Hoedown" from Aaron Copland's 1942 ballet Rodeo, was based on one of our fiddle tunes. The first song on the first album by Johnny Cash was "Rock Island Line," a song first recorded for our archive in 1934. Paul Brady's (and Bob Dylan's) version of "Arthur McBride" was based on a version in our archive too.  When the Louisiana band Feufollet recorded the Cajun plaint "Je M'endors" in 2004, they not only drew on our archive but on their own family history; a great-uncle of two of the band members sang the song for John and Alan Lomax in 1934, preserving his performance so his family could learn it almost 80 years later. Bands like John Cohen and the Down Hill Strugglers and individuals like John McCutcheon have even performed whole concerts of music entirely from our collections.
A few years back, some of us program staff were thinking about how we might encourage even more contemporary roots musicians to delve into the archive. We came up with the idea of the Archive Challenge, in which musicians sign up to learn a song from the archive, then perform it in a special showcase at the Folk Alliance International conference. Staff members from the American Folklife Center (including me) are on hand to emcee, and the performances are shot on video. Later, we edit the individual song videos and put them online at the Library of Congress website.
We debuted the Archive Challenge at Folk Alliance International in 2015. Because it was the centennial year of the birth of the great collector Alan Lomax, we called that version the Lomax Challenge and asked people to learn a song collected by Alan Lomax. The performer we invited to kick off the very first challenge was Dom Flemons, Grammy-winning founding member of the Carolina Chocolate Drops, an expert on the Lomax recordings as well as on black cowboy songs and many other folk topics.  See Flemons' performance in that very first challenge below.
After 2015, we continued doing Archive Challenge showcases every year. So far, we've added 64 individual song videos to the Library's website and YouTube channel. One of the most famous musicians we've been able to feature is the iconic English folk-punk singer-songwriter Billy Bragg, who's also an expert on the British youth folk music craze of the 1950s known as skiffle.  Billy appeared in the 2017 challenge, singing the skiffle anthem "Rock Island Line," a song about which he eventually made a documentary film for the BBC. See Bragg's Archive Challenge performance below:
The full set of Archive Challenge videos are by a wide range of individuals and groups, including Bragg and Flemons, and also Las Cafeteras, Joe Jencks, Andy Cohen, SaulPaul, Piper Hayes, The Mammals, The Western Flyers, Si Kahn, Mary Battiata, Bruce Molsky, Gerald Trimble, Lauren Sheehan & Zoe Carpenter, and many others. (The 2020 videos have been shot and edited, but were not quite finished when COVID-19 caused a shutdown of onsite operations at the Library. Their deployment will have to wait until we can get back into the building. But I can tell you that they feature Jay Ungar and Molly Mason, Crys Matthews, and Haitian band Lakou Mizik, among others.)
The Archive Challenge showcases at Folk Alliance International turned out to be everything we'd hoped for. But we didn't stop there. Next, we brought the challenge to the Library itself. In special Archive Challenge Sampler Concerts, we've invited four different artists or groups to perform three or four songs apiece from the archive in the Library's historic Coolidge Auditorium. Once again, we arranged to have the concerts shot on video, and they become part of the Library's collections. In this version of the challenge, we often work with artists who don't use the term "folk" for what they do, or attend Folk Alliance meetings. Musicians we've featured include NEA Heritage Fellow and blues master Phil Wiggins, Nicaraguan-American bilingual Latin acoustic band Elena y los Fulanos, Chinese hammered dulcimer virtuoso Chao Tian, jazz drummer and mixed-media electronica producer Jaimeo Brown, Arabic and Persian fusion duo Huda & Kamyar, klezmer sax maestro Seth Kibel, and many others.  See the most recent sampler concert below.
You can find the complete set of individual song videos and concert videos at this link.
Earlier I mentioned a way for you to get involved, and here it is! We recently announced the At-Home Archive Challenge as a way of engaging people who are sheltering at home. We'd love for you to learn a song from the archive, make your own video, and share it to social media. We can't acquire your video for the Library of Congress, but we can share it to our audiences and — who knows? — maybe connect you to some new audiences. You don't have to be a professional; the At-Home Archive Challenge is for everyone! You don't even have to be a musician; our archive includes stories, food traditions, textile designs, photos, and manuscripts that you could use to cook a meal, paint a picture, write a book, tell a story, hook a rug, or make a quilt … it's up to you! I've written this blog post over at the Library of Congress to outline the idea, connect you to our collections, and get you started.
I hope you'll enjoy browsing through the Archive Challenge videos above. And, of course, all of us at AFC hope you'll be inspired to try your own At-Home Archive Challenge. We'd love to see what you come up with!
---
Stephen Winick is a writer and editor for the American Folklife Center at the Library of Congress and editor of their blog, Folklife Today. Because the Library of Congress is federally funded, these columns are in the public domain, not subject to No Depression's copyright.
---