ROOTS & BRANCHES: Springsteen's New Song, and Record, in the American Grain
---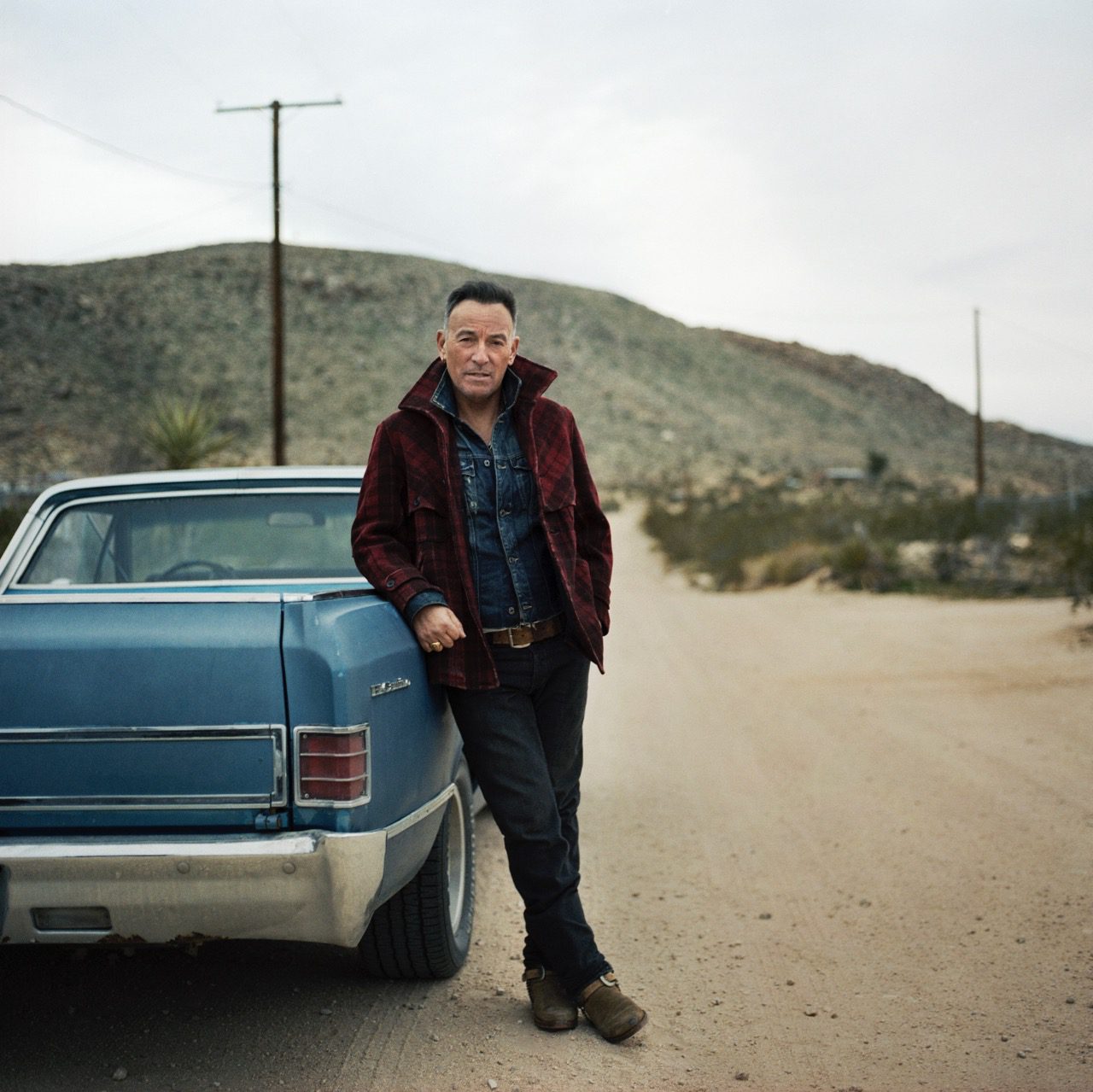 Photo by Danny Clinch
Last week, Bruce Springsteen announced a new record, Western Stars, for release on June 14 — Flag Day. It will be his first studio album in five years. Here is how he describes it: "This record is a return to my solo recordings, featuring character driven songs and sweeping, cinematic orchestral arrangements. It's a jewel box of a record."
I admit that "solo recordings" gave me pause. The vivid memory of devouring Nebraska in one sitting, and the cosmic bleakness it brought to my young soul, remains with me still today. However, the description on Springsteen's website got more encouraging: the songs, it says, "encompass a sweeping range of American themes, of highways and desert spaces, of isolation and community and the permanence of home and hope."
The first of those songs, "Hello Sunshine," has been released on Springsteen's YouTube channel, and it makes me feel better still. It's a sweet, shining new song with some deep old roots in music you know by heart. A subdued but happy little skiffly beat, and the pat and shuffle of brush and drum, sets things up for Springsteen's rich caress of a voice, as it intones "Had enough of heartbreak and pain / I had a little sweet spot for the rain / For the rain and skies of gray / hello sunshine, won't you stay."  The tune is already gentle on your mind, literally. Springsteen starts low, and Glen Campbell started high, but the melody of "Hello Sunshine" is reminiscent of "Gentle On My Mind," that 1968 song by John Hartford made a forever anthem of love, loss, travelin' on, and golden memory by Campbell.
Springsteen is traveling in a car, and what a car (more about the video in a moment), but he's got on his walking shoes, that footwear indispensable to so many roving, rambling gamblers, highwaymen, and wandering troubadours. Jimmy Martin abjured his, Nancy Sinatra's were of course boots, and young Bob Dylan wore his in "Walkin' Down the Line" and has allowed them to gather no dust since. Careful, though: walkin' shoes all too often rhyme with the blues, and are put on when you're in the grip of that most powerful of musical colors. Lonely towns can be good to visit, but you don't want to live there forever; empty roads that take you nowhere are a drag, in the end. Springsteen lets that wandering yen give way to brightness and permanence in the simple refrain of "hello sunshine, won't you stay."
The video stars a luminous glowing car — a big old American car, a Chevy. Remember their slogan? "See the USA in your Chevrolet." Songwriters love Chevys: recall Don McLean's, Bob Seger's, Elton John's, Taylor Swift's, Prince's little red Corvette, and, most memorably, the "skeleton frames" of Bruce's own "burned-out Chevrolets" in "Thunder Road." Here, Springsteen's pristine green-blue El Camino SS, proclaiming its "cowl induction" on a shimmering flank, swims past oil fields and huge satellite dishes, windmills and water towers, range-ranch fences and telephone poles. This place may be shot through lenses of molten gold, and the increasing lushness of the instrumentals dazzle you, but here is no mythic West — it's a settled, peopled place where folks live and work today. Those tooth-edge mountains and big-armed saguaro cacti are the backdrop for what is man-made. The Jersey plates tell you both where the car and its troubadour are from, and where they're headed back to, as they drive east, away from that setting sun.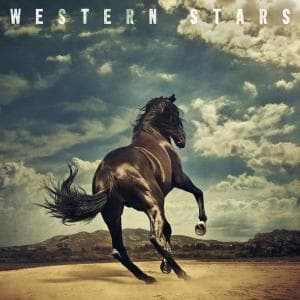 The album cover itself features a big beautiful shining brown-black horse, rearing wild, yet shod and running on the groomed sand of a ring, with the sky and mountains beyond. Of course the horse is an iconic part of the Wild West, and at the core of its cultural representation, from the days of the Pony Express to Roy Rogers and Trigger to the little Mustang in mid-gallop gracing my own favorite American ride. It is also emblematic of the New Jersey horse farm in, yes, a community called Colts Neck, which Springsteen, Patti Scialfa, and their children have long called home. Perhaps the image is a loving nod, too, to their only daughter, Jessica, 27, a champion show jumping rider.
Scialfa sings and contributes vocal arrangements to four tracks; for her, too, this is a return to musical roots deep in the Jersey Shore seaside bar scene and New York City's gritty street sound. Her old bandmate from Trickster, Soozie Tyrell, is among the guests on the record.
Plenty of American songs concern sunshine, and they're generally coupled with love. When it's gone, it's never bleaker than in "Ain't No Sunshine When She's Gone," Bill Withers' 1971 R&B lament for all lost ladies. When there's a chance of losing it, your plea to keep it around will never be more memorable than in "You Are My Sunshine." Recorded in 1939 by Charles Mitchell and Jimmie Davis (whose later election to governor of Louisiana may have rested in part on the strength of its popularity), "You Are My Sunshine" has been covered by just about everyone in the 20th century. The studio outtake of Johnny Cash singing baritone, Bob Dylan singing tenor in 1969 is my favorite version; I wonder if it's Springsteen's, too, and reflecting in the lows and highs of "Hello Sunshine." He makes his request, though, a direct address to sunshine: a greeting, and an invitation. "Hello, sunshine, won't you stay …"  What could you say but yes? Welcome, summertime.
---