Rod Picott – Hang Your Hopes on a Crooked Nail
---
Rod Picott has been friends with Slaid Cleaves since they first met in the 2nd grade in the Maine town of South Berwick where they both grew up. Slaid left South Berwick went to Tufts University and eventually ended up moving to Austin, Texas with wife Karen in  1991, where he has lived and recorded since then. Picott left Maine and spent a few years in Colorado, before moving to Nashville in 1994. Where spent several years playing at local clubs and sharpening his skills as a songwriter, he wrote songs for the likes of Fred Eaglesmith and worked and occasionally opened for Alison Krauss.
In 2001.  Rod released his first solo album Tiger Tom Dixon's Blues which was named after his great-uncle, a boxer during the Great Depression. Slaid included the song on his album Wishbones. Rod's album also included his version of "Broke Down", which he co-wrote with Slaid. The song had been the title track on Slaid's break-through second release on the Rounder-Philo label. Since his first release Rod has released eight more albums and his Americana star has risen with each release. I am most familiar with the last two releases 2011's Welding Burns which is a terrific album and his current release Hang Your Hopes on a Crooked Nail.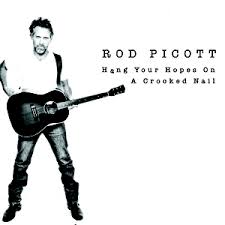 The songs on Hang Your Hopes on a Crooked Nail are varied just like life. They cover lost love "You Ain't Missing Anything", the resilience of people reflected in the little "Bluebonnet", the simple joy of owning a "65 Falcon", life in a small town "Where No One Knows your Name",  to the end on life in "?Milkweed" and the closing song "Nobody Knows"
So if you are familiar with Rod's music this album is a must for your collection and if you're not it's a great place to start!
Links
Rod's Website
Twitter
Wikipedia
Amazon
Here's Rod singing about his "65 Falcon"!
;
---