Richard Thompson Shoots Out The Lights at The Barbican, London
Posted On October 16, 2018
---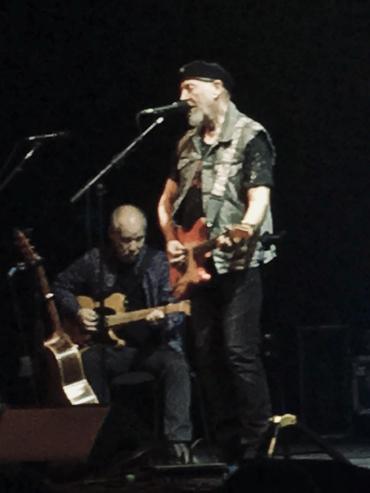 Few artists have made as much music and toured as regularly as Richard Thompson. Common to both over his fifty year career is his consistently high quality and originality. With each release Thompson brings something new and live he plays as if it was his last. This show at London's Barbican Theatre was no exception. Thompson and his band played with intensity and obvious pleasure.
A mark of Thompson's live performances is the sweep of songs from early Fairport Convention days to his recently released 18th solo studio album. And it's not just the selection but how he performs them. He has an ability to transport himself back to the Richard Thompson who wrote the song. A year ago he said "songwriters are constantly revisiting their past, they do it every night".
When he plugged in Thompson certainly didn't give much indication of the depth of what was to come, "we're going to play some new songs. That's the way it works isn't it? We play what we want then if there's time we might do some of the old favourites". Then with a hint of a smile he relented, "I suppose some of you have driven miles to hear the timeless classics, ok we'll do those too".
The first three songs came from his newly released 13 Rivers. Thompson produced the record himself which gives it a much freer feel. It's him and the band and is made for performing live. Opener 'Bones of Gilead' with its brisk tempo was the ideal loosener, allowing everyone to settle into the show. Thompson described his band as a "big trio". What he meant was that guitar tech Bobby Eichorn would join the regular threesome throughout the evening. Immediately too bassist Taras Prodaniuk and drummer Michael Jerome showed they were not a backing band. This is a proper team effort. Thompson's guitar hero leap on the final chord just underlined the impression that everyone was enjoying themselves.
'Her Love Was Meant For Me' and 'Take Care The Road You Choose' successively brought the pace down with the latter, though new, melding Thompson's balladeer's voice with some divine picking.
Then it was one for those who'd come for the timeless classics and there can be few more timeless than 'Meet on the Ledge'. Bashfully Thompson revealed his age when noting he was nineteen when he wrote this Fairport anthem. And for most of us, such was his skill in projecting himself back to those days that we all travelled back in time with him.
Thompson isn't just rated as a writer but revered as a guitarist. His solo on 'Can't Win' explains why. This was power trio stuff, but not just sound, his intricacy as he ascended and descended the scales was breathtaking. Produnuik and Jerome were with him every step of the way.
From last year's Acoustic Rarities came 'They Tore The Hippodrome Down'. Performed solo this was another Thompson speciality; the abject sadness of an old man reminiscing about the happy times he and his young girlfriend had at the dance hall, now demolished in a decaying old town. Thompson skipped lightly on the old days before his voice slowed to match the hopelessness of the present.
Another acoustic classic was '1952 Vincent Black Lightening'. It's a tragic love story involving boy, girl and motorcycle, "Said Red Molly to James that's a fine motorbike/ A girl could feel special on any such like/ Said James to Red Molly, my hat's off to you/It's a Vincent Black Lightning, 1952". Thompson's playing sped along on that bike tearing away from the old bill.
The best example of Thompson's dexterity around styles and eras came in his song about his early listening, 'Guitar Heroes'. These are Django Reinhardt, Les Paul, Chuck Berry, James Burton and Hank Marvin. In turn he mimicked each perfectly.
Some more new stuff, 'The Rattle Within' pumped pure energy into the austere auditorium and 'The Storm Won't Come' started with that feeling of impending doom before breaking into a full jam. Both are further evidence of the very live, unrestricted nature of 13 Rivers.
These two teed up the set for its final phase; definitely timeless classics. 'Put It There Pal' had lost none of its menace as Thompson repeatedly spat out the title words. Thompson introduced his grandson, Zac Hobbs, who joined him on 'Wall of Death'. Son of Teddy, the Thompson guitar playing genes flourished as, with what looked liked his grandad's blue Strat, he solo'd as if he'd been playing for decades. Hobbs kept this up for the final song, 'Tear Stained Letter' and with that superb band, they all played out of their skins to keep up with Thompson's furious pace.
There were two encores, each of two songs; acoustic 'Beeswing' and 'Down Where the Drunkards Roll' pulled at the heart strings on every note. Then to finish at the tempo they had begun they concluded with 'Trying' and a blistering version of 'Take a Heart'.
Reflecting on the show something else Thompson told me a year ago came to mind, "the song still has to excite me otherwise I won't do it.". So true, which is why the timeless classics sound as good and authentic as they ever did. It also explains why Richard Thompson still makes such wonderful music.
---