Review: Glen Campbell's New Album Goes Musically Into That Good Night
Posted On September 2, 2011
---
 by Terry Roland
Glen Campbell's latest and final album, Ghost on the Canvas, is not simply a new release or an attempt to be relevant, sell records/downloads or a way to find closure because of his recent disclosure that he is struggling with Alzheimer's Disease. This album is a statement. It is an affirmation of life and art. It is also an unqualified masterpiece of pop texture, song craft, continuity and the realization of concept. It's as much a debut as it is the closing of a door on a career that has nurtured, influenced, inspired and kept a flame of quality burning on the sonic landscape of popular music over the last 50 years. It's a beginning in the sense that, as it allows us to reluctantly say goodbye to an important artist, it opens a window into his soul; a transparent clear view of one man's sense of love for his life and the people he's lived it with framed by his own deep hard-fought faith and sobriety. If we take the time to experience this work in its entirety we can affirm our own sense of faith and hope which may transcend even a disease as horrible as Alzheimer's. It's all in the song. In the music.
The album is successful on many different levels: as recorded art, crafted songwriting, instrumental and vocal performance and as real life-giving product in a virtual world that too often allows the spirit of the music to slip through the distracting avalanche of downloads and digital accessibility over the asthetic value of the recording. As a record, it most resembles, thanks to the visionary approach of producer, Julian Raymond, The Beach Boys' masterful, Pet Sounds. Ghost carries the same continuity, seamless flow of songs which draw the multilayered themes together; meditations on mortality, regrets, joy, gratitude and the hope found in a life well-lived. The opening and closing lyrics serve to bookend the portrait of a man facing his own vulnerability with courage and passion. The first song, "A Better Place," says, "I've tried and I have failed, Lord/I've won and I've lost." While the final lines from the closing track, simply says, "there's no me without you." It's a line which most directly relates to the most significant people in the artist's life, but also to his audience; to those who have heard his guitar on so many popular songs. The songs in between are a harmonious mixture of originals written in collaboration with Julian Raymond and carefully selected interpretations. Songs like "A Thousand Life Times" "Strong," and "It's Your Amazing Grace," hold the same folk/country fused pop sound Glen Campbell helped create with songs like "Gentle on my Mind," and "Wichita Lineman," but these songs lyrically dig a little deeper and stare into the dark eyes of mortality only to shine the light of honesty and acceptance. The two most notable interpretations are the title song by Paul Westerberg and Jakob Dylan's "Nothing But The Whole Wide World To Gain," which stand nicely alongside the original songs both in theme and style.
Campbell's vocal delivery is as near as any pop artist may come to performance art as we journey with him through the feelings of grief and gratitude, hope and sorrow. Producer Raymond links the songs together with brief instrumentals, subtle and hauntingly hopeful, laced with slide guitars, dobros and strings alongside ragtime piano, harpsichord and orchestral abstractions allowing a melodic contrast with the main songs.
Campbell and Raymond have turned from the now common practice of veteran country artists going minimalist. Instead they have taken the upstream route of bringing some of the best elements of rock and pop studio production in to support the emotional terrain of this project. There's a whole lot of George Martin and Brian Wilson and a lot less T-Bone Burnette and Rick Rubin here and rightfully so. This is part of Glen Campbell's legacy playing with The Wrecking Crew so many years ago. But, there's nothing emotionally hidden from view because of the layers of sound. To be sure, the honest vulnerability and risk are paramount to the success of this record. Both Campbell and Raymond should be proud of the degree to which they've struck gold here.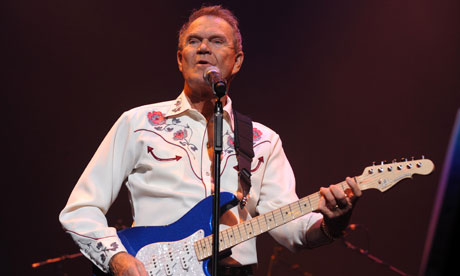 It's Campbell's voice and his guitar which the production brings out to the front. The re are guitar solos that pay homage to the various styles he's brought to so many popular recordings. At times, there's  country, then, over the Beatle vocal harmonies on comes a surf rock guitar only to be followed on another track by blues leads, then, something with a hint of jazz. And even Dick Dale makes an appearance here. Then, it all comes together in layers of giant guitar sounds, strings and Beach Boy harmonies. This is best realized in the short "The Rest is Silence," near the end of the album, which then closes with the sweet surrender of the realization of our common connection on the flawless final track, "There No Me Without You," which concludes with Glen's guitar raging in George Harrison-fused passion. Hearing his guitar slowly fade away as the album ends, one can't help but remember the words of Dylan Thomas, "Rage, rage against the dying of the light." It's hard to tell if it was intended, but you can almost hear(and feel) the guitar of Glen Campbell gently weep on this final song of this pop masterpiece.
This album, with it's back story of his struggle with Alzheimer's, also brings home the fact that there are just some things that need to be experienced with a minimum of digitalized and online distractions and as a whole rather than the bit and piece fragments of today's music product. If this album is only experienced sonically, much of the impact will be missed. Like other great conceptual works such as The Beatles' Sgt Pepper, it takes the entire package to understand and experience what is being expressed here. From the front cover a tinted brown photo where Campbell stands between his fading guitar case and guitar to the touching liner notes and the bittersweet photo inside, it takes all of this to catch the essence of what's going on with this album. Downloads will not do this album justice. The experience is like the opposite of those artists from our past who are torn away from us by drugs, alcohol, violence and abuse. Glen Campbell and Julian Raymond have created this opportunity for all of us to be able to say goodbye and to appreciate the artist's work, his spirit and soul through this album.
 Ghost on the Canvas, in many ways, stands in favorable contrast and as a kind of answer to Brian Wilson's thematic work on Pet Sounds, possibly rock's pinnacle, in terms of the kind of pop-rock production concept artists were striving for nearly 50 years ago. But, here, while Brian Wilson's work was intent on bringing us the view and experience of a teen at the beginning of life; Glen Campbell and Julian Raymond have brought us to the end where we find new beginnings as we move with him in song through life's final stages with a sense of acceptance that is void of resignation and despair. As Paul Westerberg's title song states, "In between here and there/There's a place for us to grow." As the song later says, "People don't know when they're looking at soul." With this unique album, we are allowed the rare opportunity to glance into one man's soul and to see a glimpse of our own mortality. If what is presented here holds even a grain of truth, there will always be a song to see us through together.
---