Respite From Out There With Sarah Jarosz
Posted On February 5, 2017
---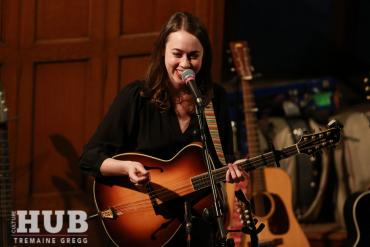 "It's like we're in somebody's living room" smiled Sarah Jarosz. "A real fancy, holy living room …" she added. "Yeah, like a church," quipped lead guitarist Anthony da Costa.
We were in 1st Presbyterian Church, Rosemary St, Belfast, with its comfy cushioned pews and wooden panelling for Out To Lunch festival. It was fancy, and it was a church but we knew what she meant when she said 'living room.' We were cosy and relaxed; the world was carrying on out there while inside time was paused for a couple of hours for Sarah Jarosz. Who'd begrudge us a couple of hours in the fancy living room of this old church – congregation founded in 1644, but the present building is a youngster, completed in 1783.
They opened with the title track of Jarosz' 2013 Build Me Up from Bones, and immediately we got the taste. That warm dark honey, harvested at dusk, some shadows stretching. They continued the mood with "Mile On The Moon" from the same album, this time da Costa's harmonies with Jarosz' vocals highlighted the words, lightened them slightly.
Guitarist and viola player Owen Denvir opened the evening for us, performing a number of his own songs before the main act appeared. With an impressive voice – high and emotive – he played his own songs with an interesting mix of loop pedal singular notes and short musical passages on his instruments of choice.
Denvir, and his headlining act had something in common. Tuning. "We spend a lot of time on the road" da Costa talked as he and Jarosz tuned up. "We spend a lot of that time tooning … I know that's what you came for" as the heads-down plucking, and ear bent checking continued. Jarosz was on banjo for "Lost Dog." She started it with those sad clockwork chimes of the solitary banjo. Da Costa was gentle and very background with his harmonies. The appropriately named Jeff Picker's double bass was sparse as he plucked the strings, emphasising a word or a question asked. "There's a broken in your eyes and it pulls me in/ Will you let anybody get close again." The last low wondering note from Picker as he slid his bow across the strings.
The trio bounced off each other in their own specific ways. The earthbound, reflective voice of Jarosz grounded the crazy lady laughing through the banjo. Picker's double bass held a distant authority, a subtle constant presence; while da Costa's guitar oiled the wheels, kept things moving as all those noises on stage talked amongst themselves.
"Anthony please sing us a song of yours" was the polite request from Jarosz. "I will do that for you" responded da Costa, readying himself to give us "You're Free Now". His voice was high and melancholy and as the song unfolded it became slightly otherworldly. "I was harbouring a feeling of love that I had tasted" he sang and as Jarosz joined on the chorus their own bittersweet symphony took full advantage of the warm acoustics in the room.
The encore was "Jacqueline" from Jarosz' 2016 album Undercurrent. Her rainy opening bars stilled the room, and they carried through the song, washed right through the song; right through to the last line "Won't you keep me company?" And there was quiet as we soaked it up, as the last noted faded. And just a bit more quiet to keep a hold of what just happened. Then we had to let go. The applause started and the lights came on. It was time to go back to the world out there, the one with all that going on.
First posted on CultureHub
---