PRINT EXCERPT: The Resistance Revival Chorus Takes Action with Art and Activism
Posted On November 3, 2020
---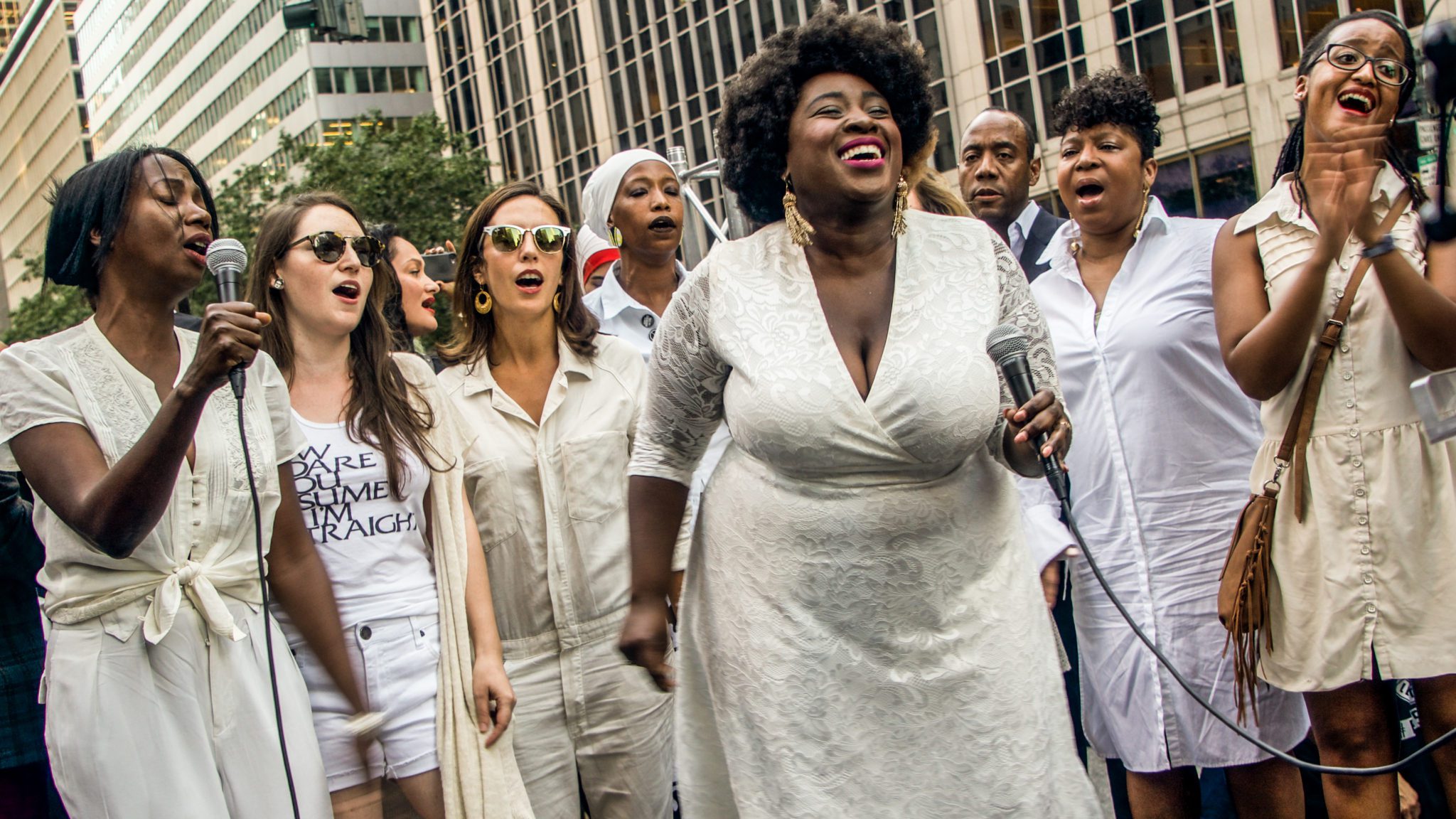 Photo by Ginny Suss
EDITOR'S NOTE: This story is  from our Winter 2020 print issue, "All Together Now." You can read the whole story — and much more — in that issue, available here. And please consider supporting No Depression with a print or digital subscription for more roots music journalism, in print and online, all year long.
On a warm Thursday evening in August, as the COVID-19 pandemic raged on, members of the New York chapter of the Resistance Revival Chorus (RRC) appeared at the Sunset on the Hudson Music Series via a Zoom call that was broadcast on Facebook Live. When the event began, singer-songwriter and arranger Arin Maya Lawrence, education advocate Zakiyah Ansari, and singer Meah Pace — the "resister sisters," as Ansari playfully calls them — introduced themselves one by one from their grid-view boxes.
Via a medium that often makes human interaction appear stilted, the women of the RRC exuded warmth and ease. Somehow, through a computer screen, these women conveyed humor, kindness, and a fierce conviction for doing their part to make the world just a little bit safer, more equitable, and joyous. Their brief chat to open the show was a warmup to an impressive evening of music, poetry, impassioned advocacy, and calls to action.
The RRC is comprised of more than 60 women and nonbinary professional singers, artists of all stripes, and activists who sing protest songs in traditional live concert venues and on the New York City subways. They backed up Kesha at the 2018 Grammy Awards and have performed at numerous local political protests. Their aim is to demonstrate the ways in which music can be a vehicle for joyful resistance, while using their platform to advocate for the causes they care the most about.
The RRC was not supposed to spend the summer performing mostly online. There was a busy US tour planned, including stops at major festivals like Bonnaroo, Newport Folk, and Outside Lands. The RRC has also performed at small clubs, so it follows that at one point during the Sunset on the Hudson event, member Jessi Olsen encouraged the audience to contact their local officials in order to protect independent live venues through the Save Our Stages Act.
This is the sort of advocacy that the RRC is known for, and their work is more important than ever in the face of profound, overwhelming, and interlocking challenges in the US — a serious, ongoing public health crisis, a devastating economic recession, and a long-overdue reckoning with systemic racism.
Of course, singing in a large group, where social distancing is all but impossible, made the RRC's participation in New York's massive summer protests in support of the Black Lives Matter movement much more complicated.
"Now that New York City has done such a great job of lowering the rates of COVID, we've had a small contingent of RRC members who have been venturing out to protests and performing together again, although it's through masks now," says Ginny Suss, the group's co-founder and manager. "Hopefully we'll be able to do more of this, with serious safety protocols in place."
Despite these trials, the RRC are finding ways to do their work, while re-discovering and reflecting on the community they have forged — even at a distance — together. They are a collective that is strong enough to keep the music, and the joy, alive.
Resisting and Reviving
Co-founded by Suss, Nelini Stamp, Sarah Sophie Flicker, Paola Mendoza, Shruti Ganguly, and Alyssa Klein, the RRC developed organically out of the January 2017 Women's March. Later that year, a group of women and nonbinary people gathered in Flicker's kitchen to sing together for the first time.
"I went over there and sat around a table and met … maybe 20-something [of] these incredible women," singer-songwriter, musician, and photographer Brooke Williams says of that first meeting. "It was such an empowering, really supportive mix of activists who were into music — musicians who were exploring more of their activism."
Mendoza, a filmmaker and author who also held the title of RRC co-manager for the first two years, notes that it was Stamp who named the group quite intentionally. The idea of it, she says, is that, "we are born in the resistance of this moment, and resistance from beyond, and most likely now, resistance in the future. But we are revival, which is as super important — that we are here to revive our spirits, that it is a celebration, that it is a joyful act. This moment of resistance that our joy is in of itself an act of resistance."
This idea of revival, a reimagining of something important that has come before, is also reflected in the white clothing RRC wears whether performing at Carnegie Hall or in the streets. "It really is a nod to so many social movements that came before us that have worn white," Mendoza says. The Colombian peace movement wore white. The Liberian peace movement wore white. In 1917, there was a group of 5,000 Black women and children that marched down Fifth Avenue that wore white, demanding that the humanity in the lives of Black people be respected. So I just think it's important that the wearing of the white encompasses international movements, national movements."
Over the last three years, as the membership has grown exponentially, the RRC has found its way both musically and as an activist collective. Not only are there sister choruses in Atlanta, San Diego, and elsewhere — the New York chapter of the RRC offers an online toolkit for those who want to create choruses in their cities — but the group includes both original songs and covers in their live repertoire. They have covered the 1963 feminist anthem "You Don't Own Me," made famous by Lesley Gore, and, most recently, "Ella's Song," composed by Dr. Bernice Johnson Reagon in honor of the civil rights activist Ella Baker and originally performed by the vocal group Sweet Honey in the Rock. The accompanying music video, released on Juneteenth in the aftermath of George Floyd's murder, features a collection of striking photographs by some of the members of the RRC capturing Black Lives Matter protests over the last few years.
"This is an ongoing issue," says photographer Kisha Bari, whose work appears in the video. "It's not just about the last few months. This is years. And the song represented … hundreds of years of this happening. So, yeah, it didn't really matter where [or] when the photographs were taken. They just wanted imagery that really represented the song and it was just important to make sure that we honored that."
The group's evolution continues with their debut full-length record This Joy, which was released in October on Ani DiFranco's Righteous Babe Records. It's a collection of original tunes like member Abby Dobson's haunting dirge called "Say Her Name" and covers of protest songs. Featuring guest appearances by Rhiannon Giddens, Valerie June, and Deva Mahal, and produced by Tiffany Gouché, every element of the record was created by women and nonbinary people.
Rising to the Occasion
Throughout the pandemic, members of the RRC have sung at Black Lives Matter protests in New York City, with the intersecting health, economic, and socio-political crises clarifying further the group's mission.
"The chorus has definitely become more focused," Williams says. "I think when it started, it was like, we're just gonna get together, and we're gonna sing some stuff. … Then we started [homing] in on, 'Okay, well, what can we do?' 'What is our voice?' 'Who are we singing for?' 'What are we?'"
While performing in early June, they wore masks at Justice League NYC's March for Stolen Lives and Looted Dreams' concluding rally in Washington Square Park. As necessary and poignant as it was to see the women and nonbinary people in white singing together face to face, the timing of the protests in the midst of the pandemic is fraught.
"The tricky thing is it's happened at a time when we're supposed to social distance, right?" says Rudeen. "And so it's very frustrating because I feel like 'Wow, this is the time we really need to be out in the streets and supporting this movement right now.' It's been galvanizing, but in a way that we can't really make the most of it because we can't be out there singing all the time."
These are strange times, and it would be understandable if members of the RRC found it difficult to maintain energy and enthusiasm, particularly in light of COVID-19. But the RRC rises to the occasion; it takes flight because the music tells it to. As Mendoza says, "We as a society need to look at this moment in time and understand that if we didn't have art during this moment, we would have been way more lost in the worst emotional state than we currently are in."
The members of the RRC understand that they — their strength, community, and musicality — are needed now more than ever. "The whole idea of me sitting at home when this was going on was unbearable," Rudeen says. "So I masked up and I went out there because I felt like there's just no way I can't participate in this.
"That says a whole lot, that we're willing to come out here under these conditions and sing under these circumstances — singing under these conditions just says how important it is to all of us."
---