PRINT EXCERPT: Jeremy Dutcher Moves Native Songs from Archives to Modern Ears
---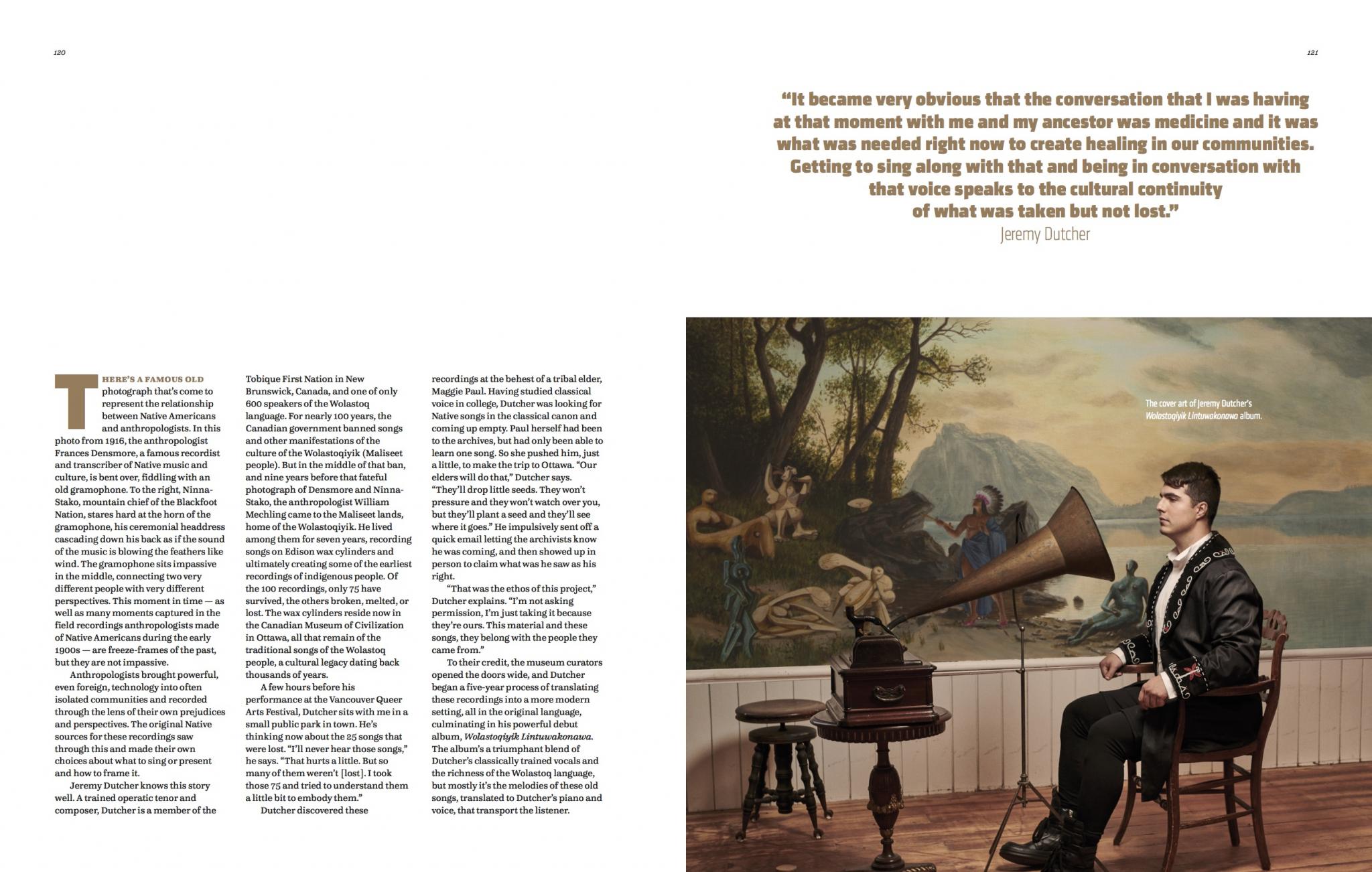 EDITOR'S NOTE: Below is an excerpt from a story in our Fall-Winter 2018 print issue "Innovate." You can read the whole story — and much more — in that issue, available here. And please consider supporting No Depression with a subscription for more roots music journalism, in print and online, all year long.
After winning the esteemed Juno Award for Best Indigenous Album in London, Ontario, on Sunday night, Wolastoqiyik singer, songwriter, composer, and archivist Jeremy Dutcher delivered a heartfelt speech on indigenous equality. Alternating between English and Wolastoq, he began an address directly to Canadian Prime Minister Justin Trudeau, but was cut off by awards show exit music before he finished. Later in the evening, however, when Arkells accepted their award for Best Rock Album, lead singer Max Kerman offered their time slot back to Dutcher.
"This is what holding space looks like. Thank you," said Dutcher before quipping, "To my manager, I'm sorry. I have joined the Arkells!"
Read Dutcher's full speech and an excerpt of No Depression's profile from the release of his Juno Award-winning album Wolastoqiyik Lintuwakonawa below. (You can see a full list of Juno winners, which include Pharis and Jason Romero and Donovan Woods in the roots categories, here.)
————
A trained operatic tenor and composer, Jeremy Dutcher is a member of the Tobique First Nation in New Brunswick, Canada, and one of only 600 speakers of the Wolastoq language. For nearly 100 years, the Canadian government banned songs and other manifestations of the culture of the Wolastoqiyik (Maliseet people). But in the middle of that ban, the anthropologist William Mechling came to the Maliseet lands, home of the Wolastoqiyik. He lived among them for seven years, recording songs on Edison wax cylinders and ultimately creating some of the earliest recordings of indigenous people. Of the 100 recordings, only 75 have survived, the others broken, melted, or lost. The wax cylinders reside now in the Canadian Museum of Civilization in Ottawa, all that remain of the traditional songs of the Wolastoq people, a cultural legacy dating back thousands of years.
A few hours before his performance at the Vancouver Queer Arts Festival, Dutcher sits with me in a small public park in town. He's thinking now about the 25 songs that were lost. "I'll never hear those songs," he says. "That hurts a little. But so many of them weren't [lost]. I took those 75 and tried to understand them a little bit to embody them."
Dutcher discovered these recordings at the behest of a tribal elder, Maggie Paul. Having studied classical voice in college, Dutcher was looking for Native songs in the classical canon and coming up empty. Paul herself had been to the archives, but had only been able to learn one song. So she pushed him, just a little, to make the trip to Ottawa. "Our elders will do that," Dutcher says. "They'll drop little seeds. They won't pressure and they won't watch over you, but they'll plant a seed and they'll see where it goes." He impulsively sent off a quick email letting the archivists know he was coming, and then showed up in person to claim what was he saw as his right.
"That was the ethos of this project," Dutcher explains. "I'm not asking permission, I'm just taking it because they're ours. This material and these songs, they belong with the people they came from."
To their credit, the museum curators opened the doors wide, and Dutcher began a five-year process of translating these recordings into a more modern setting, all in the original language, culminating in his powerful debut album, Wolastoqiyik Lintuwakonawa. The album's a triumphant blend of Dutcher's classically trained vocals and the richness of the Wolastoq language, but mostly it's the melodies of these old songs, translated to Dutcher's piano and voice, that transport the listener.
Dutcher has a deep respect for these original recordings, and a deep connection with them, but the work on his new album is compositionally his, and to create this he had to figure out how to meld his classical training with music that had been created thousands of years before the Western scale or tempos were imprinted on Native culture. Additionally, classical music has not always been kind to traditional music.
On first arriving at the archive, transcription was Dutcher's first way of trying to get the music out of the reel-to-reels that they'd been transferred to because wax cylinders degrade so quickly. Without a way to take the music home to listen in depth, he resorted to transcribing songs as fast as possible. , he was finally able to take them home to spend time with these voices in a more natural way. "I was in that deep process of listening over and over," he says. "Then I would sit at the piano. I would trace the outlines of these melodies, where they went, and then try to find ways to shape around them. I didn't sing them at all. It wasn't time for me to sing them yet."
When he did begin singing along with the songs, he says, "it became very obvious that the conversation that I was having at that moment with me and my ancestor was medicine and it was what was needed right now to create healing in our communities. Getting to sing along with that and being in conversation with that voice speaks to the cultural continuity of what was taken but not lost."
---