PRINT EXCERPT: Fanny's House of Music Creates a Safe Space for Women to Buy Gear
Posted On August 31, 2020
---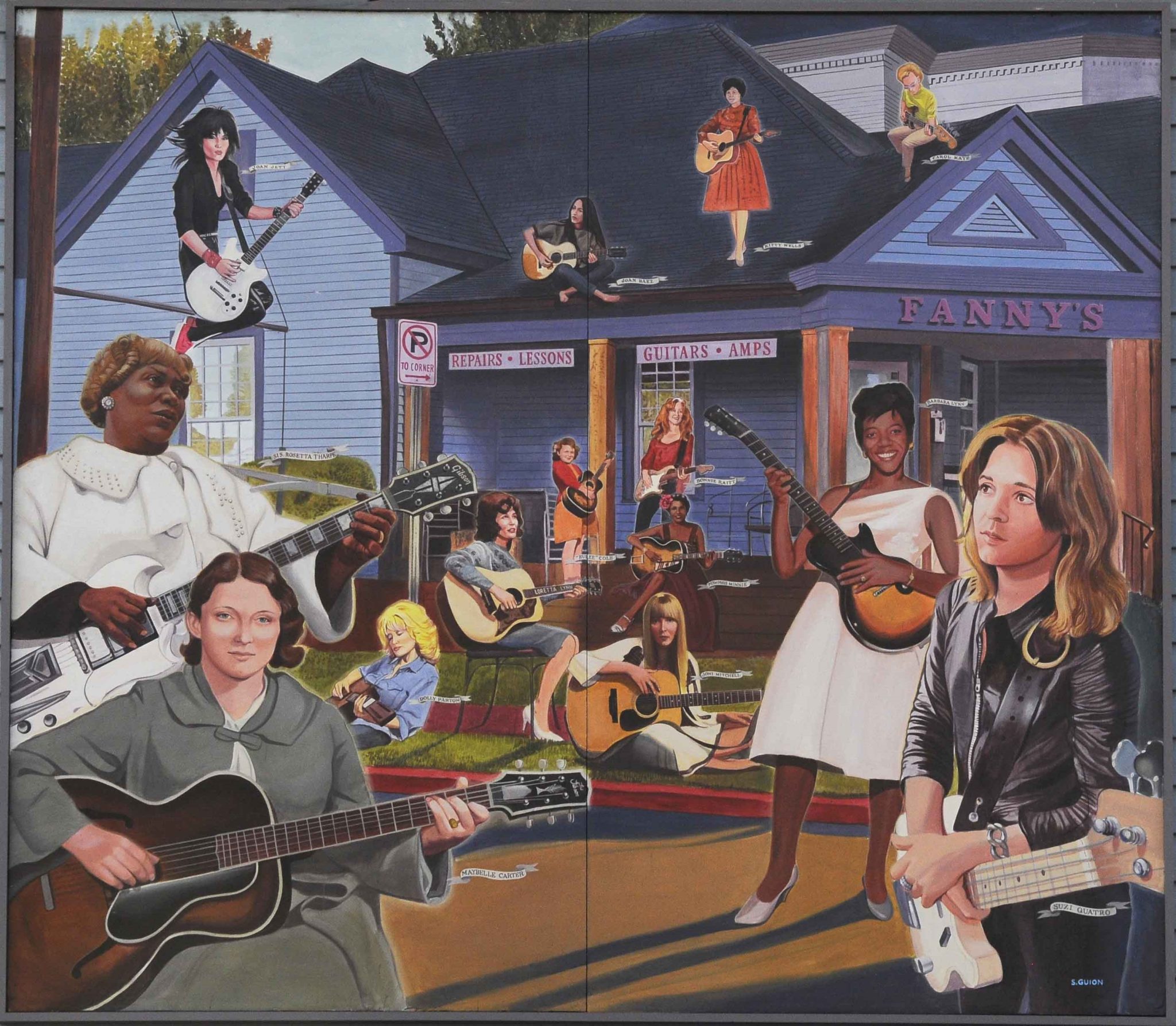 The landmark mural at Fanny's in Nashville.
EDITOR'S NOTE: This story is  from our Summer 2020 print issue, "Tools of the Trade." The print edition is sold out, but you can purchase the digital version here to read more great stories like this one. Start a digital or print subscription to No Depression today to make sure you never miss an issue!
Taylor Swift, Jack White, Rhiannon Giddens, and Robert Plant may not play the same type of music, but they have all shopped for musical instruments at the same iconic place: Fanny's House of Music in East Nashville, Tennessee. The list of Fanny's fans also includes Jason Isbell, Melissa Etheridge, Chris Stapleton, Wanda Jackson, Margo Price, Marty Stuart, and so many others because Fanny's is more than a music store; it's a community.
Founded by musicians/music business majors Pamela Cole and Leigh Maples in 2009, Fanny's strives to welcome every type of player, especially women and children. That's why the store sponsors programs like the Southern Girls Rock Camp, Tennessee Teens Rock Camp, Girls Write Nashville, and Girls Up Loud, as well as local Little League baseball and softball teams. "From sponsoring Little Leaguers to offering lesson programs, a place for musicians to work and teach, a place to sell gear or just hang a flyer for their next show, Fanny's is a safe space for our community to come together in an era where those spaces are disappearing, where relationships are formed, community is championed, and new skills are gained," says Cole.
Just as Nashville's population growth has exploded over the past decade, so has Fanny's clientele. The current building's capacity has limited Fanny's ability to serve customers, so the team recently launched a capital campaign to raise $1.5 million to expand the facilities and establish a nonprofit organization called Fanny's School of Music (To donate or get more information, go to www.fannysschoolofmusic.org.) The goal is to triple the number of lesson rooms, utilizing a large second-floor area as a community space for performances, workshops, music therapy, and whatever other opportunities come their way, in order to reach more students and hire more teachers. Additionally, by moving the education components, more retail space will become available.
Thinking beyond profits and about people is an unusual equation for a business. Then again, Fanny's is owned and operated by two women, with five of their six employees being female, which is also an unusual equation for a business. It's crucial, though, for the Fanny's formula.
"All of our employees know what it's like to go into a music store and not feel comfortable. Having this history informs their interactions with customers," Cole says. "We emphasize the importance of saying 'I don't know, but I can find out for you,' rather than making up an answer. If you're a female guitar player or child, we can help find an instrument that fits you and your budget. And, if you take lessons at Fanny's, your drum, guitar, or mandolin teacher might be female. So you'll never say, 'Girls don't play drums' or 'Women don't play guitars.'"
Singer-songwriter Meg Toohey — who has played guitar with Sara Bareilles, The Weepies, and others — knows that conversational refrain especially well, having endured sexism at music stores when testing out axes. "I have had so many experiences that have been ridiculous, with male employees asking me to put an expensive instrument down and saying that there were 'beginner models' over in a different part of the store … or asking me if I was buying something for my boyfriend," Toohey says.
She also remembers what it was like in her early days of exploration and experimentation, just wanting to soak up everything she could when it came to playing guitar. "There is nothing like having a music shop that supports you when you're first starting out and doesn't mind if you come in on a weekly basis and only buy a guitar pick," she says. "When I was a kid, I used to go to a hole-in-the-wall shop and I remember the excitement of looking around to see what was new and talking to the staff like I knew what I was talking about. Shops like Fanny's just make it easier to see yourself."
Continuing a Legacy
Stories like that are exactly why helping women see themselves was built into the mission of Fanny's. After all, the whole project was named after Fanny, an early '70s rock band founded by June and Jean Millington that was one of the first all-female groups to find both critical and commercial success, including two Top 40 hits.
Going even further to honor the legacy and increase the representation of women in music, Cole and Maples fill the store's walls with posters and pictures of female artists like Sister Rosetta Tharpe, "Mother" Maybelle Carter, Bonnie Raitt, and Taylor Swift. "Fanny's believes in the importance of visibility," Maples says. "When a young girl or woman comes in, they know this space is also for them. One of those photos is Brittany Howard, so when she finally wandered in late one night, Pamela said, 'It's about time you came in. We've been waiting for you!' That felt like a mission fulfilled."
Word of that mission travels, too. When one of Swift's bandmates brought her to the store several years ago, not only did she sign a poster hanging in the store, she mentioned Fanny's in a 2012 Nashville Lifestyles magazine article as one of her favorite places to visit in Nashville. "We couldn't have asked for any better endorsement," Cole says. "Years later, we still have moms and daughters come in after reading that article. That's Taylor helping us help girls get their first guitar or play their first power chord." Just like the store's namesake, "Fanny's gives them permission to take up space and be loud."
Like Swift, Toohey heard about the female-run Fanny's from a friend, someone she worked with at Rock n' Roll Camp for Girls in Los Angeles. "That certainly piqued my interest," Toohey says of the store's woman-centering concept. "When I walked in, I Immediately loved the vibe of the store and the way the vintage gear was paired with vintage clothing and kitsch. It reminded me of a bunch of the guitar shops that I used to love back in Boston in the '90s that have suddenly become obsolete. The staff was super helpful and knowledgeable, but they weren't hounding me to buy anything — which I always appreciate. They're just musicians that love gear as much as I do."
On a visit to Fanny's a few years back, Toohey fell in love with one of Ernie Ball's St. Vincent signature model guitars. Though Fanny's was the first place she'd seen the model, she didn't buy it that day. Her partner, recognizing the love in Toohey's eyes, worked with the store staff to ship it out as a Christmas surprise. "Since then, it's become my favorite guitar because it's so versatile," Toohey says. "I've used it touring through Spain with Manolo García, to pare down the amount of gear I had to bring overseas, and in the studio, because it records really well. I've also used it for television performances with Sara Bareilles because it looks super sexy and sounds great."
Everyone's Welcome
Still, it's not just players who love Fanny's. Producer/engineer Gena Johnson — who has worked on records with Kacey Musgraves, Brandi Carlile, and more — is a Fanny's devotee because her field also suffers from a dearth of women. "Having a store in town like Fanny's that recognizes the importance of supporting and encouraging women is a wonderful feeling," Johnson says. "Being seen and validated, while making art or creating music, is huge."
Similarly, it's not just women who love Fanny's. One of Johnson's recent projects found her producing singer-songwriter Lee Henke, who stopped into the store for the first time after hearing good things about it. "I was on the search for something with some real personality," he says. Unlike Toohey, though, he didn't leave empty-handed. "I found a Yamaha Red Label special that sounded so honest and fit each one of my songs so well. Every track on my new record started in the acoustic guitar I bought from Fanny's. I wouldn't have even written half of those songs if it weren't for the distinct feel of the chords and overall vibe of the guitar."
Fanny's is also the first stop for Zach Smith, frontman of the Americana band Smooth Hound Smith. "I love how bizarre the selection of instruments is," he says, citing a passion for affordable vintage gear that other retailers don't often carry. "They'll have some contemporary builds from small luthiers alongside a weird off-brand 12-string from the '60s, plus lots of tenor guitars and baritones and always a great selection of acoustic instruments." Plus, it's the only place in town he'll buy a harmonica. "Fanny's always seems to have the right keys!" he exclaims. "Probably because they cater to songwriters."
Smith also nabbed a small-bodied '60s-era archtop Framus guitar from Fanny's that he used on the band's 2016 album, Sweet Tennessee Honey. He has a fondness for spending time with an instrument before buying it, and both the space and ethos of Fanny's allowed him to do just that with the "plunky" instrument.
This kind of approval from artists is a fantastic marketing tool for the store, to be sure. And while it means a lot to Fanny's founders that Amy Ray bought herself a banjo and Kathy Valentine got her daughter a guitar at their store, the real magic happens with the kids who get started playing music through Fanny's.
One student came into Fanny's with her mother, having been bullied at public school so severely she was taken out. "She was very tall, walking with her head down and a defeated posture," Cole recounts. A few months of bass guitar lessons changed everything for the teen. "Her confidence level increased to the point that we could refer her to the Southern Girls Rock camp, where she met her tribe," Cole continues. "She became obsessed with Green Day and working at Fanny's when she's old enough. And her mom was able to put her back in school so that she could graduate."
Maples recalls another example: In the store's earlier days, a pre-teen girl named Charissa started ukulele lessons there. Maples describes her as "a bright-eyed curious kid, wise beyond her years, not writing love songs but songs about human rights." Once she found her footing as a player, Charissa organized "Uke Can End It" and staged a show on Fanny's front porch to raise awareness about human trafficking. Then, in high school, she started teaching uke lessons herself and, eventually, got accepted into Berklee College of Music's American Roots track.
Charissa fully credits Fanny's for her achievements, a notion that Cole and Maples shrug off, knowing that the talent and tenacity comes from within. "According to Charissa, without Fanny's, she wouldn't be doing music," Cole says. "This is, of course, not true. Fanny's just provided an atmosphere of encouragement and a safe place for her to explore music, put on concerts, teach, and go out into the world as an empowered young woman."
---