PRINT EXCERPT: Celebrating the 50th Anniversary of Joni Mitchell's 'Clouds'
---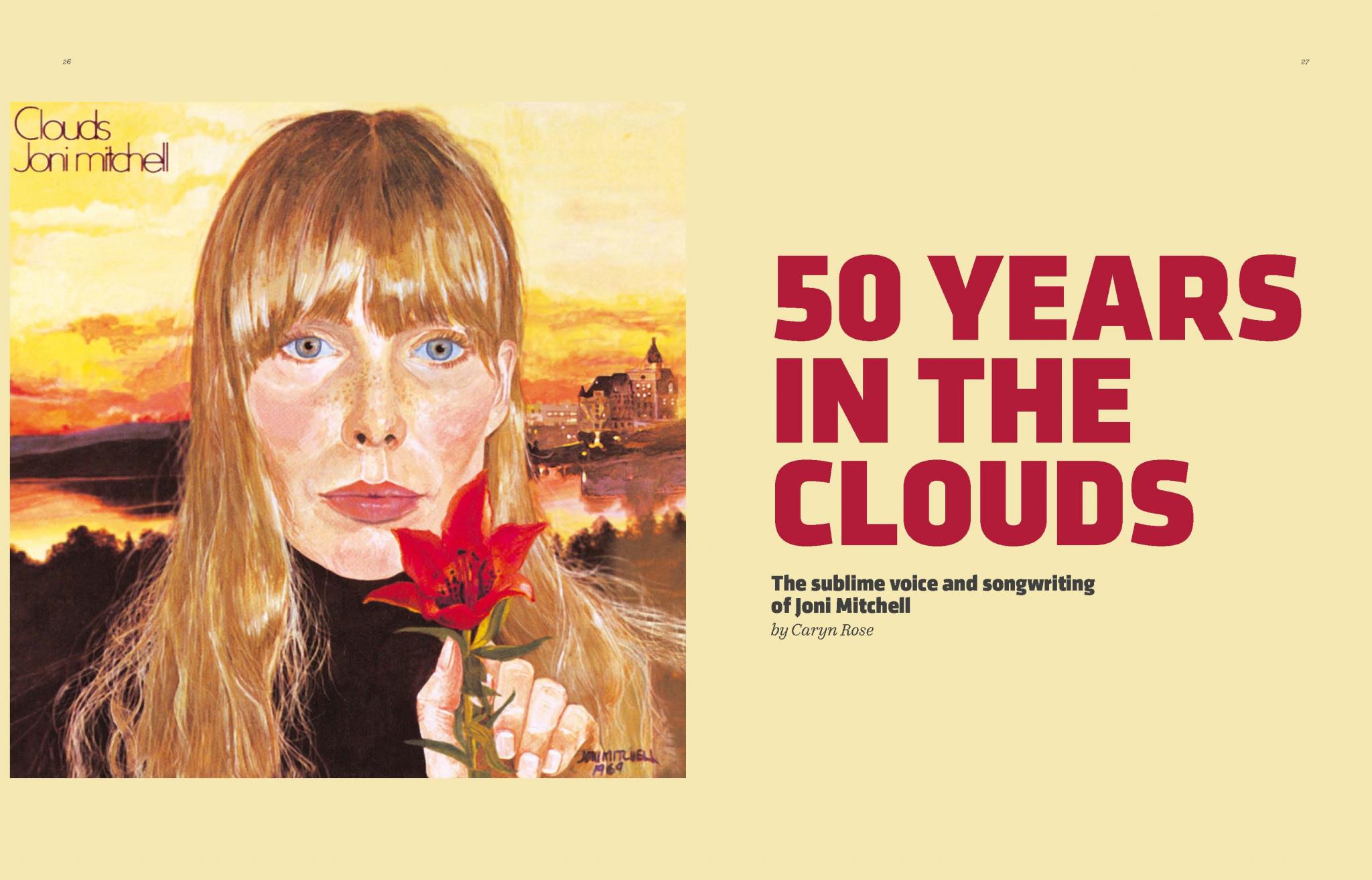 EDITOR'S NOTE: Below is an excerpt from a story by Caryn Rose in our Summer 2019 print issue "Folk." You can read the whole story — and much more — in that issue, available for pre-order here. And please consider supporting No Depression with a subscription for more roots music journalism, in print and online, all year long.
No Depression is thrilled to partner with Joni's record label, Rhino Records, on this animated visual accompaniment to this story:
When discussing Joni Mitchell's body of work, her second album, 1969's Clouds, is almost always glossed over. No one claims it as their favorite Joni record, as it, understandably, lives in the shadows of albums like Blue, Ladies of the Canyon, and Court and Spark. But Clouds deserves a place of honor not just because it contains chestnuts like "Chelsea Morning" and "Both Sides, Now," but also because it was a critical artistic stepping stone, without which those subsequent efforts — and in fact, the total arc of Mitchell's career — might not have manifested in the same way. Fifty years after its original release, Clouds remains a milestone of a female artist asserting her equal rights and talent as well as a signpost in the '60s folk movement, even if its creator felt that she was no longer working or writing within that particular tradition.
These songs remain transformational because at the time, women were not writing in such candid, unabashed terms about their love lives. Mitchell had no qualms about detailing her affairs, and she did not with remorse, but with great forgiveness and affection.
Songs like "That Song about the Midway" are vivid and memorable. Here, Mitchell employs a lilting melody that conveys the free-wheeling feeling brought on by the circus rolling into town. The casualness of her vocal delivery seems to imply that Mitchell isn't all that invested in the gentleman described in the song. Also of note is her ability to vocally shape words to make them fit into the melody she's specified, like "another town," or "worth the price." It's elegant and gentle, as Mitchell's innate faculty with phrasing and swing foreshadows her later jazz-influenced sound.
Other songs on Clouds became commercially successful fan favorites. Although Mitchell later downplayed "Chelsea Morning" by saying, "It's a very sweet song, but I don't think of it as part of my best work," the track stands well within the canon of great songs about New York City. Mitchell's authoritative chords and brisk delivery invoke the sounds of the traffic she's singing about, with her crisp, impeccable vocals making for a solid radio hit in 1969.
A standout showcase for those vocals is the album's protest song, "The Fiddle and the Drum." It's presented a cappella, the melody reminiscent of an old mountain ballad. The pause it creates at its finish sets the stage for the album's final track, the standout "Both Sides, Now." Mitchell's authoritative chords open the song, then slide back to let her voice come to the forefront. Her delivery is definitive, and singular; no one has ever sung "Both Sides, Now" the way its author did. She inhabits the words with warmth and gravity. She is telling a story, summarizing the essence of having a human experience, which is likely the reason for its enduring popularity.
"Both Sides, Now" has been performed by a diverse body of artists, including Glen Campbell, Herbie Hancock, Sara Bareilles, and Hurray for the Riff Raff's Alynda Segarra.
Kristian Matsson, the Swedish singer-songwriter who performs under the name The Tallest Man on Earth, included "Both Sides, Now" in 2017 in his YouTube video series "The Light in Demos." His version evokes a feeling of stardust similar to that of the original, and Matsson carefully, intentionally uses space with the vocals and interlaces them with delicate horns that escalate gently until the end. He introduces the song by asking, "What is the best song in the world?" before answering himself, with an air of obviousness: "It's 'Both Sides, Now' by Joni Mitchell."
Matsson, whose fifth album I Love You, It's a Fever Dream was released this April, discovered Mitchell's music as a self-declared teenaged "weirdo."
"I felt like I was connecting to Joni because of how she writes, the melodies and the lyrics, they are so unique, and in the best sense, weird," he says. "But they sound so natural. And that is with different weird guitar tunings and melodies that … how could you ever think about some of these lines? They just tumbled out of her, and they sound also so natural, and it was extremely inspiring."
To Matsson, Mitchell's legacy represents "a massive amount of fearlessness, and also being fearless of showing your weaknesses. It feels like the windows were blown open, and doing that in the middle of the patriarchy and not getting things for free — that probably all the other dudes in the '60s and the '70s got — to be considered rock stars and geniuses. And she just … kept on trucking, kept on doing it."
---