Overdue musings on Iron & Wine's whimsical, yet cynical Ghost on Ghost
---
Iron & Wine's Ghost on Ghost continues to build upon Sam Beam's previous work … almost at points becoming a Wall-of-Sound. It is the tale of youthful love/lust … a story of self-discovery. It is whimsical, yet dark and cynical.
"Caught in the Briars" has a jazzy chaos to it and finds Beam using religious imagery that is a continued thread across his albums. While his lyrics are sparse on this one …
The strongest track of this release is "The Desert Babbler" … citing Barstow and a town known for travel and being a crossroads of sorts, Beam cites the one time per year that those employed would find themselves stationary for any length of time during the year.
"Joy" finds Beam looking at fatherhood as a bittersweet experience … the obvious joy and wonder brought to one from his offspring … but also the dread associated with the state of affairs of the world … wondering what the future world holds in store. It's the most stripped down and simple song on the album, yet packs a punch.
View the Official Video for "Joy"
"Low Light Buddy of Mine" seems to address the incongruent views of happiness. The character in the white car is squeaky clean and possibly successful; however, he longs for gritty and raw experiences, primarily with a girl.  While the two male characters in the song are apparently "friends" … the loss of friendship is addressed as the "successful" consumer is never going to be happy until he let's go of a simpler, albeit less acceptable life. Cutting ties with his past, I'm sure the buddy drives  off in his squeaky white car, never to look back (until a song comes on the radio to remind him of his past).
"Grace for Saints and Ramblers" addresses sexual awakening and how it conflicts with one's religious upbringing (allusions to rounding first base under the table, preventing them from saying grace).  It seems as if a tale of star-crossed love- a punk and a "Jesus freak" …. Even though they are contrasting, they complement each other, finding fulfillment and sexual gratification.
"Grass Windows" comes across as sheets being pulled off on a cold morning. It is the tale of awakening, of adulthood, of youth finding themselves awakening to the harsher realities of life.
"Singers and the Endless Song" evokes a bit of Barry White with its orchestration … and furthers the incongruent and contrasting truths of life. While life is about simple pleasures, it's also about more more more … about financial success … while life is about experiencing the world, it's also about living a pious life that limits. It addresses the conflict of young adulthood into middle age.
"Sundown (Back in the Briars)" goes back to the first track of the album, continuing the tale of these two discoverers … far from a happy ending (contrary to the pop backdrop).
"Winter Prayers" might be looking back on a former love … a former life … sitting in traffic, heading to a stale happy hour following work … once you were carefree with the open road in front of you … no it is just gridlocked.
"New Mexico's No Breeze" evokes a mood … and transports to Santa Fe … but to what purpose? Another tale of the naiveté of youth … but lyrically, the least accessible of the album. I find myself listening to it repeatedly, not to decipher the lyrics, but more so, just to get lost in the song and transported away.
"Lover's Revolution" takes us back to the briars … sonically and continuing a tragic tale … hard living leading to poor choices … leading to tragic outcomes.
"Baby Center Stage" closes out our story. The end of one character. It stands in contrast to most other songs on the album (except for "Joy") as it is the simplest and most ballad-like. An appropriate close to Ghost on Ghost.
***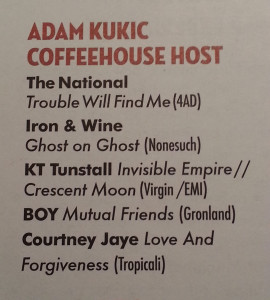 Iron & Wine's Ghost on Ghost was one of my favorite albums of 2013 for my show The Coffeehouse (Sundays from 8am- 11am, EST … streaming at www.wyep.org … also, check out their Year In Review picks http://www.wyep.org/yir2013/ ).
Read other reviews of mine at The Hip Quotient
---