On the Radar, Ladies First: Dori Freeman, Lowland Hum, and India Ramey
Posted On November 12, 2018
---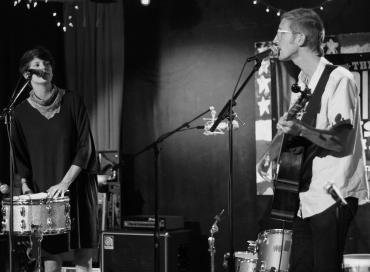 Like many music writers this time of year, I am currently in the process of going back through the dozens of albums that crossed my desk to give them another listen and begin to formulate my year-end "best of" list. So far, as was the case last year, the trend I'm seeing with my favorites is that they are overwhelmingly being produced by female artists or female-fronted bands. So, while I went in with no intention of "theming" this edition of Crowdfunding Radar, it's no surprise that the three that jumped out as most interesting came from exciting young artists who all happened to be women.
Lowland Hum – Glyphonic
I had the good fortune of first encountering Lowland Hum, the duo of Lauren and Daniel Goans, at the Wild Ponies' Happy Hour at AmericanaFest 2016. In a night filled with high-energy acoustic music, Lowland Hum stood out for their quiet, almost fragile, poetic lyrics and melodies. The Goanses are so dedicated to the idea that a portion of their website is dedicated to a "Support Quiet Music" campaign. Lowland Hum is currently working on their fourth album of quiet music, titled Glyphonic, and funding it through a campaign on Kickstarter. They've shared the album's first single, "Salzburg Summer," on their Kickstarter page and the album is expected to drop in 2019. Backer rewards include the usual signed copies of the album on CD or vinyl, as well as a limited edition "I Voted for Quiet Music" T-shirt, a set of art prints by Lauren, and what they're calling the "Tea for Two Experience," which includes a selection of the duo's favorite teas, two unique mugs chosen by the band, and a poem.
Dori Freeman – Untitled New Album
Dori Freeman burst onto the roots music scene in 2016 with her self-titled debut album, produced by Teddy Thompson and funded through Kickstarter. The pair worked together again in 2017 on her follow-up Letters Never Read, which garnered her even more national press from the likes of No Depression, NPR, and Rolling Stone. Seeing no need to mess with a good formula, Freeman is now preparing to record her as yet untitled third album and is once again working with Thompson as producer and crowdfunding the release via Kickstarter, citing slumping CD sales and dismal streaming revenues as a reason. As backer rewards, Freeman is offering the album on digital and CD (no vinyl for this one, unfortunately), a hand-lettered T-shirt, an original watercolor painting of the T-shirt design by Amy Jackson, and a gospel EP Freeman recorded in her home with husband Nicholas Falk specifically for the Kickstarter campaign.
India Ramey – Shallow Graves
India Ramey is a relative newcomer to the national Americana scene. While she has three albums to her name, it was her 2017 release Snake Handler, and some positive press following an AmericanaFest showcase, that made her an artist to watch. Ramey has embraced her "Southern Gothic" genre label with humor, including a video for "Devil's Blood" that spoofs '50s horror movie tropes and a video announcing her new album, Shallow Graves, currently available for preorder at PledgeMusic, that features talking skeletons. Ramey is once again working with Snake Handler producer Mark Petaccia for Shallow Graves. In addition to being able to preorder the album in digital, CD, or vinyl formats, Ramey is also offering tickets to her album release show in Nashville, a signed Crosley record player, and a chance to grab some BBQ with Ramey and hear a private acoustic show.
---