On buckdancing and preserving American traditions: a conversation with Stewart Copeland
Posted On October 26, 2010
---
Although he grew up the son of a Tennessee fiddler*, documentary filmmaker Stewart Copeland readily admits that up until a few years ago he "knew very little about old-time and traditional music and even less about traditional dance." Then a chance encounter with a legendary buckdancer at one his father's gigs changed that and led to the award-winning film Let Your Feet Do the Talkin'.
"Dad's a musician," Copeland says, "and he was playing with a band called the Tennessee Fiddle Orchestra and Thomas [Maupin] was the special guest. He got up and danced and then Daniel [Thomas's grandson] performed. I had just come back to Tennessee from St. Louis at that time and was working with my dad; From the second I saw them I knew there was something there. There was such a magnetism and intensity when they were performing together…and I felt moved to find out what the story is."
The story in question, a classic tale of one American family holding onto rural traditions and each other, is told beautifully in Copeland's movie, which earlier this week won the award for Best Short Documentary at the Indie Memphis Film Festival. Its the rare music film that focuses on the artists and their lives above the music and, by doing so, connects both aspects together flawlessly. The film, which the director calls "the antithesis of Dancing Outlaw" presents legendary buckdancer Thomas Maupin on stage doing what he does best, more often than not with the help of his 16-year-old banjo-picking grandson. But much more important than the dancing and music in the film is the beautiful relationship between the two main characters and their obvious love for one another.
"What I wanted to do," Copeland explains, "was focus on Thomas as a person and where this dance comes from. A lot of times with studying traditional art, people will focus on the form rather than the artist. When I make a movie, I always have a question to keep me on track and this time the question was 'what drives Thomas to perform?'"
Copeland said that he knew from a young age that he wanted to make films, but came to realize in college that he wanted to focus on documentaries, in part through seeing Ross McElwee's 1986 classic Sherman's March.
"Sherman's March was a huge influence on me. The way he [McElwee] found stories from the South, the ability to find characters, seeing something personal, something touching, something from the South. [Also], as far as fiction films, I first saw David Gordon Green's George Washington in high school and I loved the Southern aspect of the film and seeing things that looked familiar."
Still, despite his background and heritage, it wasn't until recently that Copeland realized the importance of preserving traditional American art forms such as buckdancing.
"These traditional art forms are vanishing, if they haven't already vanished to some degree," he said, "and all the time people talk about how it's important to preserve them. If somebody had come up to me before I started this film and told me that buckdancing needed to be preserved, I'd be like 'why?,' But when you see it within a film and how it's affected the life of this one guy, you get it. You see the importance of keeping it alive."
For readers who may not know buckdancing is, according to Phil Jamison of Warren Wilson College (who wrote the liner notes for the DVD) it's "a traditional form of percussive stepdance that can still be found at music events and gatherings in rural communities throughout the South. In this solo dance form, individual dancers create a percussive, rhythmic accompaniment to the music, making use of their toes, heels, or whole foot."
As for the film's main focus being related to the personal rather than the musical, Copeland says "It was a hard decision to make. A 30-minute film is a tough sell. It's a little long for a short and too short for a feature. My original goal had been 60 minutes and I could have easily done that by putting more music and dancing [into the film], but I wanted it to be something that you don't have to have a deep understanding of old-time music to enjoy."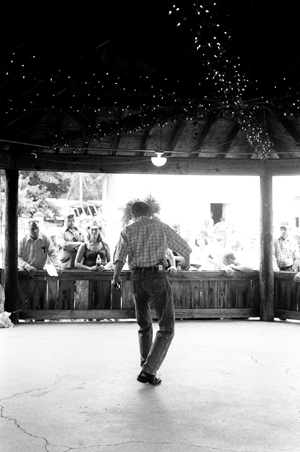 After showing the film at a number of festivals to overwhelming critical acclaim, Copeland teamed up with Dust-to-Digital Records, the Atlanta-based company responsible for the magnificent Goodbye Babylon box set, to release the film on DVD with an array of deleted scenes and special features more closely related to the music.
"Lance [Ledbetter, the founder of Dust-to-Digital] got in touch with me before the film ever premiered," Copeland said, "He had seen Thomas dance before and was aware that I was making a film about him. So I sent him a screener and he loved it. Afterward we worked on the DVD together and it took about four months to compile the special features."
Copeland said that many of the special features are meant to appeal to enthusiasts of old-time music and buckdancing, whereas the film is "something for everyone to enjoy, not just people who are already fans of that type of music."
Included among the special features is a 45-minute dance workshop Maupin gave at the annual Uncle Dave Macon Days in Murfreesboro, TN as well as a vintage short film from 1947 called To Hear Your Banjo Play, which stars Pete Seeger and features appearance from several other roots music giants including Woody Guthrie.
Echoing sentiments found in Kurt B. Reighley's recent book The United States of Americana, Copeland feels that there is a movement going on in America that is heading back to traditionalism.
"I was surprised," he explained, "when we had a showing [of the film] at the American Folklore Society's annual meeting in Nashville. There were two kids sitting in the back and, afterward, during the question and answer session, any time there was a question about buckdancing or old-time music I couldn't answer, they had the answer. I found out that these kids play in an old-time string band. They didn't go to school to study this music, they bought the Dust-to-Digital box sets and found it on their own."
"Right now," he added, "there are also a number of indie rock bands, especially around the Murfreesboro area, that incorporate folk elements into their sound."
One of these bands is Glossary, an excellent country-influenced indie band for whom Copeland recently directed a music video.
Copeland said that he also sees his own work as fitting into this larger Americana movement, including his award-winning short film Jennifer, a touching tribute to his mother and also the story of a group of rural schoolchildren communicating with astronauts aboard the International Space Station (this short is among the special features on the DVD), as well as the self-explanatory John Michael and Maria are Lawn Mower Racers.
"All three of my films take place in Tennessee and its a place I understand." he said, "and I am definitely interested in Americana themes. I couldn't imagine making films anywhere else."
In fact, Copeland was recently awarded an Individual Artist Fellowship by the Tennessee Arts Commission which will give him money to continue working in the state.
As for his future plans, he said "Right now I'm working on a feature film that I really can't talk about and I also want to do more shorts about traditional artists."
Copeland sums up his views on folk music and other traditional forms of art by saying, that "the first step to understanding it is being able to really feel it."

Let Your Feet Do The Talkin' Trailer from Stewart Copeland on Vimeo.
*[NOTE: "I'm not sure if dad would own up to be a 'fiddler' he's more of a 'guy who plays a fiddle'…Just a musician who dabbles in it."- S.C.]
---