Mindful of Mortality, Old 97's Celebrate Survival with 'Twelfth'
Posted On August 18, 2020
---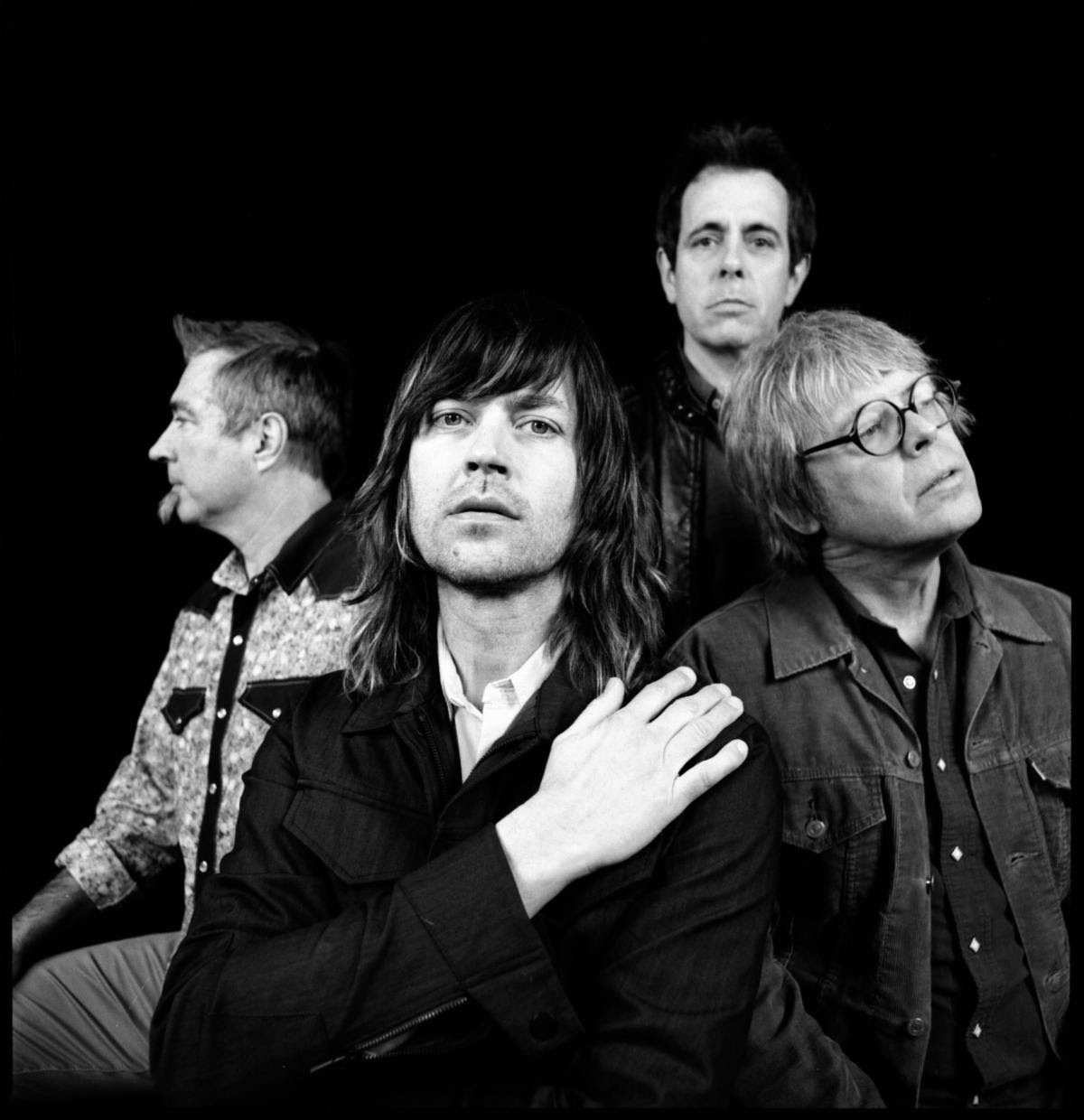 Photo by Alysse Gafkjen
What would an album released in 2020 be without a couple crises thrown into the making of it?
Assembled in Nashville in early March, members of Old 97s had a solid first day of recording for their new album, Twelfth, then headed back to their Airbnb to rest for the evening. But instead of a relaxing night, they watched out their windows as a tornado ripped through East Nashville, downing trees and exploding transformers as it went.
The band was fine, though mindful of many who lost lives and property that night, and continued recording. By the time the musicians left for their respective homes a little over a week later, however, the coronavirus was making its own sort of rampage across the country, and the day frontman Rhett Miller flew back to his home in the Hudson Valley via New York City was the day the city began its shutdown.
"For me," he recalls, "the recording experience was bookended by some really weird, heavy, mortality-reminding events."
The songs on Twelfth, which comes out Friday, were made mortality in mind, prompted less by dramatic events than by the wisdom and gratitude that comes from age and from surviving some hard living and close calls over the years. Like any Old 97's album, there's a spirit of celebration and an embrace of abandon on Twelfth, but there are also some nods to how unlikely their survival has been, both as individuals and as a band that's been together in the same configuration for more than a quarter century.
On "Bottle Rocket Baby," over the band's signature blazing electric guitar and galloping drums and bass (from Ken Bethea, Philip Peeples, and Murry Hammond, respectively), Miller lists a variety of ways the protagonist in the song will burn those around him: "It's safe to say we're in a real bad way / Mama used to cry, now all she does is pray." And on "The Dropouts," thunderous drums take center stage as the band pays tribute to those who, like them, choose not to navigate "the straight world":
Man, I hated going to high school
All I wanted was to learn how to fly
But that's all right
Turns out you don't need wings
When you've got whiskey and guitar strings. 
Much of Twelfth finds the band remembering where they came from and appreciating how far they've been able to go.
"A lot of the album does a bit of time travel back to these days when I had no money, and I had no prospects," Miller says. Sleeping on hardwood floors comes up a lot, as do some bits of early '90s pop culture (Kids in the Hall, The Pixies, Belinda Carlisle) and references to earlier Old 97's songs. Even the album cover, an iconic photograph of 1970s Dallas Cowboys quarterback Roger Staubach, is a nod to earlier times — namely, Miller's childhood in Dallas.
But that's not to say Old 97's are yearning for the past or dissatisfied with their lives now.
"I feel very lucky, for a lot of reasons," Miller says. "I love my band, and we've gotten to be a band now for 27 years. It's just such an unlikely thing. And here we are, and we're putting out a record that's got my childhood hero Roger Staubach on the cover, and it's a record that I listen to and — I think I can be objective when I listen to it — I think it's as good as anything we've done."
Singing Sober
Twelfth lands as Miller is celebrating five years of sobriety. It wasn't some near-death experience that convinced him to get clean, but rather a feeling he was living only a near-life experience, and a decision that he wanted to live all the way.
"I wanted to be present for my kids as they were coming into their adolescent years," he says while driving his son home from taking a test at the DMV. "I just knew that if I didn't make a change that I wasn't going to be the best dad I could be. I'm not sure that I am now, but I'm definitely better than I would have been otherwise."
Like any artist who has created great work while under the influence, Miller — Old 97's' principal songwriter — worried that his creative process would be hindered or even stalled without the aid of alcohol and weed.
"You know, it's a funny thing when you create for a living, because you're constantly telling yourself a story about yourself and about the world's need for the thing that you are going to make," he says. When he took booze and weed out of his story, he was left with a blank page that took him a while to figure out how to fill. "I always thought of anybody that stopped drinking or whatever, 'They're a square, they're a failure.' And I did not want my protagonist in my story to always now have to be a square and a failure, who wants to hear songs about that?"
But co-writing with trusted friends, including Salim Nourallah, Nicole Atkins, Butch Walker, and Ben Kweller, helped build his confidence and show him that he could write from a different perspective. In co-writing, he says, "I was kind of taking some of the pressure off of myself because the voice in the song becomes one that I can blame on somebody else, or I can lean on somebody else."
"After a while," he adds, "I realized I wasn't a conduit for some whiskey-fueled memoir." He had written songs before alcohol became part of the process, and he could do so again, "and I get to be different people." He could still write a drinking song if he wanted (and there are several on Twelfth), and he could revisit his past from the safety of a clear-eyed present.
Performing, too, required an adjustment, Miller says. For a long time, people would still set shots of whiskey at the base of the microphone stand. Meanwhile, he was looking out at the audience and seeing some new things.
"The thing that you gain in sobriety is clarity," he says, "and onstage that clarity can be a real mindfuck because you're looking out and you're seeing these people, whereas before they were sort of hidden behind this fog. Now you're just seeing their faces and all of their awkward humanity."
With clarity came questions that crowded into his brain even as he was singing and playing guitar onstage: Why are you all here? What makes me worthy of all this attention? What makes me special? But before too long he was able to work out something of an answer: "Eventually you kind of come back around to this idea that specialness is something that is conferred by the audience, and it's fine, but I can't get hung up on myself being special because that's where people go down a really bad road of believing in their own bullshit."
Onstage Online
Live performances, of course, are on hold for now, so Twelfth is entering the world without the tour Old 97's had planned for September through the end of the year. But just a week or so after Miller got off a plane in a shutting-down New York in mid-March, he was back to performing live.
Using an online concert venue called StageIt, he hosts four shows a week in real-time from the desk in his 6-foot-by-8-foot home office. Tickets are priced on a "pay what you can" scale starting at 10 cents, but tips are encouraged, and he grants requests to each show's highest tippers. Many of the shows are themed — he plays through past Old 97's albums and his solo releases, recently did some tribute shows to musical hero David Bowie, and has performed playlists curated by friends including actress Molly Ringwald, author Michael Chabon, and The Office actor Rainn Wilson — and, for Mother's Day, his own mom.
"It's a bizarre approximation of a job that I've done for 35 years," he says, but it's working.
He can take his pick of the 12 guitars in his office instead of having to choose only a couple to tour with, and he can print out lyrics to help him with songs he wants to revisit after three decades. His dog, Ziggy, has become a frequent guest in the shows, and, most importantly, he's able to "replace the lost income from a job that no longer exists."
As someone who never previously focused much on tech, he admits he's an unlikely pioneer into the wilderness of livestreams, but that's just what he's become. He was interviewed in a New York Times piece about the shift to online concerts, and he's had meetings with leaders at StageIt who want to consult with him as they upgrade their platform. He took to the platform quickly, he says, simply because it became clear he would have to.
"I grew up in a home that was always on the verge of breaking, and then was broken," he explains. "I was the oldest child of three and had to do a lot of work to help kind of raise the kids while my mom was going through a divorce, and my dad was elsewhere. I feel like that has made me the kind of person that's always looked at problems as they arise and immediately said, 'Well, this is now the new normal, let's figure out how to make the best of this situation.'"
It's unclear when or if Miller and the rest of Old 97's will get to tour behind Twelfth. But Miller is less focused on the touring ahead than on the miracle of all the touring the band has done so far.
"I was thinking about the lost job, the thing that I've done my whole life, and now it's gone, and how unlikely it sounds when you describe it," he says. "Like, okay, so 350 to 1,200 people are going to all line up babysitting, drive, find parking, go cram into some dark room, pay overpriced prices for a drink, and then stand on their feet for like three hours, endure an opening act, and then watch me play. And then they're going to sing along at the top of their lungs while they're standing inches away from seven other people? The whole thing, I don't know if that will ever happen again. I have a hard time envisioning it ever happening again. I hope it does. And I hope it's soon, but maybe there'll just be some real fundamental changes in the way that works."
Given all that Old 97's have weathered in their nearly three decades as a band, it seems likely they'll be around to roll with those changes, and have a good time while they're doing it.
---