Matt Anderson: The Man with the Big Heart Has Big Dreams
---
Canadian blues guitarist and singer-songwriter Matt Anderson grew up in the village of Perth-Andover, New Brunswick. Life in that blue collar small town on the banks of the Saint John River is fused into his music. In 2010, Andersen won the top prize for a solo/duo at the International Blues Challenge in Memphis, beating artists from 11 other countries and five continents — the first Canadian to prevail over the event's 26 year history.  His prize included festival gigs in America, France, and Italy, and a slot on the Legendary Rhythm and Blues Cruise. More honors came in 2011 with the Maple Blues Awards Entertainer of the Year and Acoustic Act of the Year. Anderson recently signed with True North Records, who brought in Steve Berlin to produce his latest album Weightless,  shifting his formidable talents as a blues performer to his songcraft. None the less, Matt has built a formidable following the old fashioned way, touring worldwide and playing at least 200 shows a year. I spoke to him before his appearance in Seattle opening for Los Lonely Boys. 
Rick J Bowen: Is your new album officially out now?
Matt Anderson: It is down here now, yes. It was a staggered release — it came out in Canada first then the rest of the world in April.
I am just going to say it's one of the best sounding albums I have heard in decades.
Cool, thanks. Steve did an awesome job. We did it all analog, which was really great. We did it live off the floor for the most part. I sang live with the band and did some overdubs after. But, most of it was live straight to tape, sixteen tracks analog. Steve has worked a lot in that medium. You know some guys, it might not have worked out so well. The engineer, Darren… he was awesome as well. It turned out great.
How did you get hooked up with Steve Berlin?
My management has worked with him with on other bands. I knew Steve's name but hadn't really looked into what he had done. I looked at what Steve had done and I had bunch of his albums in my record collection.  Steve's approach is cool. You know, a lot of producers really have a stamp and you end up sounding like a guest on their album because [it's] so much "their sound."  Steve just takes everything as an independent project and makes it sound great. I loved working with him.   
Steve is really great about adding little things that beef up a tune. I love listening to it on headphones because then you hear those little parts. I go, "Oh! I forgot I did that part." That's really cool. There's a really cool little piano part that is so subdued you don't really notice it when you listen through a PA but, when you put on the cans, that stuff kind of pops open a bit more.
You give credit to Mark Gonzales for the horn arrangements, but who arranged the band charts for the tracks?  How did you flesh out the songs with a whole band?
I write things on acoustic and not with a band in mind. All the tunes are built around me and my acoustic. What fits the tune the best is what we went with, as far as arrangements. I took songs to Steve and Paul Rigby, who played electric guitars on the album. We sat down and some pre-production on the stuff. A lot of the tunes, we just went in the studio with the band  and tried different ideas, tried different grooves to see how it all felt.
That's amazing because some of the secondary voices on there — with the electric guitar, harmonica and pedal steel — are totally thought-through parts, with counter melodies and punctuating parts.
It all happened really organically. It wasn't like we said, "We're gonna do a harmonica solo on this song."  When we laid down a track it was like, "What would work here?"  "Oh, well my buddy Mike plays great a great harp. Can we try that here?" Same with the pedal steel, too. The one we use the steel on — "So Easy" — is a laid-back tune, almost a Jackson Brown ballad, not quite country. Paul is so great; he just pulled that out. He borrowed a pedal steel from somebody and set it up and did the track. None of that stuff was too premeditated as far as production; we just went, "Let's see how things happen."
So you mean, you just got lucky?
Well I handpicked who I had with me, too. Musicians make the big difference. The guys I play with, like Geoff the drummer, he's just killer. He and Bruce on bass have worked together quite a lot. And Paul on guitar… he is the kind of player who really works on the kind of voices he uses. I had to go back and relearn my own songs when he got done with them. I had to learn all new chords.  The tunes have all evolved from the way I wrote them to how they got recorded, so now my solo show kind of reflects more of the album arrangement.
You also credit many other songwriters on the album.
They are all co-writes. I find that, if I write tunes too close in a small time frame by myself, I end up borrowing from myself a little bit.  I wanted to get the best songs I could for the album, so I went to some writers who are really good friends. It was really cool because I knew everybody, so there was no awkward [situation of wondering,] "What can I say in front of these people?" We all had great friendships. All we had to do was write songs together, which was great. Some guys are really strong with story-songs. Knowing the people I wrote with and knowing how they write, I can hear  their influences in the tunes, which is really cool for me. I like hearing that.
You are known for working class hero tunes like "Coal Miner Blues," and "Alberta Gold" and "City of Dreams,"  on the new album. You also have some political activism tunes on here.  Then some full-on love songs.
The love songs have always kind of gone the way of break-up songs. But yeah, "Alberta Gold" and "The Fight," I wrote with Dave Gunning.  Dave is a great folk writer from home; I put him in the vein of Stan Rodgers or Gordon Lightfoot. He writes about where he's from, you know, the influence of his small town. You can picture his small town when he sings — [that] kind of thing. On the East Coast right now, we are having a big problem with fracking. It's pretty detrimental to the environment. I'm not a very political person but, as I get older, I am getting more aware. Dave is leading a whole campaign to get the local pulps mills to clean up. Right now they are way behind on how eco-friendly they are. They are in the Stone Age and it's really effecting the people there.
You grew up in a really small town.
Yeah a really small town — only like 1500 people.  That's the environment for those tunes, the whole working class thing. It's never been intentional for my music. When I write, I don't think I'm trying to write a rant for the working man. We did a little bit with on the tune with Tom Wilson — "City of Dreams" — because that is all about Detroit. The city just declared bankruptcy when we were writing that tune. We just started Googling info on Detroit and up came "City of Dreams" came up. We said, "That's just frikkin' perfect."
Detroit is right across from Hamilton, where Tom lives; it's a steel city with the same problems. Having toured the States a lot in the last couple years, it's amazing to me how many towns are really hurting. Cleveland — when we pulled in there it was like a ghost town. It blew me away. It's a big city. We pulled in at rush hour and thought it would be jammed and there was no traffic at all. It was eerie.
Just tumble weeds and coyotes.
It almost had that vibe of, like, you pull into a town and everybody closes their shutters. It was the big city version of that.
Tell us about "Between the Lines." It feels pretty serious, maybe even about an abuse situation. Did someone help you with that one, or is that a song about someone you know? 
I wrote it with my buddy Ryan Hupman. When Steve heard the lyrics, he thought it was more about a father talking to his daughter. Like, you know, giving advice: don't rush, there's going to be lots of time. My point of view, when I wrote it with my buddy, was [that it was] about a friend at home, and she wanted to get married and have kids. That was her goal. It didn't matter with whom. So she was buying a wedding dress before she had even moved in with a guy. I felt for her — I'd think, "You're better than that." She was going with guys and saying "I can't stand what he does. It really bugs me, but I don't care."  That was the tune. It was in my head: "It'll come when it comes; don't push to make it happen. Don't let your heart lead you in the wrong direction, or your head." More of a cautionary tale, for me. I never thought of it being about a shitty relationship, but I guess that's also what it's about.
It struck me as advice to someone you really care about.
Yeah it's saying, "Don't sell yourself short." Don't just jump in because you want it to happen. It will happen when it's supposed to happen, kind of thing.    
Then there is "Let's Go To Bed" — a serious love song about the sanctuary of a bedroom at home.
I was writing that with my buddy Thom Swift and his wife came home, so we asked her, "What would you want to hear when you had a shitty day?" She told us that… and we were like, "Perfect; we'll just make it rhyme." It's something you want to hear when you come home: "Don't worry, take the stress off, don't get caught in the bullshit." It's totally about the sanctuary. It is not woo-woo. I did this gig in Cleveland. I played Fox news and they just looked at the titles and said, "You can't play that one on the morning show."
(Both laugh)
No way, it's a pretty song. It's not a hip-hop tune.
They totally took it wrong. There's nothing raunchy in there.  My mom had the same reaction until she listened to it, and she was like, "Okay, I get it now."  It's not a booty call.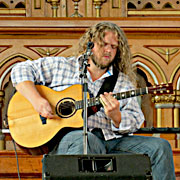 I have wanted to ask a Canadian artist about this for a while. I see the album has the official symbol of Canada on it. Did you get a grant to make this album?   
It went through my label True North. This was the first time I've done an album with a big label. We have a program in Canada called Factor. How that works is you pay them back a dollar out of every album sold, until you pay off your debt. It's really great. It's not like, if you don't pay them back they come hunting for you. It's a really great program. I don't know how much longer we're going to have it. They have one called Video Factor, to get video s up there.
It's a funding program not a grant. They don't just give you the money?
I think for most people it pretty much ends up being a grant. They don't often pay it back. It was cool. I already started paying for the album before we signed to the label, so it was great to find out I was going to get some of the money back. I was like, "Great, because that's a few house payments." In Canada, we are really lucky because we have some great funding. It's still there right now, but I don't know how much longer we'll have it . The arts are the first things to get squashed, for sure.
In the States, it's just gone.
Yeah, Factor is amazing. If you look at lot of Canadian artists' albums, that stamp is on there. It's pretty cool that we have that.
Something to be proud of — being Canadian, you can say, "Our country wants us to make art and music."
Canada has got a really cool scene. when I play on the West Coast, people will come to see me just because I'm from the East Coast. It's almost incestuous, a little, really. You know, we root for our own.
There may be a few folks in the house tonight down from B.C. It is the closest you're playing to Vancouver on this tour.
There could be, you never know. On this tour, I did Vancouver back in February so, who knows, maybe I'll get a few folks to come down on a Thursday night.
You won the International Blues Challenge in 2010. Do you have any reflections on it now? Did it launch you? Did it hurt you? What did it do for you?
It didn't launch; it didn't hurt. I've never really considered myself a blues artist. It is definitely a big influence, but I've never made an actual blues album. This album probably shows that the most because there's not one shuffle on there. My older albums, before Coal Miner Blues, have shuffles and every once in a while a straight-ahead blues tune. But nothing is like that on the new album, so it's always been kind of weird being called "a blues guy."
I looked you up on iTunes and they have you listed in three categories: folk, rock, and blues.
When people ask me I say roots and soul. The IBC thing was really cool. It definitely didn't hurt and it helped me get into blues clubs and venues.
Over in Australia, they have this thing called the Blues Train. They have four cars and four bands and, every half-hour, people switch onto another car and go back and forth. it's really cool. The promoter for it [said,] "I've never of the guy, but — oh he won the IBC? — lets book him." So, it's open doors that way.
I've definitely had some good things come out of it. I played the Legendary Blues Cruise that Taj Mahal does. It will be my fourth time doing that next January, so that's an automatic buy-in. It's a little bit better for the bands as far as the prizes and exposure because they put bands on better stages. That was the first time Colin [Linden] heard me live. He was a judge at the IBC that year, so we had some conversations about producing my next album. That was the first time he saw me do my thing, so we stayed in touch and I brought him in as producer for Coal Mining Blues.
Hanging out in Memphis is cool. I woke up the Monday morning down there and there was a big parade going on because it was Martin Luther King Day. It was really heavy to be there for that experience.  Going through the Staxx museum, [I was] just in tears going through there and realizing Isaac Hayes lived there and Marvin Gaye lived there. Graceland was amazing. Just the vibe there was cool. A lot of the locals say they like IBC week the most because it reminds them of what Beale Street used to be, when there were bands there playing there asses off.  I went down a few days before to check out the town, and I went into B.B King's. The band was great. They were killing but then they went into "Sweet Home Alabama," and I went, "Oh no, I did not come into B.B King's to hear 'Sweet Home Alabama.'"  (Both laugh)
Oh no. Run for the door.
But, when the competition started it was cool. Lots of great music and great bands.
We are headed into IBC season. Do you have any advice for competitors? Any nuggets of wisdom?
You have to do your original music. I think that's a good thing. I guess what got me the most going down there was seeing a lot of people — it sucks to say — just going through the motions a little bit. You know, they show up looking the part and don't really do the music part. I saw a lot of that and it was almost disheartening a bit. You know, like wearing a belt buckle and a cowboy hat doesn't make you a country artist. There's more to it.
And wearing a fedora and a funny tie doesn't make you a blues artist.
So many fedoras, man. If you don't wear it every day of the week, don't wear it in onstage. [Both laugh] As far as advice, yeah, go down and do what you want. The hardest part, I think, for a lot of people, is being hot when you get on stage. You have to be on, there's no warm up. I wanted to show my stuff, I didn't do just blues stuff. I threw in one of my ballads from an older album — more of a soul kind of ballad. It definitely helped showcase my voice. I guess what you want to do is show everything you've got within two or three tunes. So that's the idea when you are picking your set. Don't go for the easy way, playing the schlocky stuff everybody else plays.  You don't need to play "Mojo Workin'." I think they are ready for something else.   And don't get caught up in the competition. There were a lot of guys who did that — guys walking around with their chests puffed out, saying "too bad you came down from Canada." Oh I'm sorry…it was just shit talk. Right…there was only a little bit of that. When I went down, I didn't concentrate on it being a competition. Just play, you know.  Play like you want to play for the people.  Dig in, don't go in easy.
What is next for you with promoting the new album? Do you have any full band shows planned?
In summer, yeah, we've got about a dozen full band shows now. A ten-piece, taking the horns out and the whole bit. Last year I probably did a half-dozen full band shows and took the five piece out a couple times, with keys, bass, and drums. A lot of the festivals back home, I've done them all solo the last two or three years. I wanted to come out with something different. So, we're taking the full band to go on a big stage. It'll be a lot of fun. I'm looking forward to it. It would be great if it worked into more of that stuff; it's just so expensive taking a band on the road.
In Canada, we get to do a lot of folk festivals. We call them workshops, really. You put four acts onstage, like a songwriters' circle. I get my band fix there a lot of times. I'll just jam with other people. It happens organically. You have four acts that complement each other and, as the set goes on, it gets really cool. It's a big thing at home. It's what people go to festivals for. You get to see a Mexican band playing with a funk band or something. It can be a really cool thing, or it can be a train wreck.
I hope the album takes off and you get to bring the full band back here.
Yeah, I'd definitely like to bring the band down here. I've never brought a full band to the States at all. We'll see how it all goes at the summer festivals. Things are building well down here. I am getting some cool spots. Opening up for these guys is great. There will be a full room of people who have never heard me before tonight. I just did a couple [dates] with Johnny Lang in New York. I'm doing some more with him, Buddy Guy, and Los Lobos in June.
That's some pretty good company.
Yeah, I opened up for Buddy Guy at Massy Hall two years ago and I've only seen Los Lobos once, so it's been cool.  Now, with the relationship I have with Steve, it'll be cool to hook up with him again.
Are they going to get you up with them?  Have you jammed with any of those guys?
No, it's always tough. Half the time the headliners don't even see you. I learned early on to squash that dream.
— Rick J Bowen
Originally Published at Innocent Words June 2014 
http://innocentwords.com/matt-andersen-the-man-with-the-big-heart-has-big-dreams/
---