---
Dave Rawlings is a man rife with contradiction. Although his partnership with long-time collaborator Gillian Welch has spawned six albums in 20 years, his name makes the cover of only one of them. Most of the time, he abstains from talking to the press, but on the rare occasion that he agrees to an interview, he's gracious, amiable, informative, and talkative. The sole time he's found himself at the helm of a band has been less a solo venture than a communal ensemble. Likewise, his biggest foray into the musical mainstream was his participation in the best-selling soundtrack for O Brother, Where Art Thou?, a film that featured mostly obscure traditional songs from an era gone by.
Then again, Rawlings' career has always seemed somewhat out of step with the times. He and Welch met at an audition for a country band at Berklee College of Music in Boston – which they were both attending at the time. When they moved to Nashville in the early '90s, male/female folk duets were decidedly out of sync with the changes taking place in Music City and the music industry overall.
"We were both transplanted here in the summer of '92," Rawlings remembers. "I don't think you can say we had a sense of what the larger music world was like. We listened to modern music in the late '80s and early '90s, but by the time we hit Nashville, we had kind of checked out. In a business sense, we came out of the new traditionalist movement in country music. At least that's what I call it – I think I read that somewhere. It was a … moment where you [saw] Steve Earle, Randy Travis, Dwight Yoakam, and Rodney Crowell all starting to emerge. Then you had Kathy Mattea, Emmylou Harris, and Mary Chapin Carpenter. There was this sort of folk-influenced moment where there were women selling records. I remember asking, 'What are we thinking here?'"
That's not to say duos were entirely unheard of at the time, as Rawlings himself is quick to point out. Tim and Mollie O'Brien and Norman and Nancy Blake, not to mention the Delmore Brothers, Hot Tuna's Jorma Kaukonen and Jack Casady, and John Flansburgh and John Linnell of They Might Be Giants were all among the acts that convinced Rawlings there was at least some kind of market for two-person collaborations. Nevertheless, the relative scarcity of that setup still made him and Welch feel like they were the odd couple out.



"We knew exactly what kind of music we wanted to make. People would tell us, 'You gotta have a band,' and we would say, 'No, we're going to make it like this.'"- Dave Rawlings
"We moved to Nashville with three or four songs and we just started writing together a bit," he recalls. "There was a market for folk-based girl things. They wanted to pair Gillian up with a Nashville-style band and make a Nashville-style record. I have some older demos of her, when her first publisher took her in, doing some recordings just like that, and they're awful. Because of our musical tastes, we hated that stuff. We didn't like those Nashville-style records to begin with. We were more interested in bluegrass and old time music. We spent most of the early '90s trying to emulate the Blue Sky Boys and the Stanley Brothers. We wanted to make music that sounded like that. Even if we were playing rock and roll, it would sound more ragged and more like Neil Young than whatever else we were hearing in the world. It felt a long way away."
"We were in a kind of acoustic cult niche," Welch adds. "We never wanted to form a rock band. What we were doing was something new that hadn't been done much before. We built our own little world to give us the maximum freedom. We took on that risk to be able to follow our own muse."
Of course, eventually, the Americana movement would place their music in context with a larger trend but, at that time, says Rawlings, "we were on the extreme front edge. We were both a little stubborn and opinionated in a big way. We knew exactly what kind of music we wanted to make. People would tell us, 'You gotta have a band,' and we would say, 'No, we're going to make it like this.'"
And, in fact, that's what they did. They started with 1996's Revival, then the pair released a further four albums bearing only Welch's name – Hell Among the Yearlings (1998), Time (The Revelator) (2001), Soul Journey (2003) and The Harrow & The Harvest (2011). Each of those efforts found the duo sticking to basic precepts – that is, a penchant for archival folk that's timeless in its transition and pays little heed to modern amenities.
Then, in 2009, Rawlings opted to finally put his own name on the marquee and release his first and only album to date under the banner of Dave Rawlings Machine. It found the pair expanding the arrangements and adding other musicians to the mix.
"Dave wanted to do something new," Welch remarks. "He just didn't know what, so he decided to create this rock band. He has more of a rock and roll voice, so this gave him a chance to kind of shine on top of the arrangements. He can do more with the Machine, and be more a part of the musical mix. It gave him a chance to explore some things that we had left by the wayside. And in the process, the Machine made those songs sound even better."
"I wasn't a fan of Americana to begin with," Rawlings says while speaking of the albums he and Welch have made under her name. "We were just trying to do our version of duet music. We felt duet music hadn't really been explored. We added the harmonic sense that appealed to our ears. If you have something inside you that makes you happy and distinguishes you from other stuff, then give it some reason to exist.
"Gillian and I encountered a fair amount of resistance trying to do it that way in the beginning," he remembers. "There wasn't much we could point to that that indicated it was going to work. So Gillian went out with her guitar and sang in [A&M president] Jerry Moss's office like they used to back in the day. He signed her on the spot because he knew he liked it. I give him a lot of credit to be willing to take that chance."
Rawlings says that by the time Welch's second album rolled around, they wanted to add a third player, specifically famed bassist Roy Huskey Jr., who had played with everyone from Doc Watson to Garth Brooks. "Sadly, Roy died," Rawlings says, explaining why they remained a duo despite considering that change. "It was less about playing with a bass player and more about working with Roy."
Another challenge they soon bumped up against was finding someone who could sit behind the boards – someone who understood their intentions and could help them realize their musical vision. Rawlings and Welch met with 15 prospective producers before finally deciding to align themselves with T Bone Burnett. "T Bone was the only one out of the entire group of people we talked to that even considered producing us as a duet," he says. "With everyone else, we would have ended up with some other kind of treatment. We had a meeting with one producer and his first question was, 'Who are you thinking of having play the guitar?'"
Initially signed to A&M, Welch and Rawlings ironically found further impetus for pursuing their designs when the label folded and they opted to set out on their own. Their participation on the O Brother, Where Art Thou? soundtrack, which tagged Burnett as musical director and Welch as a performer and associate producer, marked another turning point in their trajectory.

"

We had a meeting with one producer and his first question was, 'Who are you thinking of having play the guitar?'"

 - Dave Rawlings
"When Herb [Alpert] and Jerry [Moss] shut down A&M Records, they were good enough to sell us our masters and we were able to start our own label, and that's when we were able to finally do what we wanted to do," Rawlings says. "That came right on the heels of having worked for a quite a while on the O Brother soundtrack. Given how well that sold and how it helped spread old-time music, it gave us hope that we were on the right path.
"More than half of that soundtrack came from our record collection," he adds. "Not many people outside of our world knew about that kind of music. There were huge holes in our collection, but we were pretty deep into the stuff we were into. It was such a shock to see the advantages that that soundtrack gave us. The movie was a great success and all of a sudden it was selling over ten million copies all over the world."
Meanwhile, Burnett ended up walking out during the recording of Hell Among the Yearlings after he and Rawlings had a falling out. As a result, Rawlings found himself sidelined during the making of the O Brother album, despite the fact that he had scored the film. "After T Bone had fallen out with us at the end of that second record," Rawlings says, "he decided he didn't want me involved in the soundtrack. I was scoring on the movie but he wouldn't let Gillian or I do anything on it as ourselves. He paired up Gil with Allison Krauss. We weren't involved as what we were doing at the time, which was our duo. It was an odd thing to say the least.
"[But,] I learned to make records by watching T Bone Burnett make our first two records," he adds, giving credit where it's due. "When we butted heads it was because, as a producer, you have to have an opinion, and T Bone certainly did. But I also had an opinion about things. Give me three choices and I'll tell you which is the best and why. I'm not going to say it's the best for everybody, but I have a vision, and I have ideas about how to create that vision. I don't think there's ever been much more to it than that. If something doesn't work, I'm pretty good at having three or four ideas about how to make it work. I never really mind tearing things apart and putting it back together again. I find that an enjoyable process most of the time. I think I have some personality traits that work well in the case of production."
Summing it up simply, Welch adds: "Dave's a problem-solver."
Regardless of the difficulty Rawlings had in working with Burnett, the experience served Rawlings well as he ventured further afield from the duo and began producing outside projects, including work with Old Crow Medicine Show and a solo album by one of the band's former members, Willie Watson. He also contributed to efforts by Bright Eyes, Ryan Adams, and Robyn Hitchcock.
"If I get [an album] to where I'm satisfied with it, a certain number of people in the world will agree," Rawlings explains of his philosophy on producing. "I can't promise any more than that, but I can promise that I will make a good record. I can't promise someone that I'll make a pop record that will sell five million copies or that it will be album of the year or anything, but if I can get it to where I know it's good, there will be an audience out there for it."
Gill Landry of Old Crow Medicine Show, who self-produced his solo offering released earlier this year, learned a thing or two from watching Rawlings at work. "Working beside Dave, the times I've had the pleasure to, it was clear that he's a well-versed and passionate man who knows what he wants and has a good track record of being able to get it done. He's distilled all the things I dig in a guitar player into his playing. His sense of timing and phrasing, in my opinion, is second to none, not to mention those harmonies he has.
On the personal side, Landry adds, "He gave me some solid advice on my first record deal, which I'll never forget. … Dave's intensity and propensity for perfection is inspired and refreshing. The world could do more with characters of his calibre."
Landry's statement sums up much of what is intriguing about Dave Rawlings. "I would hardly consider him a band leader," says Landry's old bandmate Willie Watson, a member of the Machine who first met Rawlings when he took the initial assignment to produce Old Crow Medicine Show. "He just brings the right people together. I mean, the only thing that he does is start a song and we kind of follow it. Being in that band isn't like being in any other band; we really don't work out parts and there's not really any rehearsals ever. We just kind of play at the sound check. When I get out on the road and I hear all this rehearsal from other bands at shows, I just thank God I'm not a part of that. I could never do that again. When I think about the Dave Rawlings Machine, I love what a loose environment it is."
Indeed, Rawlings' first encounter with Old Crow Medicine Show helps prove the point. He became an early fan and mentor after they made their move to Nashville, and he went on to produce their breakthrough albums, 2004's Old Crow Medicine Show and 2006's Big Iron World. Later, when Watson went solo, Rawlings and Welch invited him to record at their Woodland Studio, where Rawlings does most of his work.
"Right off the bat with [OCMS], I got to have what I would call a real or 'official' studio experience," Watson recalls. "I learned right away that it was good to make records in a studio setting with real equipment, as opposed to making records in your living room like some other people were trying to do at the time. He was able to tell us what kind of record he thought we should make, and he definitely had a clear vision of the direction we could go. That's probably why Old Crow Medicine Show wanted to work with him in the first place."
So it's little wonder that Watson opted to work with Rawlings again when it came time to record his first solo album, 2014's Folk Singer Vol. I. "We were already on the same wavelength musically," Watson says. "But at the time, I was trying to write songs, so Dave steered me off that track and got me to focus on the old songs again – the same old songs I had a good time singing. Basically he was the whole direction for that record."
Rawlings doesn't hesitate to agree – in fact it could be said he relishes the opportunity to set something on its course. "I fall on the dictatorial side of things for sure," he admits. "In the case of Willie Watson's record, I was insistent on not having Willie hear any of it because he sings really well when he's out there singing and not thinking about much. … A lot of the music I liked in the day wasn't like it [got to be] in the post-'70s where the artist was in the control room all the time. After everything was done, and you did all the takes, you'd say, 'Okay this is the good one and do you want to hear it?' It's not so much about evaluating and changing things."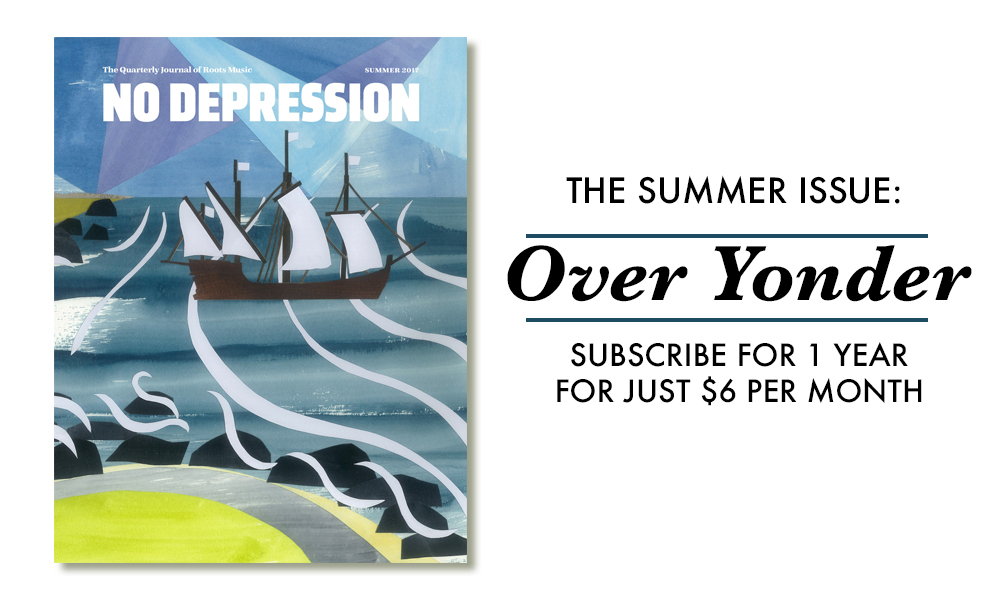 "I've learned to have hunches and I've learned my hunches are reasonably good." - Dave Rawlings
This may be an irreverent approach, but all Rawlings' charges agree that as a producer, he's the consummate professional and an absolute perfectionist to boot. What he terms "dictatorial" has less to do with taking total charge and more to do with encouraging the musicians to find their own groove.
"I don't have a lot of options with my work or what I do," he explains. "I only know one way to make a record, but I think it's a good way and a considered way. So if someone is comfortable with that and we achieve results they like, then I've stayed true to it by default. If someone came to me and said we want to make this record, and we want to cut all the basics in one place and then we want the guitars to sound this way or that, I would have no idea. I'd say, 'Well that's awesome, you should do that, so let's talk about people who know how to help you with that.' It's just not the way I know how to do things."
It's safe to say that Rawlings' one way to make a record works. It's what has drawn a number of ground-breaking folk and roots bands – including Ryan Adams and Old Crow Medicine Show – to recruit him for their projects. This year, Rawlings is particularly proud of the producing work he's done on a new album from Dawes – All Your Favorite Bands. Though Dawes reaches a bit beyond the folk and old-time music for which Rawlings is best known, he doesn't see it as being that much of a stretch.
"I'm willing to chase something if it sounds good," Rawlings explains. "I don't stick to any particular vision. I've learned to have hunches and I've learned my hunches are reasonably good. For the Dawes record, I had a hunch about the particular treatment of the bass guitar. I thought it would work really well on this record and in that particular case it worked out great. Perfect. I ended up doing the whole record that way, and that was a good hunch."
Dawes, meanwhile, joins the ranks of other artists who have been enlightened by Rawlings' producer skills – all of them satisfied with the results. "One thing that doesn't get discussed when it comes to Dave Rawlings as much as it should is that, for my money, he's one of the best record producers out there," says Taylor Goldsmith, Dawes' lead singer and guitarist. "It's not just in the sense that he can get good sounds and has a great ear for arrangements, but he also knows how to recognize what people like about an artist. He knows how to draw that out. He knows how to adopt the language of a band and communicate on their terms.
"He knows how to get a band to really believe in themselves and then perform accordingly," Goldsmith adds. "Working with Dave was a truly joyful experience. He has such a deep knowledge of songwriting and records that whatever he says or suggests, you really trust. And it's always done in a way that inspires."
Much like he did with Watson, Rawlings employed an element of surprise in producing this Dawes record. "They didn't hear any of the music we were recording for the first eight days or so," Rawlings says. "They were just out there playing and eventually we just got to the breaking point of trust where they said, 'We just got to hear something.' So I put the tapes together the way I wanted to and made a little mix tape. It was so satisfying to be doing this for a group of guys, where you take the best elements of the music and the band and the personalities and put their best foot forward, and then you play it for them and they're really happy with what it is. They might not even know how you edited it around or how you got to where you got. As I learned over the years when I was doing it with Gillian and me, if you do a good job, there's nothing more fun in the world than to edit things together and make something you never would have played, and never could have played, because you're not that human being. And it ends up being your favorite part of that record."
Rawlings is the first to agree that recording an album and not having the band hear the results is hardly the most customary way of making a record. Then again, this is one more reason why he is such a singular artist, maybe one of the most unique musicians in Nashville. He's thoughtful, even when the results are yet to unfold.
"I know my techniques are not normal," he says. "But they went in and they were playing really good, and it sounded really good. There is a thing about recording records when you are just in a room, and you walk up to a microphone, and you play to that little space that you're in, and you try to make it sound good to that space. That's a great, focused way of playing music.
"On the other hand," he continues, "you can go in and play it a couple of times, and then you want to go into the control room. When you do go in [the control room, the music is] going to sound different. So then you're going to hear something and when you walk back into that room, you're going to adjust what you hear in that room for what you heard in the other room. When things are going poorly, that's a great thing to do. But if things are going well, a lot of times that makes things worse. … So there's some value in what we did. It doesn't work all the time, but once we started working on the Dawes record, once we started going back and forth, we started hearing good stuff. "



"We don't record anything unless both of us sign off on it. We're equally vested in this." - Gillian Welch
When he breaks down the process this way, it makes sense to understand that, by his own admission, Rawlings doesn't exactly work at a frenzied pace. Indeed, Dave Rawlings Machine has yet to produce a follow-up to their first LP, although it's been six years since its debut. Similarly, it's been four years since Welch's last record.
"That's definitely a failing," Welch offers. "I wish it was otherwise. People don't understand. We don't record anything unless both of us sign off on it. We're equally vested in this. I usually start the songs and he's the closer. I'll write about 80 percent and he'll finish it."
"We've never been the fastest on the writing front – ever," Rawlings adds. "I think we learned pretty early on the difference in value between a song that we were satisfied with and a song we weren't completely satisfied with. If we liked it and were satisfied, and people liked it, we could play it for the rest of our lives. … If we had been so fortunate early on to toss off songs we weren't so fond of and still had people fall at our feet, we would write a lot faster. But that hasn't been the case."
Indeed, the overall impression Rawlings imparts is just how insightful – make that philosophical – he can be whenever he's given a topic to consider. His musings may take him off the subject at hand, but he returns to the point not only fully engaged and articulate, but also completely candid, especially when discussing his sometime tenuous creative trajectory.
"[Gillian and I] might have a terrible run," he says, "but over the years it's led to our very best music immediately thereafter. We get so fed up, we can't even tell why it's bad or why we taped some of this stuff. I'll never be able to tell you the answer to that, but then two days after that, we'll sit down and play something we'll never be able to play again, and then we're so happy we were able to put it on tape. It never happens without us being very warm after being very miserable. It's kind of like taking leg weights off if you're a runner or something. It's like being weighed down after playing stuff you don't like. All of a sudden we're playing something we like, and we're warmed up and fresh and we get something good from it."
Rawlings has been talking for the better part of two hours now, ruminating thoughtfully with serious intensity. Finally, he pauses and allows himself a lighthearted moment. "So there's a piece of advice," he opines. "Write terrible songs and let yourself go. "
Of course, Rawlings would never follow that dictate himself. Clearly he does nothing without careful deliberation, seizing just enough control to get the results he wants, even when he's not sure what he's aiming for at the outset. It's one of those little quirks that sets him apart, a quality that defines his personality as both a producer and as an artist who's confident enough to trust in his own singular vision. Given the praise he's earned from colleagues and clients, it certainly seems to have served him well.
"It's hard to appreciate what you do as much as other people might be able to," he concedes. "Music means so much to me, so when someone expresses interest in music I've been a part of it's the greatest feeling in the world. That's why I do it."
This article originally appeared in the Fall 2015 issue of No Depression in print. Subscribe today for just $6 a month and never miss another issue of our print journal.
---