Left Hand Lions Deliver 'Wild Americana' With New Single "Tycoon"
Posted On November 16, 2018
---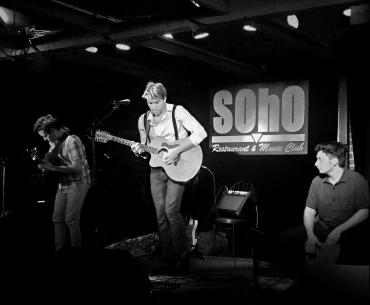 Eclectic americana group Left Hand Lions today released gritty, genre-spanning track, "Tycoon." Deep, spine-chilling violins, light guitar plucking, subtle percussion, and a roughly played piano all combine to create the sensation of a vibrant live jam session. The Santa Barbara, California based group tour throughout California sharing their "Wild Americana" sound – a raw blend of wire, wood, smoke, and sparks.
Frontman Thomas Hopkins, a rising Americana singer-songwriter, writes memorable and thought-provoking songs and toe-tapping beats with the help of his left-handed 12-string guitar and a kick drum. He is accompanied by William Adams on lead guitar and Dylan Carmody on cajón. Their sound is reminiscent of popular folk/rock groups including Mumford & Sons, the Dave Matthews Band, and the Lumineers.
At the beginning of 2017, Thomas Hopkins released his demo "Leo De Terra," which has since been featured on Folk and Americana music blogs and on ReverbNation. The band's latest single, "California Flames," has been critically acclaimed by many blogs including The Alternate Root, Vents Magazine, and The Daily Country.
Thomas Hopkins has several passions and talents outside music. When he isn't writing new songs or performing, he spends his time training for the 2020 Olympics in the Decathlon and working at a local startup called Brazyn Life (a company that makes products for mobility, including collapsible foam rollers), which was featured on Shark Tank.
Left Hand Lions will be releasing a full-length album in early January 2019. Keep your eyes peeled and your ears open for some vibrant Americana tracks for the new year!
---