Left for Dead, Chicago's Carol's Pub Reopens and Reclaims its Niche
---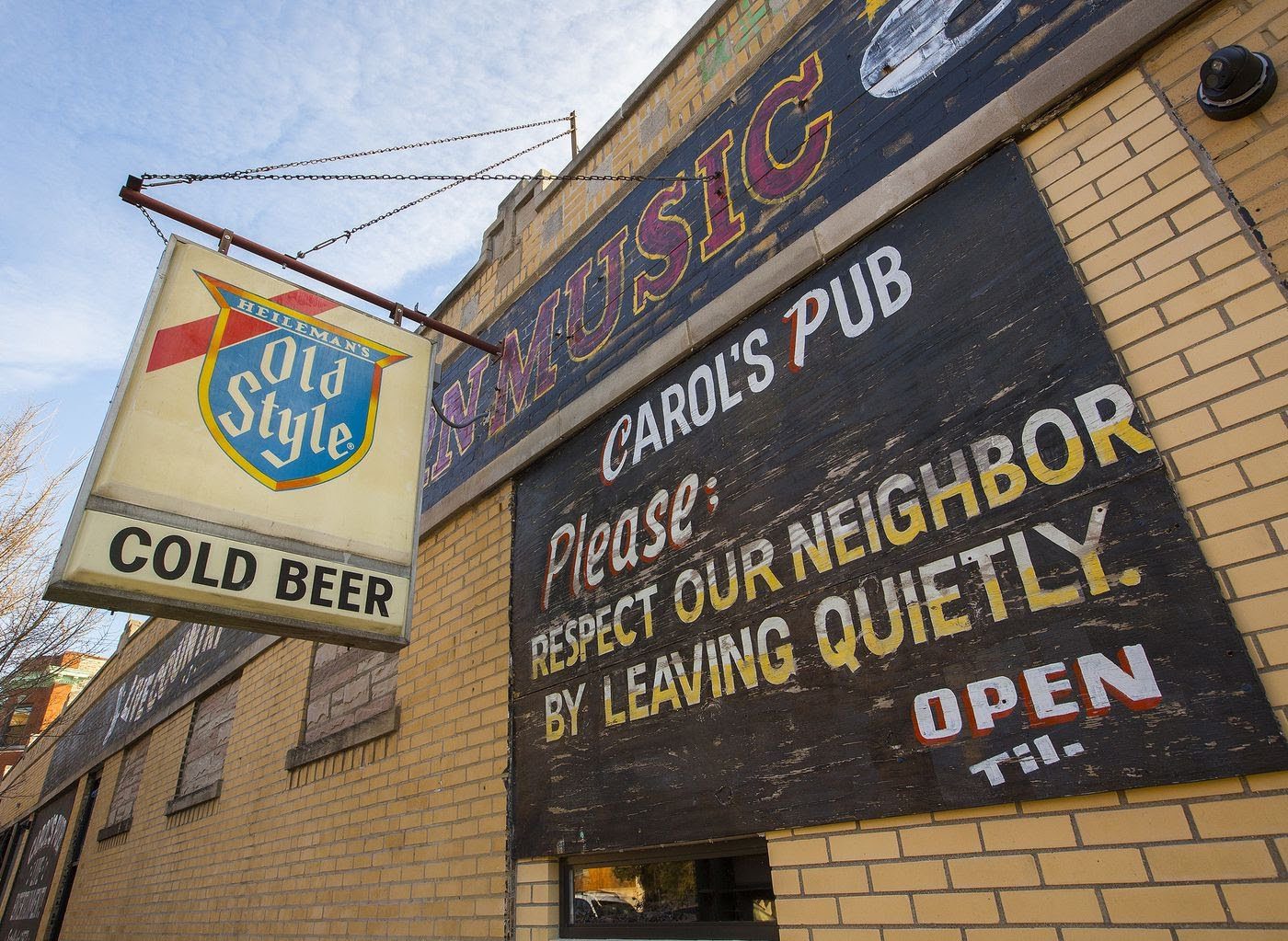 Carol's Pub in Chicago. (Photo by Barry Brecheisen)
I've eaten three fried-bologna sandwiches in my lifetime, each of them in Illinois.
The first was in Diane Rhodes' apartment at the Samuel Gompers Homes, the oldest public housing development in East St. Louis. Rhodes' teenage son, Tommie Liddell Jr., and his friend, Mark Howlett, had just finished basketball practice and were hungry. (I was in the midst of profiling Tommie for The Riverfront Times, a newspaper I worked for at the time.) Bologna and bread were in the fridge and they had a stove and skillet. And hey: Why eat a cold bologna sandwich when you can bring the heat?
My second fried-bologna sandwich was at a Love's Truck Stop. I was en route to Kentucky with a St. Louis-based trucker named Davy Metzger, whom I was also writing about, and he wanted to get back to his point of origin before dark. He knew the process by which someone prepares a fried-bologna sandwich to be uniformly simple — all the better to get him back in the cab and on down the road.
I ate my third fried-bologna sandwich at Carol's Pub, a historic honky-tonk in Chicago's Uptown neighborhood. It contained potato chips — not on the side, but in the sandwich, indicating a willingness to tinker with the sacrosanct without sacrificing its soul.
Such was the delicate balancing act Ed Warm endeavored to pull off when he purchased and reopened Carol's in December 2018 after the legendary bar, done in by a delinquent tax bill, had lain dormant for over two years.
A Chicago native, Warm got hooked on country music as an undergrad at Indiana University, where he first heard Jerry Jeff Walker. Today, he's president of the Academy of Country Music and one of the genre's foremost live programmers in the Midwest. (Warm also owns Joe's on Weed and is a partner in several other venues.) Warm is, in short, a living testament to the fact that country music's impact has long been felt well north of Nashville.
"Chicago has such a long country music history," he says. "There was all this Appalachian and southern flight to Chicago in the '50s, and all these honky-tonks opened."
But all those honky-tonks closed eventually — except for Carol's Pub, which, says Warm, "has a long and dubious history."
He's not wrong.
Opened as Pam's Playhouse in 1972, Carol's eventually came to take the name of Warm's predecessor in ownership, the beloved Carol Harris. The bar has meant different things to different people. For devoted drinkers in the once-desolate neighborhood, it's been a place to knock back Old Style and well whiskey without putting much of a dent in one's wallet. For fans of classic country music, it's served as an urban oasis for boots and Stetsons, flashy blouses and steppin', Hank and Waylon, Merle and Loretta. (Mix these two groups together too tightly, and you're liable to wind up in Fist City.) And starting sometime around the dawn of the 21st century, it became a one-of-a-kind place for intrepid youngsters to keep drinking and diving well after other bars wouldn't allow it, and to make memories — if only their brains and all that booze hadn't already conspired to negate such a neurological feat.
"When I first started working [at Carol's] in '99, you could shoot a cannon off in there," local singer and guitarist Reva Goodman says of the pub. "But it just became the place to be."
Weekends at Carol's saw time get turned upside down. Its human jukebox, house band Diamondback, would play three nights a week from 9 to 5 — as in 9 p.m. to 5 a.m. Various incarnations of Diamondback have been playing Carol's for virtually as long as the bar has been around; Goodman joined the band in 1999.
Leading up to when Harris closed Carol's in 2016, it had fallen into considerable disrepair.
"There's a difference between a dive bar and a pig sty," says Goodman. "The bathrooms were legendary. The wall was falling down. It was moldy. It was disgusting. We could kind of see the writing on the wall for the last two years. [Harris] owed everybody money and couldn't keep the bar stocked."
Goodman says she "never counted" on Carol's reopening when the plug got pulled in 2016. But, then again, she never counted on Warm taking on what he calls "a passion project."
Asked why he purchased Carol's, he replied, "Because I'm crazy. I'm kind of the country music guy in town and I really didn't want to see it go away. It was pretty beat up, but the guts and soul are there and it feels good."
That it does. Whereas Carol's kitchen once rivaled its bathrooms' (lack of) appeal, it now cranks out those fried-bologna sandwiches and delectable smoked chicken wings that'll take the edge off a shot of Old Crow with an Old Style back. And while you can still order Wrigley Field's signature swill, you can also purchase local microbrews from the likes of Three Floyds and Revolution.
Truth be told, Warm's spiffed-up Carol's isn't really a dive bar anymore. The bathrooms and dance floor are clean as can be, and that moldy old westward wall now encases some big bay windows. The refurbished, top-flight stage regularly hosts original touring acts like The Steel Woods and Paul Cauthen — "cool underplays," in the words of Warm, who seems intent on using Carol's as a sort of farm team for Joe's.
Diamondback still plays, but twice a month instead of three times a week. When Carol's closed in 2016, there was no shortage of interest from bars near and far to keep the crack quintet afloat.
"A lot of the kids who'd been coming to Carol's for years had moved to the suburbs," explains Goodman, whose band followed them there.
"It felt like their legend grew over the two-and-a-half years that Carol's was closed," Warm says of Diamondback.
Yet six-plus hours spent in the company of Diamondback remains the optimal Carol's experience. Put a buck in their bucket and request, say, "Dixieland Delight" by Alabama, and you'll be rollin' down the backwoods on a Tennessee byway in no time. Suggest Lucinda Williams' "Passionate Kisses," and you'll simply be reminding Goodman that she's getting what she deserves, because that's her right.
"Is it too much to demand? I want a full house and a rock and roll band."
No it ain't. Not now or ever.
---