Lake Street Dive, Live in Sydney
Posted On January 17, 2017
---
Lake Street Dive at the Magic Mirrors Speigeltent, Hyde Park, for Sydney Festival, Friday June 13th
For sure, I'm not in Lake Street Dive's intended demographic.
But here I am, a certified baby-boomer,  listening to Rachael Price singing the title song from Side Pony, as in ponytail. It's a song about a hairstyle as metaphor for a free spirit. More Taylor than Townes. So what am I doing here?
Well, I'm having a ball, listening to my new favourite band.
Lake Street Dive are not readily pigeon-holed. The band has a considerable following amongst roots music/Americana listeners, but no real connection to alt country or country/folk (whatever that is). Side Pony does seem to be aimed at a younger audience, but the punters who snared tickets to this sold-out show included sub-teens with their parents, right through to boomers. On reflection, this is no surprise. The band brings its own touch to a brand of music familiar to listeners of all ages; a winning mixture of soul and pop. "Side Pony" might be dismissed if it weren't so damn catchy, and if Rachael Price didn't bring to it her incredible vocal chops, as she does to everything. There are echoes of Amy Winehouse and a little of Susan Tedeschi, but I'm hearing possible influences, not imitation.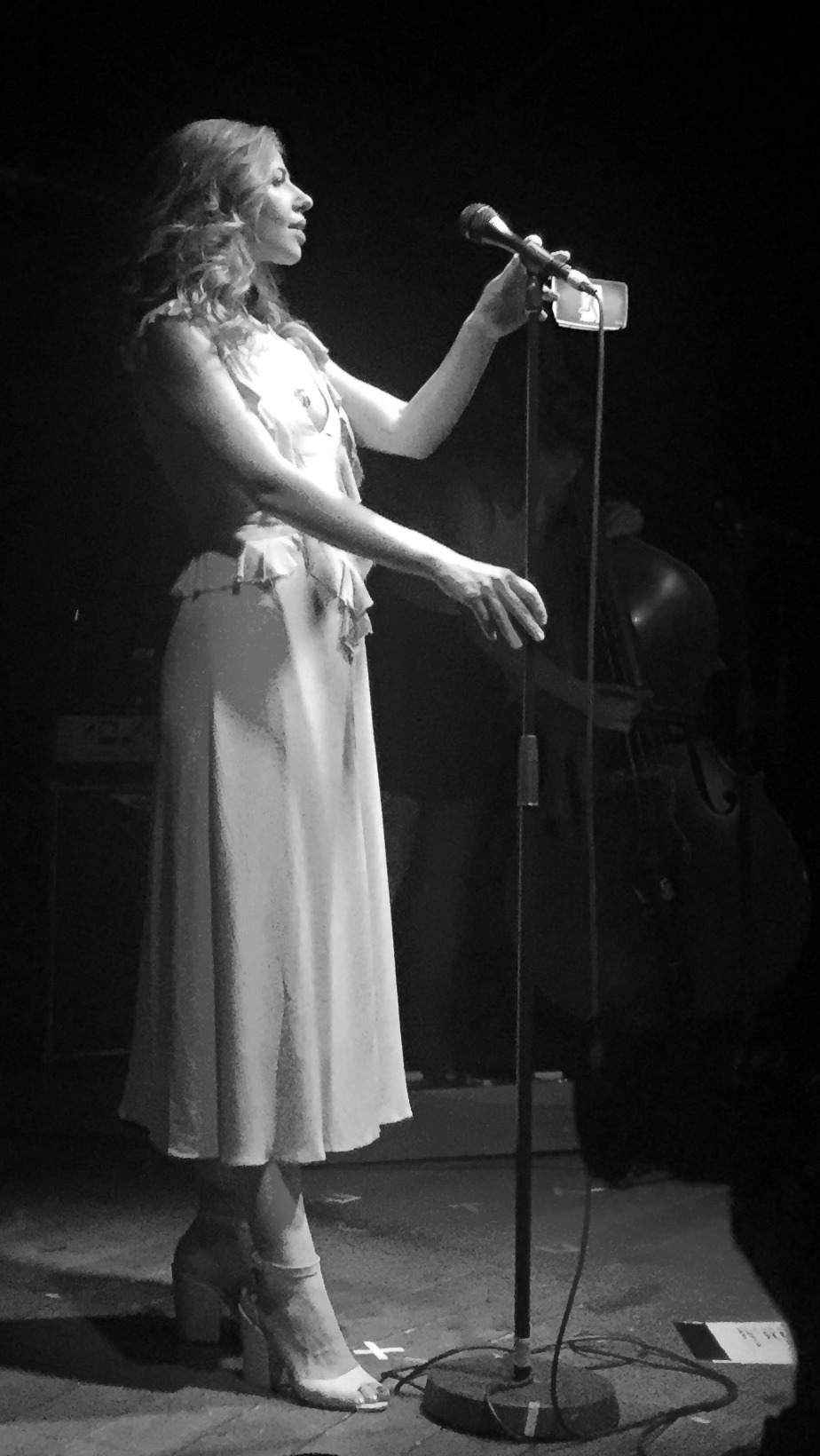 Some six years ago, I wrote that Crooked Still were "young enough … to be fresh and vital, but have the polish and stagecraft that comes from years of experience". So it is with Lake Street Dive who, like Crooked Still, came together at the New England Conservatory of Music in Boston, and have been together for more than a decade.
Lake Street Dive were in Australia for a series of festival and club dates, with this show being the last night of their run. (For Price it was a home-coming of sorts. Although raised near Nashville, she was born here and carries an Australian passport.)
This is a band with a sound and a vision, not Rachael Price and backing group, but it's Price who commands your attention. She has the pipes, and she has the looks and the sassy stage persona.
Everything the band does seems perfectly pitched for this audience. The show builds to a simmer, never boiling over. They dial it back, and build again. And they leave with the audience wanting more.
A quick check at setlist.fm reveals this to be a well-practised show, with little changed since before the release of Side Pony last year. (If it ain't broke …) Songs from that album dominate the set. As much as I like Dave Cobb's production, several tunes find new life in this spare setting, with Bridget Kearney sticking to upright bass and Mike Calabrese playing a muffled kit. Fourth member, Mike Olson, plays very tasty guitar, doubling on trumpet.
Solos by the rhythm section bookended a Prince cover. Bridget Kearney's bass solo never really took shape, but her playing was otherwise impeccable. Mike Calabrese's drum solo was pretty much perfect – like rolling thunder edging closer and closer, he played with a musicality and a rhythmic anchor. Impressive without histrionics.
The torchy "What I'm Doing Here" (written by Rachel Price) was a highlight of the set, played with just bass and tambourine, the band around a single mike.
Apart from the nod to Prince ("When You Were Mine", also recorded by Cyndi Lauper), the choice of covers is revealing. The Kinks' "Lola" gets a run early, and "Bohemian Rhapsody" is saved for the encore. Both are timeless crowd-pleasers, invitations to sing along. In this context, they are just good fun, and that's what Lake Street Dive are all about.
Excellent musicians, great fun, and an exhilarating night out. I'm still buzzing.
---