Kris Kristofferson at the Belly Up (Solana Beach, CA – Jan. 15, 2018)
Posted On January 25, 2018
---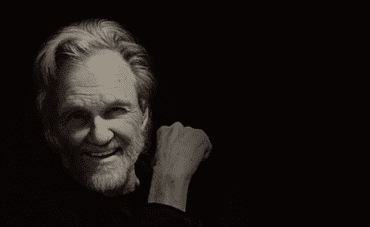 Kris Kristofferson takes a final pull from a bottle of beer and tosses it at the trash. It misses. The glass bottle hits the concrete floor with an echo loud enough to turn heads, but it doesn't break.
He shrugs, "It was empty," he says.
Waiting to take the stage at the sold-out Belly Up Tavern in Solana Beach in his trademark black shirt and jacket and a pair of worn out boots he plans to ride to the end, Kristofferson is surrounded by friends and family, jovial, funny, and engaged. He has suffered memory loss in recent years, coming off an erroneous and harmful Alzheimer's diagnosis. It turned out to be Lyme disease, and once properly treated he came back to life. He still suffers short-term memory loss, but when it comes to his songs and his history, his mind and spirit are sharp.
He recalls old Nashville: the Ernest Tubb Record Shop, where everyone hung out; Sue Brewer and her Boar's Nest, a home away from home for the pilgrim poets — if she liked you; the Ryman Auditorium, a place he calls sacred. And the characters back when Music City was open and wild: the punch he took from Faron Young; the overlooked genius of Mickey Newbury; Roger Miller smoking grass when everyone else was popping speed pills like Tic Tacs.
Kristofferson has logged as many hard livin' miles as any of his country music compatriots. Yet his face, at 81, does not run with lines of road-weary rivers. It radiates deep kindness and intelligence. Kris Kristofferson is genuinely interested in humans and human connections.  
He takes the tavern's simple stage, armed only with an acoustic guitar and harmonica, joined by his nephew, Cannon Kristofferson, on guitar and harmonies.
Kristofferson plucks out the opening chords to "Shipwrecked in the Eighties." He blows. He sings:
Well you fight like the devil to just keep your head above water
Chained to whatever you got that you can't throw away
Over the next two hours, Kris Kristofferson stands in a single spot, unveiling one song after another — 28 in total — some obscure, some among the biggest in American music, organized in a set that shapes a narrative of a fascinating life and a keen perspective into the human condition.  
He doesn't tell stories between songs. The songs tell the stories.
He looks occasionally to his nephew, perhaps for encouragement or affirmation. He makes witty asides and comments, responding in the moment and answering with affection some of the rowdier members of the devotional audience. His voice is a clean deep whisper, at times matching the audience's enthusiasm with energized growls of emphasis, almost wrestling against himself to get the next line out.
The opener is followed by "Darby's Castle," an album cut from his 1970 debut, Kristofferson, and a parable examining the consequences of losing sight of priorities.
See the ruin on the hill, where the smoke is hanging still
Like an echo of an age long forgotten
There's a story of a home, crushed beneath those blackened stones
And the roof that fell before the beams were rotten
Nobody was writing songs like this in Nashville at the time, fusing cold hard truth with the imagery of William Blake. Kristofferson was instrumental in introducing a refined lyrical poetry to country music songwriting, without diminishing what makes real country music great — the same man who brought a Blakian and Dylanesque perspective to Nashville also wrote "If You Don't Like Hank Williams (You Can Kiss My Ass)."
If it sounds country man, that's what it is — it's a country song.
Kristofferson was at the forefront of this new intellectual country music movement, but he was not alone.
Roger Miller was pushing the boundaries of what country music songwriting could be in his own way, from the inside, since the early 1960s.
Kristofferson, who was grounded in the greats like Hank Williams and Johnny Cash, has credited his outsider poet peers like Mickey Newbury and John Hartford (especially the latter's "Gentle on My Mind") as having a direct impact on the way he wrote country songs. The result is pure, stark emotion conveyed with intelligence and authenticity and, inevitably, universal commercial appeal.
After Darby's Castle crumbles to the ground, Kristofferson begins to strum a vaguely familiar chord pattern:
Busted flat in Baton Rouge waitin' for the trains
Feelin' nearly faded as my jeans
This was the song that changed everything for Kristofferson, and it is arguably his best known composition. Previously, he had had only a few minor cuts by country stars like Dave Dudley, Roy Drusky, and Billy Walker. When Roger Miller recorded "Me and Bobby McGee" in 1969, it became Kristofferson's first smash hit as a songwriter. Two years later, Janis Joplin would immortalize the nostalgic, melancholic tale of the loss that comes with freedom.
Kristofferson was a central figure in a new scene of bohemian renegade Nashville songwriters who inspired each other, trading songs and ideas freely, without self-serving hangups. Kristofferson has credited Newbury's "Mobile Blue" as a thematic and melodic inspiration for "Me and Bobby McGee," and it was Newbury who took Kristofferson's song to Roger Miller. That's just how it was back then. It was all about the music.
"Me and Bobby McGee" is followed by "Here Comes That Rainbow Again," reportedly Johnny Cash's favorite song. Inspired by a scene in John Ford's film adaptation of The Grapes of Wrath, where one good deed begets another, the simple yet poignant song is, like much of Kristofferson's best work, a parable.
And the daylight grew heavy with thunder
With the smell of the rain on the wind
Ain't it just like a human
Here comes that rainbow again
"Me and Bobby McGee" was both a country and a pop hit, by two different artists. When Sammi Smith recorded "Help Me Make it Through the Night" in 1970, she accomplished both in one stroke.
In many ways Kristofferson is a man's man in the vein of Ernest Hemingway: He flew helicopters in the Army, he was a Golden Gloves boxer. He seems statuesque and monumental. But Kristofferson has always had a softness and an insight and affection for women. He didn't necessarily write "Help Me Make it Through the Night" to be told from a woman's perspective, but when Sammi Smith wrapped herself around this song — with the simple lyric change of "your hair" to "my hair" — she unlocked something that could never be put back.
The result was not only one of the biggest country, and country-pop crossover, songs of all time, but also one of the sexiest.
I don't care what's right or wrong
I don't try to understand
Let the devil take tomorrow
Lord, tonight I need a friend
Kristofferson infused his songs with sex from the get go. His very first cut was "Jody and the Kid," which he sang in the second set.
"Jody and the Kid" is a remarkably complex debut. It is tender, wise beyond its author's years. It follows a well worn country music formula: the first verse sets the scene, the second expands, and the third verse drives it home with an emotional twist.
But the song's power lies not in its plot but in its depth. Kristofferson creates a song about a deceased mother and a single father and manages to include the sex:
Even after we grew older we could still be seen together
As we walked along the levee holding hands
For as surely as the seasons she was changing to a woman
And I'd lived enough to call myself a man
And she often lay beside me in the coolness of the evening
Till the morning sun was shining on my bed
And at times when she was sleeping I would smile when I'd remember
How they used to call us Jody and the kid
Roy Drusky, who cut "Jody and the Kid" in 1968, was, admirably, the first artist to record a song written by Kris Kristofferson, even if he wasn't the right vehicle for this new kind of voice.
Among the hits and album cuts in the set, Kristofferson throws in a few humorous oddities. "Sky King" is a send-up of his former Army flight instructor, set to the melody of Jimmy Dean's "Big Bad John."
Kristofferson comes from a military family and was offered a professorship at West Point, which he turned down to work as a janitor in a Nashville recording studio.
That helicopter training came in handy years later when Kristofferson landed a bird on the lawn of Johnny Cash's Old Hickory Lake home to hand him a demo. Kristofferson had known Cash for some time before this, having emptied his ashtrays at Columbia's recording studio. Cash was already an admirer of the aspiring songwriter, but the stunt got the country music legend's attention, and the Man in Black became a close friend, collaborator, and champion.  
Kristofferson follows "Sky King" with "Casey's Last Ride," a song about lonely people which he wrote while studying at Oxford as a Rhodes Scholar.
Every person who pursues their dreams risks losing something. But Kris Kristofferson forsook more opportunity than most will ever have. The Golden Gloves, West Point, Oxford — no institution could satisfy the young man with songs burning in his soul, itching to be freed. In moving to Nashville with the sole goal of writing great songs, Kristofferson bet the house.
There were periods of lonesomeness and frustration, which color his early work, but the chances he took paid off. After revolutionizing commercial country songwriting in the early 1970s, Kristofferson went to Hollywood and became a movie star, a move as unlikely as it was inevitable.
Then he crashed and burned in the 1980s — shipwrecked.
So he banded up with his old Nashville pals — Willie Nelson, Waylon Jennings, and Johnny Cash — forming the Highwaymen and beginning the path back to his true artistry.
Kristofferson has never been afraid or ashamed of his politics. At its core, Kristofferson's political philosophy is one of freedom. In the late 1980s and early 1990s he released a pair of overtly political albums, which failed commercially. Kristofferson has sewn politics into his songs, on some level, from the start. One of his earliest compositions, for example, was about a Vietnam War protest, written from the point of view of a soldier. But his best songs, from Billy Dee to Johnny Lobo, are less about politics than people — dreamers, lovers, losers, loners. The righteous and the damned. The blessed and the blamed. All of them, like the soldier and the sister in "Broken Freedom Song," perfectly human and beautifully flawed.
Just a simple song of freedom
He was never fightin' for
No one's listenin' when you need 'em
Ain't no fun to sing that song no more
In 1995, he released A Moment of Forever. The album was not so much a comeback as it was a beginning. It is the moment when Kris Kristofferson emerged for his third act as an elder — wiser, focused, and purposeful. Aided by the comfort and support of his wife and family, the entirety of Kristofferson's output from A Moment of Forever to today is crafted with intent and clarity.
The most recent song he sings this night is the title track to 2013's Feeling Mortal. He growls low but louder when he comes to the first lines of the chorus:
God Almighty here I am
Am I where I ought to be?
The audience shouts and stomps and claps its answer in the unmitigated affirmative. Kris Kristofferson — on this stage, this night, singing these songs — is right where he ought to be.
He follows with "From Here to Forever," a sweet song dedicated to his children, from 2009's Closer to the Bone:
Cool shadows fall through the moonlight
Soft as the breeze through your hair
And the smile on your face when you're sleeping
Is the answer to anyone's prayer
Kristofferson's gentler latter-day work has all of the pathos and insight of his early masterpieces. Even as an emerging songwriter, he was already writing with a perspective usually only gained by years. This is highlighted when he follows with "Loving Her Was Easier (Than Anything I'll Ever Do Again)," from 1971:
I have seen the morning burning golden on the mountain in the skies
Aching with the feeling of the freedom of an eagle when she flies
Kristofferson moves from the tender into a block of songs celebrating pilgrims and prophets: Mahatma Gandhi and Martin Luther King. Johnny Cash and Jesus Christ.
Mortal prophets and holy struggles are a recurring theme in his work. When he gets to the second verse of "They Killed Him," the uproarious audience response confirms that the significance of this day — the 15th of January — is not lost on the crowd:
Another man from Atlanta, Georgia
Name of Martin Luther King
Shook the land like rolling thunder
Made the bells of freedom ring today
With a dream of beauty that they could not burn away
Just another holy man who dared to be a friend
My God, they killed him
"He was my hero," Kristofferson says of the slain civil rights leader on his day of observance.
Kristofferson wrote "The Pilgrim: Chapter 33" about Johnny Cash, but the song can't help but betray a bit of occasional autobiography. One of the reasons Kristofferson took such a dramatic action as landing a helicopter on Cash's lawn was because Kristofferson was certain, based on his appearance, consumption, and erratic behavior, that Johnny Cash was not going to live much longer:
See him wasted on the sidewalk, in his jacket and his jeans
Wearing yesterday's misfortunes like a smile
Once he had a future full of money, love and dreams
Which he spent like they was goin' out of style
As it turned out, Johnny Cash — aided by the love and care of his wife and partner June Carter — had many more decades ahead. With "The Pilgrim: Chapter 33," Kristofferson captures the moment when a great man loses control.
Cash and Kristofferson helped to redeem each other in many ways when the former recorded the latter's "Sunday Mornin' Comin' Down," a rumination on waste and longing and regret.
Cash debuted what would become a number one record and the CMA Song of the Year for 1970 live on his television show, which was taped at the Ryman Auditorium. The network suits told Cash to change a lyric — from "wishing Lord that I was stoned" to "wishing Lord that I was home." Cash mentioned this to Kristofferson backstage before the taping. "It's not the same thing," Kristofferson replied. Cash said nothing.
During the performance, recorded live and broadcast on ABC, Johnny Cash scanned the audience and found Kristofferson sitting in the balcony, looked right at him and delivered the line as written:
On the Sunday mornin' sidewalks, wishin' Lord that I was stoned
'Cause there's something in a Sunday makes a body feel alone
And there's nothin' short of dyin' half as lonesome as the sound
On the sleepin' city sidewalk; Sunday mornin' comin' down
When Kristofferson gets to the chorus this night, the audience sings along to every word as if a hymn. For whatever reasons explained in the human condition, the song that the audience collectively identifies with most is about a hungover man sitting in a park alone on a Sunday morning, wishing he was stoned because the bars are closed until the afternoon, and there is simply nothing else in his life. Kris Kristofferson — intuitively or purposefully — understands people, and has for at least as long as he's been writing songs.
And he understands beating — and being — the devil. "To Beat the Devil," Kristofferson's Faustian tale with a twist pits a struggling songwriter against the devil in a battle of wits in a Music City tavern. The spoken narrative of the verses is offset with a philosophical melodic chorus:
If you waste your time a-talking to the people who don't listen
To the things that you are saying, who do you thinks gonna hear?
And if you should die explaining how the things that they complain about
Are things they could be changing, who do you thinks gonna care?
Another song of the devil haunting a tavern is told with Kristofferson's exceptional literacy and imagination. The silver-tongued devil is, of course, the narrator himself. Kristofferson pauses before the final refrain with an anecdote about playing this song for his then-five-year-old son, who informed his father that this was not a good song. "Why," Kristofferson asked? "Because you're blaming all your problems on somebody else," answered his son.
All he's good for is gettin' in trouble, and shifting his share of the blame
And some people swear he's my double, and some even say we're the same
But the silver-tongued devil's got nothing to lose, and I'll only live till I die
We take our own chances and pay our own dues; the silver-tongued devil and I
"For the Good Times" — a massive hit for Ray Price in 1970, earning an ACM Song of the Year award and helping to solidify the honky tonk singer's then-controversial new musical direction — has been recorded by everyone from Dean Martin to Al Green. The song is a captured still of the moment when two people who know it's over can't or don't want to let go. It isn't a song of physical sex — it is a confession of desperation, weakness, and kindness.
Lay your head upon my pillow
Hold your warm and tender body close to mine
Hear the whisper of the raindrops blowing soft against the window
And make believe you love me one more time
Ain't it just like a human.
Kristofferson closes deliberately with "Please Don't Tell Me How the Story Ends" (a hit for Ronnie Milsap in 1974). The audience may take the love song's opening on one level:
This may be our last good night together
We may never pass this way again

The singer, perhaps, another.
In many ways — the structure of the set list, the sheer volume of songs, the intimacy of the relationship in the room between singer and listener, the continuing struggle with memory loss — this night's performance feels like an ending if, for a moment, one unresolved.
Kristofferson once said his songs were like short stories, "talking about things that tear up real people." They are that and much more. They are ordinary human stories told by a human who has lived an extraordinary life. Stripped of their literacy and poetry, at their core are pure human truths.
Someday these may be all we remember of each other
Please don't tell me how the story ends
Kris Kristofferson has no clearer an insight into that ending than anybody else. For now, he sings, this old world will keep on turning, and the song goes on for one more moment of forever.
---