JOURNAL EXCERPT: Nickel Creek Meets in the Middle for 'Celebrants'
---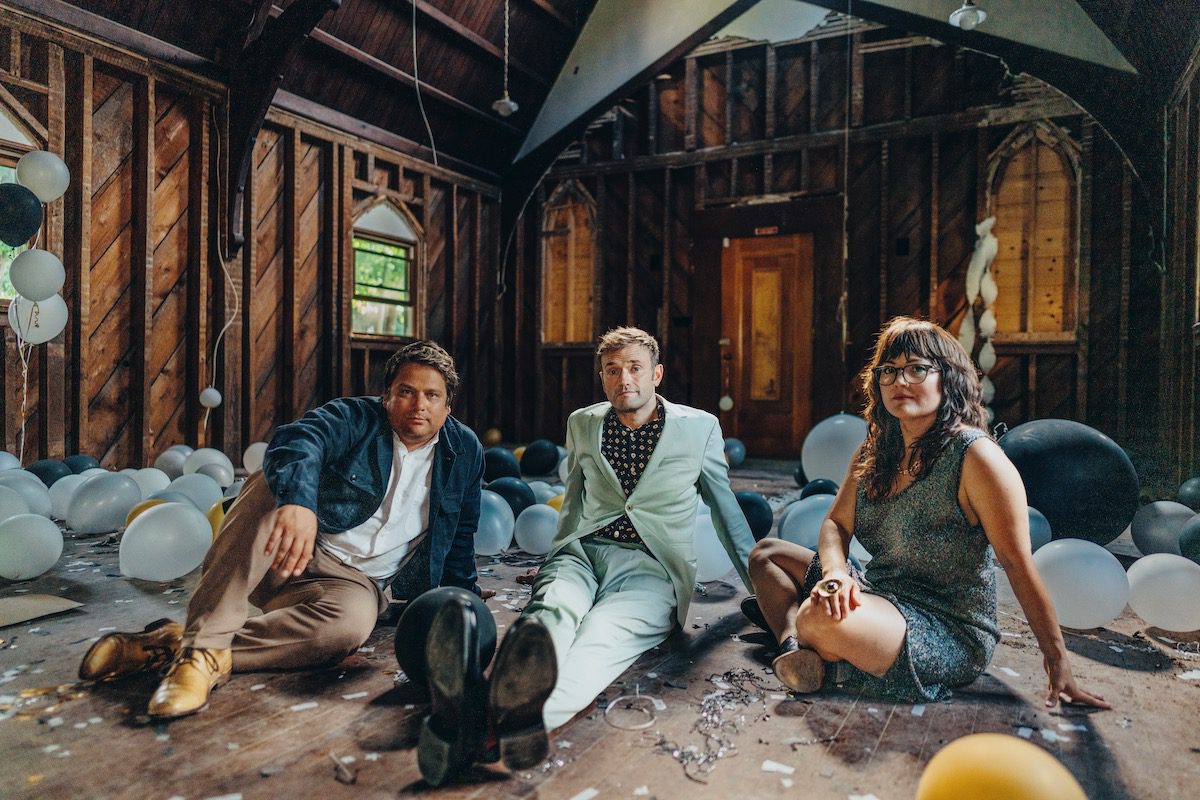 From left, Sean Watkins, Chris Thile, and Sara Watkins of Nickel Creek (photo by Josh Goleman)
EDITOR'S NOTE: To mark the release of Nickel Creek's new album, Celebrants, this week, we're sharing an excerpt of our story about the album and the band from our Spring 2023 journal, available now. Order your copy or, better yet, subscribe and get a free gift — and support nonprofit roots music journalism in print and online for a full year!
Nickel Creek wastes no time getting to the point on Celebrants, the trio's first album in nine years.
"My God, it's good to see you, right here in the flesh," Chris Thile sings in the very first lyrics of the title track, which opens the album. The ebullient track reflects what the band was thinking about as they wrote these songs, and even the way they wrote them — together, in the flesh.
Due to the pandemic, Thile and siblings Sean Watkins and Sara Watkins were able to carve out real, extended time to reconvene as Nickel Creek in the way they really wanted to — unrushed, unbound, unwilling to compromise their creativity.
They laid the groundwork for Celebrants, which comes out March 24 via Thirty Tigers, during a lengthy creative retreat in Santa Barbara, California, that included their partners and kids and even their dogs. The time away allowed them to reconnect personally and musically during this phase of life, several decades away from the band's origins as kids with a regular gig in a San Diego pizza parlor.
"We really should have set up some kind of reality show for it," Sean quips.
"A lot of the stuff that we're talking about in songs was a version of what we were doing," Sara says.
"The album is the reality show," Sean adds.
Reasons Why
When Nickel Creek named its 2007 run of shows the "Farewell (For Now)" tour, it felt like they meant it.
Before long, all three artists had found other musical outlets: Sean established solo projects as well as a duo with Switchfoot's Jon Foreman called Fiction Family, then performed with Sara in the Works Progress Administration supergroup, and again with Sara and rotating guests in the Watkins Family Hour residency at the Largo in Los Angeles. Sara also released solo albums and co-founded the trio I'm With Her with Sarah Jarosz and Aoife O'Donovan. Chris kept momentum with collaborative projects, most prominently with Punch Brothers, and for four years served as the host of public radio's Live From Here. In 2012, his work was recognized with a MacArthur Foundation "genius grant."
But in 2014, as Nickel Creek discussed plans to commemorate the 25th anniversary of the band's birth in that pizza parlor — when Sean was 12 and Chris and Sara were 8 — they found they had more musical ground to cover together, and wrote and released A Dotted Line in something of a whirlwind.
When they came together again in 2020 to give interviews to mark two decades since their self-titled breakthrough, that old creative spark caught once again. But this time, they decided, if they were going to create together, they were going to take their time.
With touring still largely stalled in early 2021, Nickel Creek gathered in a house in Santa Barbara for several weeks of checking back in with their creativity as a band. Much as it had in 2014, fitting together after so much time apart came easily.
"It feels like the next day after the last time we hung out," says Sean.
"It's really as if no time passes at all," Chris adds.
But of course, things had changed. They have spouses, kids, dogs, and other bands. But these new life layers added inspiration, rather than friction.
"It was a real reunion," Sara says. "It was us coming together for the first time in this new time of life, where our families were together, we were living together, and it was like getting to know each other now."
As they got to work in Santa Barbara in those strange days of trying to fit a pandemic into some sort of new normal, togetherness was a theme that naturally emerged. But also right in front of them — via age, life phase, and career trajectory — was some largely unexamined territory.
"We talk about the beginnings and ends of relationships," Chris says, "'You're amazing' or 'I hate you, you ruined my life.' Those are your song options most of the time. You don't have a bunch of, 'We're slogging through this together 'cause I know that I love you even though I don't feel like it right now.'"
With their families along for the retreat, and all the daily details that come with that, the band challenged themselves to "focus on the middle songs," Sean recalls.
As seen from the middle, Chris offers, relationships can be seen "as a microcosm of togetherness, and then pull back and think about togetherness as a species."
Through 18 songs that flow seamlessly from one to the next and are in dialogue with one another, Celebrants ponders togetherness from all angles — the good, the bad, the what-ifs, the now-whats. And while it sounds just like Nickel Creek, it's also totally fresh.
Call and Response
On Celebrants, Nickel Creek challenged themselves to create an album that wasn't just a collection of songs, but whose pieces fit into a whole. Each part feels like a contribution to a single, though wide-ranging, conversation.
Additionally, they allowed songs to call and respond to each other, instead of trying to avoid repeating musical or lyrical phrases, as they'd done in the past. For example, a bridge in "Going Out … ," one of two instrumentals on the album, reappears as the melody to a verse in "New Blood." A lyric in "Failure Isn't Forever" references the desert from "Hollywood Ending" and the meadow in "The Meadow."
"It was just so fun to free ourselves up and lean into that net repetition and inclusiveness of themes," Sean says.
"Trying to build a little world," Chris adds.
"Because truly that's what our lives are," Sara muses, "the same thing over and over again. We, in our personal lives, experience monotony in a little variation, and we're dealing with these metaphors in our own lives."
"Find meaning in the monotony, like a mantra, if you can think of it that way," Chris offers.
"The more ways that you can look at something, the better," Sara says. "If you're looking at a sculpture, you're looking at this thing and as you walk around it, you're still looking at the same thing, but it's going to look completely different. That thing is still straight in front of you and it hasn't changed at all, but because of the perspective, your understanding of it and your experience of it has completely changed. If you think of that as the life that you live and the people around you, it's up to you to walk around it in different ways and try and make the most of it and see new things in it that might give you new thoughts or new perspectives about everything else."
Longtime Nickel Creek fans will find familiar sounds on Celebrants: three vocals that diverge to add texture and drama and converge to emphasize a point, instrumental prowess that heightens both movement and mood, and lyrics that echo in the listener's mind long after the song has ended. But the band reaches new heights here, inventing new pathways for themselves, for the listener, and for roots music itself.
Sara's voice takes a ragged edge on "Where the Long Line Leads," a song that challenges the thinking in "thinkpieces" and the value of hitting the "big time." Dreamy, contemplative "Holding Pattern" features electronic effects alongside the trio's classic harmonies as it contends with navigating a pandemic as well as the settled-in phase of a relationship. Throughout Celebrants, time signatures and tempos slide, keys shift, and lyrics take unexpected directions. But there's a core to these songs that keeps listeners anchored, a sense that the members of Nickel Creek, with age and experience, have only become more themselves.
Time and Space
Just as the songs of Celebrants tend to come back around to each other even as they wander their own paths, Sara, Sean, and Chris have always found their creative journeys converging sooner or later. Nickel Creek, it seems, never dries up completely.
"It's been this constant in our lives that we've walked away from at various points, but I think we all feel like it's going to be a presence in our lives for as long as we all shall live," Sara muses. "And it is a constant thing that we can walk away from, though I think that it's been so gratifying coming together that we're sort of pointed more in that direction right now than we have been the last 15 years or so."
Their time apart, however, is something the band has come to value just as much as their most recent time together. With a shared musical foundation and no ceiling in sight in their individual careers, meeting in the middle just might be the sweet spot.
"It's a real luxury to have had so much common ground and shared experience and then to have had so much time away from each other," Sara says. "The space to have explored individually in other projects, to gain these stories and these life experiences in different phases of life now, and then to be able to spend so much time together again and just see how all of that works together in the existence of this band? It's a real privilege. And I don't think we could have made this album at any other time."
---