JOURNAL EXCERPT: Inside the Making of Wilco's 'Yankee Hotel Foxtrot'
Posted On September 30, 2022
---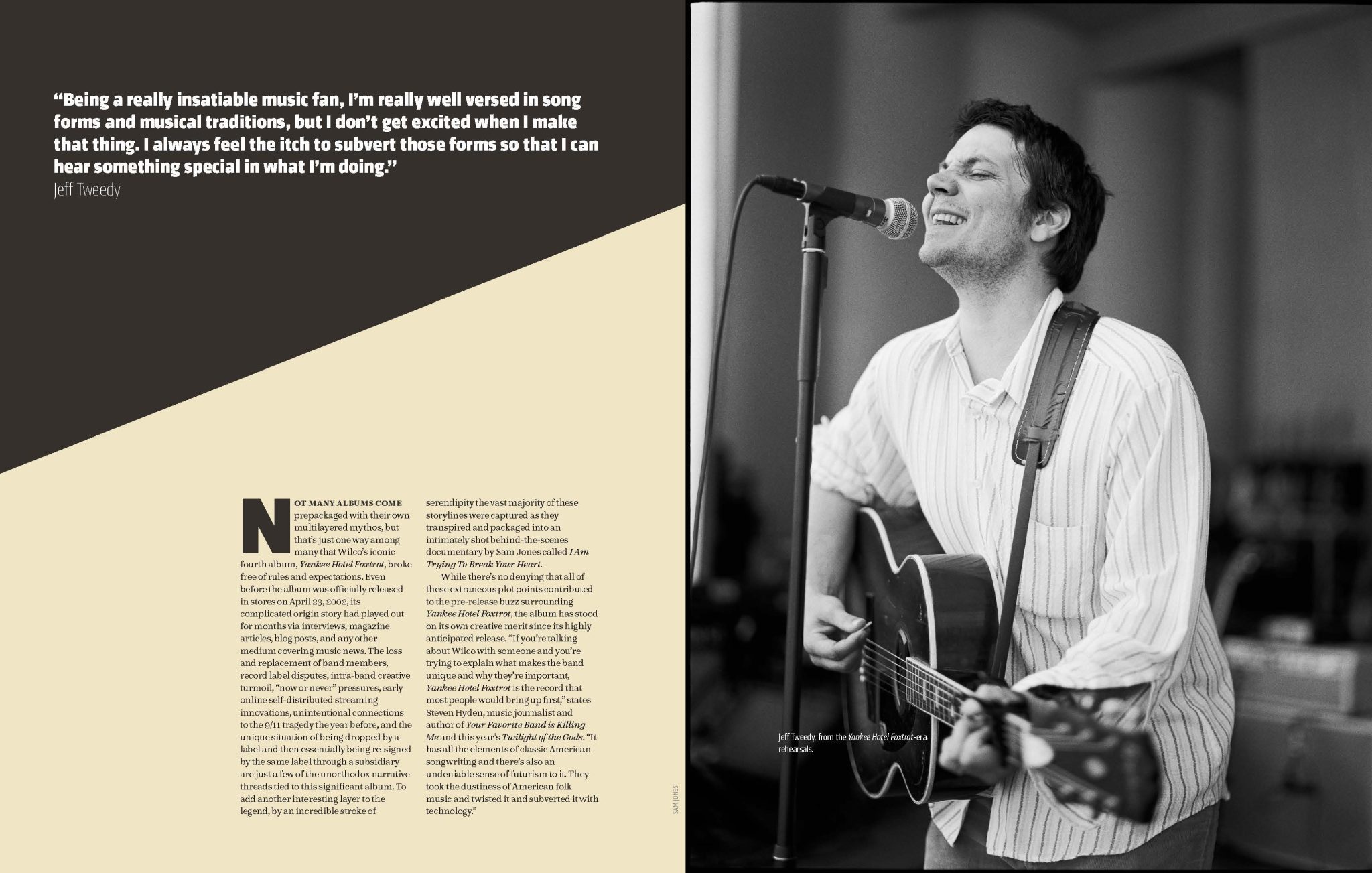 EDITOR'S NOTE: As Nonesuch Records releases seven (!!!) special editions of Wilco's milestone album Yankee Hotel Foxtrot this week, we wanted to share this excerpt from a story in our Fall-Winter 2018 journal, "Innovate." You can read the whole story and check out exclusive images in that issue, available in print or as a digital download. REALLY like Wilco? Our Wilco bundle — the Fall-Winter 2018 journal plus Spring 2020 "Live and In Person," which includes an interview with Jeff Tweedy about the band's Solid Sound Festival — is for you. And please consider supporting No Depression with a subscription for more roots music journalism, in print and online, all year long.
Not many albums come prepackaged with their own multilayered mythos, but that's just one way among many that Wilco's iconic fourth album, Yankee Hotel Foxtrot, broke free of rules and expectations. The album celebrates its 20th anniversary this year and its origin stories have become roots music folklore by now.
But even before the album was officially released in stores on April 23, 2002, its complicated origin story had played out for months via interviews, magazine articles, blog posts, and any other medium covering music news. The loss and replacement of band members, record label disputes, intra-band creative turmoil, "now or never" pressures, early online self-distributed streaming innovations, unintentional connections to the 9/11 tragedy the year before, and the unique situation of being dropped by a label and then essentially being re-signed by the same label through a subsidiary are just a few of the unorthodox narrative threads tied to this significant album. To add another interesting layer to the legend, by an incredible stroke of serendipity the vast majority of these storylines were captured as they transpired and packaged into an intimately shot behind-the-scenes documentary by Sam Jones called I Am Trying To Break Your Heart.
While there's no denying that all of these extraneous plot points contributed to the pre-release buzz surrounding Yankee Hotel Foxtrot, the album has stood on its own creative merit since its highly anticipated release. "If you're talking about Wilco with someone and you're trying to explain what makes the band unique and why they're important, Yankee Hotel Foxtrot is the record that most people would bring up first," states Steven Hyden, music journalist and author of books like Your Favorite Band is Killing Me and Twilight of the Gods. "It has all the elements of classic American songwriting and there's also an undeniable sense of futurism to it. They took the dustiness of American folk music and twisted it and subverted it with technology."
Amid all the dramatics around the writing, recording, and releasing of Yankee Hotel Foxtrot, sometimes the stories at the heart of the album — the 11 painstakingly crafted songs themselves — can get lost. However, strip away all of the storylines and the music itself stands as one of the most powerful and significant albums of the 21st century. Yankee Hotel Foxtrot is the soundtrack of a band essentially dismantling and recontextualizing folk music for a new millennium by employing an array of technological devices meant to highlight the obstacles in basic communication and understanding.
Subverting the Form
Throughout Yankee Hotel Foxtrot, frontman and songwriter Jeff Tweedy addresses that idea of otherworldly transmissions — along with the associated themes of connection, distance, miscommunication, disorientation, etc. — in a variety of unconventional ways, both lyrically and musically. To achieve this, he focused not just on the obvious practicalities that go into making an album (what is being played and sung), but also in the indiscernible processes of the songwriting and recording phases.
Sitting at the kitchen table of Wilco's Willy Wonka-esque Chicago wonderland known as The Loft on a midweek afternoon, Tweedy says "I spend as much time reading experimental poetry and literature as I do listening to music because I'm really fascinated by process."
Around the writing and recording of Yankee Hotel Foxtrot, Tweedy was digging into writers like Gertrude Stein, but not for their writings as much as for their philosophies. "After language has been used for so many hundreds of years, how do you get someone to see a rose again? How do you describe it?" he ponders, referencing Stein's iconic "Rose is a rose is a rose" line from her 1913 poem "Sacred Emily." Acknowledging his tendency to easily become bored with his own work, Tweedy continues, "I wanted to see how I could dismantle language and sound so that they would become exciting again."
To create the tension and struggle felt throughout Yankee Hotel Foxtrot, Tweedy leaned heavily on an inanimate co-conspirator: technology. Many of the foundational elements of Wilco's sonic arsenal are present on Yankee Hotel Foxtrot — gently strummed acoustics, twangy rock guitars, big drums, a broad range of pianos and synthesizers — but there are a variety of other, unconventional sonic elements (detuned radio signals, static-filled droning, kaleidoscopic splashes of indecipherable feedback, a loop of a phonetic alphabet broadcast, chiming bells, backwards tape loops) meant to create a layer of disconnection and confusion between the song and the listener. As David Fricke described it in his 2002 Rolling Stone review of the album, "There is genuine bedlam here … the enchanting sound of things falling apart."
Sometimes those chaotic electronic atmospherics were employed directly, such as the heavily distorted hiss swirling around the tape loop of "I'm the Man Who Loves You" that plays at the end of "I Am Trying To Break Your Heart" or the static Morse code loop running underneath "Poor Places." Other times technology was employed in the form of actual devices used to affect the sound of something else, such as an electronic egg whisk whirling across guitar strings in "Poor Places" or the Korg Kaoss Pad pitch-bending various signals and frequencies throughout the last minute of "Ashes of American Flags."
For Tweedy, the inclusion of these electronically manipulated elements into the traditional Wilco sound was more ornamental than transformative: "It always bothered me that people would say it was experimental. It was experimental to us, but it certainly wasn't something that hadn't already been conducted in modern music. We were discovering new things for ourselves, but it was still rock music rooted in traditional folk and country songwriting."
'Noncommercial' Nature
Apart from the role it played in the music and lyrics of Yankee Hotel Foxtrot, technology has also heavily impacted some of the logistical issues surrounding the album, namely its original (non-physical) streaming release in the fall of 2001, as well as the possibility of it ever properly being remixed or remastered in the future. When Wilco originally handed in the finished version of Yankee Hotel Foxtrot to its record label, Reprise Records bristled at its "noncommercial" nature and eventually dropped the band without releasing the album.
However, in an unusual turn in the music industry, Reprise gave Wilco the rights to the album as they shopped it around to other labels. Before eventually signing with Nonesuch Records, the band made Yankee Hotel Foxtrot available to stream for free via their website, a distribution option that was still in its infancy in 2001, when the words "free online music" were synonymous with illegal music piracy and peer-to-peer file sharing networks. Instead of having an adverse affect on the physical sales of Yankee Hotel Foxtrot, the album sold more than 55,000 copies in its first week and landed at No. 13 on the Billboard 200 album chart. So far, Yankee Hotel Foxtrot is still the only Wilco release to have achieved gold selling status.
For years, fans assumed that the potential for any reissue of Yankee Hotel Foxtrot with any remixing (adjusting how the individual sonic components relate to each other within individual songs) or remastering (adjusting how the overall album sounds by aligning the individual song mixes with each other) would be impossible to meet due to how the songs were originally recorded, mixed, and pieced together. Yet Nonesuch is set to release a massive box set Sept. 16 in honor of the album's 20th anniversary with new mixes. Bob Ludwig remastered the original tracks for CD and Chris Bellman and Bernie Grundman cut and remastered them for vinyl. The Super Deluxe Edition includes 11 vinyl records and one bonus CD (or eight CDs) featuring 82 previously unreleased tracks.
As Tweedy looks back over the process by which Yankee Hotel Foxtrot came to be, there's a bittersweet tone to the way he moves between discussing the creating versus the creation: "To be honest with you, I was pretty frustrated with everything up until I talked Jim O'Rourke into helping me put it all together. I was pretty frustrated at trying to get at something that just felt so elusive."
That elusiveness, the idea of blending technology with tradition to create something that somehow felt both authentically old and completely new, while daunting in its pursuit, proved revelatory in its fulfillment. By taking those risks and braving the unforeseen gauntlet of what the entire Yankee Hotel Foxtrot era turned out to be, Wilco managed to make good on their desires to be true to themselves, their goals, and their thirst for sonic adventure.
Earlier this month, Wilco released "A Magazine Called Sunset (The Unified Theory of Everything Version)," available for the first time in the deluxe and super deluxe reissue packages:
---