JOURNAL EXCERPT: 50 Years of the Telluride Bluegrass Festival
---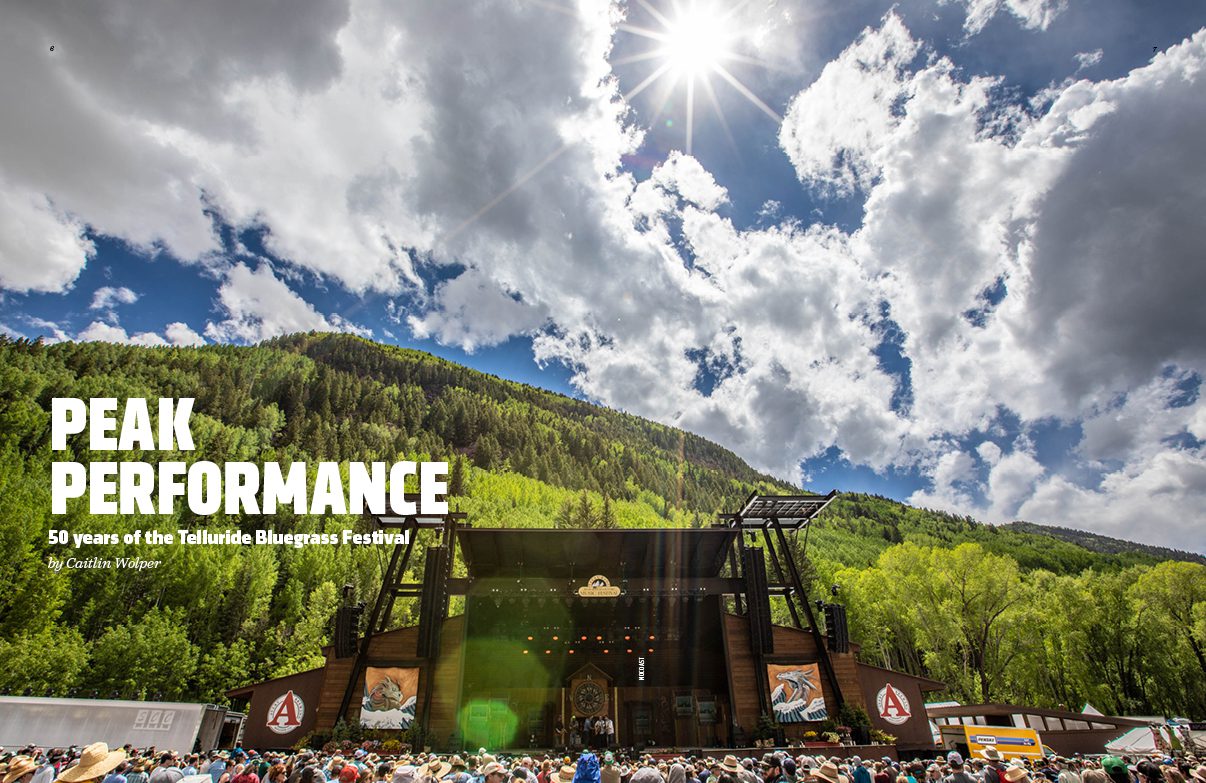 Chris Thile performs at Telluride in 2001. Photo by Tim Benko - Benko Photographics
EDITOR'S NOTE:  The Telluride Bluegrass Festival kicks off June 15, so today we're sharing an excerpt from our Spring 2023 journal about the 50th anniversary of the event. Order your copy or, better yet, subscribe today — and support nonprofit roots music journalism in print and online for a full year!
Chris Thile first played the Telluride Bluegrass Festival at 12 years old. Originally hired to play the Family Tent with his bandmates, siblings Sara Watkins and Sean Watkins, their band Nickel Creek was then offered a 15-minute "in-betweener" slot on the Main Stage of the storied festival. It was 1993, roughly 20 years into the festival's history.
Nickel Creek's members (whose ages then ranged from 12 to 16) had already been playing together for four years and were blown away both by the opportunity and the surrounding musicians: Their heroes were walking among them.
"Sara, Sean, and I just palled around, these little Telluride urchins, accosting poor Scott Nygaard and Mark Schatz for their autographs," Thile recalls. "I think back then we wore cowboy hats everywhere — I had them sign my cowboy hat."
That same year at the festival, Thile was given the opportunity to play mandolin side-stage for Bill Monroe, who was around 80 at the time. Frozen with awe for the father of bluegrass, Thile wasn't sure which song to play; his dad whispered to play one of Monroe's. Surrounded by a crowd of onlookers, Thile played "Kentucky Mandolin" and "Salt Creek."
The impromptu performance was well-received: Monroe complimented Thile, who mimics the compliment and drawl by memory: "Wonderful to meet you, boy." Monroe also asked him about the songs he'd played, and, as he would with any child, he gave Thile a quarter.
Thile returns annually to the Telluride Bluegrass Festival — now with his wife and son. This year's event takes place June 15-18 and will mark its 50th anniversary. Thile's career milestones there comprise just one powerful example of how the festival has built a wide-ranging web of collaboration and community in roots music.
A Storied Tradition
On July 4, 1973, Colorado bluegrass quartet The Fall Creek Boys played a local gig in Telluride — a former mining town surrounded by forested mountains and cliffs, which is nestled just about 200 miles southwest of Aspen. The gathering inspired them to create an annual festival. Individual tickets originally cost $2, and family tickets went for $5 in those early years. The famed box canyon, an area enclosed on all sides by steep rocky walls, of Telluride was a visual feast; the town itself hadn't yet become a prime skiing spot, so it had the space for crowds.
The Fall Creek Boys' Fred Shellman took the lead in organizing and booking the Telluride Bluegrass Festival from its official start in 1974 until 1988. Right from the beginning, the festival was set apart both by location — there weren't many bluegrass festivals in the Rockies — and its relaxed tone. That inaugural 1974 show welcomed around 1,000 attendees.
By 1977, the show had expanded to three days of music (it's now four days, except for a two-weekend stint in 2021). Into the 1980s, Telluride Bluegrass Festival was viewed as a bit of a pilgrimage for music lovers — Ferguson says it would take some a full day of travel (Denver, after all, is more than 300 miles away) just to get to the somewhat secluded location. Attendees dubbed themselves "Festivarians."
In 1989, then-lawyer and music store owner Craig Ferguson founded production company Planet Bluegrass to steer the festival through financial difficulties. (Planet Bluegrass has since expanded to produce additional events in Colorado.) One early step they took: registering the festival's name with the Colorado Secretary of State.
"I — along with maybe 10 other people — was just trying to be an initial investor to reorganize the company a little bit," says Ferguson, who now books the festival and is Planet Bluegrass' president. "At that point, I didn't really expect to be running the company for 30 years. I'm not quite sure how that happened."
Booking the show has changed dramatically over the past three decades. Not only do tickets sell themselves to some degree — Ferguson says each festival has sold out since 1990 — but the first year he booked acts, "all the music that I thought was available was in a cardboard box under my desk. Now the amount of music that's available cannot even fit in a huge office building."
The 1990 festival, which featured James Taylor on the Main Stage, served as a turning point for the Telluride Bluegrass Festival: For the first time in its 16 years, the festival made a profit. Looking back, says Ferguson, "It's the one that basically gave us artistic license to do whatever we want. … We've been pretty much able to book whoever we want and create a creative musical identity that has been unique from that moment forward."
In the time that's passed, Telluride Bluegrass Festival has expanded dramatically. The Family Tent was erected for children's performance and entertainment, another small stage in downtown Elks Park hosted workshops and preliminary rounds of the performance contests, and local venues like the historic Sheridan Opera House, Fly Me to the Moon Saloon, Palm Theatre, and the Telluride Conference Center in Mountain Village started to fill up with late-night "Nightgrass" shows.
"As much as that's changed, the beautiful box canyon at Telluride is still just as an incredibly beautiful venue as you can hope for," Ferguson says. He continues, explaining that while the town has grown, the festival grounds and natural beauty remain more or less the same.
Ferguson says. "And it's that experience of the going and coming home. It's all that experience around that eight hours of music a day that truly, I think, expresses a Festivarian experience."
Now, about 12,000 people attend the festival each year. Some come for one day, some stay from opening on Thursday until the last note on Sunday. Some stay in local lodging that has swelled to accommodate the festival crowds, and others camp at the festival's nearby designated areas. (While some people may spend around $1,000 a night on a condo, Ferguson notes, some campers put down $50 for the week, and there are other lodging options in the middle of that price range, including local hotels.)
Festival organizers are committed to making the event environmentally sound, working with outside organizations to offset 100% of the event's carbon emissions (including travel to and from Telluride for "Festivarians," artists, and sponsored travel). The fest also has a list of rules for attendees to keep the grounds in good condition amid the performances: It encourages reusable bottle use, carpooling, recycling, and more.
When you're doing a show in a place as pristine and beautiful as Telluride, at 9,000 feet," says Ferguson, "respect to the environment has to be at the top of your list."
Hard to Beat
It can be hard to sing at Colorado's altitude, Alison Krauss says. That was the most shocking discovery upon her first Telluride performance, in 1989. When she and her band, Union Station, were invited to play, "that was a peak, playing bluegrass in that world, to us.
"When that festival would come up, it was kind of the most mysterious best of the best," Krauss says. "Who was there? Everybody was always there."
Sam Bush played to a crowd of 3,000 people in 1975; today he's a festival staple. Another bluegrass mainstay, banjoist Béla Fleck, first played the festival in 1982 as part of New Grass Revival along with Bush, John Cowan, and Pat Flynn. Then he kept coming back — every year — with that group and many others as well as at the helm of his own band.
"There aren't a lot of situations as kind to our music as this [festival], so becoming a regular was and is an incredible privilege," Fleck says. "They have encouraged me to be myself, and supported various out-of-the-box Béla shows." He cites collaborations with Chick Corea, Toumani Diabaté, The Marcus Roberts Trio, The Colorado Symphony, Stanley Clarke and Jean-Luc Ponty, and string quartet Brooklyn Rider as highlights.
"That community aspect makes you want to come back," Fleck says. "Combine that with the festival being game to try unusual things, and it's a hard one to beat."
Big-name artists from far beyond bluegrass have found their way to the festival over the years, including Brandi Carlile, Tenacious D, Kacey Musgraves, and Dierks Bentley. The Barenaked Ladies have played, as has Steve Martin, Johnny Cash, John Prine, Bonnie Raitt, David Crosby, and Mavis Staples.
Ferguson credits the festival as the first in the US to host British folk-rock band Mumford & Sons. "As much as we're proud about how we stuck with someone like Sam Bush for 49 years, we're also proud of the artists we've introduced to the world," Ferguson says.
Telluride Bluegrass Festival also hosts two contests to spotlight up-and-coming talent, the Troubadour and Band contests. The 1990 Band Contest was won by the trailblazing country trio now known as The Chicks. Band Contest winners earn a spot on the Main Stage for the following year, as well as cash and prizes; Troubadour finalists, who are songwriters, receive a four-day pass for that year they compete, play that same festival, play a radio performance, and compete for cash and prizes. Previous winners include Gregory Alan Isakov, Caitlin Canty, and Reed Waddle.
Coming Home
At the Telluride Bluegrass Festival, the magic doesn't exist just on the stages and in the audience. It permeates into late nights and early mornings, reverberating between the hollow spaces of the hallowed canyon. Thile recalls one fateful night in 2005 when he really connected with banjoist Noam Pikelny. They stayed up until 7 a.m. drinking beer and "alternating between fiddle tunes and Radiohead covers." After being kicked out of the backstage area around 4 a.m., they took over a common room at the Hotel Columbia, where Thile was staying, and kept on playing.
"I remember waking up the next day and calling Gabe Witcher, who I've been pals with and playing music with since I was 7 years old, and who I had been chatting with about trying to do something crazy and musically ambitious with for a little while," Thile says. He told Witcher he'd met Pikelny; Witcher already knew him; he'd just played on his record.
And that's how Grammy-winning outfit Punch Brothers came together — at the Telluride Bluegrass Festival.
"[At Telluride,] you're basically going around seeing all these people that you love — probably for the first time that year, maybe for the first time since the last Telluride — and it's a very festive atmosphere," Thile says. "The festival is all about the people. And there's such a feeling in that box canyon. It's this crazy sound. It's obviously one of the most stunning festivals, visually, that I've ever been to before. You step on the stage and just feel so epic. And then you look into the crowd and see your friends, and then you see all these fans that you recognize from having [played for more than 20 years]."
Krauss, who is scheduled to play the 2023 festival with Robert Plant, remarks that the event has a "commitment to greatness." As she notes, many festivals are disappearing, but 50 years in, Telluride keeps growing.
"The gondola rides are beautiful. The atmosphere is like nothing else. Your view from the stage is so beautiful. There are the best musicians in the world there," Krauss says. "I mean, it's my son's favorite place, he's loved going there since he was a little guy."
Thile lauds Telluride's communal atmosphere as well. He compares it to a bluegrass community Thanksgiving: "We all bring our families and everyone comes," he says. "Once you start going … your year doesn't feel complete without it."
---