JOURNAL EXCERPT: 50 Years of Karen Dalton's 'In My Own Time'
---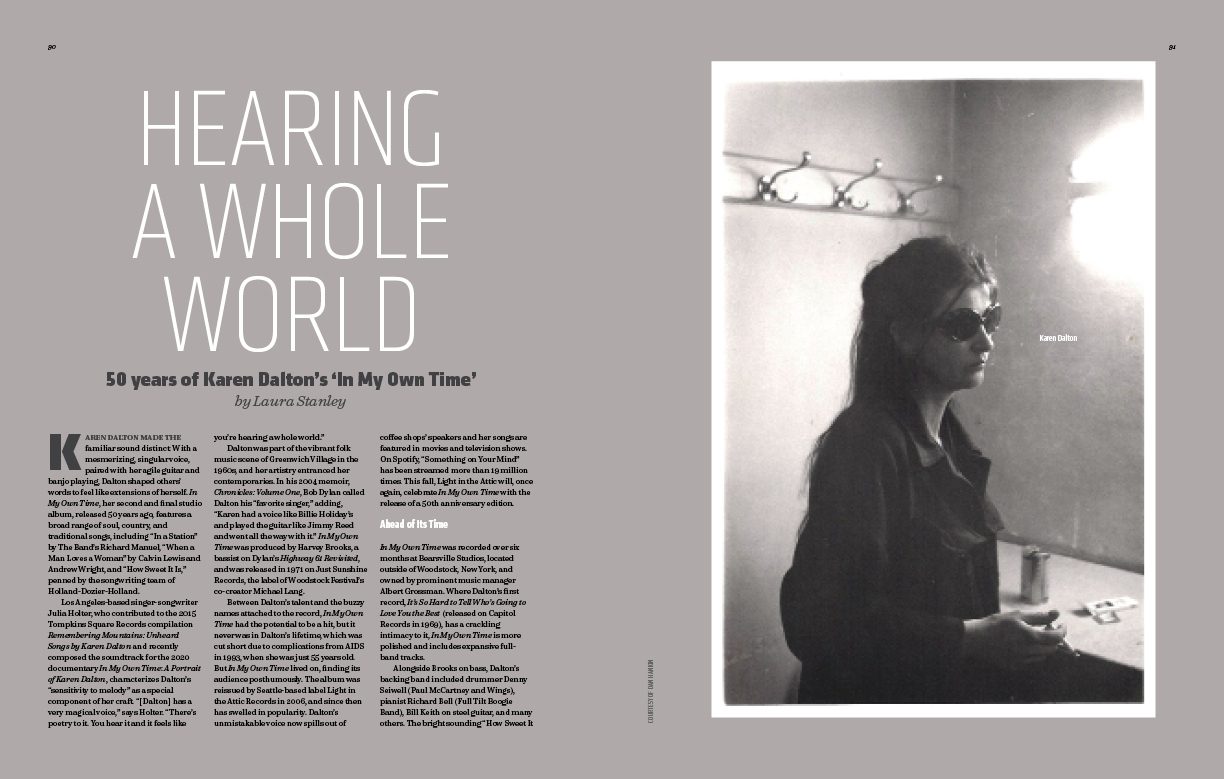 EDITOR'S NOTE: Below is an excerpt from a story in our Summer 2021 journal, "Voices" that No Depression is republishing in honor of today's 180-gram vinyl reissue of this underground classic record from Light in the Attic. You can read the whole story — and much more — in that issue, here. And please consider supporting No Depression with a subscription for more roots music journalism, in print and online, all year long.
Karen Dalton made the familiar sound distinct: With a mesmerizing, singular voice, paired with her agile guitar and banjo playing, Dalton shaped others' words to feel like extensions of herself. In My Own Time, her second and final studio album, released 50 years ago, features a broad range of soul, country and traditional songs, including "In a Station" by The Band's Richard Manuel, "When a Man Loves a Woman" by Calvin Lewis and Andrew Wright, and "How Sweet It Is," penned by the songwriting team of Holland-Dozier-Holland.
Los Angeles-based singer-songwriter Julia Holter, who contributed to the 2015 Tompkins Square Records compilation Remembering Mountains: Unheard Songs by Karen Dalton and recently composed the soundtrack for the 2020 documentary In My Own Time: A Portrait of Karen Dalton, characterizes Dalton's "sensitivity to melody" as a special component of her craft. "[Dalton] has a very magical voice," says Holter. "There's poetry to it. You hear it and it feels like you're hearing a whole world."
Dalton was part of the vibrant folk music scene of Greenwich Village in the 1960s, and her artistry entranced her contemporaries. In his 2004 memoir, Chronicles: Volume One, Bob Dylan called Dalton his "favorite singer," adding, "Karen had a voice like Billie Holiday's and played the guitar like Jimmy Reed and went all the way with it." In My Own Time was produced by Harvey Brooks, a bassist on Dylan's Highway 61 Revisited, and was released in 1971 on Just Sunshine Records, the label of Woodstock Festival's co-creator Michael Lang.
Between Dalton's talent and the buzzy names attached to the record, In My Own Time had the potential to be a hit, but it never was in Dalton's lifetime, which was cut short due to complications from AIDS in 1993, when she was just 55 years old. But In My Own Time lived on, finding its audience posthumously. The album was reissued by Seattle-based label Light in the Attic Records in 2006, and since then has swelled in popularity. Dalton's unmistakable voice now spills out of coffee shops' speakers and her songs are featured in movies and television shows. On Spotify, "Something on Your Mind" has been streamed more than 19 million times. Now, Light in the Attic celebrates In My Own Time with the release of a 50th anniversary edition.
Ahead of Its Time
In My Own Time was recorded over six months at Bearsville Studios, located outside of Woodstock, New York, and owned by prominent music manager Albert Grossman. Where Dalton's first record, It's So Hard to Tell Who's Going to Love You the Best (released on Capitol Records in 1969), has a crackling intimacy to it, In My Own Time is more polished and includes expansive full-band tracks.

Alongside Brooks on bass, Dalton's backing band included drummer Denny Seiwell (Paul McCartney and Wings), pianist Richard Bell (Full Tilt Boogie Band), Bill Keith on steel guitar, and many others. The bright sounding "How Sweet It Is" grooves playfully with interwoven guitar parts while "In My Own Dream" (written by blues artist Paul Butterfield) is a woozy tune where Dalton's voice faces off against John Hall's forlorn guitar solo and wins. Additionally, she rearranges George Jones and Leon Payne's saccharine-sounding country ballad "Take Me" into a bluesy and heartbreaking plea. Dalton sounds enervated, weighed down by the unpredictability of love.
The assortment of the songs Dalton interprets reflects her expansive influences, but despite the varied nature of In My Own Time, the album wasn't embraced by a large audience. Richard Peete, who co-directed last year's documentary alongside Robert Yapkowitz, posits that changing tastes factored into why the record wasn't initially a commercial success.
"Popular music was shifting then and it was getting a little less out of folk," says Peete. "We talk a lot about Karen's timing and it feels like for a lot of her life she was just off a little bit. If [In My Own Time] would have come out five or 10 years earlier, it could have done really well."
New Audiences
Light in the Attic Records began its pursuit of reissuing In My Own Time around 2003. Founder and co-owner Matt Sullivan describes the label's persistence in getting Lang, owner of the album's master recordings, to sign off on the reissue: "I remember thinking that even though it's hard to get Michael Lang to come around to let us reissue it, I'm not going to leave this guy alone," Sullivan says. "I will do anything to be involved in any way to try and see this come to fruition because more people need to hear [In My Own Time]."
Accompanying the reissue are materials that tell a story of the album's burgeoning influence: There's an essay on In My Own Time by music historian and Patti Smith Group guitarist Lenny Kaye, excerpts from an interview with Nick Cave where Cave names Dalton as his favorite female blues singer, and a Dalton-inspired poem by singer-songwriter Devendra Banhart.
Mark Linn is the founder of the archival label Delmore Recording Society, which released three collections of Dalton's recordings: Cotton Eyed Joe in 2007, Green Rocky Road in 2008, and Karen Dalton–1966 in 2012). Linn, along with producer and DJ Nicholas Hill, was one of the first people to rediscover Dalton's music and helped to lay the groundwork for Light in the Attic's reissue of In My Own Time. He recalls walking past a line of people waiting to get into a club in Nashville to see Banhart perform around 2007. He overheard them speaking passionately about Dalton. "It was the weirdest thing in the world to me at that point," says Linn, who then thought Dalton was still a hidden treasure, via email. "I did a double take each time it happened."
"I believe that truly great and original artists (musicians, painters, photographers, dancers) will find an audience eventually," Linn notes. "And that staying true to yourself is worth it."
"Not to be cliché, but the title In My Own Time really sums up Karen as being somebody who is not necessarily ahead of her time, but was doing things her way," Sullivan says about Dalton's lasting impact. "I think people will be listening to this music forever."
He adds, "And Karen's voice on that album is something that's totally unmistakable."
Dalton's voice really is the cornerstone of her songs. Attempting to describe it — warm and prickly, twangy, soulful and ragged with emotions — is its own poetic exercise. Australian singer-songwriter Courtney Barnett told Pitchfork in 2015, "[Dalton's] voice is so heartbreaking […] No one else has a voice like her. Crackly and hoarse and so damaged and vulnerable."
In his essay included in the 2006 reissue of In My Own Time reissue, Kaye wrote, "[Dalton's] voice was as much horn as vocal chord [sic], a muted trumpet or alto saxophone that slid downward toward the bluish."
Dalton's voice is dynamic throughout In My Own Time. On "Are You Leaving for the Country" (written by Richard Tucker), she sounds at peace, letting each syllable drift breezily out of her mouth. On the stark traditional tune "Katie Cruel," Dalton matches the lonesomeness of the song's protagonist. On the album's centerpiece "Something on Your Mind" (written by Dino Valenti), Dalton soars above the heavy guitar chords and pushes herself, voice cracking, to offer a perennial reminder: "Well, you know, you can't make it without ever even trying."
Dalton led a tough life, which lent an unconventional approach to her music-making. She left her home in Oklahoma at 21 after two divorces, tried (if not always successfully) to parent her two children well, and struggled with addiction throughout her life. Her struggles and experiences left an indelible mark on her music, one that resonated with many listeners. "I think the same reason that people like Bob Dylan liked her and were drawn to her is because she was authentic and singular," Yapkowitz says.
"You can hear how much she cares about what she's doing," he adds. "I think very few musicians can translate that raw emotion, and there's something unique to her about it. When you hear Leonard Cohen's voice or Lou Reed's voice, you're like, 'Oh, that's Lou Reed.' You immediately recognize it and I think the same is true for Karen. It just sounds like Karen."
Transcendent Talent
Fifty years after its release, In My Own Time continues to beguile and influence listeners. Los Angeles folk singer Shannon Lay included a version of "Something on Your Mind" on her 2019 record August after being introduced to Dalton's version through Spotify's algorithm. "I immediately wanted to learn how to play it," says Lay about hearing the song for the first time. "There's those specific voices that are no one but theirs and she's just got that incredibly broken but perfect [voice]. It blows my mind every time that I hear it because I've never heard a voice like it before."
Lay adds, "Music can convey pain in such a beautiful and relatable and cathartic way, and I think she really achieves that to the nth degree."
Nashville-based bluegrass and folk artist Molly Tuttle, who included "Something on Your Mind" on her 2020 album of cover songs …but i'd rather be with you, discovered Dalton in high school after reading that she was Dylan's favorite singer. The first Dalton song that Tuttle came across on YouTube was "Katie Cruel," which perfectly coincided with her learning how to play the clawhammer banjo. Tuttle learned the song and it became a staple at her early shows.
"Her voice is just so haunting. You can tell she's lived a hard life and I think the first time I heard it, the tone of her voice really struck me. It doesn't sound like anybody else. It gave me chills," Tuttle says.
"I always forget that she didn't write [the songs on In My Own Time] because they feel so authentic to her. I think that's what makes a good cover: people who choose songs that really speak to them and bring their own life and their own voice to the songs that they're covering."
That authenticity that Dalton brings to In My Own Time is a quality that continues to captivate listeners. When conformity feels like the only path to take, Dalton's voice is a reminder that there's beauty in being yourself.
"I think she's quite genuine in what she does," Lay says. "The amazing part of how saturated music is now, all of these things are more accessible than they have ever been, so I think when you come across something that is genuine, it's so apparent. I get that from her so much. I love that you can really feel that she was born to share this part of herself."
Sullivan lists the In My Own Time reissue as one of his personal favorite projects that Light in the Attic has released in its 20 years. "It's one of those records that I never ever want to stop listening to," he says. "It's so pure and genuine. Her voice and those performances, they transcend."
---