Jimmy Buffett Dies at Age 76
Posted On September 2, 2023
---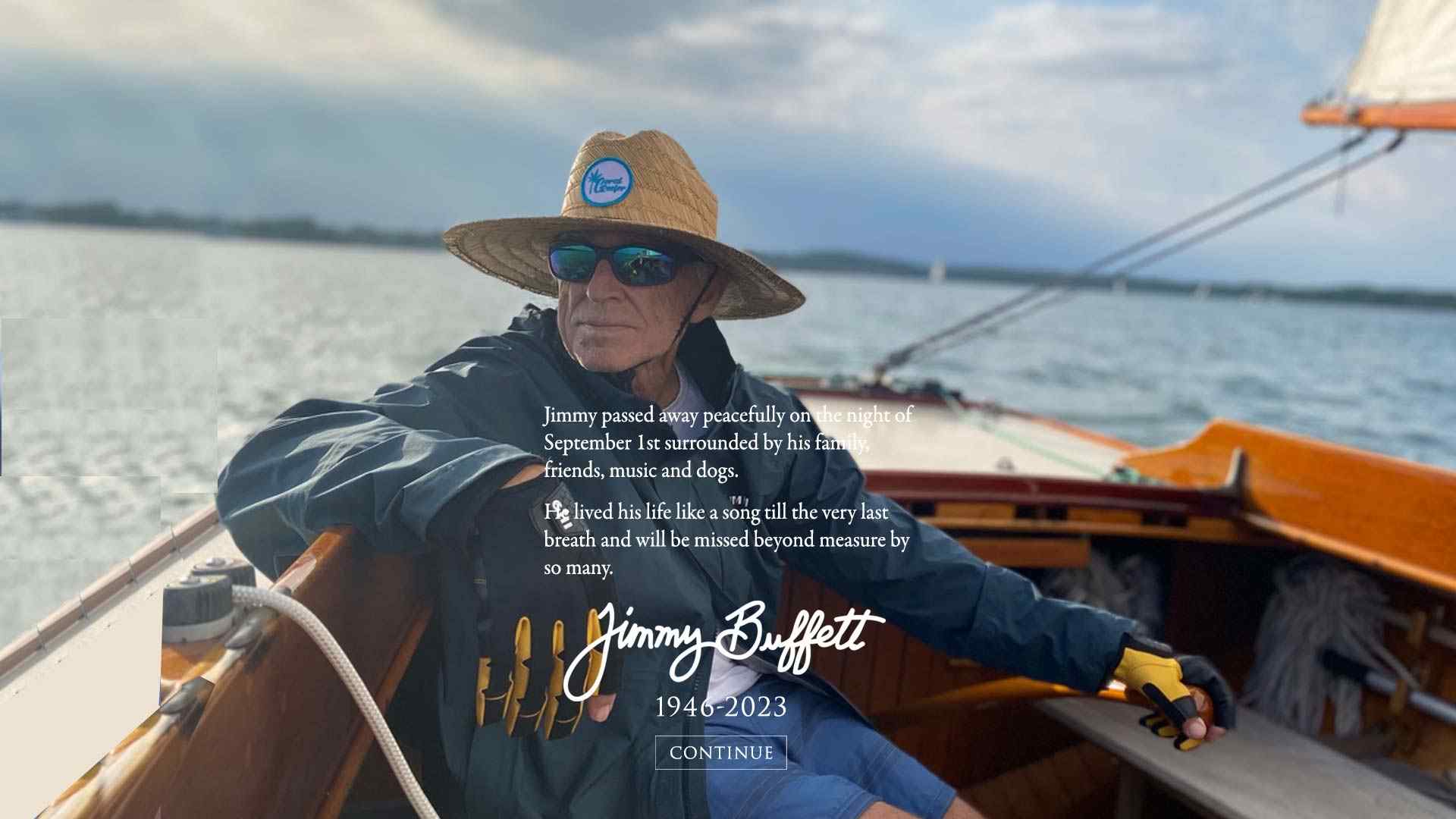 A message announcing Jimmy Buffett's death on his homepage
Jimmy Buffett, whose most famous songs promoted a vibe of permanent vacation, ended his work in this life Friday at the age of 76.
A statement posted on his website and social media said he passed away peacefully "surrounded by his family, friends, music and dogs. He lived his life like a song till the very last breath and will be missed beyond measure by so many." The words are superimposed on a photo of Buffett gazing calmly at the sea from the deck of a sailboat.
With "Margaritaville" his only true hit song (according to charts, anyway), he nonetheless built a gigantic loyal following — Parrotheads, as they're called — via his live shows with the Coral Reefer Band. He also built an empire of lifestyle brands, including a chain of hotels, restaurants, tequila, clothing, and footwear. He also was an author, posting bestsellers on both fiction and nonfiction lists, and early in his career did a stint as a music journalist, credited with breaking the news of Flatt & Scruggs' disbanding while working for Billboard, according to an obituary in The New York Times.
Buffett was born in coastal Pascagoula, Mississippi, but rooted his musical inspiration a little farther south, in the Caribbean and especially Key West, where he first visited in the early 1970s on the advice of his friend Jerry Jeff Walker. He became well known for party songs like "Margaritaville" and "Cheeseburger in Paradise," but also for more somber tracks like "A Pirate Looks at Forty," all set to a tropical rock sound that borrowed heavily from other genres but became his signature.
No cause of death was given. Buffett canceled a show last May after "a sudden change of plans last week" that prompted a hospital stay to "address some issues that need immediate attention," he explained in a statement. He said he would return to performing when he was able, he assured, but that was not to be.
"Growing old is not for sissies, I promise you," he said in his statement last spring.
---