Jakob Dylan and The Wallflowers Mark New Beginning With 'Exit Wounds'
---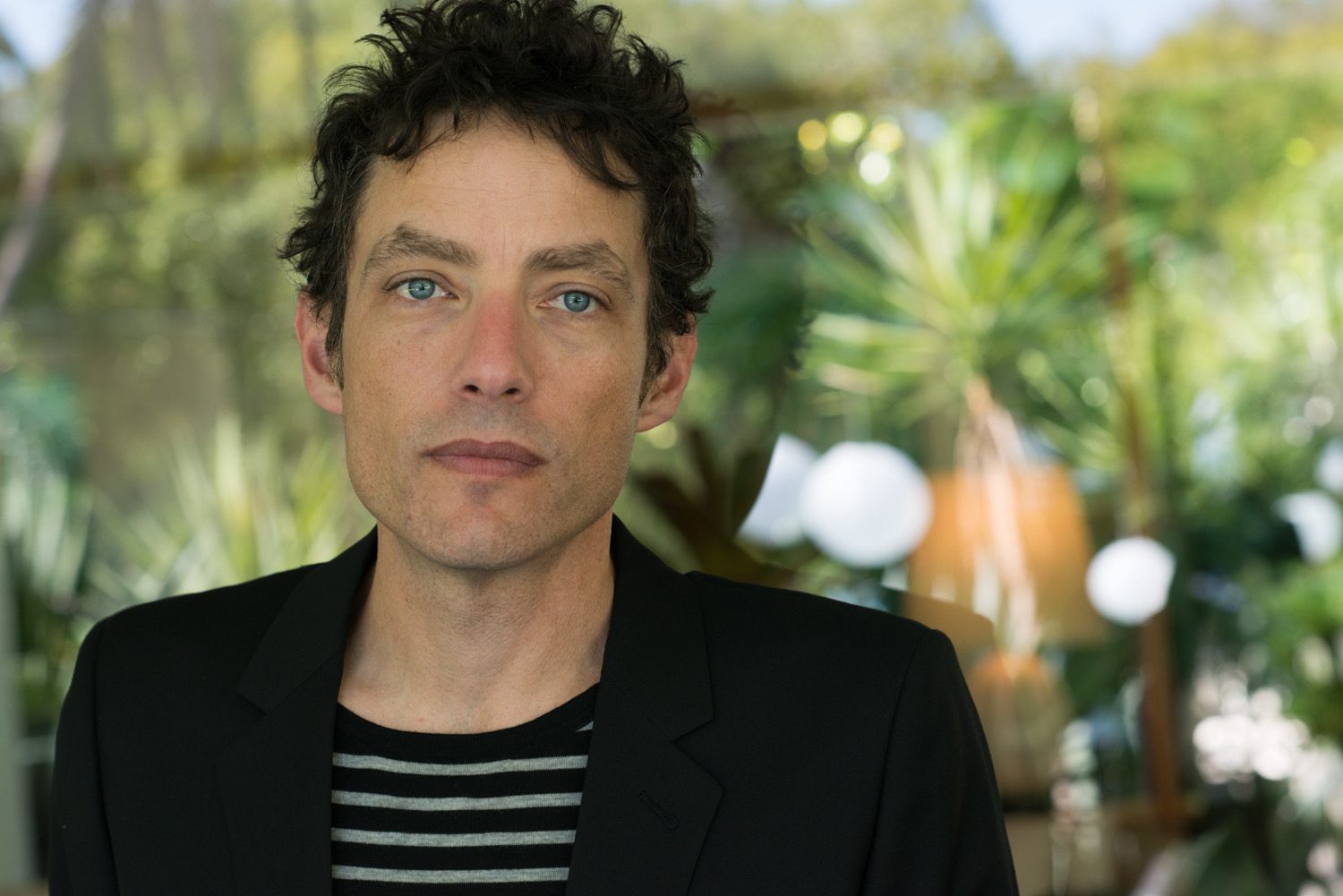 Jakob Dylan (photo by Yasmin Than)
Though they've been making music since 1989, The Wallflowers didn't grab the world's attention until seven years into their career, when they released their second studio album, Bringing Down the Horse. With hardly any warning, this record would prove to be not only a commercial success — it's certified quadruple platinum, selling more than 4 million copies since its release — but also a timeless cultural artifact as its second single, "One Headlight," topped Billboard's "Greatest of All Time Adult Alternative Songs" chart earlier this year.
"It could have been me or it could have been someone else," the band's frontman, founder, and only consistent member Jakob Dylan told Rolling Stone in 2016 as he reflected on the 20th anniversary of Bringing Down the Horse. "The pieces were just in place."
That humble attitude and approach carried Dylan and his band through four more studio albums, with the most recent, Glad All Over, coming out in 2012. Though not nearly the commercial success that Horse was LP, Glad All Over continued to find Dylan exercising his songwriting talents with the band's distinct alternative rock sound that doesn't fit neatly in any box but stands out clearly as The Wallflowers.
Now, almost a decade later, The Wallflowers return with their seventh studio album, Exit Wounds, out today via New West Records.
"I hadn't planned on it being this long," Dylan says of the gap between albums. "Honestly, I hadn't noticed it was that long. I'm not on any sort of treadmill anymore. When you're younger, you feel the constant pressure to put out new things, but I'm past that. My main function is to tour, and you don't need the records to tour as much as when you're first starting out."
The last nine years haven't been quiet for Dylan. When he wasn't touring, he kept busy making the movie Echo in the Canyon, which lifts up the music that came out of Los Angeles' Laurel Canyon neighborhood in the mid-'60s from acts like The Byrds, Buffalo Springfield, and others. "That actually took awhile," he explains, "and then we recorded the soundtrack and we went around and played that and promoted it. I started collecting songs and I guess time had just slipped by."
Even as he recognizes the length of time that exists between Glad All Over and Exit Wounds, Dylan isn't inclined to dwell on it. "It's just nice to still be making albums," he admits. "You have to keep going, man."
An Album Takes Shape
As Dylan started collecting songs, The Wallflowers' new record began to take shape. It was finished before the novel coronavirus ravaged the world, but with the uncertainty and pain of the pandemic, Dylan decided to postpone its release. And while every word on Exit Wounds was written before the pandemic, fans will no doubt be moved to hear how the songs prophetically speak to the current moment and reality.
"That's the nature of lyrics," Dylan says. "They're pliable. They can transcend any moment. If you're not hitting things right on the head — which I don't really do anyway, my lyrics are abstract to begin with — a good song can last. I want to sing my songs forever."
For Dylan, a good song explores human nature, and human nature is a timeless topic. This is immediately evident in Exit Wounds' opening track, "Maybe Your Heart's Not In It No More," as he sings, "I'll carry you now, I'll take us both on down whatever is left of the road / Easy come, easy go / Not leaving with you, even though, maybe your heart's not in it no more."
As the songwriter explains, "Human nature, pandemics, war, they're always inevitable, they're always on your mind and they're always going to make sense at some point." That truth is present throughout the new LP, and Dylan's lyrics are only made more timeless thanks to the beautiful musical arrangements by this latest makeup of The Wallflowers, including multi-instrumentalist Butch Walker (who also produced Exit Wounds), drummer Mark Stepro, bassist Whynot Jensveld, keyboardist Aaron Embry, and guitarist Val McCallum.
"I was really grateful that we were able to finish the bulk of it before [the pandemic] because we were able to all be in the room together for it," he explains. "I could make a record any which way I have to, but I prefer to make it with everybody together in one block of time. I'm confident music is best made in the moment, in a collaborative moment, with that musical chemistry. There's something in the atmosphere when you're all together. How'd you wake up in the morning? What's the humidity? How long did you sit in traffic to get to the studio? All those things inform how records are created and that happens when you do it together."
Another thing that happens when artists are in the studio together is the unexpected, and for Dylan, one of the more unexpected elements of this record arose when singer and songwriter Shelby Lynne came into the picture.
"She became a member of the band on this record."
Similar Circles
As The Wallflowers were doing their best to take over the world in the '90s, Shelby Lynne was carving out her own place in the history books, too. Her debut record, Sunrise, came out in 1989 and was followed by five more studio albums in the next decade, including her standout I Am Shelby Lynne, which led to her Grammy Award for 2000's Best New Artist.
"We run in similar circles, but she's not out and about like other people, so I don't bump into her too much," Dylan explains. "I've always liked her records and her singing. … She's a contralto singer, she sings not like a lot of women sing. But it's not just the way she sings, it's her actual tone and register, it's so unique."
Thanks to guitarist McCallum's connection to Lynne, Dylan and Walker tossed around the idea of having her sing on "Darlin' Hold On." "It seemed organic because the connection was already there with Val," Dylan says. "We're not calling an agent, you know? I was very pleased that she said she would like to hear something and come down to the studio. Once she came down, everybody had such a good time, we kept throwing songs at her and wouldn't let her leave and it became clear she became a member of the band. I hope she doesn't mind me saying that, but that's what it feels like."
Along with "Darlin' Hold On," Lynne lends her voice to the record's opening track as well as "Move the River" and "I'll Let You Down (But Will Not Give You Up)." As Dylan puts it, "If you're on one song, you're a special guest. If you're on four songs, you're part of the band."
Feeling Stranded
Walker became an integral part of the band, too, not just as a musician, but as the producer. Dylan has worked with many well-known producers over the years, including T Bone Burnett on Bringing Down the Horse, Brendan O'Brien on 2005's Rebel, Sweetheart, and Jay Joyce on Glad All Over, but working with Walker brought about a different and much-needed experience for Dylan in the studio.
"I've always felt stranded to some degree making records in the context of a rock band," he confesses. "Everyone is worried about so many different things. I wish there was somebody in the studio I could ask about a verse or words or just say, 'Does this sound right to you or am I being redundant at this point?' I prefer to have somebody in the studio like that as opposed to someone who sits on the couch and just throws ideas at me."
Walker has written with and produced for a wide range of artists, including Green Day, Katy Perry, Pete Yorn, and Taylor Swift, and is a longtime friend of Dylan. They have known each other for 20 years, and though they've never collaborated quite like this before, they've spent a lot of time together on stage at charity and tribute shows, and their families have traveled together over the years. While a relationship like that might prove complex when recording an album, Exit Wounds is evidence that Walker was the perfect person to sit in the producer's chair.
"At the end of the day, the job of a producer is to make the artist feel fearless," Dylan says. "That's it. Butch does that. And although I wrote the songs myself, he was always there, and you can't sneak something by another songwriter. You can sneak something by the trombone player — no offense to trombone players — but working out a song with Butch in the studio, you can see the expression on his face if he doesn't know what the fuck you're doing in that verse. He doesn't have to say anything."
It's clear that Dylan is excited for the world to hear Exit Wounds, both recorded and live when the band resumes touring next month. But regardless of how audiences hear it or how long it's taken them to have the opportunity to do so, Exit Wounds has reminded him of what he's missed.
"I regret how much time had gone by," he says, coming back to the nearly 10 years since his band's last LP. "You should make records when you're inspired and you have the right songs, but that being said, sometimes you just need to keep going. You want to be proud of everything you do, and it's nearly impossible to be inspired every day of every year of your life, no matter who you are, regardless of what you're doing. But you have to march on."
Thinking about that reality and taking his own advice to heart, Dylan perks up as the conversation nears its end.
"I wish I had more records, but I'll make you a promise: I'll work quicker next time."
---