In 'Dolly Parton's America' Podcast, Jad Abumrad Finds the Substance Behind the Sparkle
Posted On October 15, 2019
---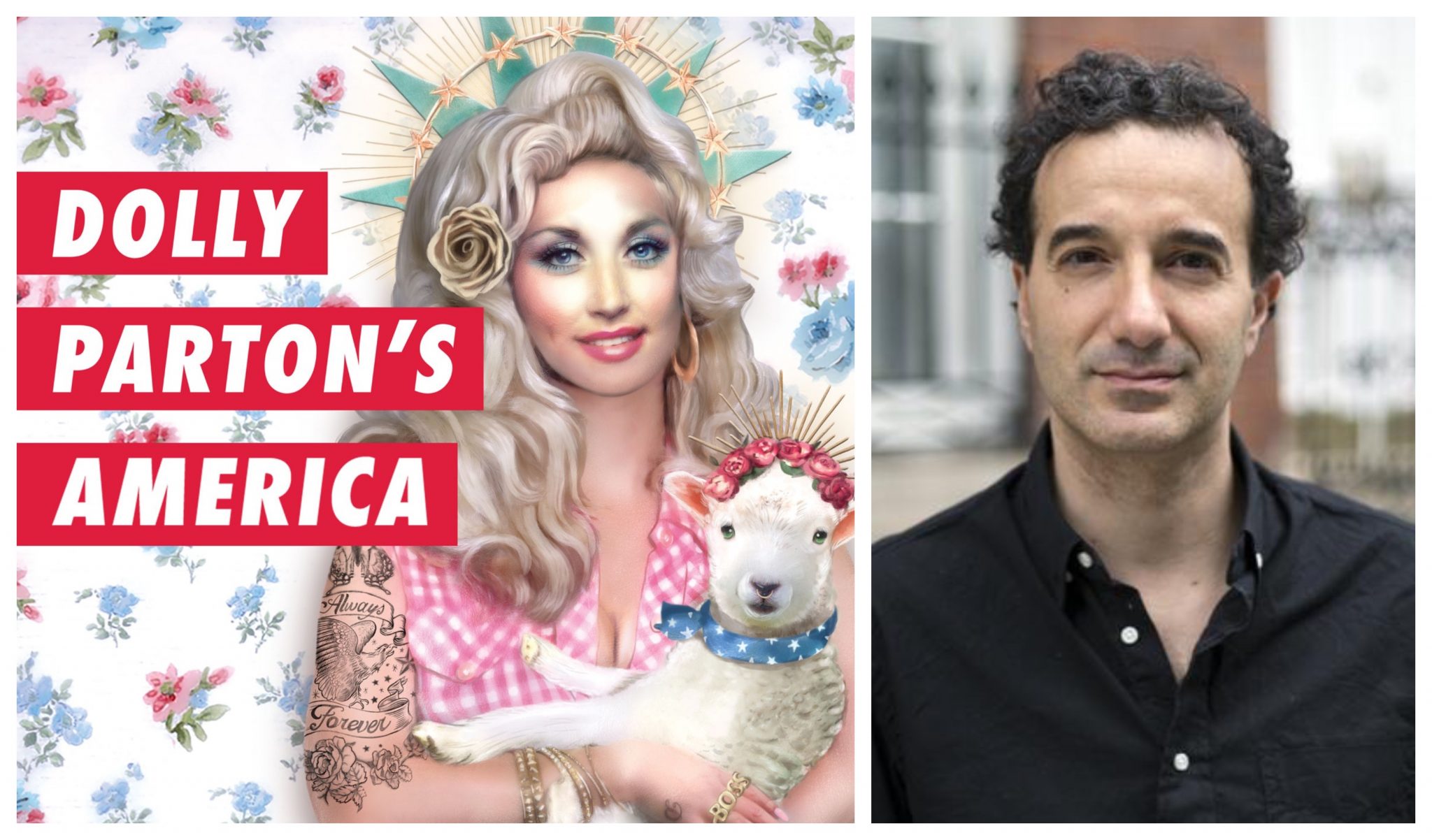 Dolly Parton photo illustration by Christine de Carvalho; Jad Abumrad photo by Bo Jacober
You could fill hours of airtime with a retelling of Dolly Parton's life story.
Maybe you'd start with her childhood in the Smoky Mountains, where she was one of 12 children in a family that struggled to make ends meet. Then you'd move into her career-building years in Nashville, her time on The Porter Wagoner Show, and the solo years that cemented her status as a legend. You might catch up to the present with some of her modern-era headlines, like having a cloned sheep named after her (it was created from a mammary gland cell), her extensive philanthropy, and being godmother to pop star Miley Cyrus.
In between these well-worn stories, you might connect the dots with Parton's iconic songs, like "9 to 5," "I Will Always Love You," and "Jolene."
And that'd be a pretty entertaining listen. But if that's as far as you went, there's so much you'd miss.
For Dolly Parton's America, a new weekly podcast from WNYC Studios and Radiolab host Jad Abumrad that starts today, the lens focuses on Parton but zooms way, way out to show the fuller context of her life and the places and times in which she's lived it. Along the way, Abumrad finds parallels to his own story growing up in the South and to the story of his parents, who settled in Nashville after immigrating from Lebanon. (His father, Naji Abumrad, is a doctor who became friends with Parton after meeting her in the aftermath of a 2014 car accident.)
The nine-part podcast started as a single interview with Parton, Abumrad says, but when he visited a University of Tennessee class titled "Dolly Parton's America" afterward, and heard Parton's life considered against a much larger social backdrop, "a world became visible to me."
"Dolly is also a way of talking about Appalachia," he says. "And then I had the experience of reflecting on my own upbringing in the South, and so then Dolly became a way to talk about migration and immigration to the South, to talk about my own family's journey. And Dolly became a way to talk about the experience of women over the last 60 years in America, and the birth of country music, and the way that industry has grown. It became a way to talk about politics. All of these things were not there at the beginning. And so it was like each interview would illuminate one more piece."
Among the people interviewed in the series, which was two years in the making, is Parton's nephew and bodyguard, Bryan Seaver, who talks about their upbringing in Tennessee as well as "Dolitics" — his term for Parton's political beliefs and actions. Jane Fonda, Parton's co-star in the movie 9 to 5, talks about a tense moment during the 2017 Emmy Awards broadcast in which Fonda and fellow 9 to 5 star Lily Tomlin got political … and Parton pointedly didn't play along. Listeners will also hear from Rhiannon Giddens on the role migration has played in country music, Gloria Steinem on the significance of Parton's control over her career, and Sarah Smarsh, an author and commentator on socioeconomic class in America and the writer of a four-part series on Parton and feminism that ran in each of No Depression's quarterly print journals in 2017.
But of course the main voice in the podcast is Parton's. Across more than 12 hours of interviews, Parton talks about her life, her music, her faith, and, to some extent, her politics.
"I spent a lot of time with her on this specific point, really digging into anecdotes where she's been pressed and has very skillfully sidestepped, asking her why and what obligation she feels she has or doesn't have to take a stand," says Abumrad, who devotes a whole episode of the podcast to this topic. While he didn't want to reveal too many specifics before the podcast aired, he did share some insight he gained.
"It's not that she's not taking a stand," he says, "it's that she's taking a deliberately apolitical stand, which feels qualitatively different to me. She's not avoiding something so much, as she's deciding not to speak."
He continues: "Apparently these divisions run through her family like they do every family, and they get into screaming matches at Thanksgiving about it. And it was interesting to hear her talk about how she just doesn't tolerate it. Not because she doesn't like politics, but because she feels … that you need to fiercely protect a space where people of different viewpoints can stand in the same room. It actually feels like an ethic at the end of the day, not necessarily an avoidance.
"This to me was one of the most surprising and interesting parts of her, is the way in which she carefully calibrates her political influence."
Like a lot of people, Abumrad came to his appreciation of Parton only after looking past the pop-culture punchlines (including the ones she herself perpetuates) and diving into her music.
"You go back to '60s Dolly, and you go back to '70s Dolly, and it's just, like, damn," he says. "There's just such darkness in her music, and she's singing about all of this misery that she was witnessing around her. It very quickly becomes apparent that underneath all the jokes and underneath all the attention to her persona is somebody who's a witness, who's been paying witness to the struggles of mostly women for about a half century. So it's a very interesting tension that you get with her, which is she'll kind of like poke fun at herself but at the same time she does it, I think — these are my words, not hers — so that you give her music a chance. And when you do that, you realize, 'Oh, there's something really serious and deep going on there.'"
That depth is what Abumrad hopes to bring out in his podcast, a way for people to see past the boob jokes and sequins and understand what Parton is and what she represents. And there's a lot to see, too, about America, when you look past the politics and into our history, especially at the parts of our story that have been buried or forgotten.
"I hope people will look at Dolly Parton and think, as I did, that this is somebody who has been underestimated her entire life and career," Abumrad says, also raising the question of what that might say about us.
"I would hope people take away a new opinion of the South," he continues. "I hope that people take away a new opinion of country music and who is or is not included in that music. And speaking of that, I hope that people take away a new look or a new perspective on the labels that divide us as Americans by simply looking at how Dolly seems to hover above those labels and sidestep those labels."
---
To comment on this or any No Depression story, drop us a line at letters@nodepression.com.
---