HELLO STRANGER: A Walk Through No Depression's Summer 2022 'Movers & Shakers' Journal + Playlist
---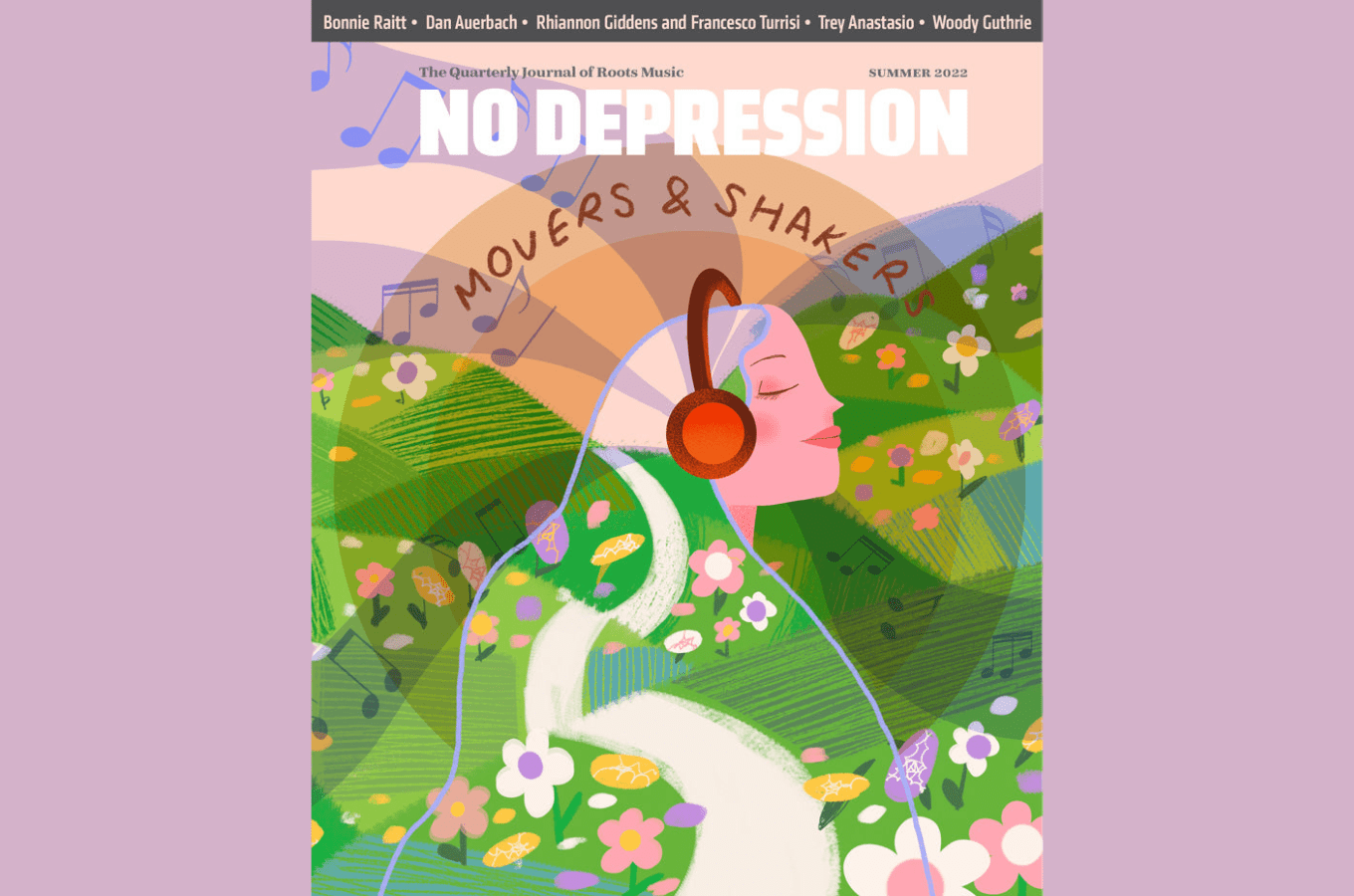 Summer 2022 No Depression journal cover illustration by Ni Ma.
EDITOR'S NOTE: Managing Editor Hilary Saunders' letter, below, opens our current quarterly journal, reflecting on the issue's theme of "Movers & Shakers" and celebrating the places and spaces where roots music happens. Buy the Summer 2022 issue in print or digitally here. Better yet, start a subscription with this issue and help support No Depression's music journalism all year long.
I've been thinking a lot about leadership lately. In terms of the theme of this issue, "Movers & Shakers," I've been thinking about the influential roots musicians trying to make our scene a better place — the performers challenging the status quo, the players demanding safety while touring and appropriate compensation from streaming, the bands singing the quiet parts of their experiences out loud, and the organizations set up to support them mentally, physically, environmentally, and emotionally.
It's exciting to share these kinds of stories, of both recognized and unsung "Movers & Shakers," and to celebrate their contributions to roots music. This issue features profiles on individuals like the legendary blues guitarist Bonnie Raitt, and how her playing and her representation for women guitarists has shaped her 50-year career, as well as The Black Keys' Dan Auerbach, and how he's used his varied experiences to help mentor other roots musicians.
This issue also highlights stories with broader scopes pertaining to social and geographic movements. It was an honor to travel to Fort Worth, Texas, to cover the inaugural Fort Worth African American Roots Music Festival, presented by Decolonizing the Music Room. The nonprofit, founded by instrumentalist, songwriter, and Ph.D. candidate Brandi Waller-Pace, aims to elevate and celebrate Black, Brown, Indigenous, and Asian voices in music — not just in performance halls, but also in academia and music education — to build a more equitable future for all. And halfway around the world, Michael League of the jam and funk band Snarky Puppy is leading a musical migration to a town outside Barcelona, shaking up the notions of music-making and community.
And, of course, stories in this issue also attempt to look at the theme of "Movers & Shakers" in more literal ways. We wanted to emphasize elements of bodily movement, dance, and percussion as well, leaning into what actually makes us move and shake. Assistant Editor Stacy Chandler looked at the intersection of traditional dance and roots music, checking in with Jake Blount, Nic Gareiss, and April Verch. And former Editor-in-Chief Kim Ruehl explored the relationship between Woody Guthrie, Marjorie Mazia, and modern dance.
But beyond getting this issue to print, I've been thinking a lot about the broader scope of what it means, and what it takes, to lead. Around the world, we see how elected officials lead by withholding information and starting world wars; in stark contrast, in my own community, I see members of mutual aid groups leading selflessly, subtly, and without want for recognition.
Here at No Depression, and within the FreshGrass Foundation, we've been wrestling with what it will take to lead this publication to a stable and self-sustaining future. Journalism isn't usually considered a profitable enterprise these days; it's consumed and treated as a public service. But that makes this work, oftentimes an art form in its own right, even more of a risky venture. Nonprofit media especially needs financial support, but there's no one fixed model to ensure that kind of success or longevity.
So, in the coming weeks, months, and issues, we at No Depression will be shaking things up a little bit in an effort to secure our editorial future. We're working on incorporating additional breaking news stories on nodepression.com and figuring out better ways to align our shortform digital coverage and longform journal reporting. We'll be taking a breather from issue themes starting in the fall, in hopes of being able to expand the scope of what we cover. You might even see a few select, relevant-to-roots-music ads in print. And there's plenty more we're planning behind the scenes that we can't wait to share with you soon.
There are no easy answers to what makes nonprofit journalism survive and thrive these days. But we do know that thanks to you, No Depression has a strong base of loyal readers. We know that we provide a vital service to musicians, fans, and industry members who give a damn about these songs, stories, and people. And we're going to keep doing whatever it takes to be not just the leading source for roots music coverage, but also a leader in independent arts media. It takes creativity, drive, flexibility, strength, and patience to be a leader, to be a "Mover & Shaker," and we're ready to accept that challenge. Thanks for joining us as we explore, experiment, and welcome what comes next.
Here is a playlist of songs from artists featured in the Summer 2022 "Movers & Shakers" issue:
---